What's history got to say about it?
An exploration of the human endeavour.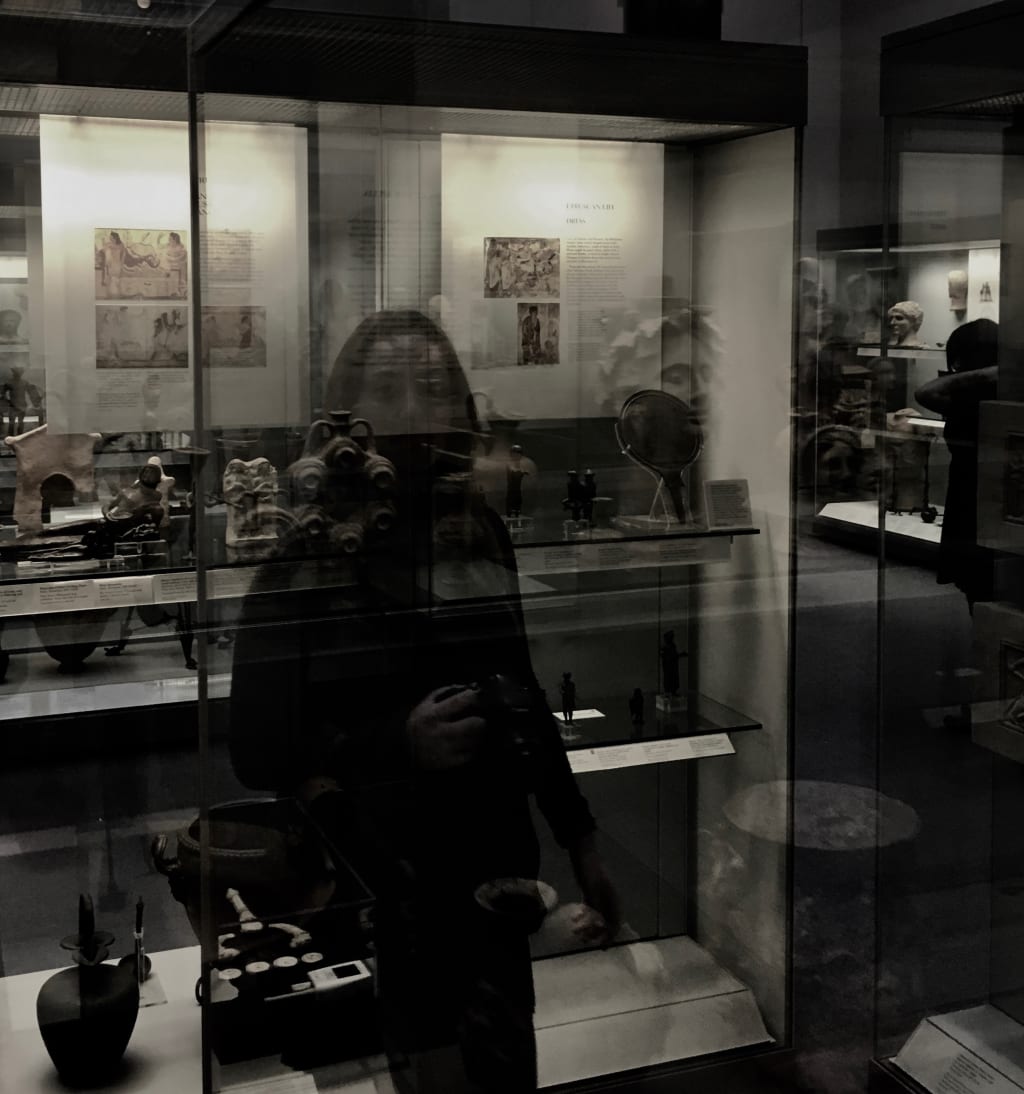 A picture paints a thousand words. But a photo has them all- how many words does it take to write a history of history? can it be caught in a the blink of a shutter?
Here, a lone photographer stands; camera at the ready- waiting for something- with anonymous figure pressed to the photo's edge.
I am by no means a professional photographer: though the idea of painting with light is something beautiful to me- honing light to make inanimate objects see as we do leaving us to ponder their meaning if any at all.
I took this photo with my I-phone 6s, then imported the photo from my I-phone to my MacBook Air and edited the photo with the built- in "photos" app's editing features: configured as follows: Dimmed light to convey distance and coldness. Low colour visibility to convey how the artefacts seen are dulled in their alien setting. White balance is on neutral grey with 0.50 warmth to be close to- but not quite black and white. Definition is 0.14. Sharpen settings including intensity 0.00, edges 0.22 and falloff 0.69.
I was never the best with technology when I was younger- so i opted instead for the brush over the camera. I studied art until a university 1st year level whilst I was still in school and I even then in its more time consuming form: conquering a landscape, myself and the world through this medium and that loved the creation of things by my will. But never light. So this is one of many experiments i've made with myself to see what is it that makes me see something unique in that constricted frame of a lens...
I took this photo by a momentary chance, I saw the opportunity to capture something un- normal to me- the look of someone unfamiliar through the refracting medium of glass. I achieved my unintended glare. My initial desire was to photograph a stranger walking and admiring the artefacts found in London, England's British Museum. What entrances me about this photo is the many things seen in the reflections, for example, the bust with its eyes closed almost in a state of bliss even in this uncomfortable backdrop. I even ended up having managed to catch the photographer's glance as well. I often like to come back to the photographs I take at later dates, and this one has always been one I return to, each time I look under the layers to uncover a metaphorical meaning...
Who. Or what, exactly, is the person waiting for? does she possess a nostalgia for the past? Hoping to photograph relics of a world gone by and a life she only lives at night or a daydream... Why would someone feel compelled to photograph the past to document for nobody to see but themselves: why document what has already been done so vigorously before?? perhaps its about something similar to my own objective- people watching- what do they think?
History from every corner of the globe rests in this place, telling a history that is not theirs to tell- so is it vanity or sympathy she holds in her hands; a typography of crimes long forgotten... How many languages, cultures and means of expression lay here to be monopolised by one single culture? Passively acknowledged by those who would: Whose words are not written in this frame?
Always. Something is left- out or put to the sidelines when we try to tell a story.
Here with this photo I ask myself if it is us that we leave out: where's the humanity in the convenience of taking others art to express our own. Its our words written there to and fro the relic and the craft. Are we the bystander searching in the darkened corner for something we have miss- placed in the carefully ordered environment of a world so unordered?
I don't believe we ever can find that order.