Turn Your iPhone Into a 360 Degree Camera with the Insta360 Nano
Show off every nook and cranny of your world with 360 video right from your iPhone.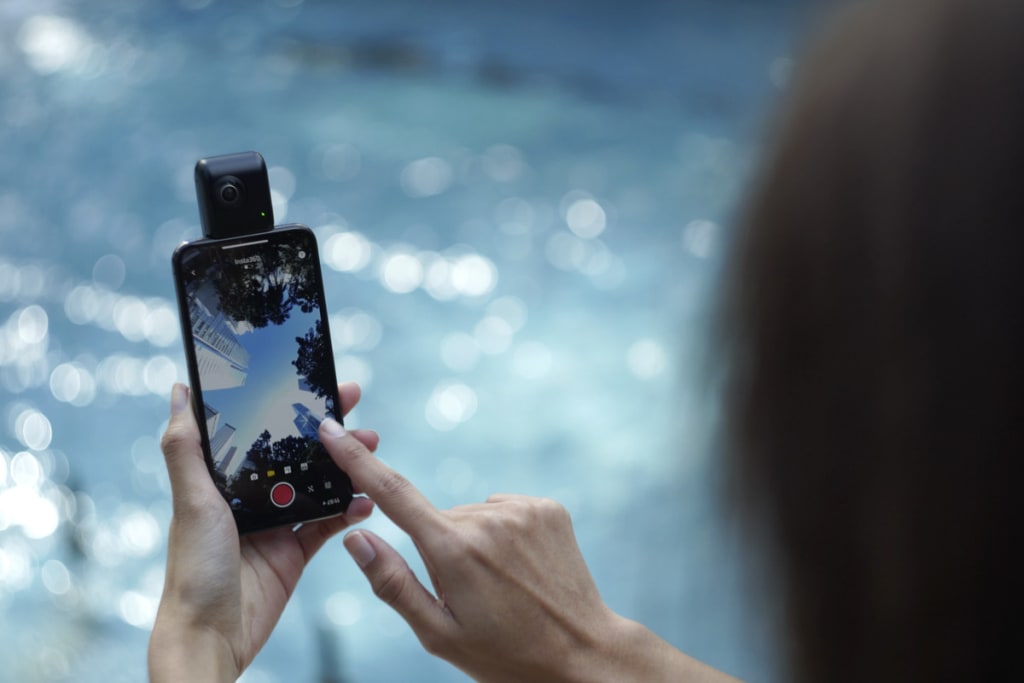 The standard camera on an iPhone is good, but it's probably not good enough to really talk about in a circle of serious photographers. Even my friends who have their own small businesses legitimately grimace at me when I tell them that I'm still using my phone for the majority of my social pictures.
And let's face it, it's hard to make yourself stand out online. Amid all the short vlogs and standard pictures, there's something that jumps out to people when they're aimlessly scrolling their feeds while eating breakfast, going to work, or sitting on the can: 360 videos. 360 videos are cool, plain and simple.
You don't need a fancy DSLR or a designated video camera to capture amazing 360 videos. You can get high resolution ones that plug right into your iPhone. After spending an embarrassing amount of time debating my purchase, I bought an Insta360 Nano 360 VR camera.
I'm always battling with not having enough memory on my phone. I've got an iPhone 6, which luckily for me, is still compatible with the Insta360 Nano. Until I upgrade and invest in one of those tantalizing new 256 GB iPhone Xs, I'm stuck with a humble 64 GB. I'm a photo and video hoarder, so that doesn't go very far.
Lucky for me, the Insta360 Nano saves to an SD card. It's packed with features that come in handy like that. It's got great stabilization that will stand up to even the most rickety of selfie sticks. The 360 camera even works for video chat, so if you're using it for fun rather than for growing your influence, you're still going to get plenty of use out of this cute little camera.
It actually works surprisingly well in low light situations, too. When you're on vacation or trying to have some fun while braving your daily commute and the sun is dropping, the Insta360 will still give you good quality videos and photos when lighting isn't perfect. It won't be quite as clear as videos taken in broad daylight, but let's be real, that's to be expected with any digital camera.
The quality is legit gorgeous.
As far as we've come, cell phone cameras usually still leave something to be desired. It's been broken down to a downright science to use filters, editing, and effects that mask the fact that your photo isn't as good as it can be, and turn iPhone photos into little digitally remastered masterpieces. With video, it's a little harder.
Fortunately, with the Insta360, it records in 1080p and 4K. You can record your videos, watch them on your iPhone, then watch them on your TV at home and see them still look amazing. The resolution is fantastic.
The still 360 images look so clear, most people don't believe I took them with an iPhone accessory. These are fun because you can send them around to your friends easily, or throw them up on Instagram and blow your followers' minds.
I haven't played with the VR abilities much yet, but it's amazing to be able to get video quality good enough for VR from your iPhone.
360 video is still something new and exciting; it's something not everyone and their brother are doing yet.
For almost any influencer or small business, you can benefit from doing some exciting videos with a 360 camera.
Influencers can show off what's happening in their lives on Facebook Live, Twitter, Youtube, Periscope, and Weibo. More and more platforms are accepting 360 video; which is fantastic, because you can still crosspost and enjoy the benefits of having different audiences check out your videos.
Once upon a time, barely any platform other than Youtube accepted 360 video, but with Facebook and Twitter joining the game, you've got a lot more choices. If you're trying to get yourself noticed on YouTube, 360 video is a great way to make your videos jump out and stand out in the crowd.
It's the best iPhone accessory I've ever bought.
And I've bought a lot. I've tried mirror screen protectors that are supposed to make it easy to check your hair and makeup, cases with a built-in charger to save you from the dark depths of dead batteries, and sillier things, like cat shaped audio jack plugs. Sadly, the latter item on this list didn't actually work at all. It was darn cute though.
There are a few bad reviews on Amazon, but don't be turned off by those. If you take a closer look at them, they're pretty much all from Android users. As much as I want to be sympathetic to their plights, the Insta360 does very clearly state that it's for iPhones. After all, it connects to the lightning port!
You may need to pop your phone out of the case to plug the Insta360 Nano in, but it's still an amazing device. It's tiny but mighty. I recently went on a cruise to the Bahamas—which I managed to book at a steal of a price—and I've got my Insta360 Nano locked and loaded to record some blue, blue ocean water once I'm on the boat.
Whether you're a hardcore iPhone-photographer or a casual vacationer looking for a fun toy to capture your memories in a new way, the Insta360 is amazing. It's in a good price range for the features it packs in its slim frame, making it a good choice for serious social media gurus, as well as casual tourists.