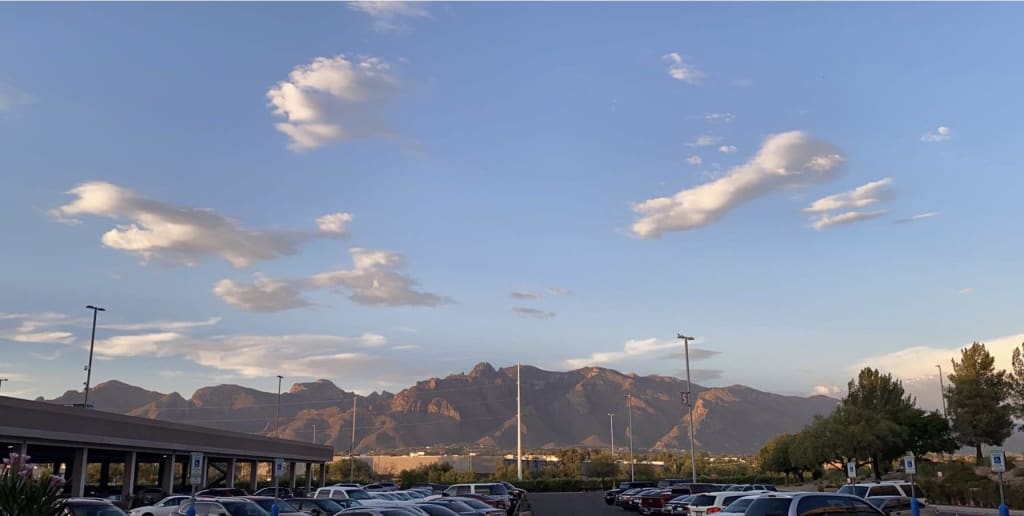 A breathtaking view from the Tucson Mall parking lot
"Home is where the heart is."
Well, I'm not saying that's not true. But I think there is more to home than that.
Home has been something slightly unstable for me most of my life. In twenty-one years, I have moved fifteen times. How am I supposed to determine where my hometown is?
Is it where I was born in Fayetteville, North Carolina, and spent my first three years of life? Or Monticello, New York, where my mother secretly moved my sister and I during my father's military deployment? Or the town where my grandma's house that I lived in for five years is? At first, I thought that was my hometown because it is where I spent the longest time and had the most stable home. But I was only there until the age of seven when my father moved us out to live with him as a single parent.
It would be so easy to say my hometown is the town I moved around in five times. I spent most of elementary school up through high school graduation in that same town.
But isn't home supposed to feel, well, homey?
The years of living in that town were filled with good times, but also dark memories that my family tries to ignore ever happened. Ultimately, there's nothing tying me to ever returning there.
So why would I consider my home a place where I have no friends and no attachments?
With time, I have come to realize home is the place where I have established myself without fear of being myself. Where I have the freedom to explore and immerse myself in another culture. Although I have only lived here for six months and one day, I consider Tucson, Arizona, my hometown because this is where I feel at home.
Tucson Through My Lens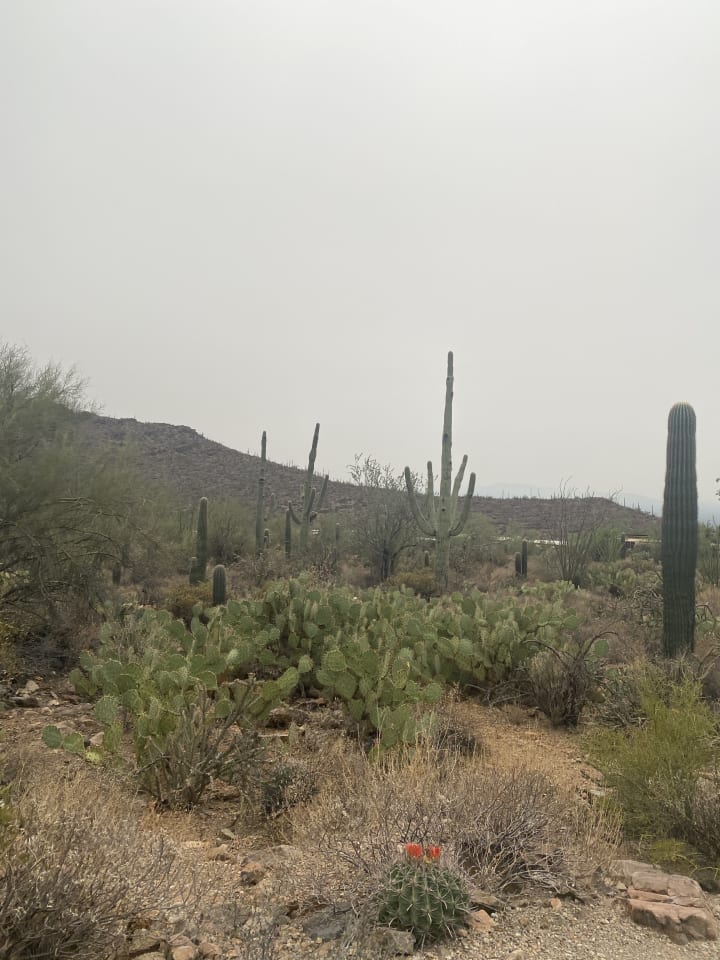 Tucson is filled with so many unexpected surprises. The brown-ish desert scenery continues to take my breath. The tall Saguaro cactus resembles strong bodyguards with stiff, serious demeanors. What I find interesting is how many people know the different cactus by name. This Florida girl just sees beautiful, spikey plants ready to puncture their next unexpecting victim. That's even why there's a cactus called the jumping cactus.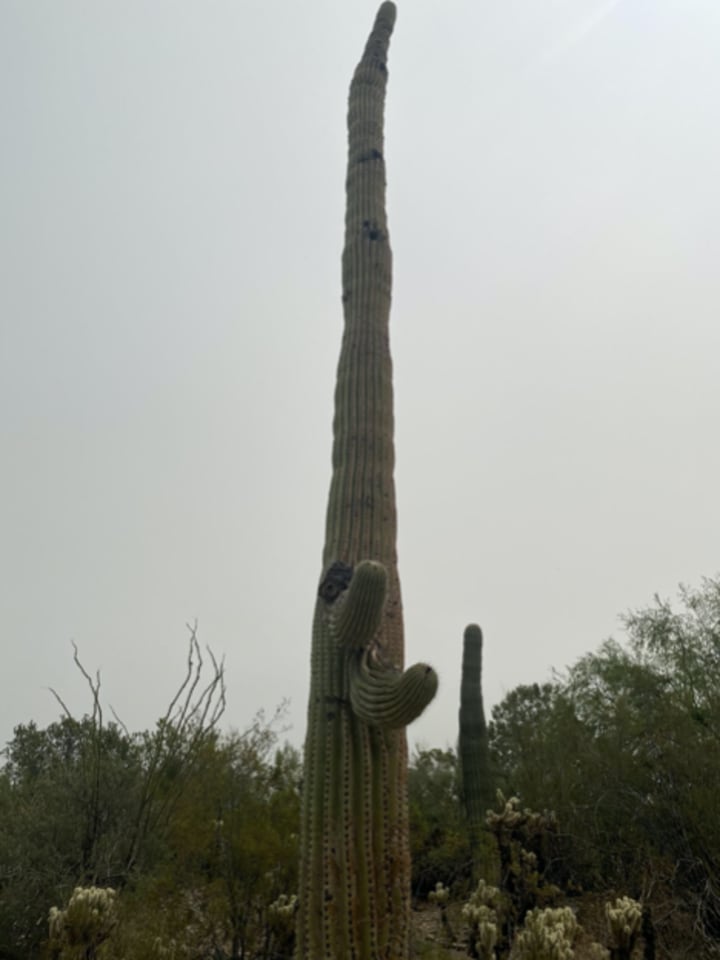 The Saguaro cactus are so important here that they are legally protected. It is illegal to damage or uproot this majestic mile-high entity. Don't want one in your backyard anymore? Too bad.
They are such a fundamental part of the community that there's a used car dealership named after them.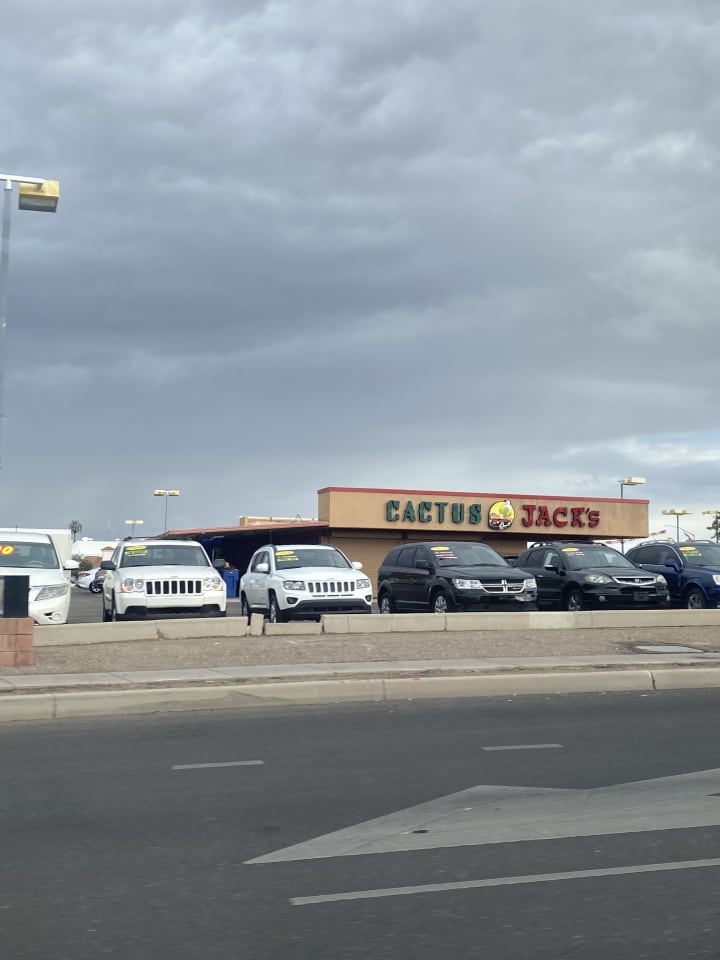 Four mountains surround the city, creating an encompassed valley with endless views of them in every direction. The curves and ridges of the mountains look as though they were carefully hand carved. I like to imagine that the mountains move and change shape every night to give us new wonders to admire the next morning.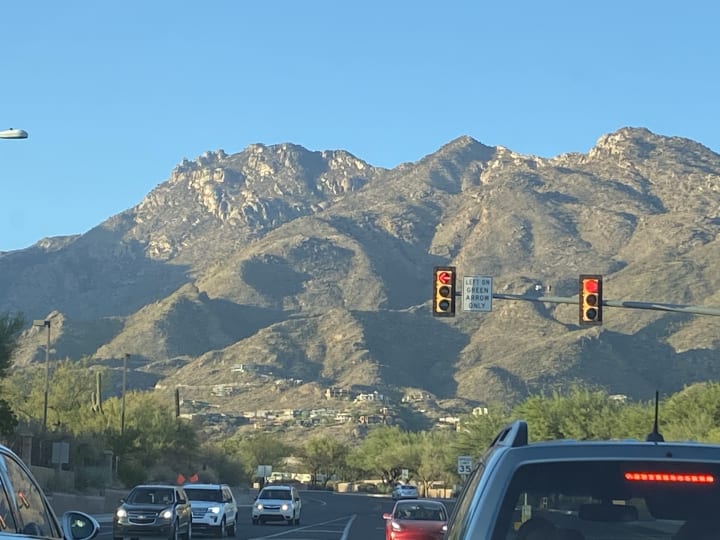 To my surprise, there is in fact water in the desert. Although it is seemingly man made, the beauty of the water sparkling under the sun is undeniable. With the mountains running behind it beneath the bright blue sky, it's a peaceful view that I could stare at all day.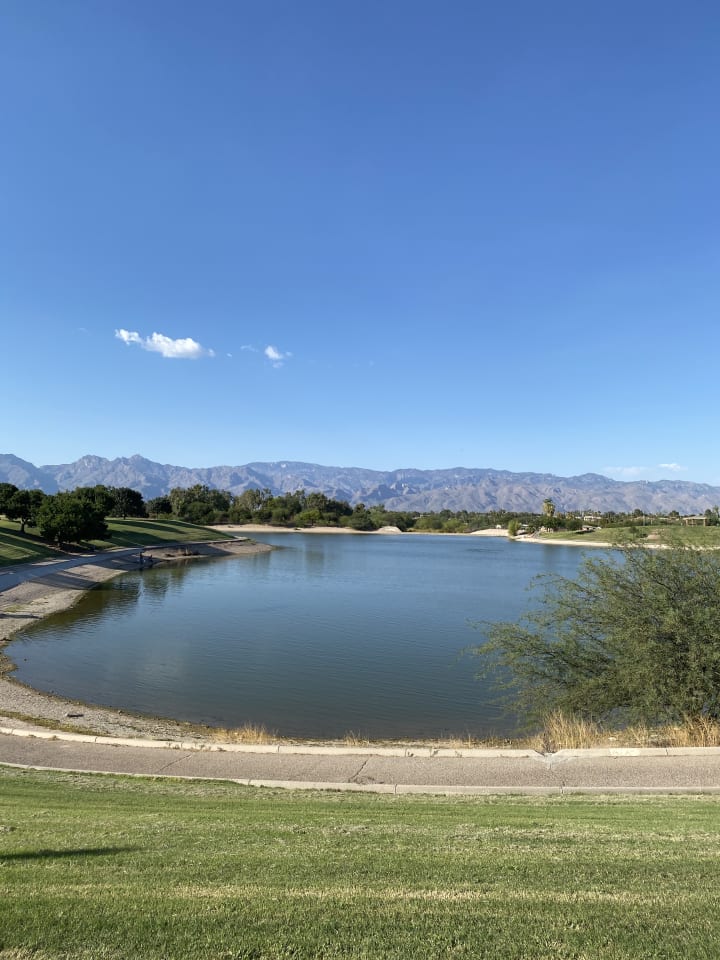 It even rains once in a while, leaving a magical scene of mountains looking like smokey desert volcanos. This is a relaxing change from the regular bright burning skies.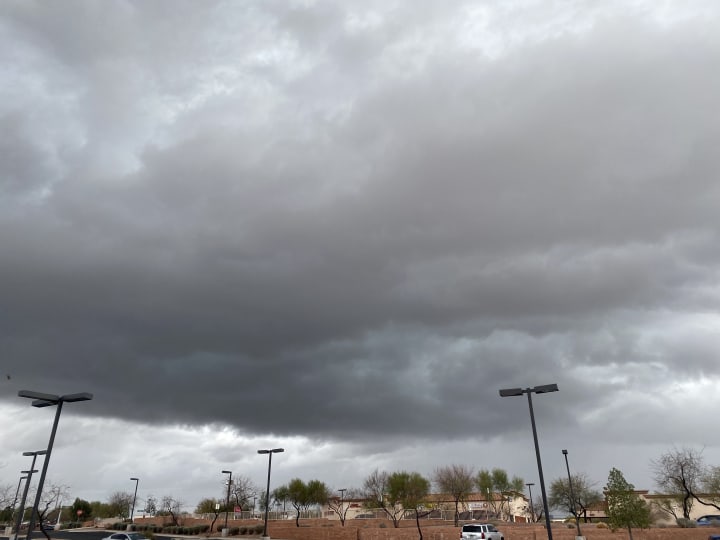 Sunsets are an exploding concoction of fiery purples and oranges that drape over the mountains and stretch for miles along the sky. The colors interweave with the cotton clouds to give a unique pattern each evening for a new breathtaking view.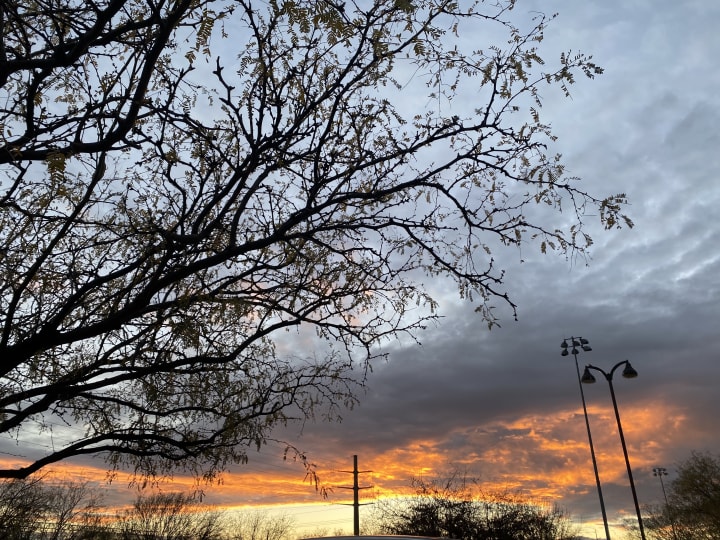 From an aerial view, the two hundred and twenty-seven square mile city is a compilation of bright specs that bring the city to life. It truly makes you reconsider our significance and worries when you see the world from above like this.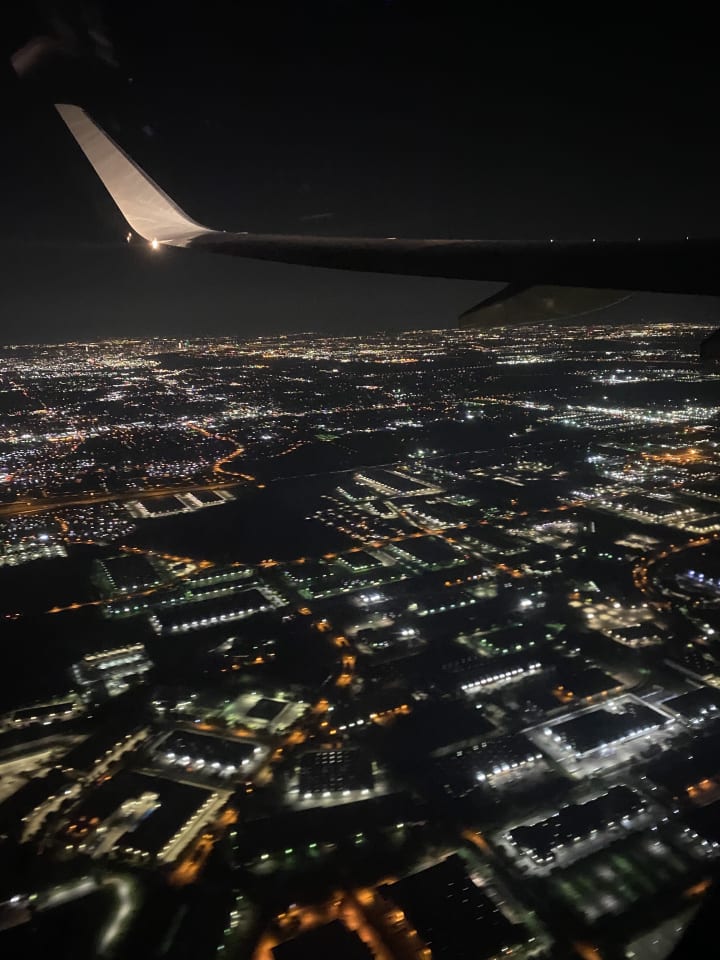 Just when I thought the environment here couldn't get any more intriguing, I experienced my first sandstorm. The only sand I knew before this was the sand at the beach I lived thirty minutes away from in Florida. And that beach sand definitely didn't fly through the air to suppress the sun.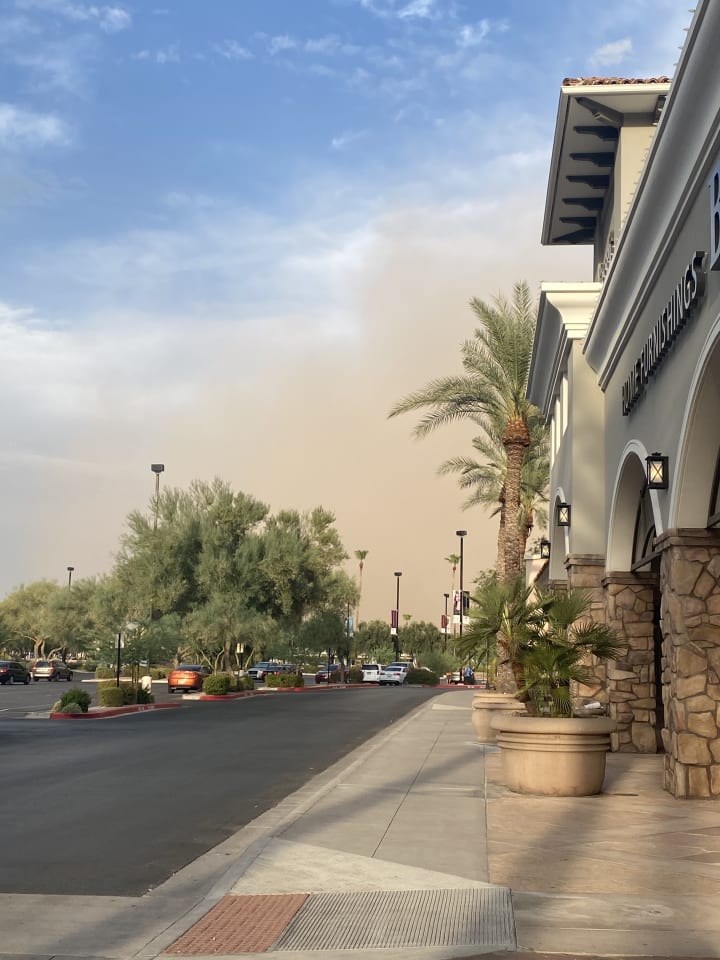 To see the clear blue sky become engulfed by sand that darkened the world was an unnerving event. Sand remained in the crevices of my car for weeks to come after this. The sand storm itself lasted but a few hours.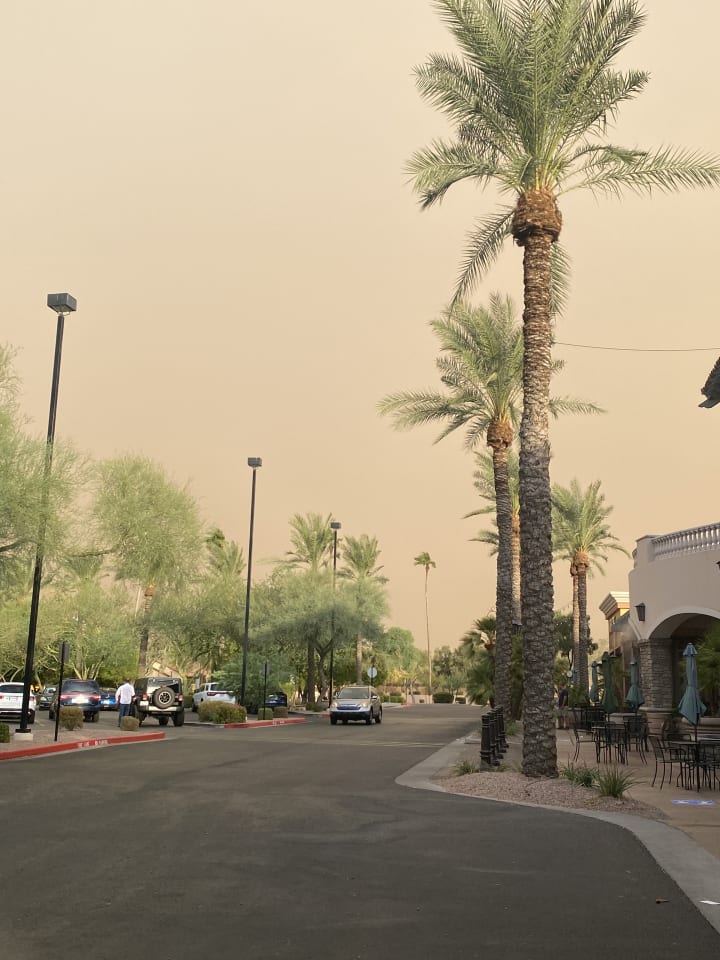 Social & Night Life
Night life in Tucson has a completely different vibe than that of the desert environment. Lights illuminate downtown sidewalks. Vintage hotels are neighbor to radio stations and old theatres, giving an authentically aesthetic feel.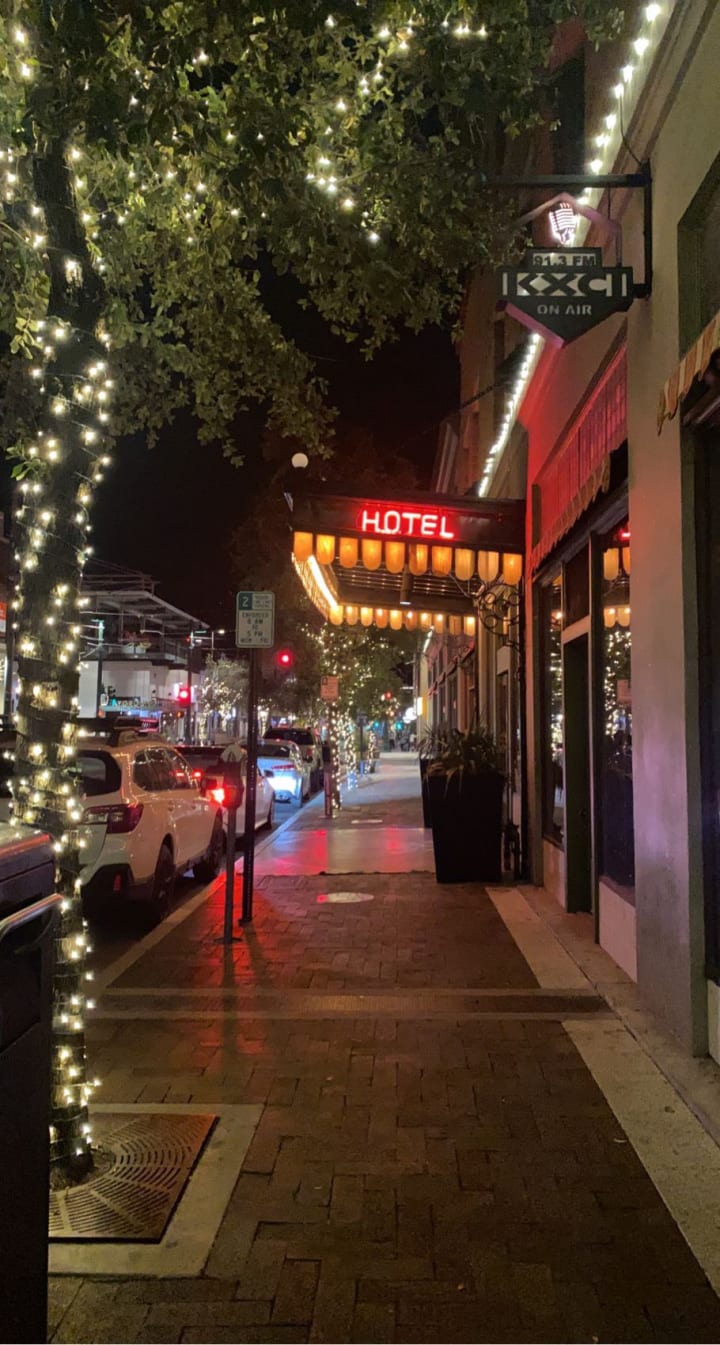 Cobblestone sidewalks travel miles through downtown to reveal hidden gems of night life. Wandering these streets gives the perfect opportunity to support local businesses in the city. Plus, who doesn't love free downtown parking after 5 pm on weekdays and throughout the entire weekend?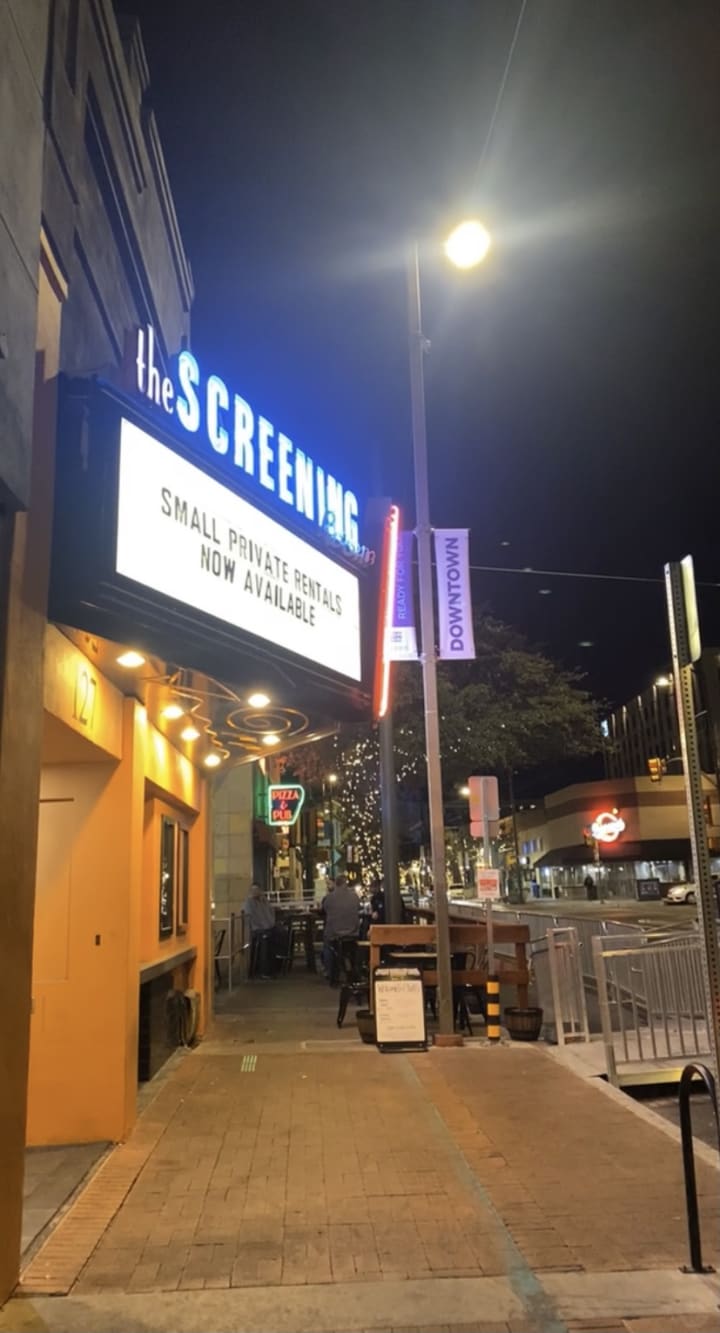 And the drinks are pretty awesome in Tucson bars. The Hawaiian themed bar named Kon Tiki never disappoints.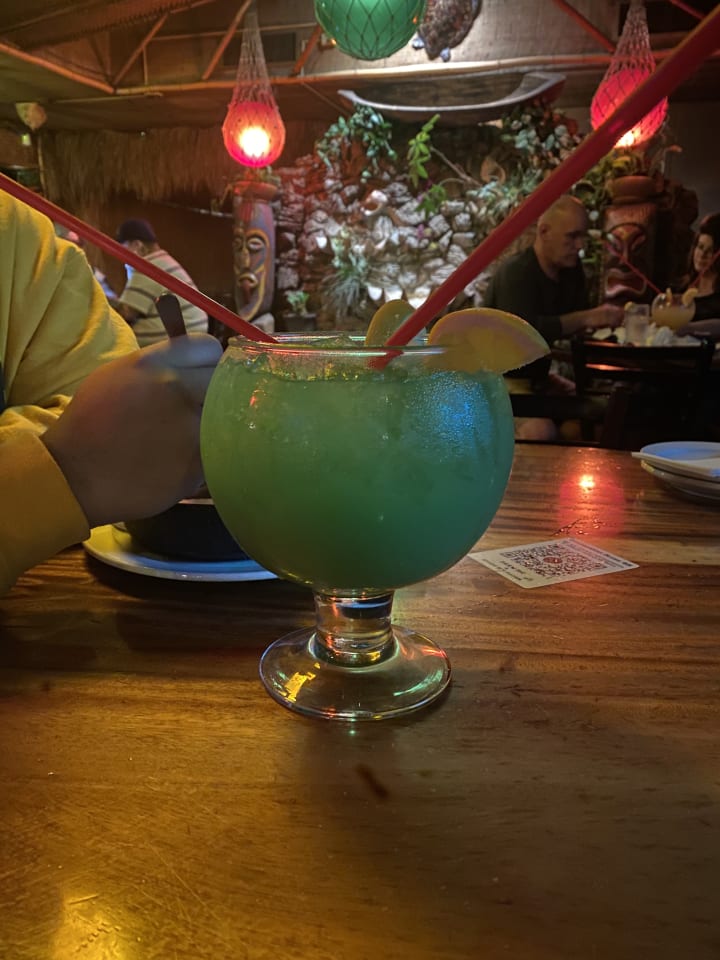 I find it pretty amazing that the Casino del Sol is on the Pascua Yaqui Indian Reservation. This tribe is the owner and operator of the casino. Yet another great way to support locals.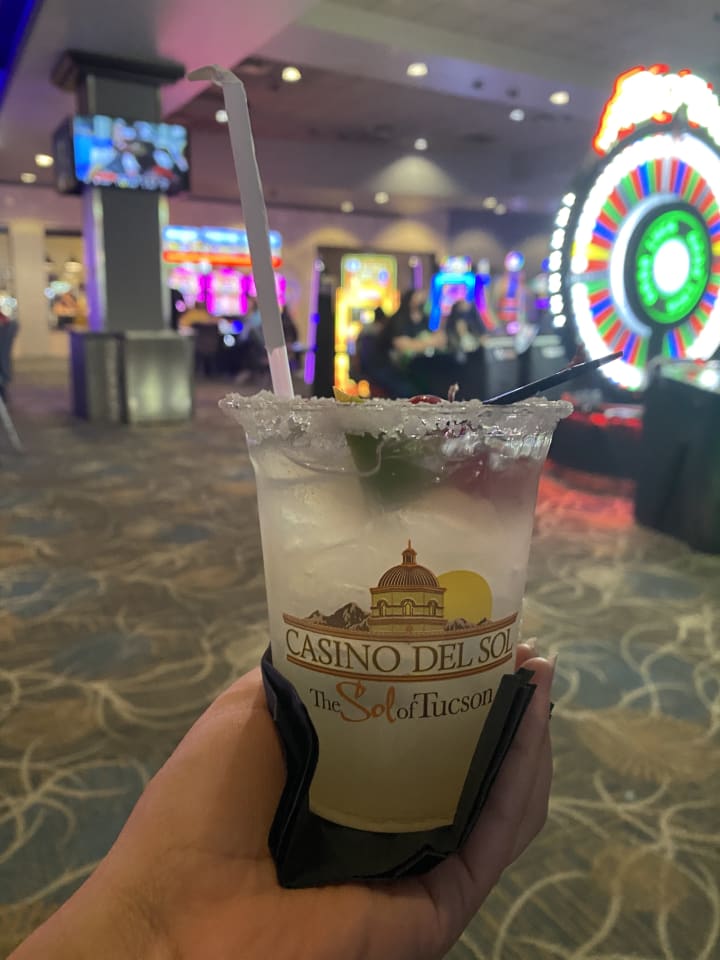 Culture, Food & Acceptance
Tucson is rich in Mexican and Indigenous culture. Established a mere seventy-eight miles from the Mexican border, I'd be surprised if Tucson were anything but influenced by its neighboring country. Embracing traditions such as Dia del los Muertos (Day of the Dead) throughout the city is a heartwarming way of saying "we welcome you and your beliefs here."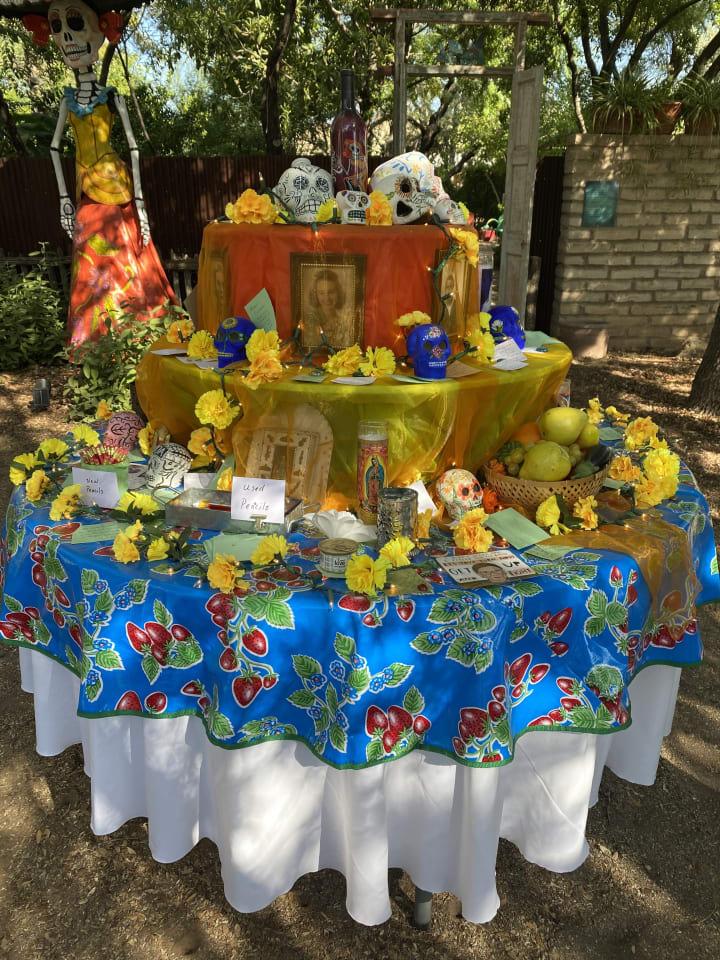 Advocates for reform and social justice are present and strong in this city. From "Black Lives Matter" painted on buildings throughout downtown to a man holding a sign urging government officials to invoke change regarding immigration policies. In front of the Tucson Federal Building we see him carrying a small sign with a heavy message. The message is simple: everyone belongs here.
The sign reads "BRIDGES NOT WALLS."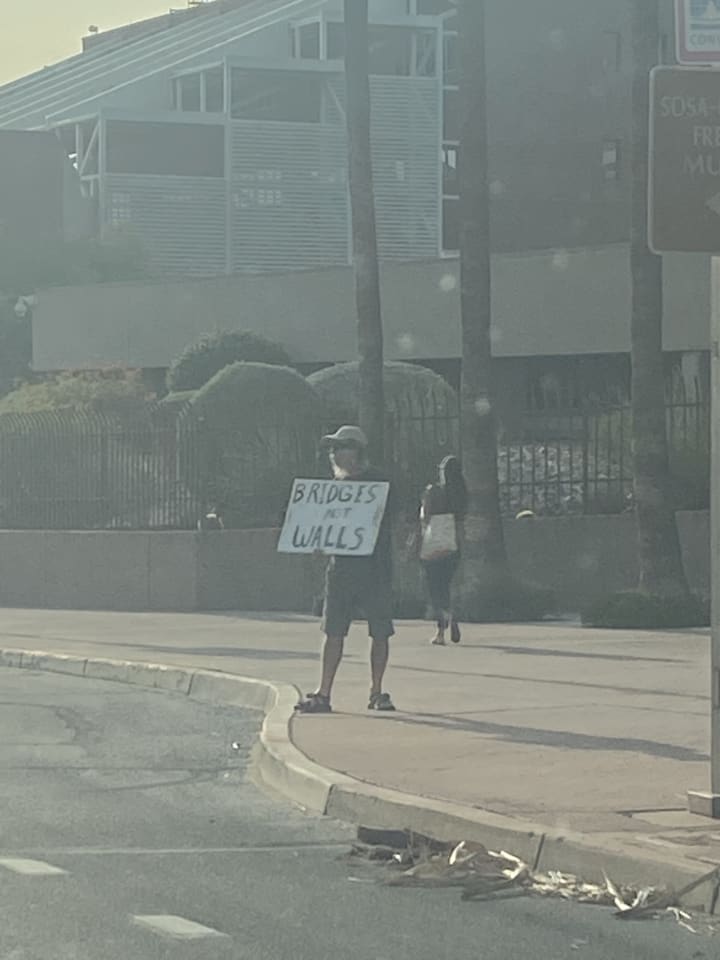 The local cuisine is just as diverse as the city itself. People work hard on their family owned businesses to provide the best street food I've ever experienced. Sonoran hot dogs are a specialty here, with love and dedication bringing them to the next level.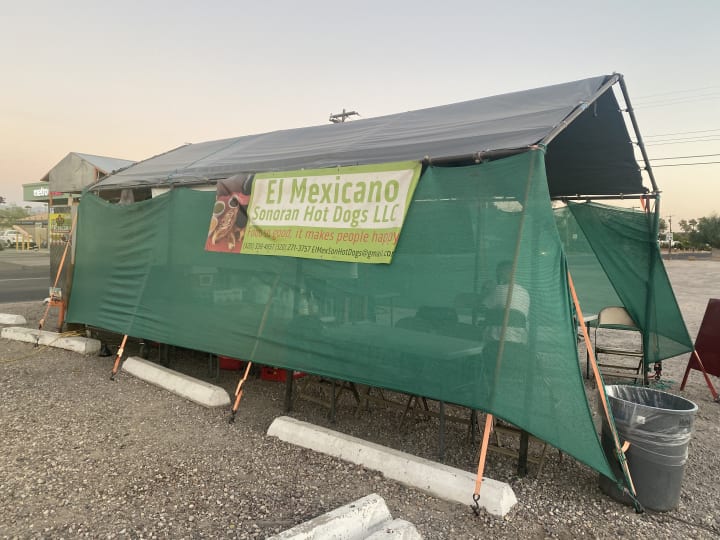 One man drives his truck to this corner lot every day from dawn 'til well beyond dusk to provide for his family. That is a quality of food you cannot find anywhere else.
Other facilities greet you with warm welcomes and offer delicious food options. Pasta bread bowls that will feed you for days await you when you walk through the Welcome! arch of Oregano's Pizza Bistro.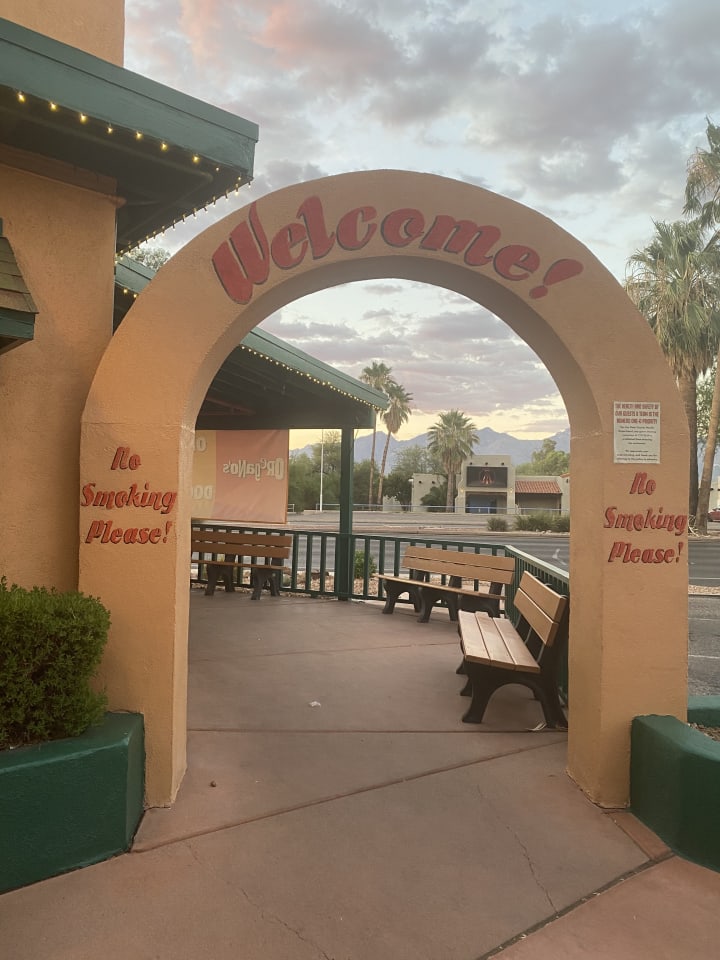 Downtown Tucson offers a plethora of mouth-watering options. My personal favorite is The Donut Bar, which serves donuts larger than your face and beers to pair with your sweet tooth cravings.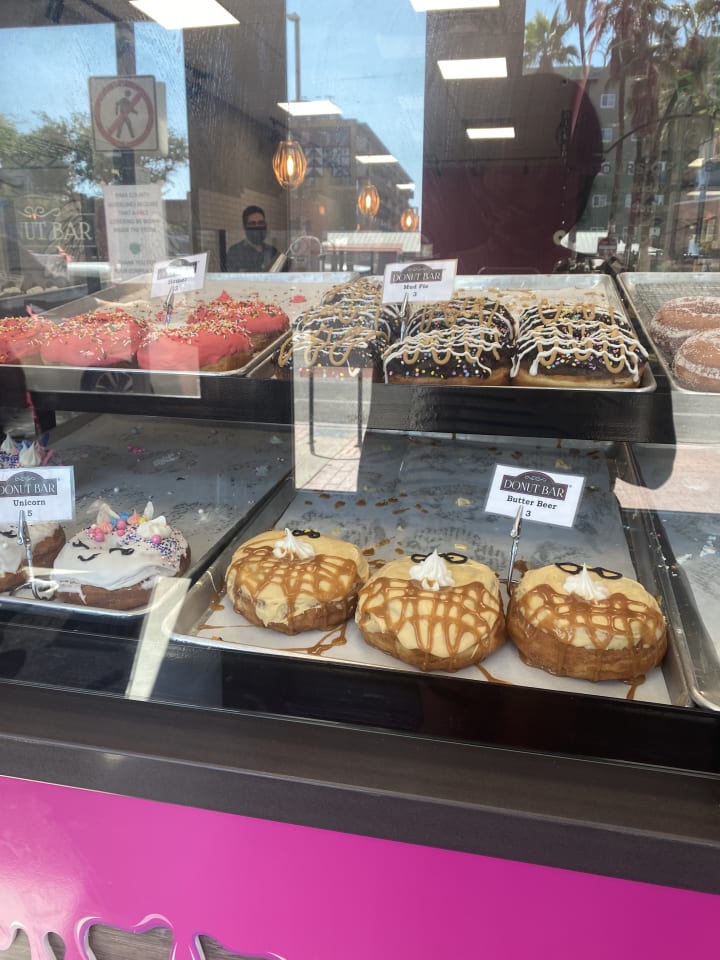 Humans and furry friends alike all enjoy the foods that Tucson has to offer. Speaking of dogs, Tucson is an extremely dog-friendly city. It's rare to go anywhere and not find a loving dog whose ready to meet you!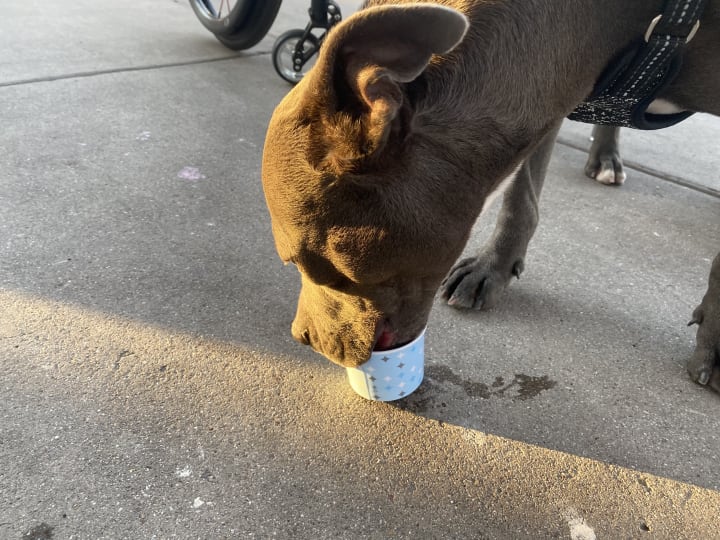 As if all these highlights weren't enough, Tucson is also extremely accessible and embracing of its disabled community. Wheelchair basketball athletes safely play alongside ambulatory players in public parks to create a sense of community in a time of social isolation. People with disabilities are welcomed as a part of the Tucson community.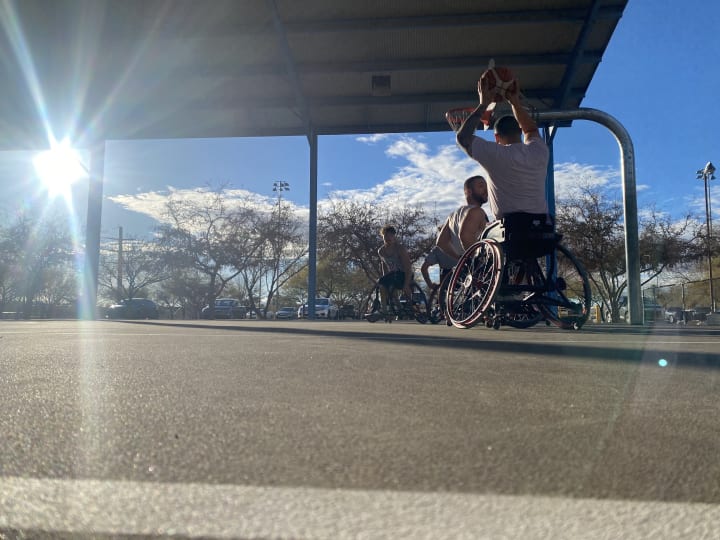 This is Home Now
All in all, Tucson is a beautiful place from its very core. I have connected to parts of myself I never thought I would be able to before moving here. I get to learn about my Mexican heritage while exploring new opportunities and hobbies available to me. This is where I have planted my roots and where I can finally say I am home.
About the Creator
As a 23 year old grad school student, I spend a lot of time writing academically. Now I'm taking time to write creatively and enjoy creating stories about whatever makes me happy.
Follow my journey on instagram too: @nani.cruz.writes
Reader insights
Be the first to share your insights about this piece.
Add your insights