New Chapter: Returning to Photography
My Journey to Returning to Photography and Videography; A Blast From The Past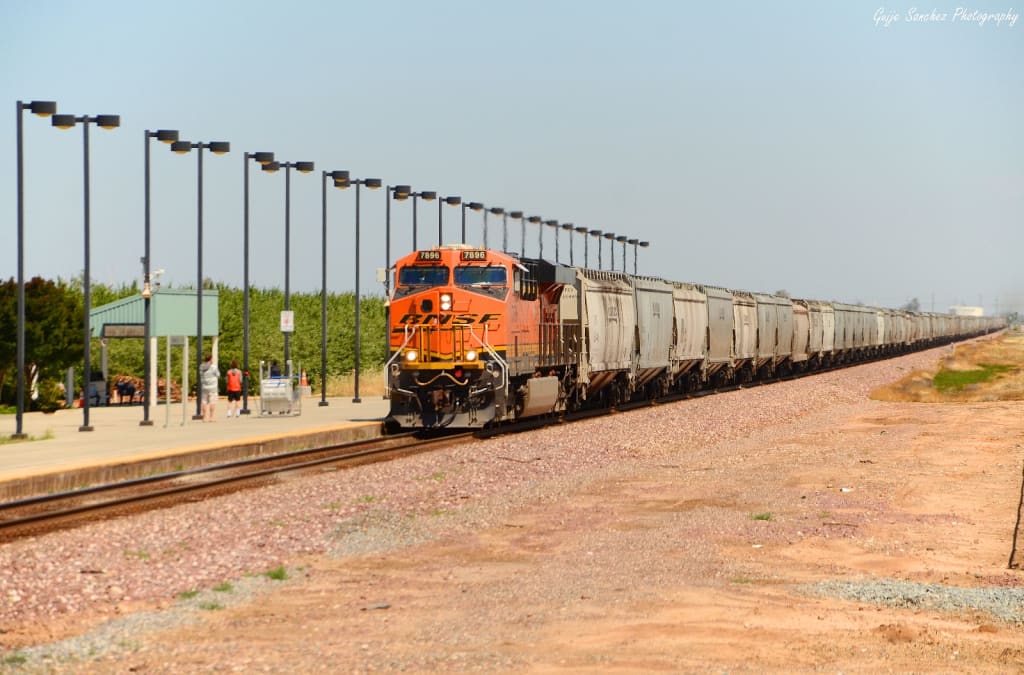 BNSF 7896 takes the lead on a grainer heading east passing Modesto Amtrak Station on May 31, 2019
A new chapter has arisen in my life, and I feel it's only the beginning of it. This journey started in the beginning of January of this year, after being jobless for quite some time. I was completely lost, feeling like I had a missing piece of the puzzle within my soul to search for. I didn't take long before I realized, perhaps, being away from photography was the cause of my feeling like I had lost my way.
I remember before, I would be touting around a Nikon D5100 DSLR, and a tripod with a Sony standard definition camcorder I received for Christmas in 2012. I would be traveling to wherever I could to take photos and videos of fascinating train action, only to get home, edit those videos and photos, and share them on my social media pages. Since then, there has been quite a bunch of material stored up in the external hard drive, but something was happening. Little by little, my interest in continuing to do photography and videos was depreciating and declining.
Looking back, I had realized the main reason why was because I had told my dream to the wrong people. That dream was to be able to make a living off of my train videos and my photography building a successful business for myself. As the years went on, my family outright killed that passion, drive, and dream for me, so I ultimately gave up on that goal, as I gave my pro grade Nikon D500 DSLR, which I bought with my own money months after it came out in 2016, to one of my best friends, knowing he would put it to good use. I stopped using my high definition camcorder another friend gave me in 2015, and I just didn't appear in the scene for a good while, putting my focus into other aspects of my life.
Fast forward to January 2019. It was one night, chatting with one of my other good friends, while watching some train videos from Youtube channels that inspired me to start just as a fun little throwback to what used to be. She had begun to ask me, "why don't you do it again?" I listed out the reasons why I couldn't do it again—at least what my ego thought were a list of reasons why I couldn't hop back into the scene again—and she said with such a conviction I will never forget, "why do you let those people tell you what you can or cannot do? It's your life." I couldn't agree more, and had begun to ask myself why I had put the power of what I desire outside of me in the first place.
As you can imagine, that moment I decided to take back control of my life, looking at listings for camera equipment for sale, following a series of little instances where I was being guided towards that goal. I rebooted my photography page on Instagram I hadn't used in a while, and started to post more photos I had edited but never uploaded to my Facebook page. I had created it in the hopes and aspirations to restart my passion project in photography. Last week, I had taken a huge leap forward.
After looking up on the Facebook Marketplace for a decent piece of kit, I came across a nice condition, Nikon D7000 DSLR with minor scratches, having the 18-105 mm lens listed. I met the seller a few days after, on Thursday of last week, and then, I didn't hesitate to purchase some high quality memory cards to boost its performance. The next day, I went out to photograph the railroad action in Modesto's Amtrak Station.
That's only one phase! I went to visit one of my best friends in San Jose the day after, and I had mentioned how much I am grateful for making my comeback to photography, soon to be receiving my new Sony high definition camcorder that I bought off of Ebay in my hands. I talked to him about what I plan to do in video as I had mentioned my old Youtube channel, and he replied giving me a brilliant idea attached: "Why don't you reinstate your old Youtube channel, and upload there?"
At first, I shook it off, since I had a different Youtube page open, not having many views or subscribers to it. The entire ride back to the Central Valley where my home is, I thought about that idea over and over again. It seemed too good not to take it since I had racked up over 8,500 views on that channel, closing in on 100 subscribers to it. So I followed his advice, and I uploaded a re-edit of a video I had uploaded on my now-closed Youtube page. It was a piece of video footage from my long gone GoPro. A Southern Pacific Niles Canyon Railway Museum train passed over it, while it got one of the most extreme views of a train I've ever gotten.
I'm getting excited sharing this with everyone, in the hopes of sharing a story of my fast-track journey to one of the very things I enjoy doing—and soon my video projects I've been storing in my mind will become reality. I hope I can pass on my excitement from this simple article I've written onto whomever may be viewing this, and share my upcoming projects before they're released in the future. This is only the beginning of a new chapter of my life returning to a passion project I had shelved.