My Home Island
Photographs and stories from the place I've called home ever since I can remember. This is Vancouver Island, Canada.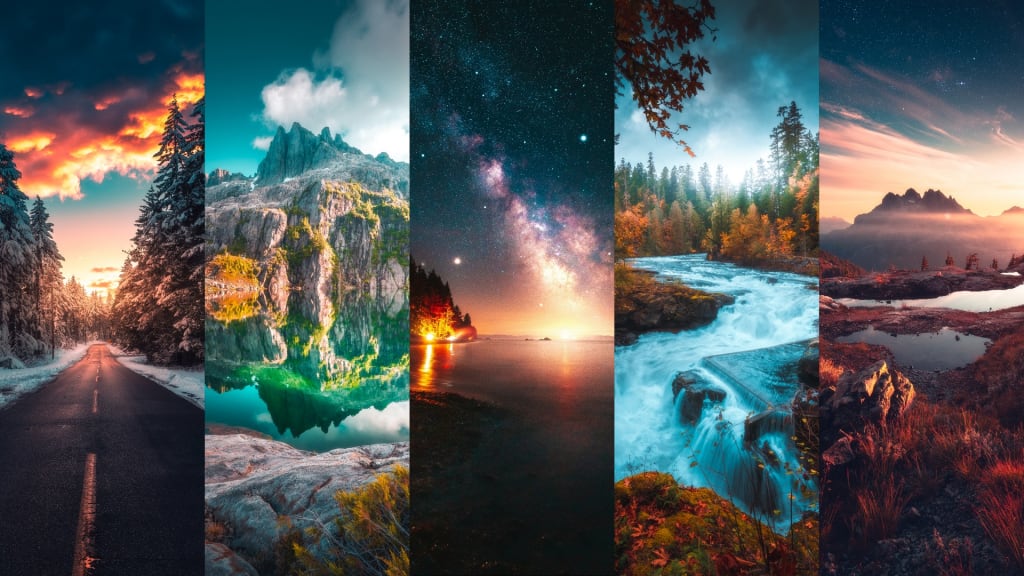 Vancouver Island is the place that I have called home ever since I could remember. I was born in mainland BC, but when I was about a year old my family decided to move to Vancouver Island and I have been here ever since.
If you want to skip the reading and artsy pictures and get right to seeing just how naturally beautiful this place really is, then watch the following video. It's one of my favorite projects I have ever created and it shows some of my favorite places on the island from an aerial perspective.
Growing up, this island really didn't seem all too special to me. I was just too used to it. It was all I had ever known and thus I took it for granted. I also felt growing up that I had seen just about everything that the island had to offer already, even though in reality my family and I hadn't even scratched the surface of all of the beautiful locations that were just waiting to be discovered on this island. We'd go on the occasional road trip to the more popular places of the island every so often, but there were so many places I would just simply not discover until years later when I got my driver's license. Once I turned 17, everything changed.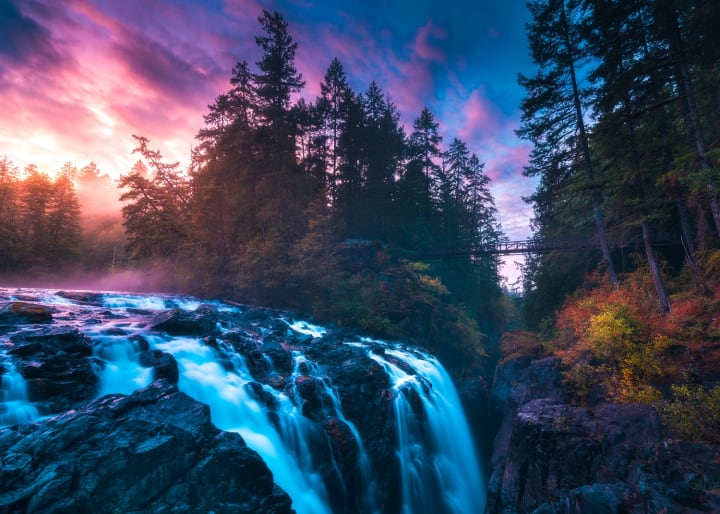 I got into photography back in 2015 and I immediately started posting images right to Instagram. Now, the image you see above and the rest of the images I'll be sharing on here were captured 2018 and later. I won't share any work from 2015-2017 on here, I'll leave that progression stuff for another story...
But as a typical landscape photographer starting out, it's very very easy to believe that the best way to get good photographs is to travel the world and visit beautiful and popular locations. I firmly believed that for at least 2 years, that is until I was finally legal to drive by myself at the age of 17. I'd look at all of these stunning photos from professional photographers from all over the world that were posted on Instagram, and I'd just look at my local surroundings and think: "Man this place is so boring..." Boy was I ever wrong!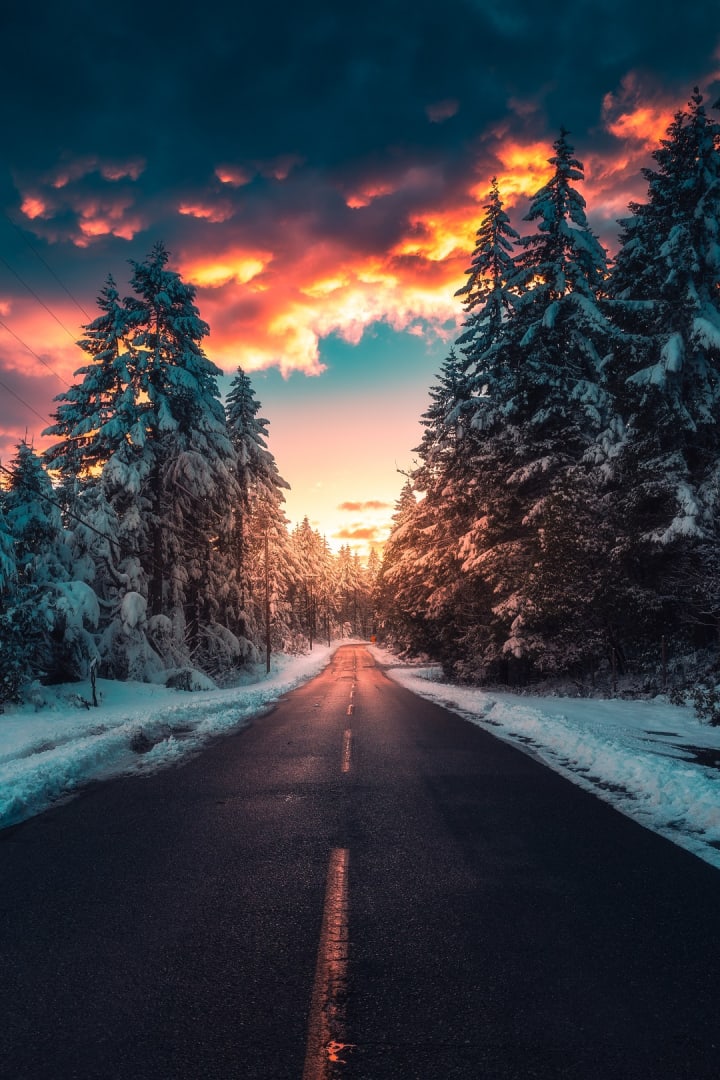 Once I could drive, I was free. I was free to explore this beautiful place that I called home. I was able to travel with my cheap beater of a car to any spot I wanted when the light was actually good for photography! No more did I have to rely on my family or friends to drive me anywhere to take pictures. And no longer did I have a very short radius of distance that I was limited to exploring with my pedal bike. Now I could go wherever I wanted, whenever I wanted. And slowly but surely, my appreciation for this beautiful island that I call home grew.
Just take the image above: "Fire & Ice". I actually wrote a separate story about this image and the events leading up to it, it's called "The Golden Lining" and you can read about it right here on Vocal! I captured this image just outside of Nanaimo and to date, this is by far my most popular image I have ever captured. I can't even tell you how many hundreds of times it has been featured on Instagram. And really I have no idea why. I liked it when I posted it, but I just never expected it to take off. Little did I know, my best image to date would be captured at a spot 15 minutes drive from my home. What it came down to really, was that I was in the right place, with the right conditions, at the right time.
No matter where I travel to now, I have never been able to capture another image getting the same attention. Just another reason that this island really has so much to offer.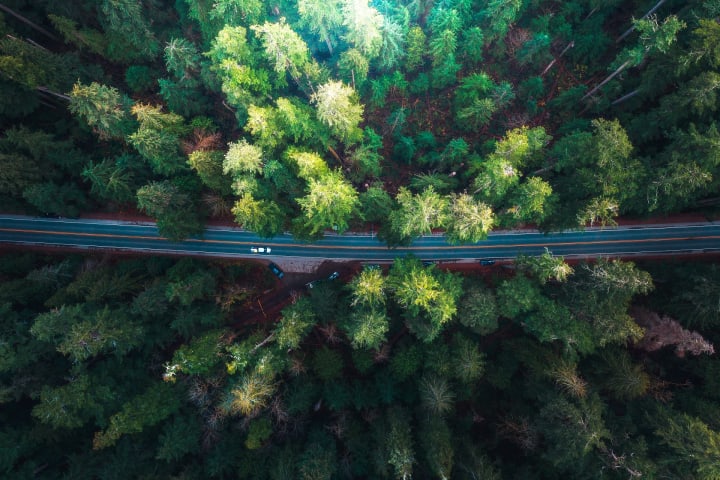 The variety on Vancouver Island continues to amaze me with every new location I come across. The photo above is an aerial image I captured of a little place called Cathedral Grove, one of the most popular locations for seeing old-growth trees here on Vancouver Island. This place is home to towering ancient Douglas-fir trees, some more than 800 years old! It's nothing short of incredible.
Don't even get me started on the beaches that the island has to offer... Sure, there are some pretty spots along the East coast, but the wild West coast is where Vancouver Island really shines. Powerful and rough waves when it's stormy outside, wide-open views into the open ocean with nothing else around, and a stunning view of the galactic core during those late Summer nights. You can read the story about how I captured the image above, here: "Capturing the Milky Way on the Coast"
The image above was captured along the beaches of Juan De Fuca Provincial Park, located along the southwest edge of Vancouver Island. This is one of my absolute favorite places on the island because it offers lots of variety and stunning views for photography and sight-seeing. Plus it has very little light pollution so it's perfect for astrophotography.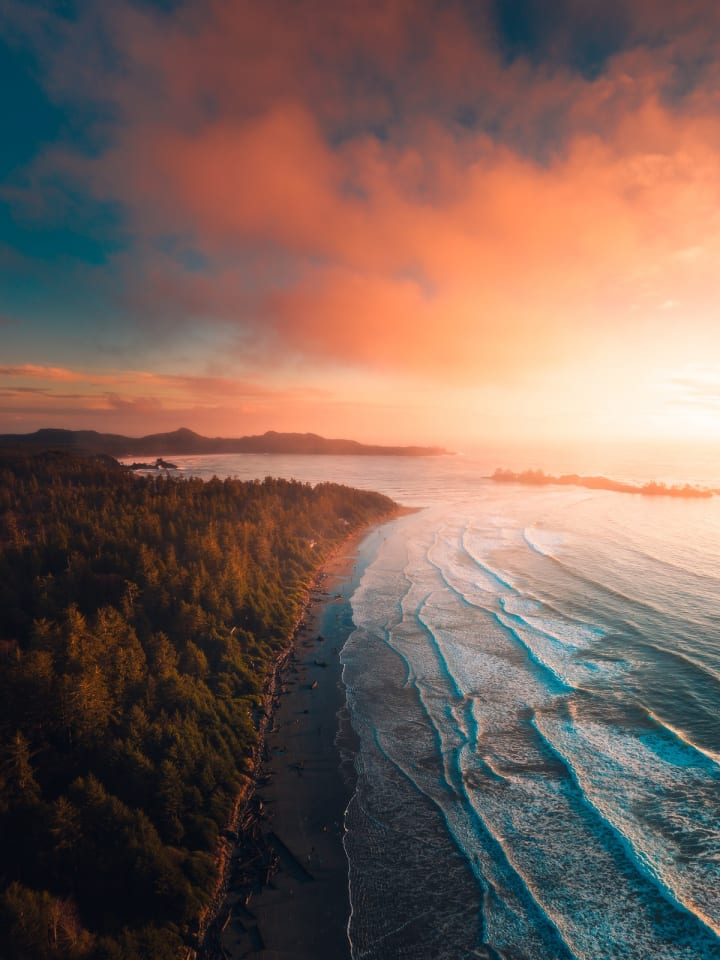 The photo above is an aerial shot from one of the most popular locations here on the island; Tofino. This place is also nothing short of amazing. And though it can get pretty touristy here at just about any time of the year (especially Summer), there's still plenty to do and plenty of places to find a little solitude in this oceanside paradise.
It's one of the main places that people from all over the island go to for a little 'get-away', and for good reason! You just don't really feel like you're on Vancouver Island anymore when you come here. It feels like a little vacation just going to this place for a day trip. And with all the amazing views and fantastic food options this place has to offer, you'll never go unsatisfied.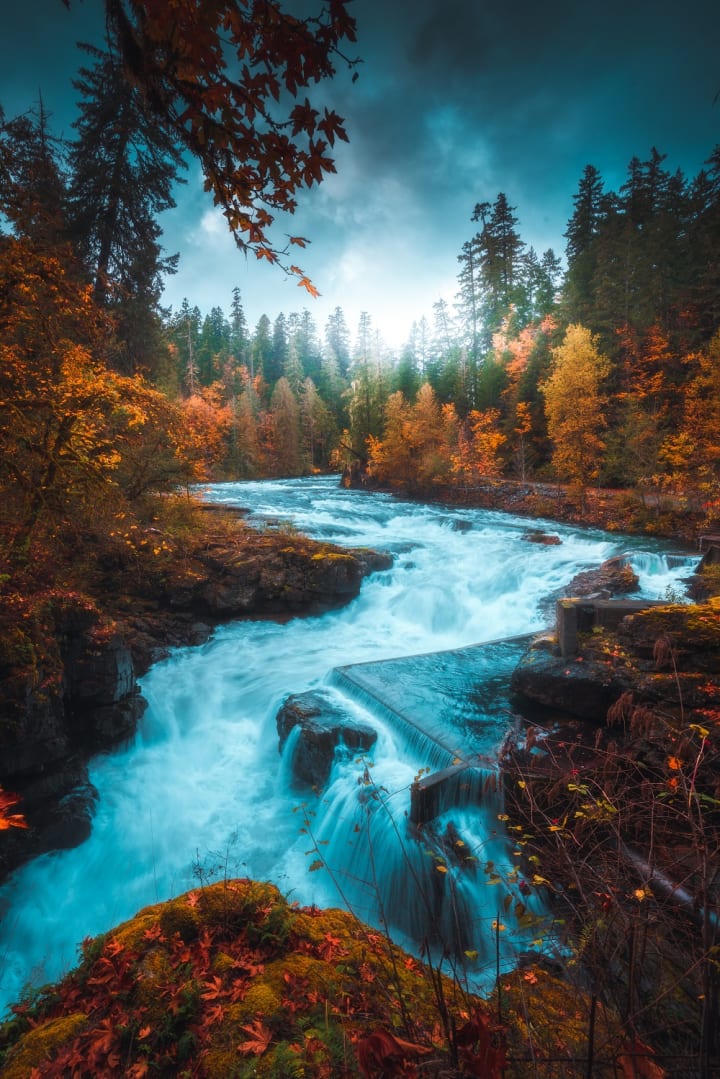 Vancouver Island isn't really known for it's wild fall colors. Most years, our Fall colors tend to come and go fairly quickly. Once they reach their peak, we usually get a nasty windstorm and it blows all of the beautiful leaves off the trees within a matter of days. But every so often, you can get lucky. And if you have the ability to enhance and bring out those colors even more in post, it can help you to capture even more color as I did in the photo above at one of the lesser known provincial parks here on the island.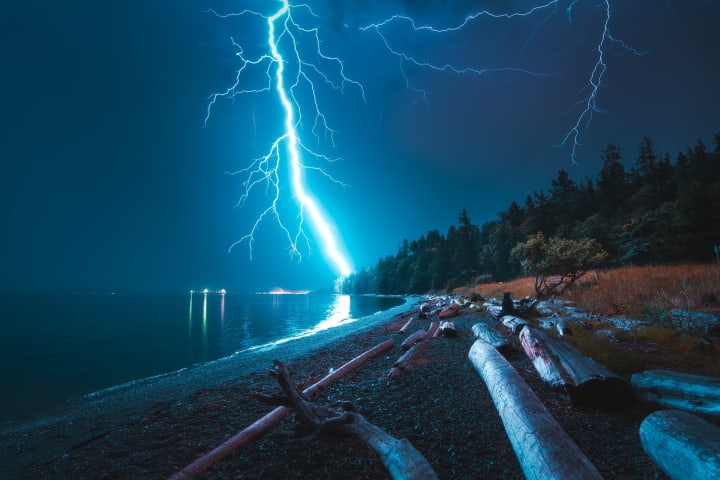 Yet another example of the variety to be seen here on the island are the lightning storms we get once or twice a year. Now, believe me when I say this, these lightning storms are very rare. I have only ever witnessed a couple during my whole life being on the island, and the lightning shot you see above was actually from the first storm I have ever photographed. Just another example of being at the right place at the right time. Or was I? You can read the story about this night and how unbelievably dumb it was to be out there in the middle of a storm, here: "Photographing Lightning in the Pacific Northwest"
One of the most reckless moments of my career but fortunately myself, my girlfriend, and her sister managed to make it back to the car safe and sound right after that massive bolt hit those trees less than a kilometer away from us...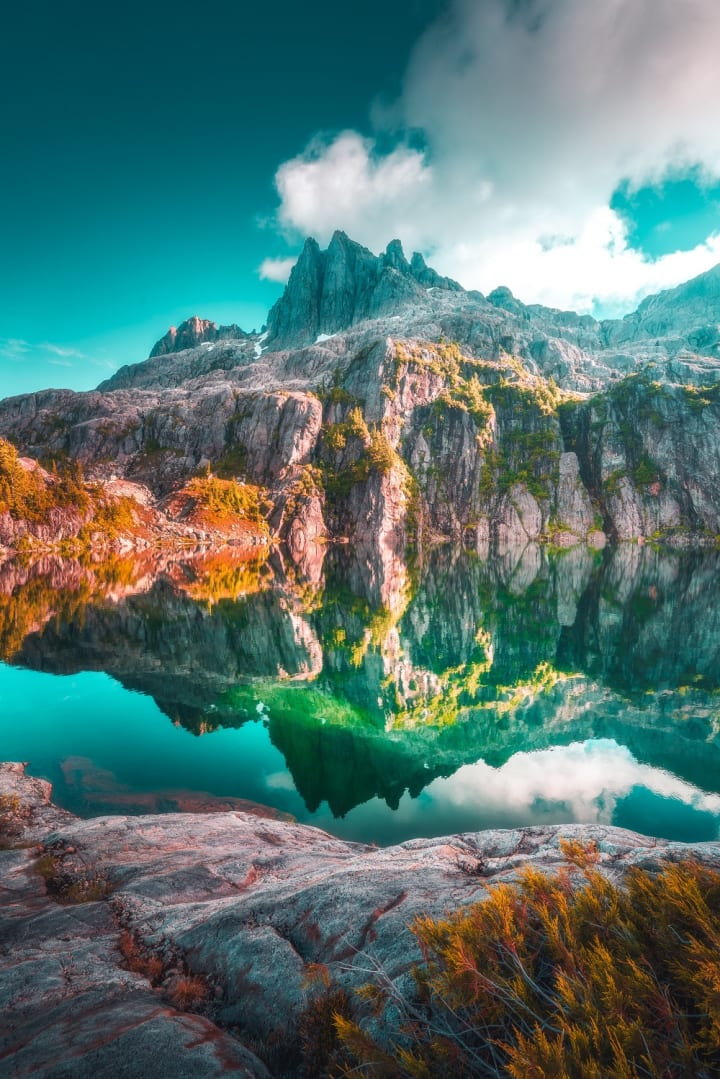 Now, I had to save the best for last. My favorite places on Vancouver Island aren't the old growth forests, or the towns/cities, or even the beautiful wide-open beaches; what I truly enjoy exploring most are the mountains that this place has to offer. The hiking that is available up in the alpine of Van Isle is just incredible. And it's something I wasn't able to appreciate and experience until my friends and I got into backpacking and overnight hiking in 2019.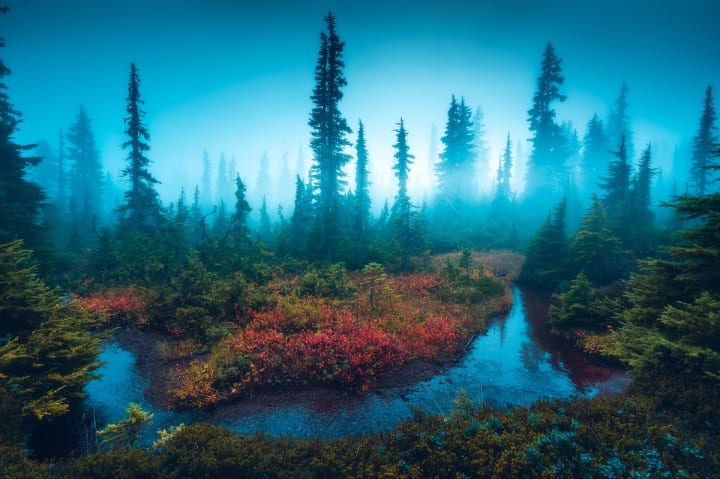 From stunning alpine lakes, to jagged mountain peaks, to beautiful foggy alpine meadows; you'd be blown away by how much variety is on this island.
Just when I think I have hiked every good trail and seen all the killer views, I learn about someplace new. My friends and I often talk about how one could seriously live on this island their whole life and never run out of places to explore. There's just so much beauty out there in the wild; it's mind-boggling.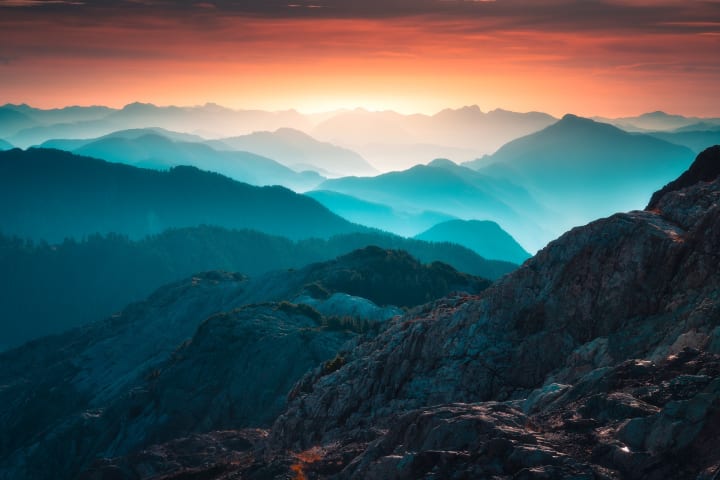 You can read about the story behind the above image and my first ever solo overnight hike here: "Endless Horizons"
This is one of my favorite hikes in the whole world. It just simply has it all. A beautiful lake, endless mountain layers, views of the coastal mountains to the East and the open Pacific ocean to the West... I've since visited twice and I really just wanna go back up again this Summer. It really is so beautiful up here.
Unfortunately, it is an unregulated location and it's already getting busier every year, so I cannot share the location details so as to better preserve this beautiful wilderness. But if you're determined to find it, with some diligent research; you can do it just as I did. If you do visit though, please respect this beautiful place and follow Leave No Trace principles. In order to keep it looking beautiful, we need to do our part.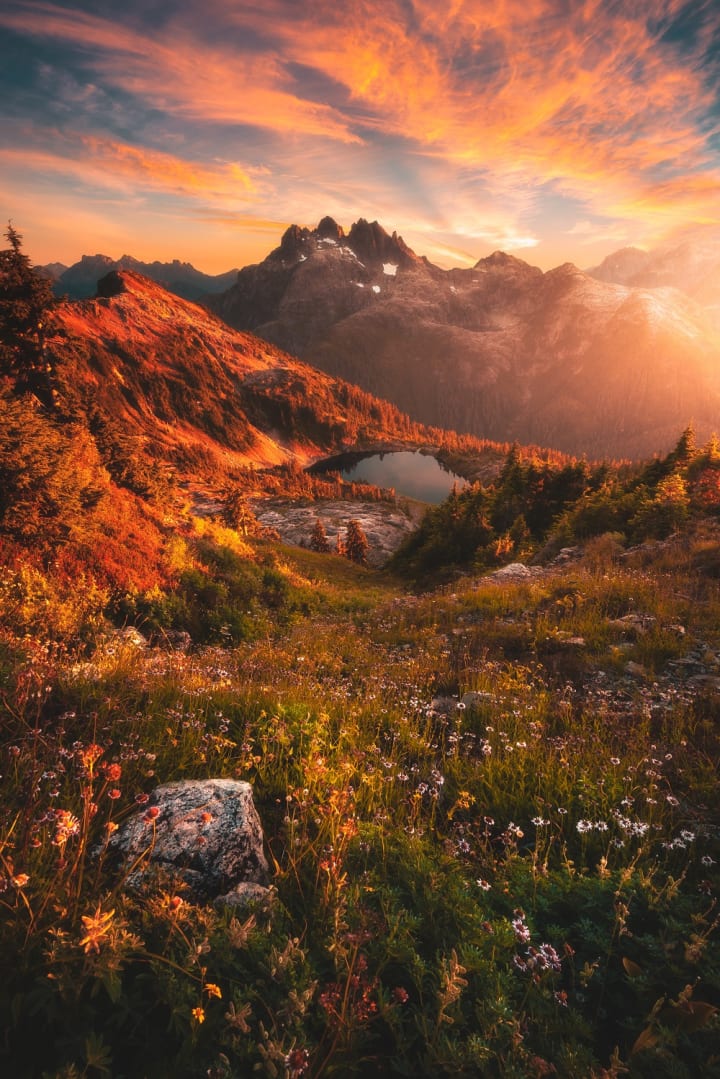 I hope you enjoyed this story and collection of images from this little island off the Westcoast of Canada. It's a beautiful place and I think you'd really enjoy it if you ever do pay a visit! But just make sure you do so once travel is safe of course.
It was lots of fun writing this story and sharing some of these images with you from the place I like to call home. While I of course want to share the beauty of my home with you, I also want to express to you how important it is to explore where you live. Had I never gotten curious and drove all over the island looking for new places to see and hike; I would have never seen the majority of these beautiful places. I would still think that this island is just some boring and unexciting place in Canada.
Getting outdoors and exploring my own backyard has taught me that this place is very far from boring and I really should be so grateful for where I live. And the same can happen for you, no matter where you live in the world. So get outside (if you're able to) and go explore the place you call home! You might just be surprised as to what you'll find.
Thanks for reading!
Instagram: @calibreus
Website & Prints: calibreus.co
Want to learn how to edit like me? Check out my tutorials and presets here.

In this chapter we will look at several questions. What is the relationship between photography and memory? How can a still image/photograph produce or recall memories? What information do we get through photographs and through memories? How do memories transform through language and what does naming/defining memories do in terms of remembering and forgetting? How do the images/memories exist through projection?

Using the help of tools, heal, water, and even fire, these 10 Polaroid manipulation techniques are sure to amp up any photographer's skill set. With some of the coolest end results, these methods will transform your photography with your own hands.

Smartphones have come a long way to become an essential part of our daily life. One of the biggest advantages of Smartphones, apart from its other capabilities is the camera. Smartphone camera fulfils the majority of tasks in everyday life from selfies, social media posting to event photography and video recordings. Smartphones are smaller, thinner and lightweight as compared to digital cameras, and can easily fit into the pocket or purse. Due to the convenience and camera enhancements in recent years, many professionals prefer smartphone cameras over digital cameras. Although, Smartphone cameras has not replaced digital cameras, but they is fast gaining the advance features through their hardware and software enhancements.

I've loved taking pictures since I was a kid. Everywhere I'd go, a camera always came along too. Until a couple of years ago I never thought about actually making money from them. It was just something I enjoyed doing.

Lighting for video takes some skill. It's not an easy task. It took me a while to figure out what looks right, what looks natural, and what the heck I actually wanted when I was given a script or wrote my own script with specific settings.

My motto is "bare your skin," meaning be yourself in life and find comfort in being you. As a photographer I try to have the people I photograph become comfortable around me and be vulnerable with the camera. It is important to me that I am able to show people the beauty that they bring to this world and that is something I am working on doing for myself. Now we all know the statement, "photographers are the worst subjects." Yes, it is true at least for me. It is this sense of lack of control, we've made it up in our mind that it is already a bad picture or that we are not photogenic enough.