Capturing the Milky Way on the Coast
A little story from my recent adventure to the West Coast of Vancouver Island, with some included before/afters.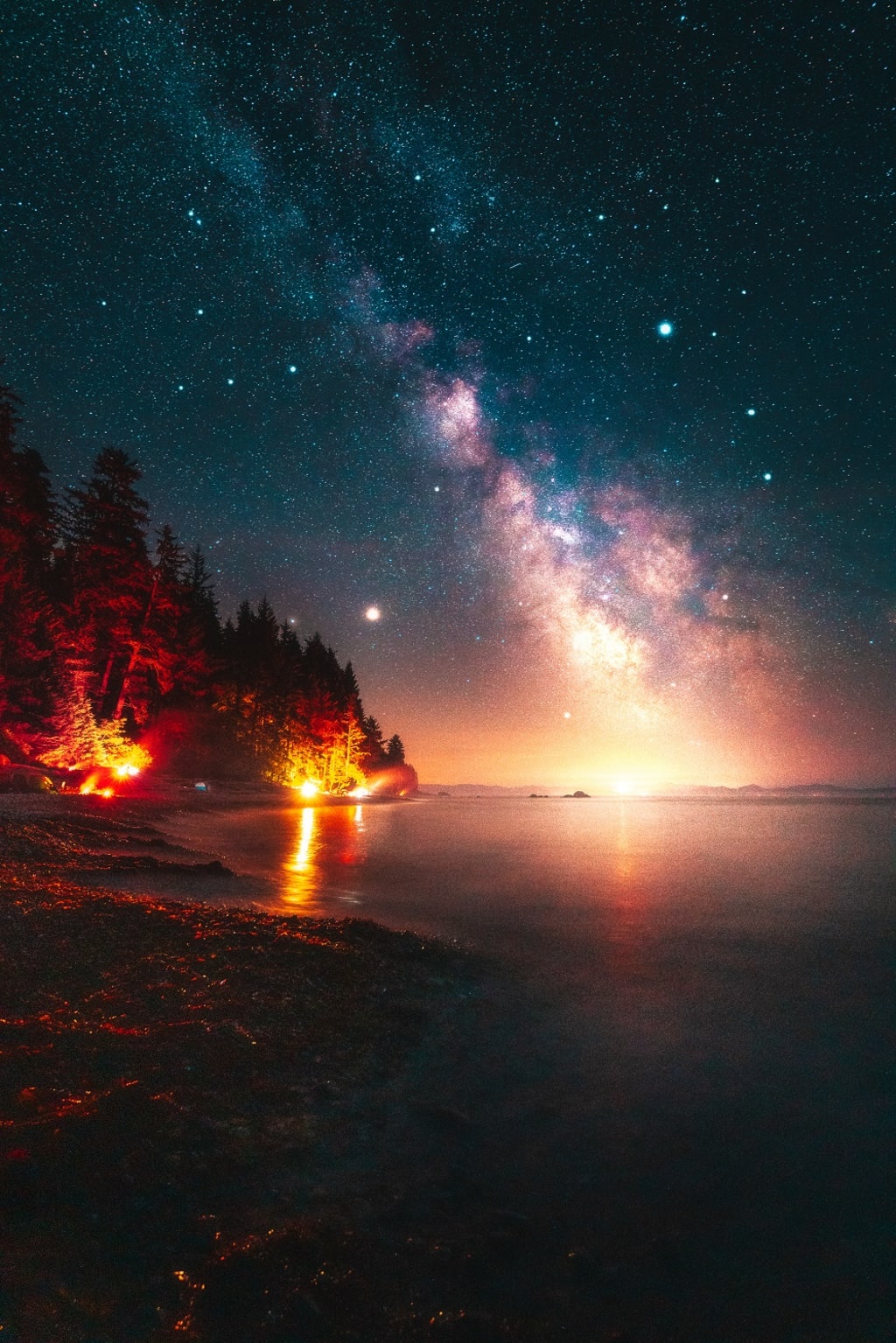 "Beyond the Horizon" © Zach Doehler
A few weeks ago, some friends and I decided to head out to the West Coast of Vancouver Island for camping. They were going to be camping at a campground near Port Renfrew, and I was going to be heading out for a solo night at Sombrio Beach so that I could get optimal conditions for milky way photography.
We left Nanaimo at around 6pm and started making our way South towards Port Renfrew. I had decided to take the motorcycle that weekend as the weather was looking amazing and of course, I am always down to take the bike out if I have an opportunity to. I loaded up my tank bag and side bags with all my camera and camping gear. I had just enough space in those bags to fit everything that I would need for that night on the coast. I also didn't think I would have to walk far once I eventually got to Sombrio, so I wasn't all too concerned about packing lightly. But boy was I ever in for a surprise...
After getting dinner and filling up with gas along the way, we finally made it to Port Renfrew at around 9:15pm. I then had another 30 minutes to ride before I'd be at my final destination for the night. I probably ripped over a little quicker than normal... So I ended up making it there and down to the beach with all my gear by 9:45pm. I figured that I would easily find a place to camp once I arrived at the beach, but I was wrong. The parking lot was packed out and once I made the short trek down to the beach with all my gear, I was shocked to see so many tents and campfires along the seashore.
Of course, being the fool that I am, I didn't pack a tent. I figured it would be a better idea to bring my hammock and sleep in that instead since it's more comfortable and would take up less space in my bags... What a silly decision that was.
I walked along the beach mindlessly, slowly watching the blue hour light fade away as I searched anxiously for a place to hang my hammock for the night. Here I was, walking down the beach in high-vis motorcycle gear, carrying my two side bags in one hand and my helmet in the other, with no clue as to where I was going to sleep that night. You wouldn't think I would be so hard-pressed to find a couple trees to hang my hammock between, but every single good spot was already taken up by someone else's hammock. And I wasn't about to go asking if I could 'bunk hammock' and hang mine above theirs...
After over a kilometre of walking down this beach, the concentration of tents and campfires was finally beginning to lessen. However, I still couldn't find a place to pitch my hammock. The beach straddled alongside a cliff, so any exposed trees among the thick forest were just too high up for me to reach.
Finally, at around 10:15pm, I had come to the end of the beach before hitting a rock wall preventing me from going any further, so my desperation for a hammock spot had truly reached its peak by this point. But fortunately for me, I had finally found some beach wood that was spaced out just enough to hang a hammock from. I walked over to the beach wood excited to finally set up camp, only to notice there was a hidden tent setup only 10 feet away from the spot. Thankfully, the campers were outside of their tent at the time, so I asked their permission if it would be alright for me to setup my hammock there for the night and after some hesitation, they said it would be alright. I assured them that I would be out early the next morning anyway, so I would be out of their hair in no time. They wouldn't even notice me.
I setup my hammock and sleeping quarters for the night just before the light eventually faded and I couldn't see anything more. Then I grabbed my jacket and camera gear and began walking back to where I started from to meet up with my friends who were coming to join me for some milky way stargazing. I knew it would be too difficult and confusing for them to try and find me if they walked down the beach towards my camp, especially since we were without cell service out there. So once I got back to the trail head, I setup my chair and waited patiently. Every group of flashlights that I saw coming from the forest, I thought were them. But it was always someone else.
Finally, after waiting for nearly an hour. I decided it would be best to start photographing the milky way. The time was getting very close to astronomical twilight, so there was no point in me waiting around when I could be doing what I came there to do. So I got out my tripod and camera and started firing away.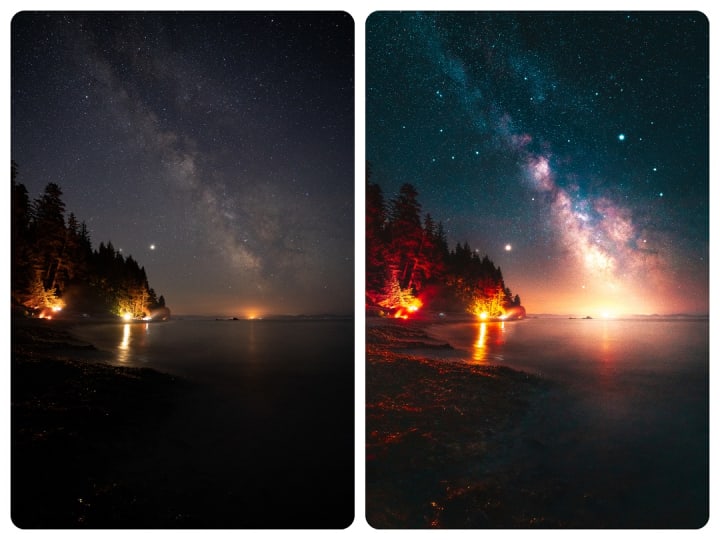 The first composition I captured that night was one for the books. I totally didn't expect the milky way to line up so perfectly with the trees and campfires that night. It was just amazing, and I really couldn't have asked for better conditions. I have been skunked so many times in the past on astrophotography shoots, so I was really excited to finally have one that went even better than I had planned on.
When post-processing these images, I tried my very best to really make that milky way core pop. And of course, I had to add my usual colorful style as I do with the rest of images. Sometimes, I find editing milky way images to be rather difficult, but this one came together a lot easier than it normally would.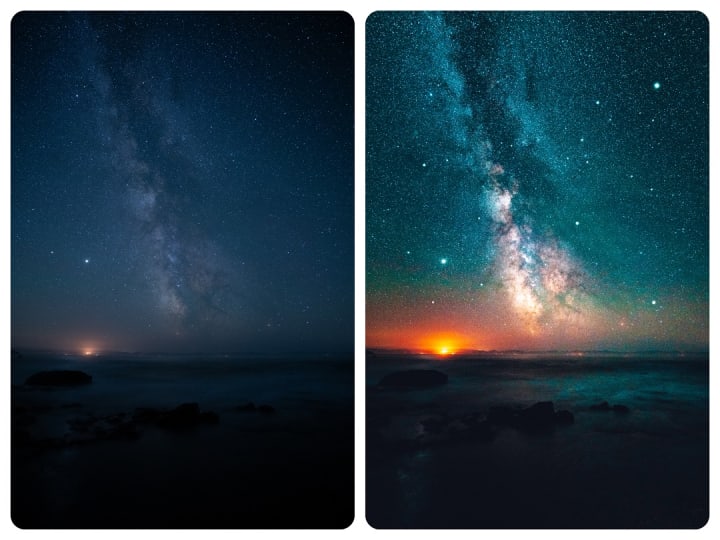 The second composition that I edited that night wasn't very special to me. I felt both the shot and the edit could be improved upon. But I didn't spend as much time on this one as I did the last. And regardless, I think I am still pretty happy about it for the most part. It will also come in handy for any future dreamscapes that I want to create.
At close to midnight, my friends eventually arrived and we enjoyed the stars together for a little under an hour. Then they left and I began heading back to the spot I hung my hammock. Finally satisfied with all the images that I got, I decided to call it a night and head to sleep at 1:30am.
I woke up the next morning around 7:30am, hearing people moving stuff outside of my hammock. I noticed that the people who had their tent setup to begin with, had packed everything up and moved literally 30 feet away! Just to be away from me despite me telling them the night before that I was leaving that morning... Oh well. Jokes on them, I had my gear packed up and I was out of there by 8am. Guess you guys coulda slept in more huh...
Thanks for reading.
Follow me on Instagram: @calibreus
Tutorials, courses, prints, and more! Visit my website: www.calibreus.co