My Camera
The Canon T3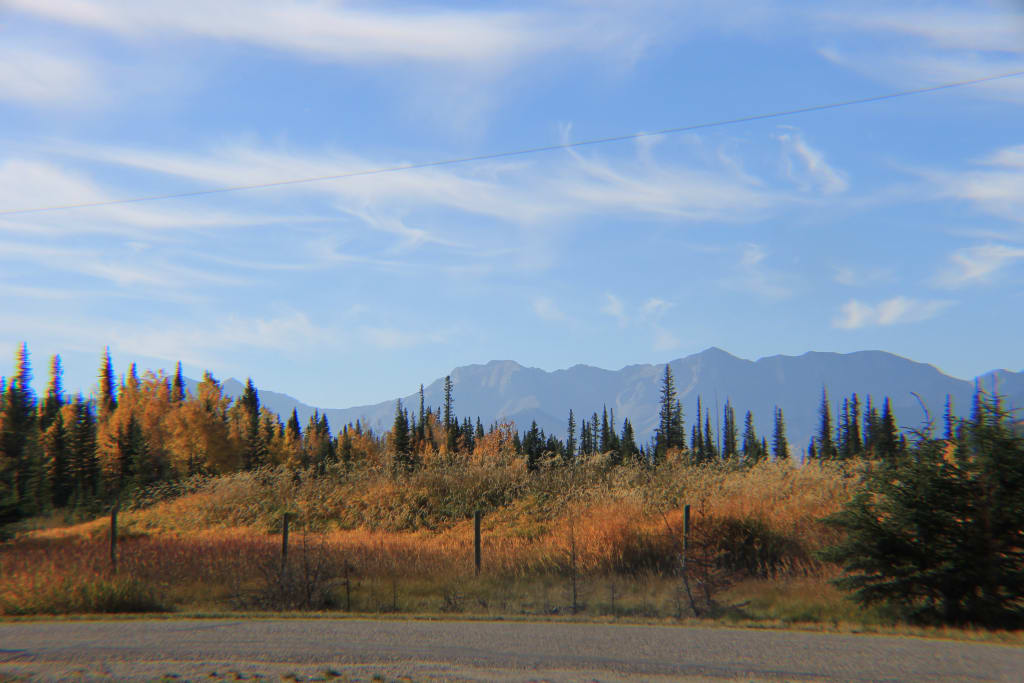 The view from my drive way
My Camera
Back when I started to investigate doing copywriting and blogging as a career, I didn't think that I would be using my camera. I wrote an article about tomatoes and posted it on Vocal. I could not submit my article with out a picture so that is when the light bulb in my head turned on and I thought I can use my camera and take the picture myself. I can turn my hobby into something to help support my writing career. Instagram, Facebook, and Tumbler I can do all my own pictures and story idea. I am not sure how well t will go.
So, here is a little back story on my camera. It was a gift to myself for my second mothers. It was the canon rebel eos t3. I had no idea how to use it, but I figured I will learn. Having to be a working mom got in the way. Then I had my son. Before, I knew I had 2 kids and 2 step kids living with me dogs, cat's life is busy. Learning my camera and photography got put aside. Now 8 years after buying my camera I am finally learning how to use it. Beyond the point and shoot. I am even learning how to use photo shop to edit my photos. I m not trying to be a photographer I want to be a writer. However, my camera does help bring things to life.
In the last few months, I bought an auto focus 3-piece macro extension lenses and a 2x zoom lenses for my camera. There are a lot more lenses and things that I would like to get for my camera. Among them would be a tripod. I used to have a blue one, but I am not sure what happened to it. For the moment, my telescope tripod kind of works. I have had my telescope for longer then I had my camera. I would like to get a couple more telescope but that is another hobby of mine that got sidelined when I had children. Hopefully in time will be able to get back to that hobby as well. For now, my camera is what I am focusing on.
I bought my camera in May of 2012. I saw it in the camera section of Walmart, and I knew I had to have it. The Canon Rebel t3, is old now and I think it was a camera or two behind already, but the price was right. It was still over four hundred dollars, and I probably shouldn't have bought it then, but I bought it anyway.
One of the things I learned this summer is that my camera won't take a photo of the sky on autofocus. I think that the reason is there really is nothing to focus on in the blue sky. I put it on manual focus and got a great picture of the sky and clouds. I am still trying to figure out the macro extension. I can use any combination of 2 of the 3 pieces and not have the.
This summer my family and I went camping out at a Lake called Petite Lake in Alberta. It is about 40 minutes away from my house. No cell reception so we were living off the grid for a couple of days. We went fishing and one of the boys caught a fish. The only one that was caught all weekend. I brought my camera with me and was taking some photos of the scenery. I saw a hawk; it was across the lake diving for its supper. It was in the evening around seven that night. I took pictures of it but none of them turned out. The trees look great. The hawk looks like a white dot. My 2x zoom lenses just didn't do the job I needed. So, I am going to buy 100x zoom lenses for things like that. Don't get me wrong I like the zoom lens that I have. I just need to invest in other zoom lenses. This isn't the first time I have experienced the need for a better zoom. I was canoeing in Ontario and I saw a Loon and her babies. I was using a disposable camera. This was in the pre-digital age. Or they were just starting to come out. It was in the early 2000s. All I got was water and trees. No babies, no mommy loon. That was when I realized that I wanted a better camera. I didn't get one until almost a decade later. I have always liked to take pictures.
Photography is something that I have always wanted to do. It has just taken me a while to get here. It's anew skill that I am working on. It's a skill that I think will help me with my blogging. Can take my own pictures and use them in my articles and stories. I am learning how to edit them and make them look better. This is my journey and maybe you would like to read and watch me learn a new skill.
Natosha J Selsky