How I Created My First Photography Zine
From Concept to Execution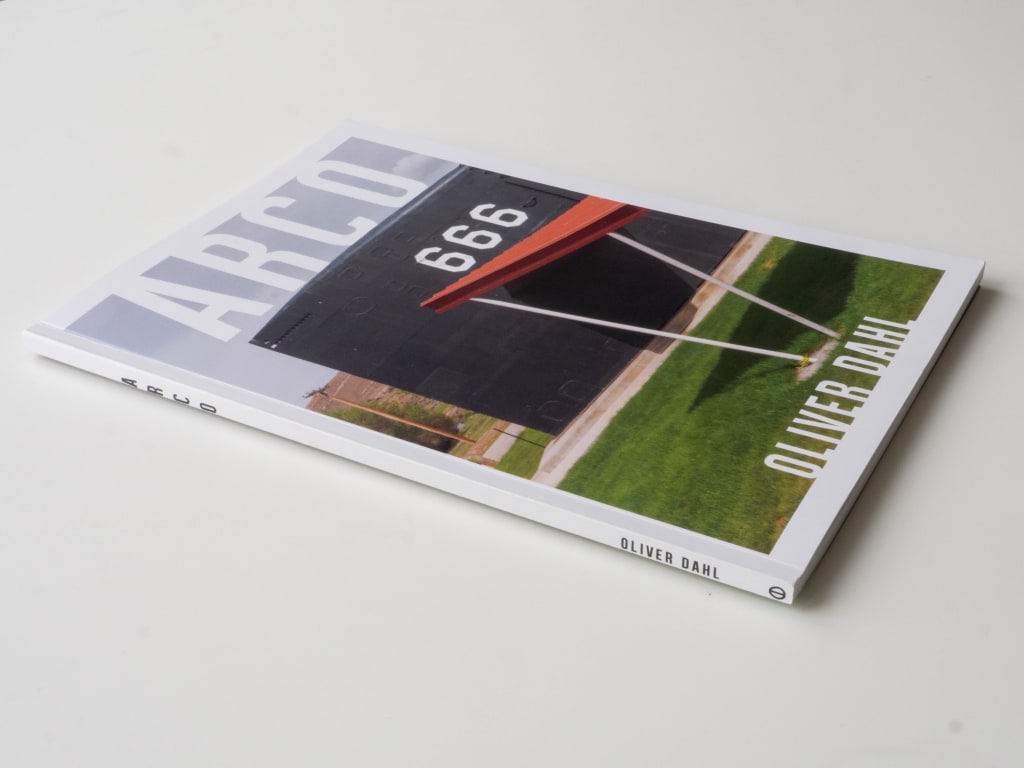 Before I ever bought my first camera, I loved taking photos on my phone of new places. Something about capturing the sights I saw did more than help me remember how a place looked. It helped me remember how I felt in the moment, too.
I became friends with some more "serious" photographers after graduating high school, and between trying to fit in with them and trying to take my photography to the next level, I bought my first real camera, a humble Olympus OMD EM10. (It's still the digital camera I'm using today!)
Over the next few years, I fell in love with shooting portraits and landscapes, concerts and neighborhoods. In short: just about everything.
Earlier this year, I used my time in quarantine to curate and design "Between Places," my first photo book. I launched a Kickstarter campaign and was amazed when it ended at 208% of my original funding goal.
Before I'd finished shipping out the books, I had my next idea. One night, thinking about what I should do next, the idea came to me: I needed to publish a photo series about the town of Arco, Idaho.
The idea came all at once, but seemed so fleshed out and complete in my mind. I even knew the exact spot and framing that I wanted to have for the cover photo. It felt like a revelation.
I'd been to Arco once, in 2017--and only for a few minutes after visiting Craters of the Moon National Monument on a family trip to Idaho Falls. But as I thought about the strange and cool things that I remembered seeing there (the Devil Boat and Number Hill, for example) I knew I had to make it happen. The idea kept me up for hours that night.
Around this same time, Willem Verbeeck announced his zine, "Walking Svalbard," a gorgeous thing I'm proud to have in my collection. His book features photographs he took over a few weeks in the town of Svalbard, the northernmost town in the world. The subject matter's unique "claim to fame" as the northernmost town made Willem's fantastic work all the more appealing to me.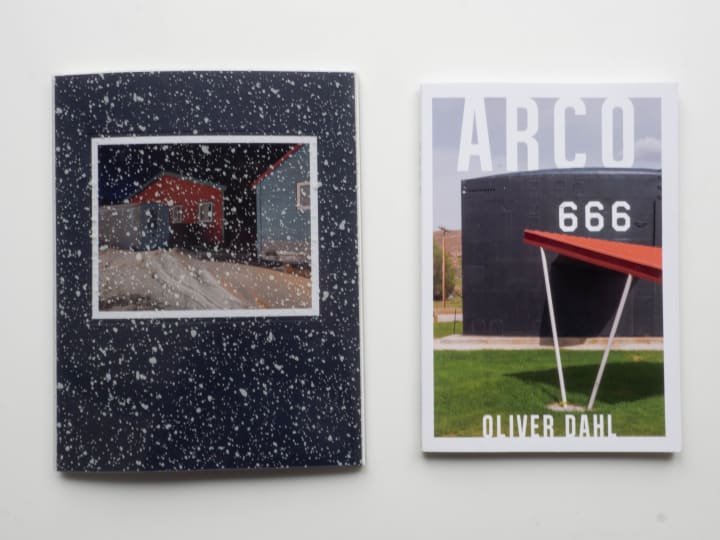 Luckily for me, Arco also has a "claim to fame." It was the first city in the world to be lit by nuclear power. I knew that even people unfamiliar with my photography might be interested in learning more about this nuclear almost-ghost town in the desert.
I'd taken a few photos in 2017 of Craters of the Moon and Arco, but not nearly enough to call it a photo series, let alone publish it as a zine. I knew I needed to go back.
Fortunately, my family planned a trip to Yellowstone over the summer, and we took a slight detour to pass through Arco and Craters of the Moon on our way.
My first time revisiting Arco after deciding to make it the subject of my next photo project was a dream come true. There was more there than I remembered! The whole town seemed staged for me, and I took as many photos as I could on both my digital and 35mm camera while we were there.
We stopped at Pickle's Place for lunch, and then headed to Yellowstone. (But not before getting yelled at by a guy who wasn't too happy that I took pictures of his car. I had to promise him I would delete and not post the photos I took in order to get him to stop asking for my camera haha.)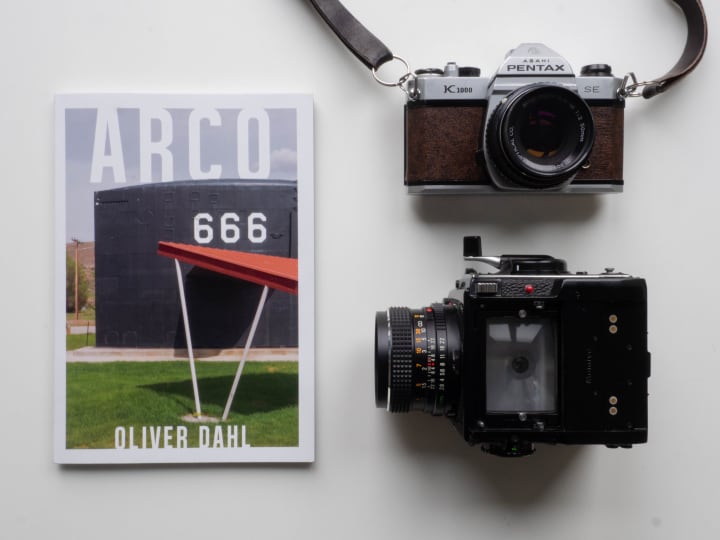 After the trip, I opened Adobe InDesign and started putting in all the worthwhile photos I'd taken and edited. I'd just invested in a dedicated film scanner (an Epson V600) so I rescanned the film photos I'd gotten back from the lab--a worthwhile exercise.
I'm no InDesign expert by any means, so I won't go into details about that part of the process. I couldn't count how many times I've had to Google "how to ___ in InDesign." (Predictably, I would forget within a few days and have to look it up again.) Thankfully, the internet is a great resource for learning new programs and skills.
I started getting an idea of how I wanted the zine to be set up. I designed the cover, which is about the only thing that stayed the same from that first draft. I knew I had to have the "Welcome to Arco Service" as the first photo in the book. It would serve as a welcome to the reader, too, and show right off the bat that this town has seen better days.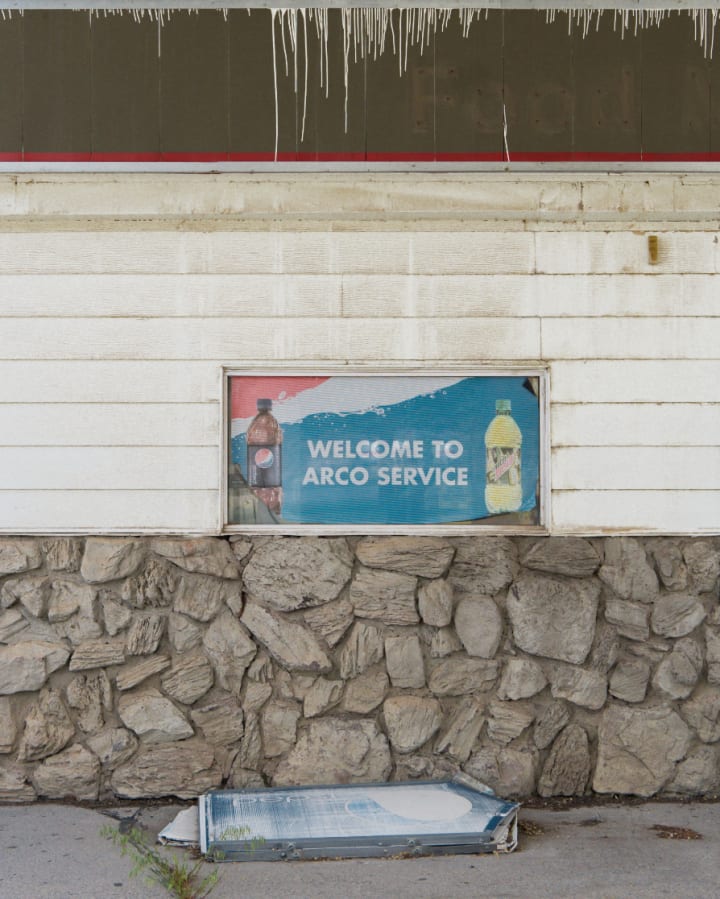 Over time (and two more trips to Arco--both dedicated solely to photography) I eliminated even beloved photos from the book to make room for even better ones. I wanted to keep it as short as I could while still telling the full story. Partially to keep it affordable for more people, and partially to keep it as focused and consistent as possible.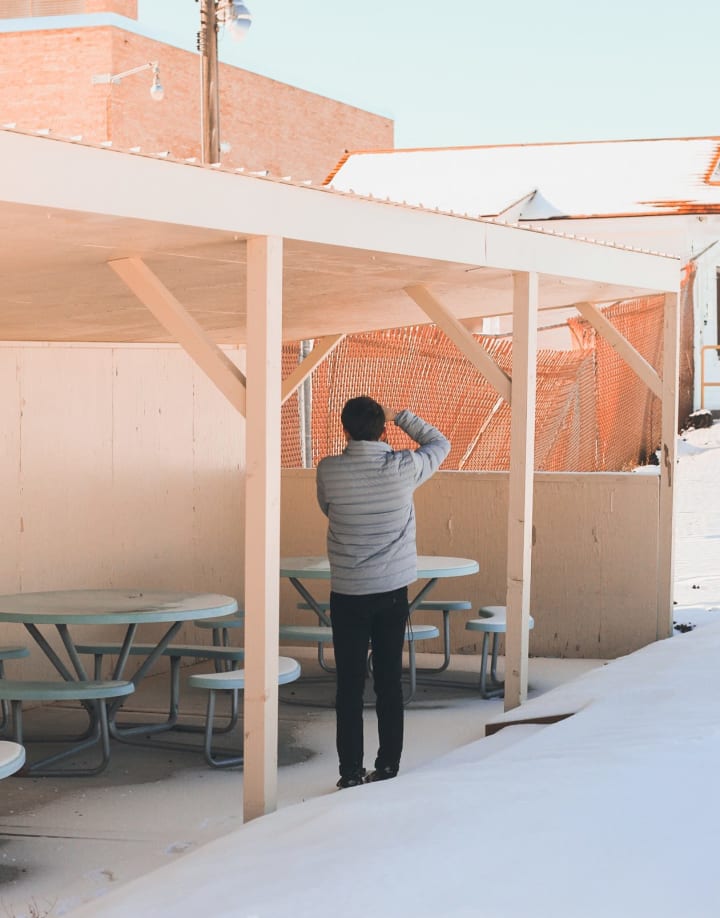 Figuring out the order and layout of the photos played as much of a role as the photos themselves. Several photos got the full spread treatment--making them as big as possible and overlapping over two pages. Others were kept smaller, either paired with another small image or juxtaposed against a larger scene on the opposite page.
I have a folder on my computer with something like 8 major drafts of ARCO, each with different photos, pairings, and styles. It took a long time before I had something that I was really happy with.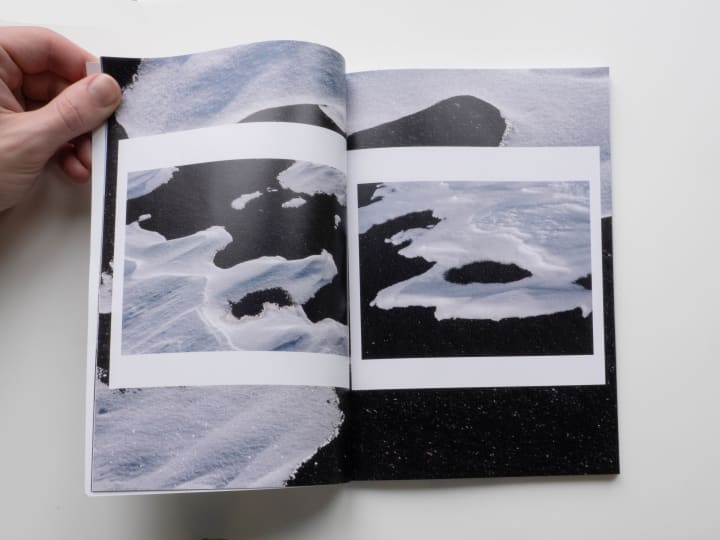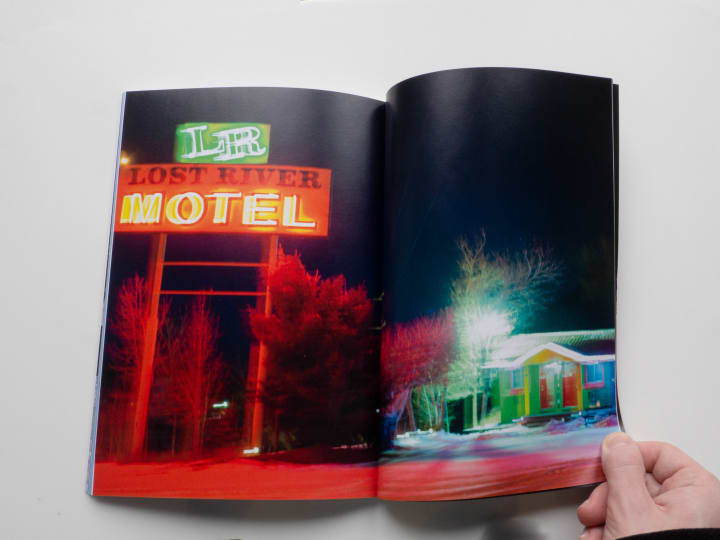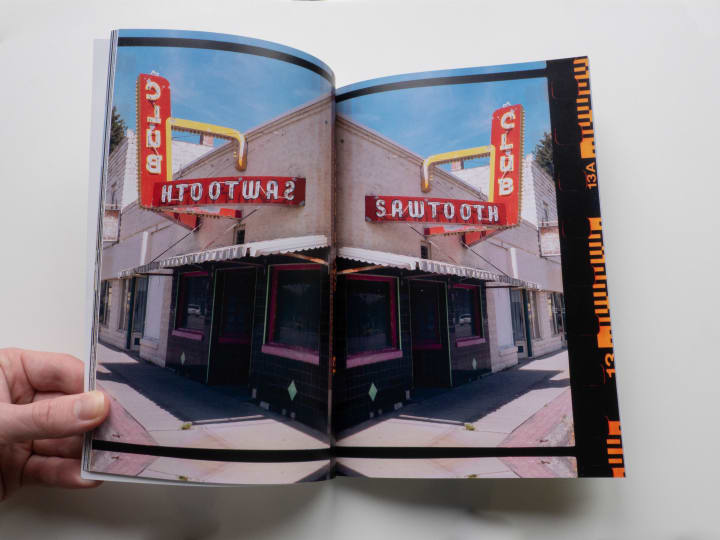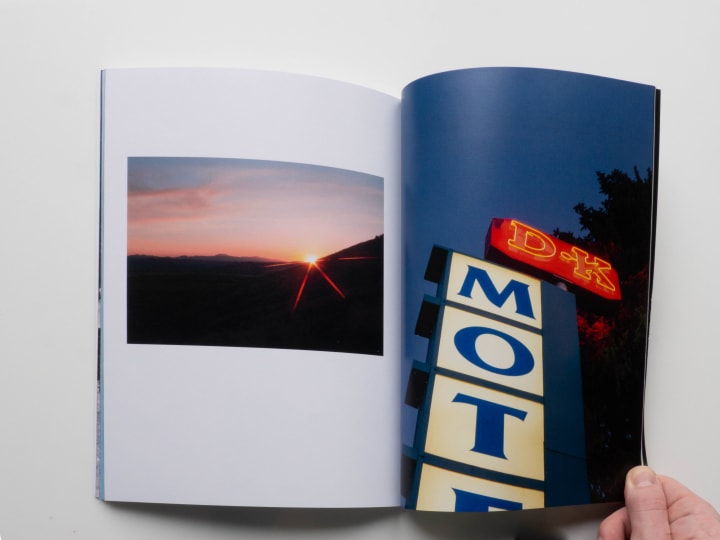 The next challenge was finding a printer. I did a lot of shopping around--even requesting quotes from local printing companies. (I never heard back from most of them?) I kept coming back to Mixam. They had the most straightforward process, lowest prices, and easiest access to quotes thanks to their built-in calculator. It seemed too good to be true.
I did end up using Mixam, but have two complaints:
1. Ordering a single copy is wildly expensive. There are understandable reasons behind this, but it did put me off for a while until I gave in. My proof copy of ARCO cost something like $55. (Of which, $37 was the book itself and the rest was somehow shipping costs. Not expedited, mind you.) It's not quite up to the challenge or accessibility of print-on-demand services like Blurb, but the prices do get much better with bulk orders.
2. Their automatic conversion from RGB to CMYK colors isn't great. Not having done any color conversions myself prior to uploading my file, their digital proof showed my blues as a gross teal color, and some of the other colors muddied. After some google searches and YouTube tutorials, I converted my InDesign document from RGB to a specific CMYK color profile myself and then re-uploaded the file. The results were much, much better.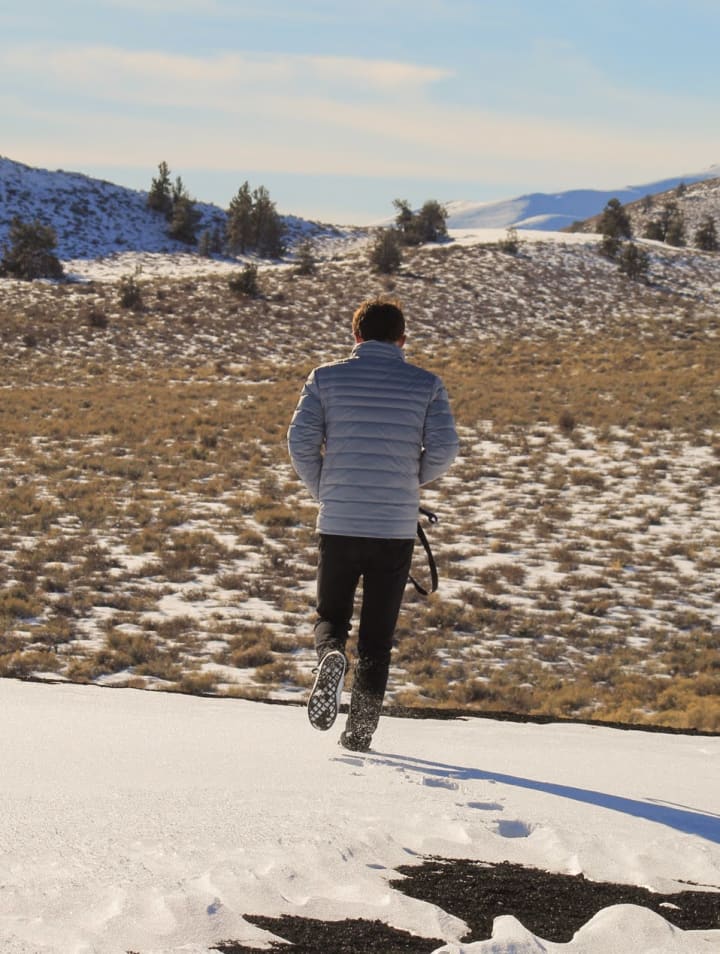 So I placed the order and waited (im)patiently for the proof copy to come. At long last, it arrived--and it looked SO good!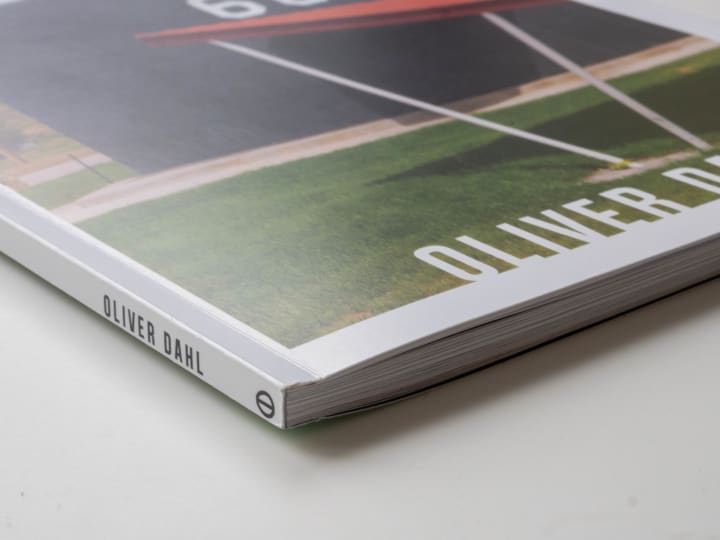 Seeing your name and work in print like this is such an amazing experience. It's incredibly rewarding to see something you've been working on for the better part of a year all come together. In the case of ARCO, it's not just months of writing, but also several roadtrips, hours of scanning film and editing photos, hundreds of revisions, and time spent researching the history of what I was photographing. To see it all come together in something so beautiful was so rewarding. I knew that this was a book I could be proud of.
You can pre-order your copy of ARCO today by visiting www.oliverdahl.com/arco.
Preparing any book for publication is a process. I've self-published three novels and a photo book up to this point, and each book has had its challenges, but this zine was probably the most challenging thing I've ever published.
Along the way and five books in, I've really come to love the process--as challenging as it can sometimes be. I'd love to be a resource for you to bounce ideas off of about books and zines of your own! Shoot me a message on my Instagram with any questions you have!
All the best,
Oliver Dahl
My other posts:
About the Creator
Oliver Dahl is a published author and photographer from Boise, Idaho.
He currently studies marketing at Brigham Young University.
Website: www.oliverdahl.com
Instagram: @OliverWDahl
Reader insights
Be the first to share your insights about this piece.
Add your insights