Ghost Photo Shoot: The Greatest Fall Trend Yet.
Grab a sheet, some sunglasses, and your camera.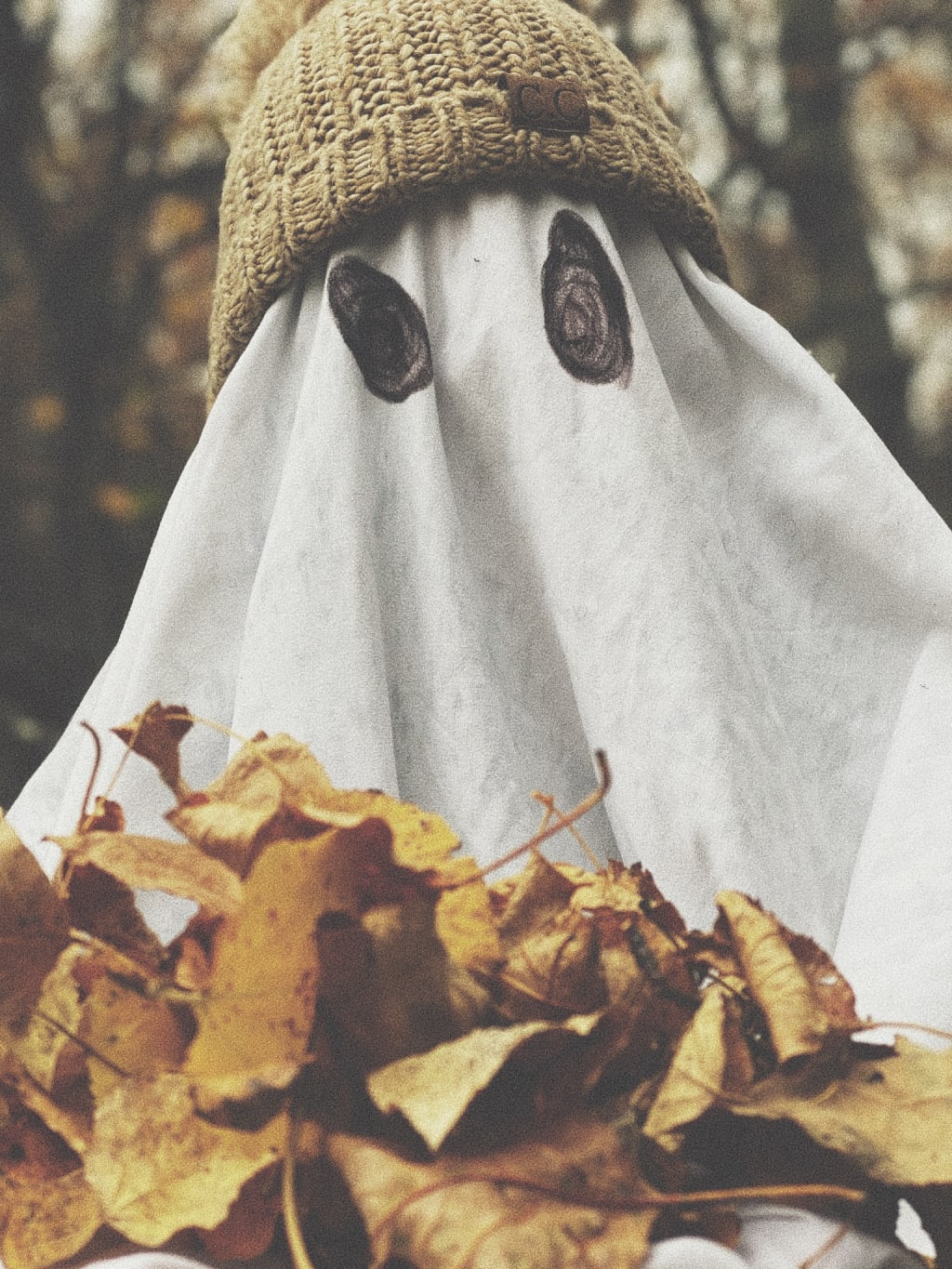 Shot on iPhone 11 Plus, edited in VSCO
If you don't love fall, Halloween, or both, I am guessing you're dead inside and we would never be friends, so you can actually get lost. Unless you enjoy reading articles written by people that don't like you... which I sort of respect in a weird way, so I guess you can stay. You don't need my approval. You go, girl*
Girl: meaning literally anyone of any gender or non-binary or chosen pronoun you like. Ghosts don't give a flying fuck about gender, I can tell you that. I digress.
For the rest of us normal folk, fall is here, we are loving it, and what better way to celebrate fall than to take great photos in it? This year, I decided to take a cue from social media trends and try something a little different for my fall photo shoot.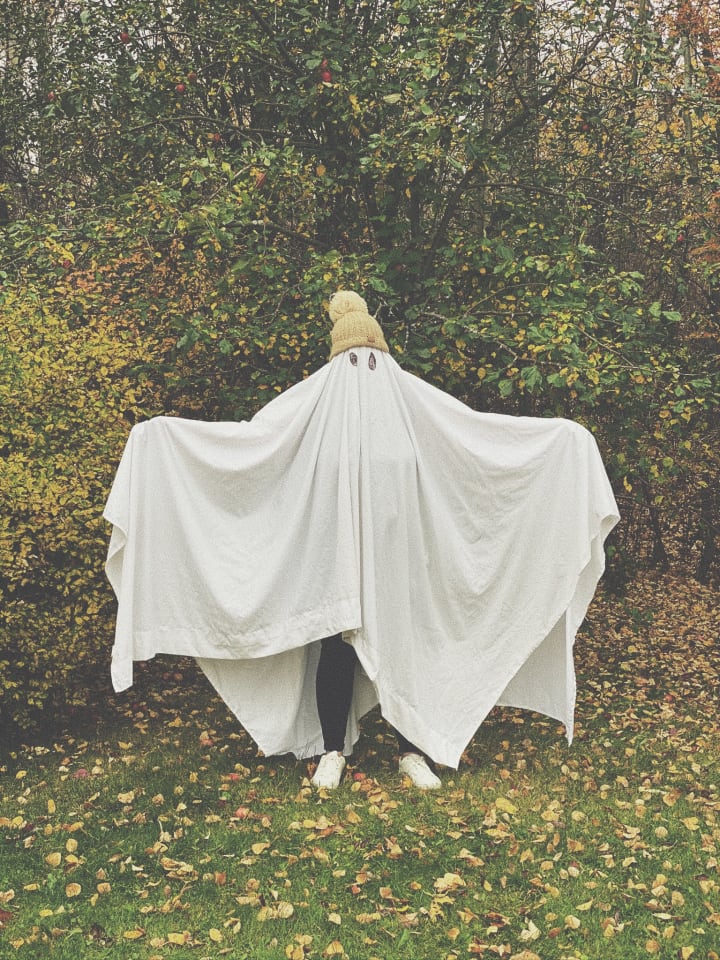 I have been seeing these amazing ghost photoshoots floating around on TikTok and Instagram and I just had to join in the fun. My middle sister and I decided to take these photos out at our grandparents' house, a spot we've enjoyed taking fall photos at since the days of neon colored digital cameras and bump-its. However, since birthing an almost 11 pound baby just over a year ago, I have had to begin working on becoming confident in front of the camera again in this new body I seem to be inhabiting, so fall photos haven't quite had the appeal they have in the past.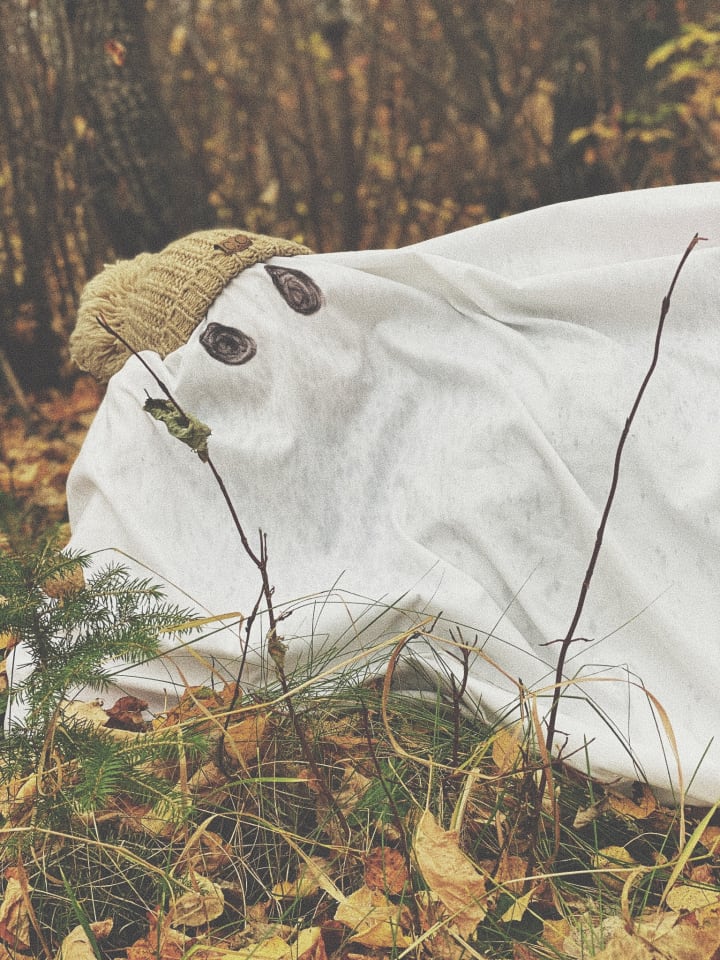 This shoot, however, made me feel super happy and excited. I mean, not only does one not have to worry about how they look when they're a ghost, but I can guarantee you that every shot will be pretty much amazing regardless of how you style it: it's a frickin' sheet ghost with a hat on. Each time we got a shot we liked, my sister and I were laughing hysterically. My family watched from the living room window in a fair bit* of confusion as my sister directed my partially blind ghost movements and we howled with laughter.
*A fair bit of confusion: it wasn't complete confusion, because me doing something weird does not strike my family as anything out of the ordinary.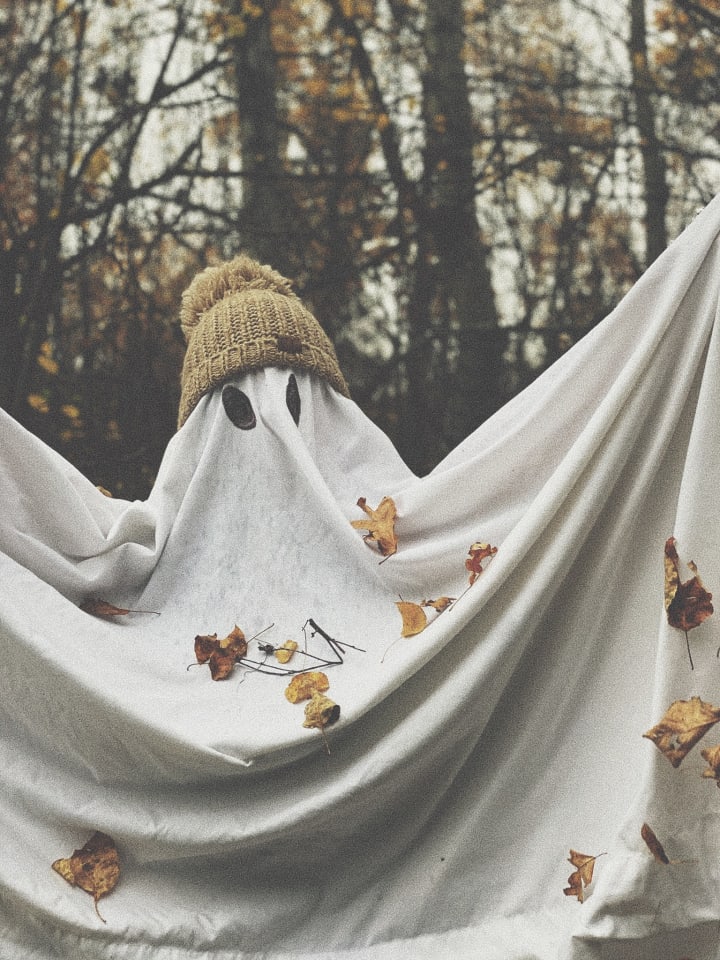 A lot of the ghost shots I've seen so far had been shot on film and had a sort of grainy quality that I think fits the fall, spooky, ghost-y vibe pretty well, so I went ahead and upped the grain on these portraits and I got that grainy film look I love so much about the other shoots I've seen. We shot in complete cloud cover while it lightly rained, so the natural light and atmosphere was also definitely in our favor. I used VSCO to edit, as I really didn't have much editing to do. It has been a bit frustrating not to have the use of iPhoto editor on my Macbook anymore, and I would love to find another free editing software I can use, though I was impressed with how quickly and nicely the tools on VSCO did the job. I don't really use VSCO to post or follow photography, but it's worth a download just to check out some of the editing tools if you haven't already.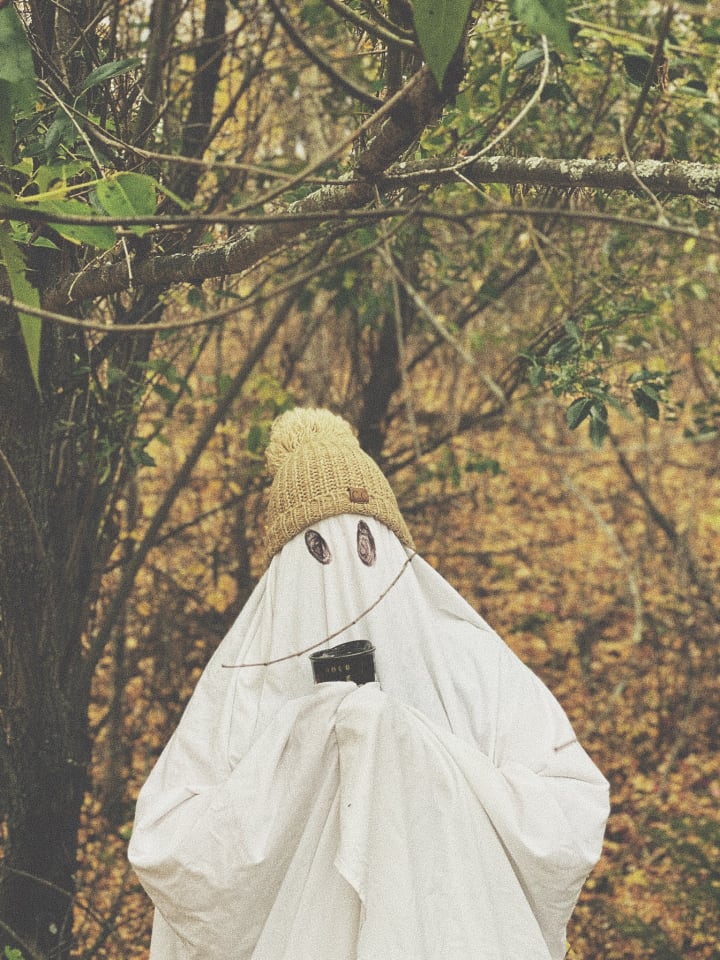 I hope you enjoy these shots as much as I do, and I hope you go out and have fun putting your own little spin on a ghost shoot. I for one added the nice touch of my ghost smoking cigarettes, eating apples off of the ground, and laying in the leaves in pure existential dread. You know, just fall things.
Happy Spooky Season!