Best Ways to Resize Images on Windows
Resize Images with online Image resizer
Do you want to upload an image on the Internet and the image size is too big?
Well, to help you with this here we have tested and reviewed best image resizer tools for Windows that you should use for instant results.
6 Best Image Resizer Tools for Windows
1. Image Resizer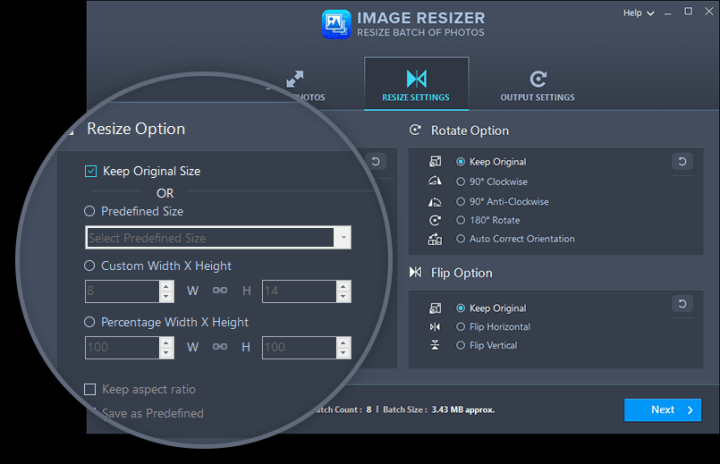 Image Resizer is one of the best images resizer tools for Windows that helps you perform various tasks in one go. It helps you resize, flip, rotate, change format and do lot more in few clicks process. Here, you can add entire folder or select individual images to resize. It works on advanced algorithms to help you resize images without compromising on visual quality. It works on simple & user-friendly interface to deliver hassle-free resizing. You can drag-and-drop files or simply add folders to start resizing images.
Features of Image Resizer
• It supports batch resizing to save time.
• You can use this tool to adjust image orientation.
• It allows you to save output files in different file formats.
• You can instantly scale-down or scale-up images by selecting predefined dimensions to save time and efforts.
2. Fotosizer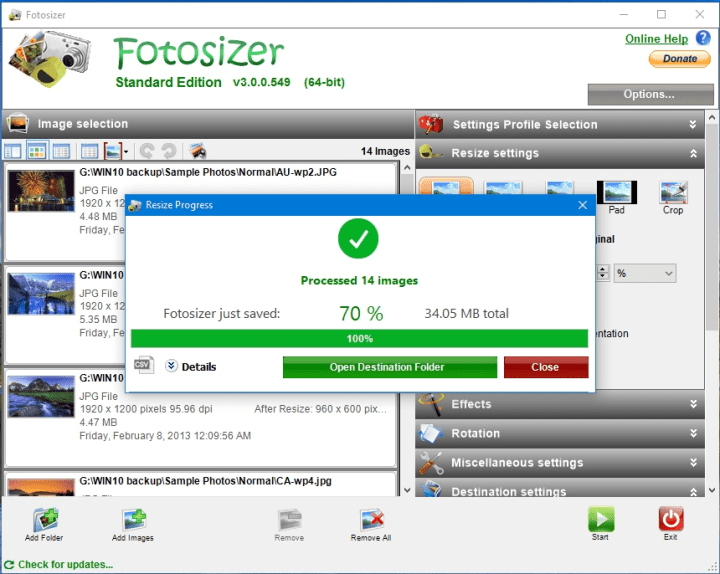 Next best image resizer tool for Windows is Fotosizer. It supports all Windows versions to deliver effective results. You can use Fotosizer not only to resize images but you can also apply text and image watermarks to photos, apply rounded corners to photos and apply color adjustments to photos. Once it completes scanning process, it deletes original photos or allow you to move photos to another folder. You can get its lifetime license to enjoy hassle-free services in the long run.
Features of Fotosizer
• It offers advanced batch resizing, rotation, and destination features.
• It is compatible to all Windows versions.
• It helps you resize all types of image files without affecting their quality.
3. Plastiliq Image Resizer
Use this tool to resize your JPEG, JPG, PNG, BMP, and other format files to get instant and effective results. It helps you batch-resize and convert your images in just single click with maximum comfort. It offers 7 useful image resizing modes including width and height, width, height, percentage, fit, and desktop to help you resize images in different ways. It runs seamlessly on Windows 32- and 64-bit versions.
Features of Plastiliq Image Resizer
• It supports all popular image formats to deliver accurate results.
• It allows you to preview files before final output.
• It offers drag & drop mouse operation to save your time.
4. High Quality Photo Resizer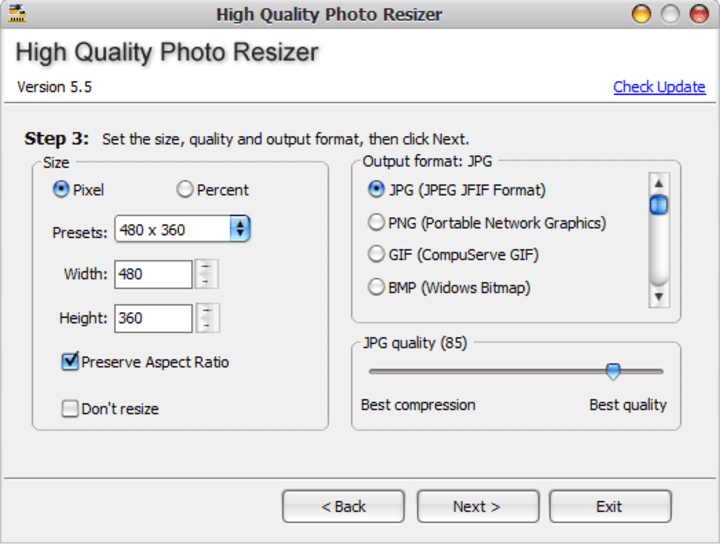 Use this easy-to-use freeware tool to batch resize images to save time. Use this tool to resize images to make high quality small images for publication on the Internet or elsewhere. It supports all major file formats in input and output result files. You can also use this powerful image resizer to add up to 37 effects to your photos.
Features of High Quality Photo Resizer
• You can download this tool on your device or use it as online photo resizer to save time.
• It allows batch resizing to resize images in bulk.
• It supports all major file formats.
5. Batch Image Resizer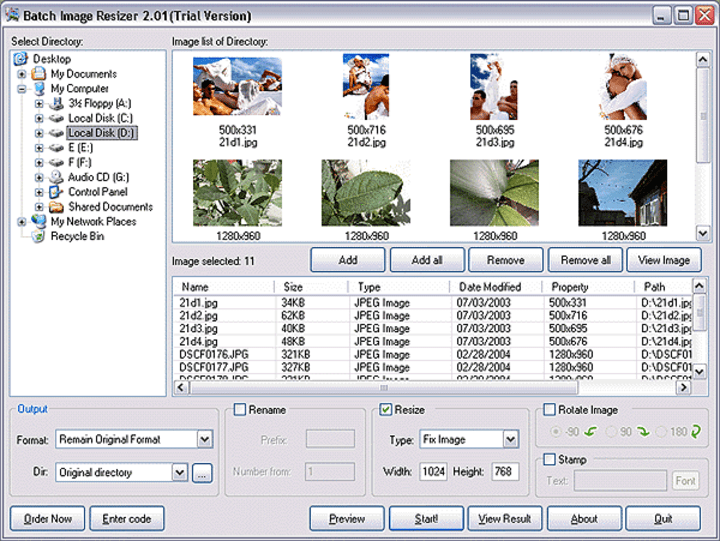 As name suggests, it helps you resize images in batches to save time. You can use this powerful tool to rotate, stamp, or even convert image format. It is fully compatible to all major image file formats. Here, you can apply various features while editing & resizing images in bulk. It offers few clicks simple process to deliver quick and effective results.
Features of Batch Image Resizer
• It allows you to rotate, stamp, resize, and convert images instantly.
• It offers built-in image viewer to allow you to view files before you resize them.
• It offers Windows Explorer like pane for simple integration.
6. FastStone Photo Resizer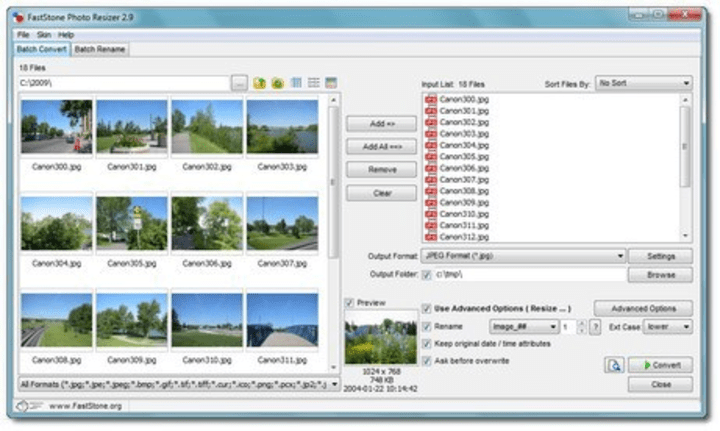 Use this image converter and renaming tool to convert, resize, rename, add text & watermark, change color depth, crop, and edit images effortlessly. It allows you to apply all filters and features in batches to save time. It supports multithreading for example you can process multiple image files simultaneously for better performance. It allows you to search and replace texts in the file names.
Features of FastStone Photo Resizer
• It supports all major file formats to deliver effective results.
• It offers preview conversion and renaming feature. Here, you can rename images with sequential number.
• It allows you to apply various filters to edit images in addition to resizing images.
So, this was a quick review of best image resizer tools for Windows. Do try them and share your experience in the comments below.
Metadata
Best image resizer tools for Windows offer instant and effective results to help you resize images seamlessly. Let's review some of these tools here.

In this chapter we will look at several questions. What is the relationship between photography and memory? How can a still image/photograph produce or recall memories? What information do we get through photographs and through memories? How do memories transform through language and what does naming/defining memories do in terms of remembering and forgetting? How do the images/memories exist through projection?

Using the help of tools, heal, water, and even fire, these 10 Polaroid manipulation techniques are sure to amp up any photographer's skill set. With some of the coolest end results, these methods will transform your photography with your own hands.

Smartphones have come a long way to become an essential part of our daily life. One of the biggest advantages of Smartphones, apart from its other capabilities is the camera. Smartphone camera fulfils the majority of tasks in everyday life from selfies, social media posting to event photography and video recordings. Smartphones are smaller, thinner and lightweight as compared to digital cameras, and can easily fit into the pocket or purse. Due to the convenience and camera enhancements in recent years, many professionals prefer smartphone cameras over digital cameras. Although, Smartphone cameras has not replaced digital cameras, but they is fast gaining the advance features through their hardware and software enhancements.

I've loved taking pictures since I was a kid. Everywhere I'd go, a camera always came along too. Until a couple of years ago I never thought about actually making money from them. It was just something I enjoyed doing.

Lighting for video takes some skill. It's not an easy task. It took me a while to figure out what looks right, what looks natural, and what the heck I actually wanted when I was given a script or wrote my own script with specific settings.

My motto is "bare your skin," meaning be yourself in life and find comfort in being you. As a photographer I try to have the people I photograph become comfortable around me and be vulnerable with the camera. It is important to me that I am able to show people the beauty that they bring to this world and that is something I am working on doing for myself. Now we all know the statement, "photographers are the worst subjects." Yes, it is true at least for me. It is this sense of lack of control, we've made it up in our mind that it is already a bad picture or that we are not photogenic enough.