Best Underwater Photographers on Instagram to Follow
Their shots are better, down where it's wetter, take it from me! These are the best underwater photographers on Instagram.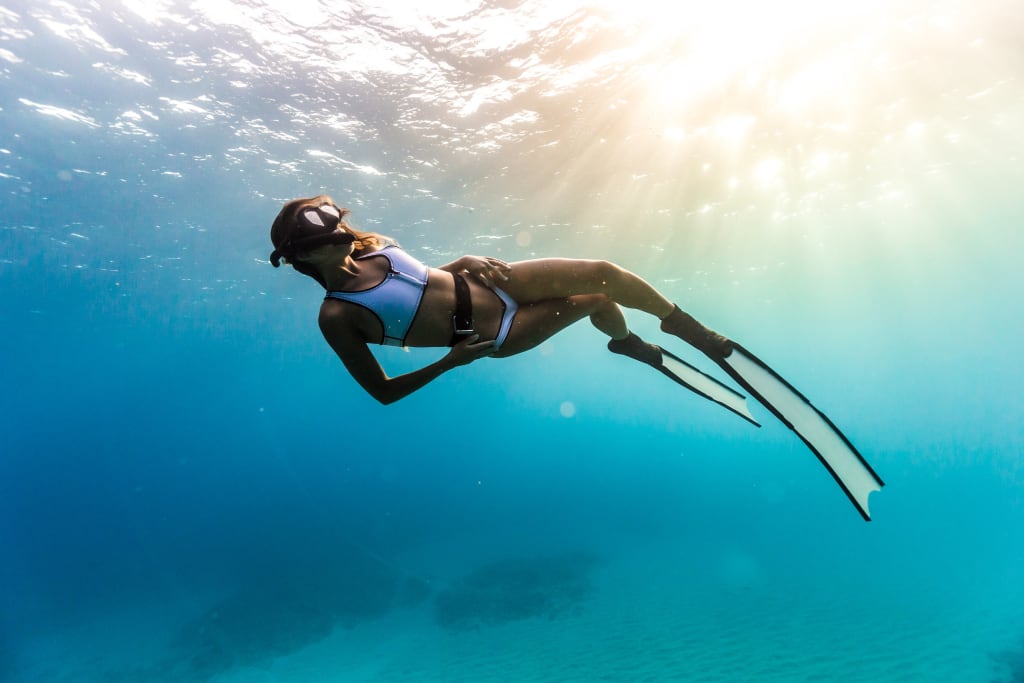 Underwater photography has this innate ability to be surreally pretty, while also keeping things blatantly realistic. It's a great way to capture wildlife, human bodies, and natural scenery in a new, impressively avant garde way.
Being one of the best underwater photographers on Instagram takes a lot more than underwater photography tips or even underwater cameras. It takes finesse, a keen eye for aesthetics, and more. That's what makes the following photographers stand out in a sea of artists any day of the week.
When it comes to capturing bright colors, crisp lines, and amazing shots of wildlife enjoying crystal waters, no one can do it better than David Doubilet. His visually stunning style has made him one of National Geographic's most popular wildlife photographers.
Looking at his underwater work is a true pleasure. That's what makes him one of the best underwater photographers on Instagram.
Do you love seeing up, close, and personal shots of sharks, turtles, and other sea creatures? Of course you do! Thomas Peschak adds a little photojournalism to his photography posts, which is to be expected since he's a National Geographic photographer.
You'll learn a lot about wildlife by following his Instagram account. You'll also learn a lot about geography too, because he does love capturing beautiful scenery in the background!
Is it on Earth? In space? Or just under the sea? With the work of Elena Kalis, it can be hard to tell. Her artistic approach to underwater photography blends fine art, fashion, and nature into a surreal experience all her own.
In terms of her choice of models and her excellent photo composition skills, it's easy to see why she's considered to be one of the best underwater photographers on Instagram.
Perrin James isn't just a globally-recognized photographer; he's the creative director of the well-regarded filmography company, Last Breath Film. It's clear that there's a reason why they chose him to be a creative director.
He shoots a little bit of everything, as long as it's underwater. So, checking out his Instagram feed means you'll see everything from models to seals, plus some surprising shots too!
Chuckle if you want at this guy's Instagram name, but he will give you every reason to take his work seriously. This Oahu-based photographer has an amazing ability to get shots of nature as it really is underwater.
Aesthetically exotic yet at the same time, comforting to look at, Ben Ono's work is nothing short of addictive in the way that only great photography can be.
When you first see Nicklen's work, you will say, "WOW!" His work is just that good. Superb lighting, amazing photo compositions, and deep emotions conveyed in every shot are what make him one of the best underwater photographers on Instagram.
Finding that raw passion for oceanic wildlife is very clear in every shot he takes—as it should be. After all, he's the co-founder of Sea Legacy.
Brian Skerry has a unique approach to his photography that turns nature into modern art. Whether it's the way he composes shots of fish, the way he brings out the silhouettes of a Great White Shark, or just the gorgeous azure hue of the ocean, he knows how to make it work.
In its own unique way, Skerry's artwork gives you a refreshing look at how pretty nature around the world can be.
Free divers have a deep affinity for Mouton Yangyang's work, and it's really not that hard to figure out why. This photographer has mastered the art of capturing people as they dive under the ocean without any equipment necessary.
Conveying romance underwater is Mouton Yangyang's specialty, and if you don't believe it, you need to check out her Instagram feed.
Activist, artist, and photographer Ben Hicks knows he has a natural talent for shooting the underwater world few really get to see. He also knows that the Earth's oceans are at risk due to human intervention and excess fishing.
That's what inspired Hicks to use his photography to capture the beauty of the world's oceans, and show why we should work to preserve it. You could say that his photos are a different kind of underwater living experience, simply because of how much flora and fauna he captures in them.
Finding underwater photographers on Instagram is pretty easy, but finding people who can bring underwater portraiture to the forefront isn't. Using his Canon camera and the crystal-clear seas of Waikiki, Galen Neil creates sets that turn humans into ballerina-like sculptures under the sea.
The way his camera captures their physiques is amazing, and that's what puts him a cut above the rest.
career

Iggy Paulsen
Iggy Paulsen is a fan of anything and everything wholesome. He loves his two dogs, hiking in the woods, traveling to Aruba, building DIY projects that better humanity, and listening to motivational speakers. He hopes to eventually become a motivational speaker himself.
See all posts by Iggy Paulsen →