Best Camera Wrist Straps Every Photographer Needs
Want to prevent dropping your camera and damaging it? Get your hands on one of the best camera wrist straps to keep your camera secure.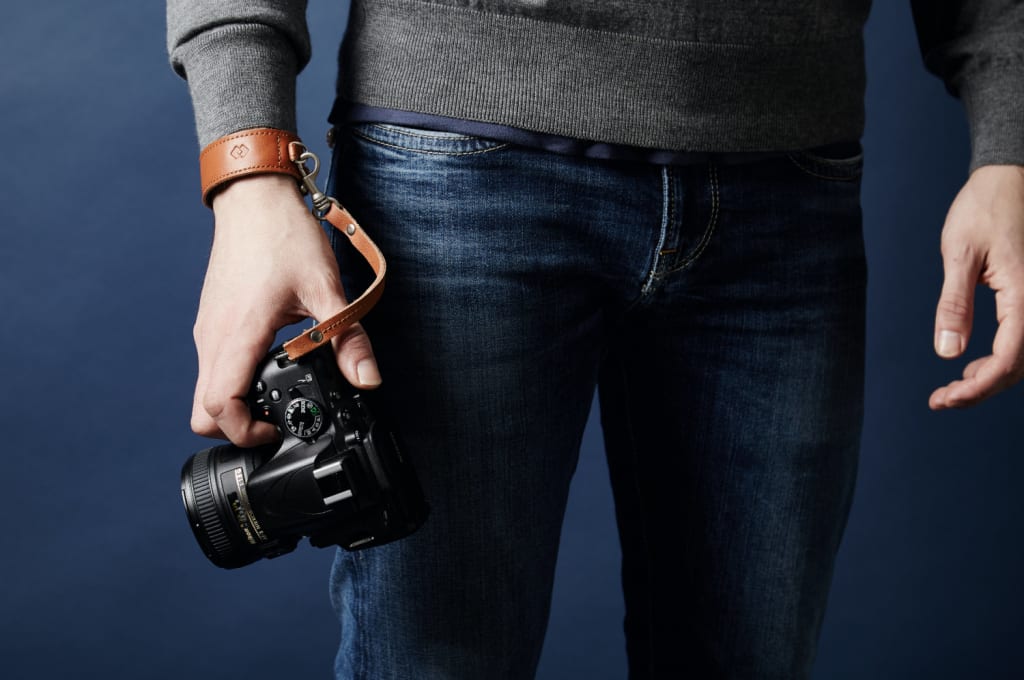 The cameras that we buy are the cameras that we always cherish. Whether we bought the newest Nikon or a hefty Canon, we treat our cameras like a baby... maybe even more than a baby. But aside from the gorgeous photos they can take, they're pretty damn expensive. Buying a professional camera isn't pocket money, so that's probably the biggest reason why we tend to take such good care of our cameras.
Many of us don't actually own camera wrist straps on our cameras. Why does it matter, you ask? If you're the type who hates wrist straps tied to your camera, you should start loving them now. Not only are there super vibrant and unique straps out there and are one of the best accessories every photographer needs, but camera wrist straps are designed to secure your camera and prevent them from getting damaged if you accidentally lose grip on your camera. It's just one of the photography tips for beginners. Since the strap is tied around your wrist, the camera will always be protected from any harm. So, if you're hoping to always keep your camera safe and undamaged, get your hands on any of the best camera wrist straps for constant protection.
There are so many wrist straps out there that are plain black, and if you're the type who wants a simple strap like that, you can check out the next product. But if you're someone who loves trends and never wants a single accessory to be basic, this camera wrist strap is calling your name. Among the best camera wrist straps out there, this braided camera wrist strap is beautiful in appearance, but it always works so well when you want ultimate protection for your Nikon.
This strap is made with extremely durable 550 Type III Paracord that is difficult to tear. It can securely keep your camera close and always prevent accidentally dropping it. There's also an adjuster to fit your palms perfectly. And honestly, for the first on the list, this is a great looking strap. It's also fitting if you're traveling, like hiking in the mountains or in the jungle to snap great shots.
Remember previously when I asked if you're into plain black accessories? This is the one I was talking about. But don't be fooled by the plain appearance, it's a camera wrist strap that works wonders in constantly keeping your camera away from harm. It's also super flexible and won't tear quickly after bringing it with you everywhere you go.
While it's made with ABS plastic and nylon webbing, it's guaranteed that your Canon will be safe. What's great about this strap is when you actually drop your camera, the strap around your wrist will automatically tighten so it doesn't hit the ground, but swing from your wrist. Don't you want a camera wrist strap that does that? I'm sure many of us do when it comes to the best camera wrist straps you can buy.
Look and become a professional photographer with one of the best camera wrist straps. Honestly, if I saw a photographer with this strap, I'd easily think that they're an experienced pro. I'm talking about constant protection and still making it look as though it's an accessory on the camera for show.
The strap is made out of the best-quality microfiber leather and cotton that's both comfortable and secure. There are so many wrist straps out there that ache and scratch your wrists after wearing it for a few hours. No practicing photographer wants that and that's why this camera wrist strap is the best choice for you!
We love unique designs to all of our accessories, especially our camera accessories. We want to look trendy, but still give off that professional appearance. Constantly buying solid-colored equipment for your camera doesn't give much excitement to your photo shooting. We need more patterns!
So, this black and white striped wrist strap will look great on any aspiring photographer's wrist. It also goes with any camera you own; Nikon, Canon, Sony, you name it. It fits tightly around your wrist and is designed to keep your camera close, even when you're trying to get the craziest shot from up on the trees or right above water.
Here's another braided camera wrist strap if you weren't fond of the pervious one. This one is just as durable, and it's red! Wearing this camera wrist strap will always feel as though you're taking fiery shots every time. Among the best camera wrist straps, this one by FoRapid is meant for the energetic photographer in you.
While the strap is made out of 550 Type III Paracord, it will always catch your camera from slipping out of your hands. And trust me, it's so easy for your camera to slip out of your palms. When you're attempting to get the perfect shot, you're willing to risk anything. Meaning you can get into any position for the shot, and your camera just might get out of your grip. Never let that happen to you with this beautiful red and black designed wrist strap.
Leather is the classic choice among the best camera wrist straps to purchase for your photography needs. I love leather, and many people love leather. It's both durable and super stylish, and it won't let you down. And it certainly won't let your camera down, either. But if you're searching for a wrist strap that classy and still performs well, I don't see why you can't buy this one, which is among the best leather camera straps available now.
It's soft, comfortable, and is made with the best-quality leather you can find. Other photographers won't have anything on you when they see you wearing this around your wrist. And no need to worry about it scratching your wrist, the material is smooth and soft to prevent harming your skin.
Wait, but how many times have you dropped your camera in the pool, ocean, or for some reason, in the toilet? And... it sinks! The majority of camera straps unfortunately cannot help you prevent your precious camera from sinking, but this wrist strap can!
Out of the coolest and best camera wrist straps ever, these camera wrist straps by Nordic Flash can prevent your camera from sinking to the bottom of the ocean or your pool. Water shots usually come out stunning when getting the right position, but it's risky, too. So don't ever feel paranoid when getting taking shots by the pool with these floating wrist straps. The secret is that they're made out of soft foam-filled neoprene to stop your camera from swimming to the bottom.
Now these cool, heavy duty camera wrist straps are something you will certainly love. They literally look like stylish bracelets, but they're just your trusty camera wrist strap. Out of the stylish and best camera wrist straps, these aren't your typical wrist straps. They're designed to not only secure your camera, but look like you're wearing a bracelet.
They're padded with top-quality genuine leather that's sure to keep your Nikon constantly safe from losing grip on it. Adjustable and featuring a micro-fiber padding, these wrist straps will never feel uncomfortable or harm your skin. Plus, they come in other brilliant colors to fit whichever suits your personality the most.
Now, I don't know about you, but this camera wrist strap literally looks like it was made by Gucci. You know, their classic green and red stripes trademark? People will think you got your hands on a Gucci piece when they catch you shooting beautiful photos with your Canon.
While the strap is made with high-quality knitted grosgrain and genuine leather, you're getting top-quality in a single strap, not to mention it's very durable and super easy to adjust to your wrist size. Always look like you're wearing Gucci with one of the best camera wrist straps out there.
Finishing off this list of the best camera wrist straps are these two-piece wrist straps. Yes, you're getting two wrist straps in one purchase. And they're both in different colors. If you're feeling hot and energized to get kick-ass photos one day, the red is there for you! Or what about mellowing down and snapping shots of the city's stunning architecture? The black with blue and white specks is calling your name! We love having a spare wrist strap in case one of them just happens to tear—even though these are super durable.
These adjustable wrist straps are colorful in style and tough in performance. Made out of tough, braided rope, your camera will never drop on the ground again.