We Rescued Her
but in reality she rescued us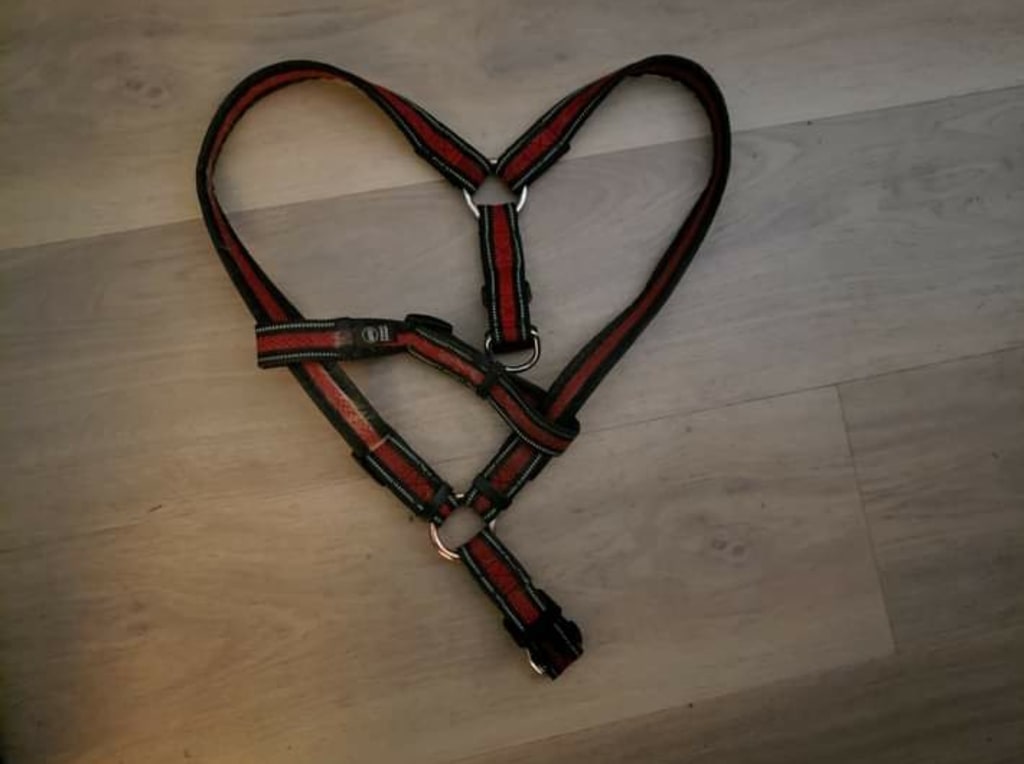 my dog Penny's harness that fell in the shape of a heart
This is going to be difficult for me to write, with probably some tears shed along the way. Why? Because I just said goodbye to my furbaby rescue daughter four days ago ( as of writing) on December 15th, 2021. The house feels too empty and the grief is too . But, sharing this memory will help, and I hope will be cathartic. That or traumatizing, which I know it is for my husband.),
We lost our fur angel senior rescue Penny (aka Penelope Pretzel among other names), that we had for only just over two years, to cancer. We fought till the very end with chemotherapy, but she had an aggressive lymphoma. So in just about two months since we first noticed a very small lump on her side, she's now gone and the kitchen seems somehow ten times bigger and emptier because her food and water dishes are no longer there, and her giant bag of kibble.
But her end is not what I want to write about (even though I want to, as if I can write out the pain and grief). I want to write about her beginning and the day that we got her on November 5th 2019.
It's a day that is seared into our memory (and into the skin on my husband's hands and knees, probably!), and not all in a good way.
Let's cut right to the chase. My husband found her on Petfinder. Her name was Pretzel and she was a street dog from Mexico. The photos on Petfinder were her in Mexico at a shelter and then foster family while they waited for all her vaccinations to be complete, so she could fly up to the rescue place where we live in Vancouver, Canada. The second we saw her, we fell in love. She ran right up to my husband while I was busy talking to the woman who runs the rescue.
We then took her for a short walk around a nearby park first and it was great. She was comfortable on a leash, amazingly. Here's some photos of her in that park on the first day we got her.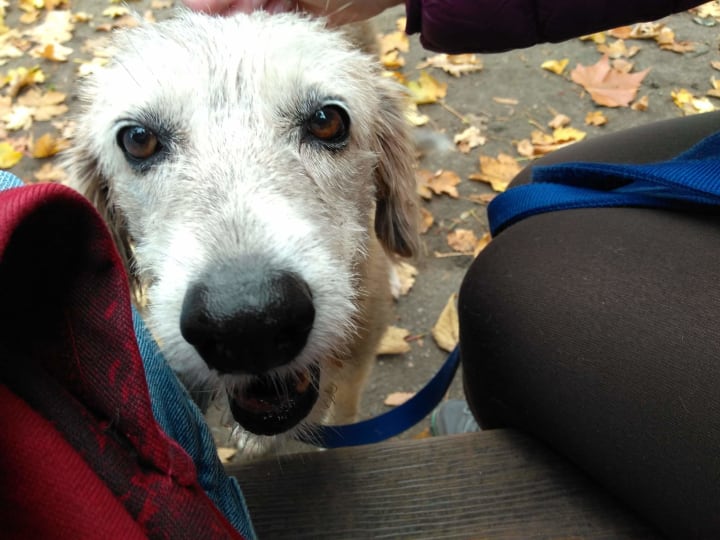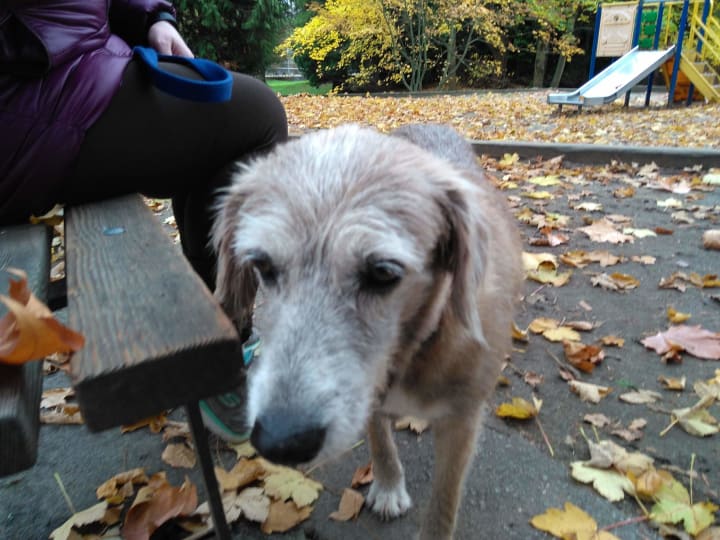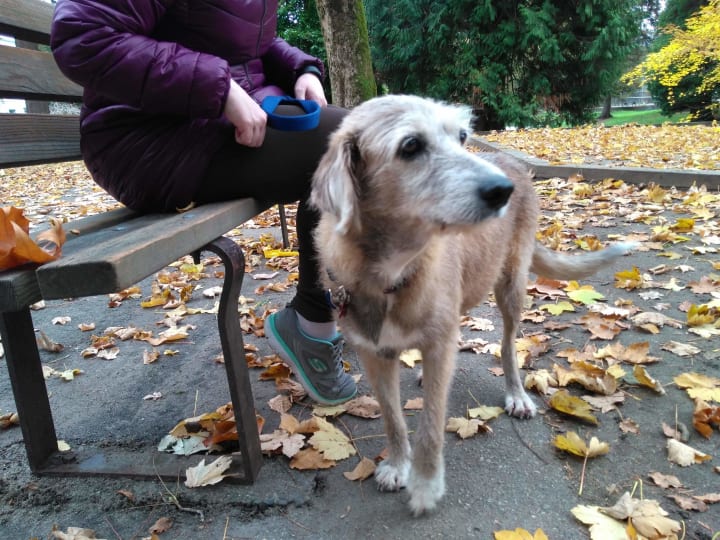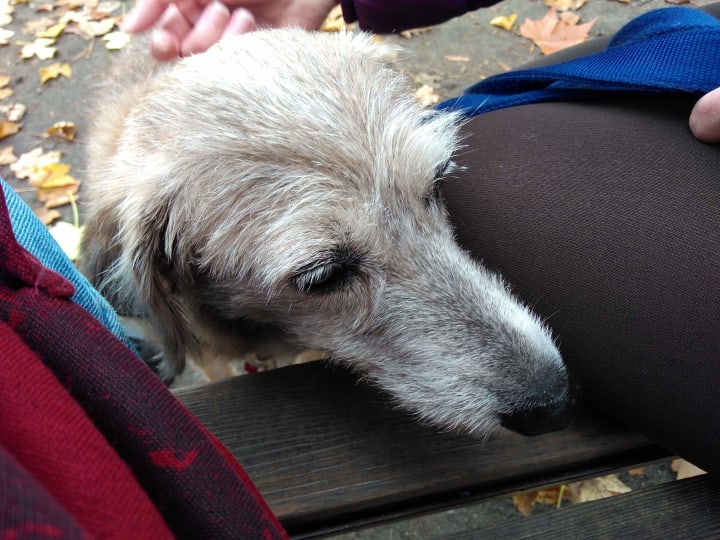 Our initial plan was to foster-to-adopt - and get back to the rescue in a few days to let us know. But that same day, we already knew. She'd already made space for her in our hearts…. But I'm getting ahead of myself. Back to the adventure of the day we got her.
The rescue gave us a giant crate - part of the package they lend all potential new owners - crate, harness, some food, to get started. We have a small car. So my husband tried stuffing the massive crate in our trunk without success. So then he put it in the back seat, upside down, so that Pretzel (then) could get in and be in the back seat.
And that's when the trouble started. If only we'd never taken that darn crate! (which we never ended up using, anyway).
Penny jumped in the backseat and into the plastic upturned crate. And she was like 'nuh uh, I don't know what this is, but I don't like it!' And as my husband was closing the door, she jumped out and bolted!
And this was on a busy main street in a large city.
My husband flung himself toward her to grab her, but for a senior girl she was off like a rocket, and my husband almost face-planted, landing hard on the sidewalk, skinning his knees and hands. But then he was up and off, sprinting across the busy two-lane road after Penny, who'd bolted right across the street and was weaving through people down the opposite sidewalk, and even veering out into the street.
I'd just been getting into the front passenger seat when Penny escaped from the back seat and jumped out, barely shutting my car door, and grabbing my husband's car keys that had fallen into the road when he ran and ran after them. I was further behind. I ran for a block, maybe two….and then I lost sight of my husband, and Penny, as they turned up another street.
I didn't know what to do! So I ran back to the rescue place and burst through the door and up to the owner, who'd literally entrusted us with one of her adoptable dogs only a half-hour before and shouted, while gasping for breath, "We've lost her! She escaped!" I was filled with fear and shame and embarrassment for having to say those words.
The owner and I ran out and down the street, as I tried to remember where my husband and Penny had disappeared, all the time thinking, "oh my god, this lady is never going to entrust us with a dog again, we're the most horrible people on the planet!"
We turned up the street I thought they'd gone up and were running (and running out of breath), and then, thankfully, I got a call from my husband. He'd miraculously caught her! (but that's only part of the story) and he was a few more blocks away. THANK GOD.
And then the rescue owner went back and got a harness, and the two of us waited while my husband got our car and brought it to where we were on some random side street. We put a leash on Penny and I got back into the passenger seat and then poor terrified Penny got on my lap and we went home….but that's only my part of the story.
Here's what my husband experienced (though you know about the skinned knees and hands already).
He'd run around the corner after her, and then…she disappeared on him!
He kept running, and then he happened to ask a woman he passed if she'd seen a dog. She said yes, and pointed down yet another street. This time off the main road and into a residential area. He ran once more, and saw a man putting Penny into his van about to drive off with her! What the-?! My husband thought, and shouted 'hey! That's my dog!'
The man was suspicious of my husband and asked what her name was. She had been wearing a random, temporary collar from the rescue with the name Sheena stamped on the tag. Thankfully we'd noticed that earlier. So, my husband did the sensible thing and said Sheena. That was proof enough for the man, who then gave Penny to my husband. Where the man was about to drive off to, we have no idea - maybe an animal shelter. But Sheena, whoever she was, her collar saved the day!
We drove home, with poor Penny shaking like a leaf on my lap the whole way, and the offending crate in the back seat that we unceremoniously dumped in a spare room when we got home (and never ended up using, so took it back to the rescue ASAP to get that reminder of the horrible episode out of our sight and mind). For the next while, we had the leash on her in the car, tied to one of the front seat headrests, so she couldn't make a run for it like she did that first day. But she never did again. I think it was just out of fear of that crate. And she learned to love the car. She'd go flying into it all the way from our house. And we learned, eventually, that we could have her be unleashed on walks in parks and at times in the neighbourhood without fear. She'd never go far, slowly plodding along near us.
We had two wonderful years with Penny, though of course, we wish we had longer (we were hoping for 5!). I guess that's the downside of rescuing a senior dog whose history is a mystery and you don't know exactly how old they are, but I wouldn't trade anything to not have had these last two years with her - Miss Penny, Pen Pen, the Penster, Princess Penelope, Little Penny, Pretz, our little Pendemic dog that helped us get through a large chunk of the pandemic.
When my husband emailed the rescue to let the owner know that we were going to be saying goodbye to Penny on December 15th, 2021, we got this reply from them.
It is with great sadness that I reply to this email.

I am very grateful for the both of you to have given penny such a loving family for her remaining years.

As heartbreaking as this is I could have not picked a better family for her.

You showed her love, compassion and dignity until her last moments with us.

She will always be remembered and even just today sending a dog off to foster I tell the penny escape runaway story❤️
When my husband read that last sentence, the fact that Penny's runaway escape story was still being recounted to this day, he was mortified! He'll forever remember that day with a mix of anxiety and gratitude.
But I'll just remember it as the day that we rescued her for a second time and the day that she rescued us.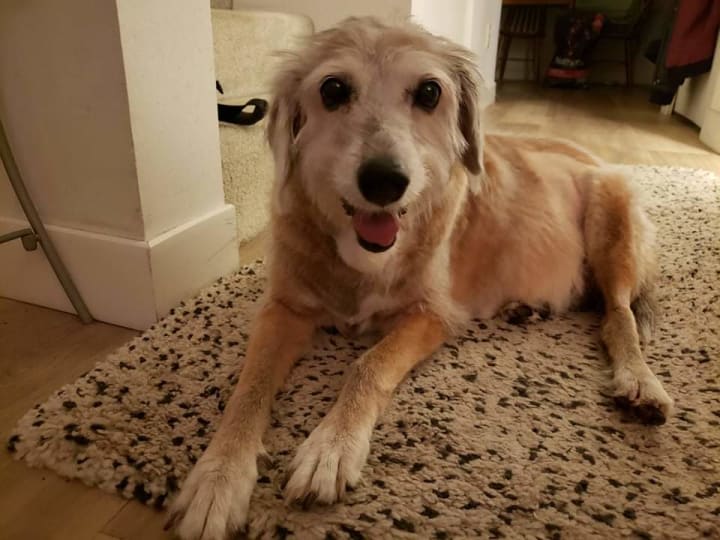 Thank you for letting me share her 'gotcha day' story with you.
About the Creator
I hope you enjoy my writing! Your support means a lot to me!
Find me various places here.
Read:
Reader insights
Be the first to share your insights about this piece.
Add your insights