The Pet Whisperers
Trending Things on Amazon Every Dog Owner Should Own
Dog owners get the coolest stuff. These trending things on Amazon every dog owner should own prove it.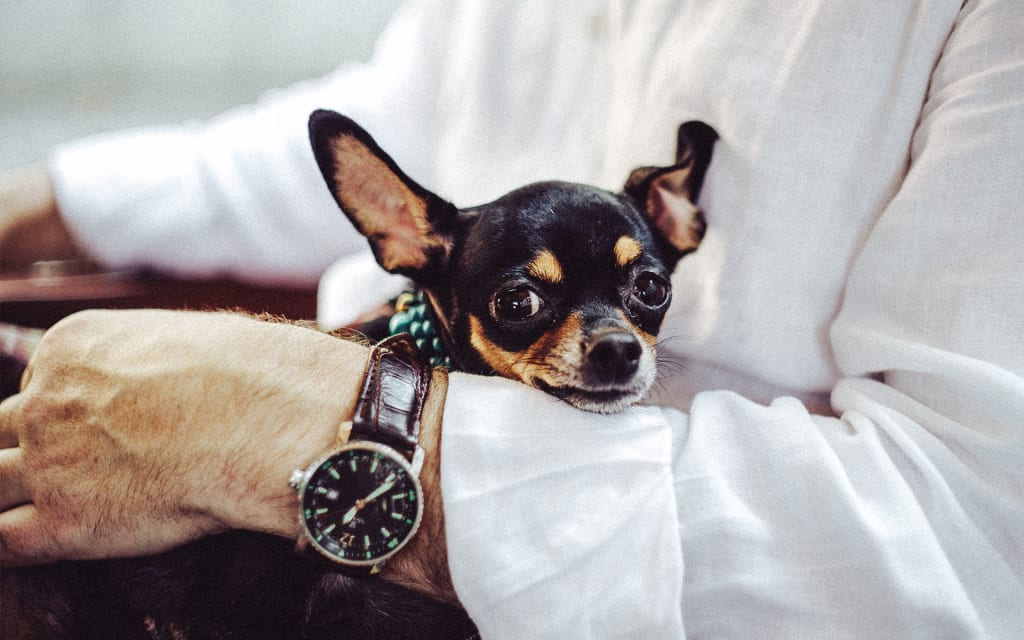 When it comes to pet ownership, few animals offer as much accessorizing opportunities as man's best friend. Dogs allow you to give them cool outfits, interesting toys, specialized training classes and even have dog-related vacations for you and your favorite pet.
Dog gear trends are a real thing, and some of the cool dog-friendly gadgets on the market really can make you want a dog of your own. These trending things on Amazon every dog owner should own will make you want to get a dog... and enough money to afford a shopping spree, too.
Love long hikes, but hate worrying about your dog being dehydrated? Stop lugging around a heavy dog bowl and get your hike on with the PupCup.
As one of the coolest little gadgets out there, this lightweight silicone bowl instantly pops off your water bottle and turns into a water bowl for your dog. It's easy to clean, easy to carry, and looks adorable. What more can you want?
The CleverPet Hub is a dog puzzle toy-slash-feeder that looks neat, offers endless fun for the right pet, and also dispenses treats to puppies that learn to solve puzzles well. Using its smart technology, the CleverPet Hub makes sure that dogs keep learning — and also dispenses treats wisely.
The key to this Hub's usefulness is the fact that it's meant to deliver a ton of engagement and fun for pups. All things considered, this is one of those rare trending things on Amazon every dog owner should own if they aren't home often or if they have a very high-energy dog.
Do you ever wonder if your dog is really getting as much exercise as he needs? Do you want to make sure that your pet lives a long life, and will get the activity they need to stay happy? Then the Whistle Activity Monitor is a good option for you.
It attaches to your dog's collar and tracks your pup's vitals and activity levels throughout the day. It also sends data to your phone, gives you updates on how to better care for your dog, and generally offers a lot of peace of mind.
This is one of the coolest trending things every dog owner should own — if they love carrying their pets in style. This cool carrier is totally breathable, but looks like something from a retro 50s space movie and is meant to help carry your pets without safety issues.
It's ideal for small dogs, and also can work with cats as well. For pet owners who have animals up to 15 pounds, then this is one carrier that will definitely show off your personal style, as well as your high standard of safety for your pet's carrier.
We've heard about smart home technology, but smart dog collars? Yes, they exist, too. This nifty collar is one of the coolest trending things on Amazon every dog owner should own — if they're into gadgets that make their lives easier.
This collar allows you to track your dog's location, monitor their fitness, and even get alerted when they're in unsafe temperature. This leads to a safer pet, and also looks fairly snazzy on any dog. Not too shabby, is it?
No, we didn't get taken over by hungry puppies — that's the name of the project. The Original Did You Feed the Dog? is a mountable gadget that allows you to track whether or not you fed your dog.
It has two feeding times, easy to use switches that indicate whether Fido's been fed or not, and doesn't need any electricity to work. This is one of the few trending things on Amazon every dog owner should own, even if Fido will hate its existence.
For families who are on the go, the PetNet SmartFeeder is one of the best products on the net. Just fill up the feeder with kibble, program when you will need to dispense food, and let the SmartFeeder do the rest.
This Alexa-compatible SmartFeeder model allows you to dispense dog food while away from home, and also allows you to choose how much food it dispenses. It's also compatible for cats and dogs alike.
Everyone who has a busy schedule but wants to keep a pet will find this useful. All things considered, this is one of the trending things on Amazon every dog owner should own, and every cat owner should buy as well.
Ever wanted to get your dog in on the supplement trend that people enjoy? Dog food just got upgraded, folks! This superfood supplement by BIXBI is designed to help improve your dog's diet and bolster immune health.
It's gluten-free, involves no gross additives, and also is alright for cats to enjoy, too.
Have a weak arm, or can't stand touching gross tennis balls? This invention is definitely for you.
Few of the top trending things on Amazon every dog owner should own is as fun as this. The iFetch Ball Launcher allows you to help exercise your puppy without having to worry about wrecking your throwing arm and also comes with three cute pet-safe tennis balls.
This nifty dog toy looks more like a modern art installation than a canine accessory, but don't be fooled. The Odin Dog Treat Puzzle Toy is a toy that helps active dogs get their energy out, and also teaches dogs how to solve puppy puzzles of their own.
Just pop a treat into the toy, and watch him have a ball with it. It's just that simple!
This is one of those trending things on Amazon every dog owner should own, primarily because every dog owner should be picking up poop when their dogs go to the bathroom on someone's lawn. Most people don't like to do this business, either way, but it's the law — and common courtesy.
At the very least, the Wise Walker makes sure that you don't have to carry around a plastic bag of dog poop in plain sight while walking a dog.