The View from the Dog House Pt. 15
Happy Birthday Daddy!
We always remember Daddy's birthday even though he died five years ago when we were only two. Up to now, we have spent the week in which his birthday falls at the Bolthole, and had a quiet day during the course of which a bottle of champagne has bitten the dust. We, of course, are not boozy boys, but apparently Mr. Sweep, one of our predecessors, was very partial to a nip or two and on one notable occasion helped himself to someone's pint of beer whilst out in the pub. Apparently he also used to do the rounds when parties were held, helping himself from people's glasses. But not us!
We have had a look for a picture of him—he was a Jack Russel Terrier, black and tan—but we couldn't come up with one other than take one down from the wall of fame, which is at the top of our stairs and then we would have to scan it and, quite frankly, we couldn't be bothered.
We will be very watchful of Herself today. It is likely that there will be tears at some point. Five years is a long time in some ways, but in others it is no time at all. Unfortunately Daddy was really ill when we came on the scene so he couldn't take us for walks and things. So we have always been real Mummy's boys. Some would say she hasn't done a very good job given all the issues we have, but she did her best. And we love her. And most importantly, we are the only chaps in her life—it is we three—the three mooseketeales; all for one and one for all!
She wrote The Last Taboo after Daddy died. It was the first book she wrote after he died, although all her books are dedicated to his memory. Apart from our predecessors, a few felines, and Charlie Brown and Bugs Bunny Malone (rabbits of all things!), she hadn't been closely involved with death before and it was a real shock to her system. The book, as all of her books, revolves around strong characters and clearly these really resonated with readers as she was asked to write a sequel which she hadn't originally planned to do. As literary pups, one of our next tasks is to edit and publish this book in time for Christmas.
Oh-oh! Tear alert—this calls for cuddles. Hugs and cuddles really are the best way to deal with upset and naturally, we give the greatest. You don't have to be upset to get cuddles and snuggles though. One of our favourite times of day is the morning. We are all together in bed and then she will say "Snugbums and bumsnugs," and that is our cue for a cuddle under the duvet. There are times when she who thinks she should be obeyed at all times actually is.
So she says the word and we dive under the duvet and snuggle up together, one on either side of her.
Although we have separate cages in the dining room and in Bubbles, our car, there are times when we cuddle up together in one cage. We really are loving pups.
There, we have kissed away the last of the tears although there will probably be some more later. Kissing is another skill we are really good at. Scamp, the pawsome one, is a real smoochy pooch whereas Pickle is more of a snogging dog. So you see that we may not be conventional in many ways—we don't sit, stay, or heaven help us—roll over; why would we? But we are sensitive souls and very loving. Sometimes we think we wish we could do more but hey! We are terriers, and whilst we are no ordinary terriers, even we have our limits.
We are told that we spend a lot of time asleep. Well we might look as if we are asleep but that doesn't necessarily mean we are not doing anything. Dreaming up things to talk to you about on our blog, for example. It doesn't just happen you know. And if you could see the pace at which we race up and down the stairs at home—well! It is impressive but it takes a lot of energy. Then there is the question of our walks. We need to be ready to get the most out of them—there is no point tiring yourself out then not having the energy to take full advantage of it. We have also been getting brunch again and a chap quite likes a snooze after he has eaten. We also keep getting told that there is a lot to do. We aren't sure what and there are no immediate signs of lots being done but you never know so a chap needs to be prepared and grab his kip when he can. So now we need to submit this for approval and make a start on our next post. Catch you soon!
Love, licks and waggy tails from Pickle and Scamp in the Dog House at Teale Towers xx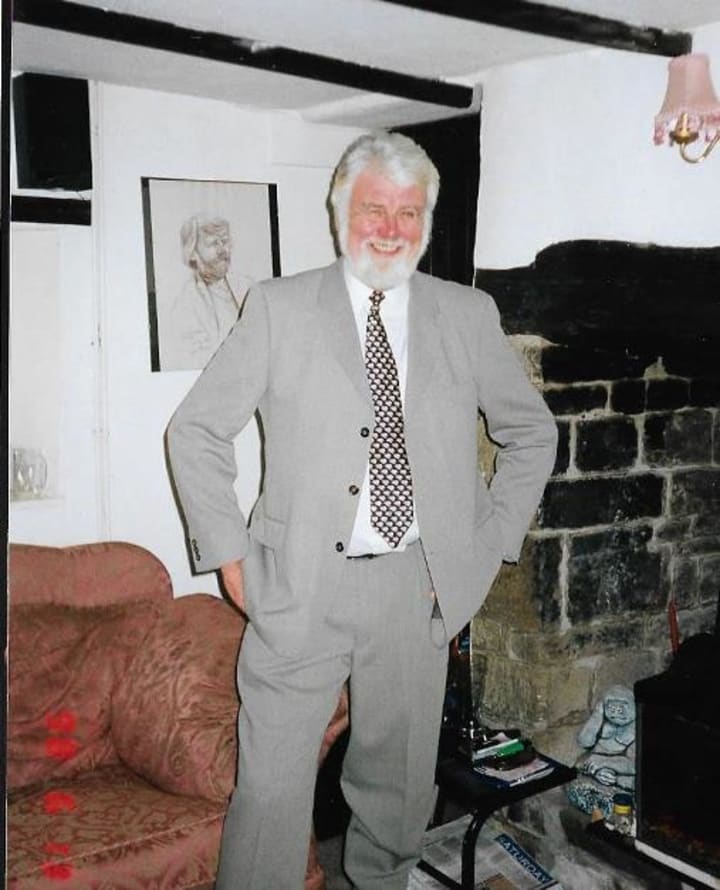 dog
About the author
I write character driven fiction which I started to publish five years ago in memory of my late husband. I have always written and had the publishing dream - still do! I live in Devon with Pickle and Scamp my blogging dogs.
Reader insights
Be the first to share your insights about this piece.
Add your insights