The View from the Dog House (Pt. 14)
Chaps are getting Organised—allegedly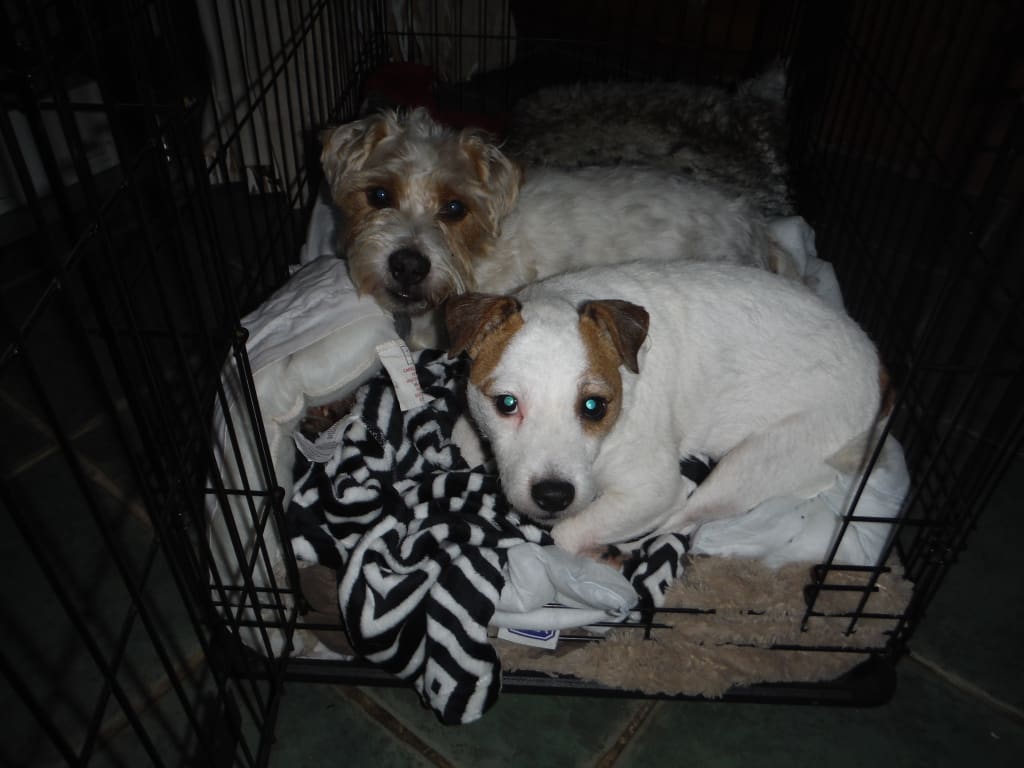 Some people say "Rabbits, rabbits, rabbits" on the first day of the month for good luck. Others say "White rabbits, brown foxes," whilst there are some who say "Pinch, punch first of the month." It will come as no surprise we are sure, when we tell you that at Teale Towers we say all three. However, it has to be the first thing a chap says after midnight and unfortunately, we missed it this time around. Well these things happen when a chap gets preoccupied.
She who thinks she should be obeyed at all times has just informed us that things are going to step up a gear from hereon in, and we are going to get more organised. Now, speaking for ourselves, we are quite happy with things the way they are and cannot see how 'being organised' can possibly apply to us.
For instance, on the writing front, Herself says she needs to:
Edit and publish Moving On and Connie's Reunion
Get her titles on Amazon
Send her novel off to another raft of agents
Update her website
Get more stories out to magasines
OK we get the idea that she needs to structure her days so that she puts time aside to focus on these things, but how does that make us more organised? In reality, while she is doing these things, we are just curled up in the office listening to the radio, which is what we always do when she is working in the office irrespective of what she is actually working on.
We wouldn't mind if she got a bit more organised when it comes to our walks, which, frankly, are a bit hit and miss. She blames us—can you believe that! She says that if we got on with other dogs, walked together on our leads and weren't so territorial in our village, we might get out more. Well none of that is going to happen. There are way too many dogs running around our village and we do not walk together on our leads and that is the way it is. But there are other factors that impact when we walk. The weather plays a major part. We don't walk in extreme heat and we don't walk in the pouring rain as wet ground plays havoc with our paws. Then again, it depends on what else is lined up for the day as to whether or not our usual walk gets factored in. We chaps can't do anything to make this more organised, so what is she on about?
She has also, however, been muttering about cleaning, decorating and decluttering. You know our views on cleaning and decorating fall into the same category. She isn't particularly good at it, but she has been known to have a go. She has, in the past, been known to get a man in, but apparently those days have gone. Now that's a shame because when she did get a man in, we used to take off somewhere while the man got on with things and we didn't have to put up with all the carry on. As for decluttering... ha! Herself is genetically programmed to hoard. Every so often she says she is going to have a clear out and manages to put stuff ready to go to the charity shop or even the rubbish, but then we have seen her sneak out and retrieve things, putting them back with dark mutterings about not being able to part with stuff or you never know when it might come in handy. The worst times are when she actually gets rid of stuff and then finds she has a use for whatever it is she parted company with. Cue the air that is blue!
So life could get quite interesting at Teale Towers and we will be observing goings on from the Dog House. Watch this space! Love, licks and waggy tails from Pickle and Scamp xx
dog
About the author
I write character driven fiction which I started to publish five years ago in memory of my late husband. I have always written and had the publishing dream - still do! I live in Devon with Pickle and Scamp my blogging dogs.
Reader insights
Be the first to share your insights about this piece.
Add your insights