The Power of Dogs
Let's take a look at all the positives a dog brings to our lives.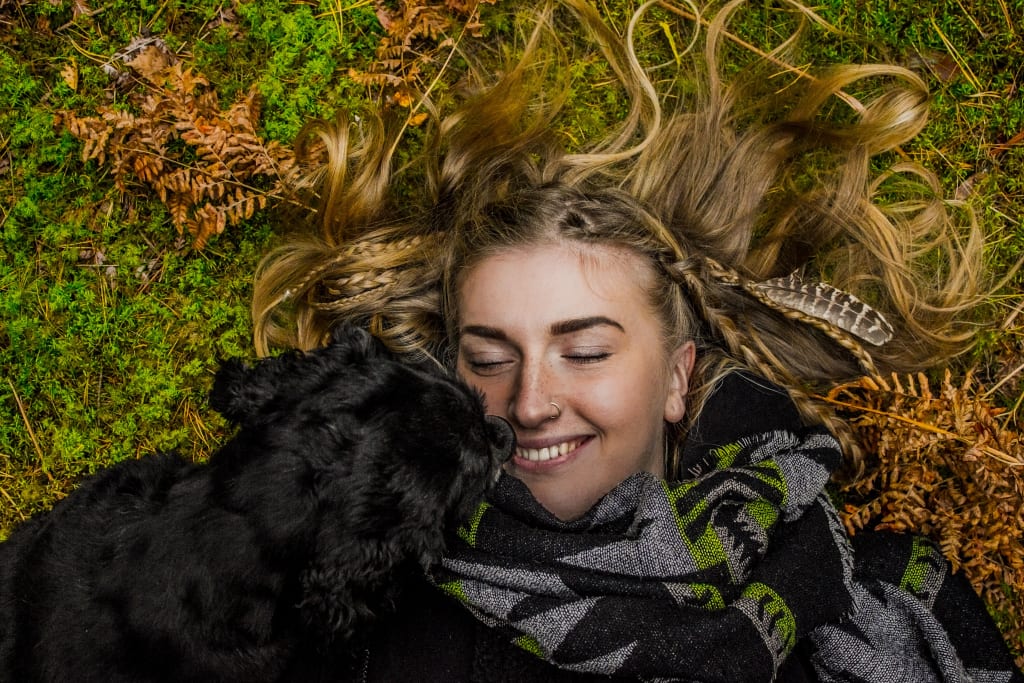 Oh, dogs. Aren't they amazing? Owning a dog has many mental health and physical health benefits for you. I mean, have you ever looked at a picture of a dog and caught yourself smiling or maybe even laughing. Just from a picture of a dog, your mood was altered. Can you imagine the benefit of owning a dog? The power of dogs in your life is scientifically measurable when it comes to the physical aspects of dog ownership, and the mental health benefits are astounding.
Healthy Lifestyle
When you own a dog, you take them for walks, go on runs with them and play with them. These things are a must-do with your dog, and you both will reap the benefits. This exercise will not only aid in helping you have a healthy lifestyle; it will also boost your mood. Studies have shown dog owners have lower cholesterol and blood pressure. A bonus is you will have a faithful workout partner that will never complain. How great is that?
Love
We have all heard, "A dog's love is unconditional." It is one of the most accurate statements uttered in history. When you are feeling alone, your dog will be right by your side, and they will make you laugh when you are sad. You don't know what loyalty is until you own a dog. They are forgiving and not judgmental at all. Let's not forget they give the best kisses and snuggles, which makes any day better. They teach us kindness, patience, and compassion.
Lower Stress
Do you want to lower your stress hormone levels? Whether it's caused by work, family, or friends, your stress hormones get a little out of wack from time to time. Believe it or not, the simple act of petting a dog for 10 minutes can do just that, per a study done by Washington State University. BarkBox did a survey of dog parents and stress during the holidays. The survey showed 85% of dog parents say their dog helped them cope with stress during the holidays. Stressed out? Go pet a dog; they will enjoy it as much as you will.
Social Interaction
Are you shy, or do you lack confidence in social situations? A dog will most definitely help. Have you ever seen someone walk a dog? Then you already know people will approach them and ask them about their dog. Maybe you have done this yourself. If so, a dog has already helped you. Having a dog will promote conversation about a common interest, your dog. The more this happens, your confidence will grow.
Dogs Provide Meaning To Your Life
Owning a dog is a responsibility that should not be taken lightly. You are the dogs' provider and caretaker. You will find a dog requires a routine. They need a schedule for feeding, going outside, and exercise. As a dog parent, you will have to set up grooming and veterinary appointments. When you age, things that usually fill your time start to change. Your children move out, you retire, and you may slow down and take it easy. Caring for a dog can bring your morale up, give us a sense of self- worth, and most definitely will bring us pleasure.
How To Find The Perfect Dog
Have you recently decided to get a dog? Congratulations, you are about to go on a fantastic journey with your new best friend. This is the time to do some real work. You will have to ask your self some questions so you can pick the right dog for you, your family, and your lifestyle.
You will also want to make sure you are buying your dog from an ethical breeder. Preferable Pups has amazing breeders that have been pre-vetted by PawFax, so you have no worries of buying from a puppy mill. Preferable Pups has a fantastic selection of breeds, they specialize in kid-friendly breeds. If you are looking for an active kid and pet-friendly breed you should into the Labradoodle breed. For more great articles on all things dogs, check out Furzly.