The Famous Pets of Celebrities
Ranging from the most adorable to the most unusual, the famous pets of celebrities include cats, dogs, and pigs, to name a few.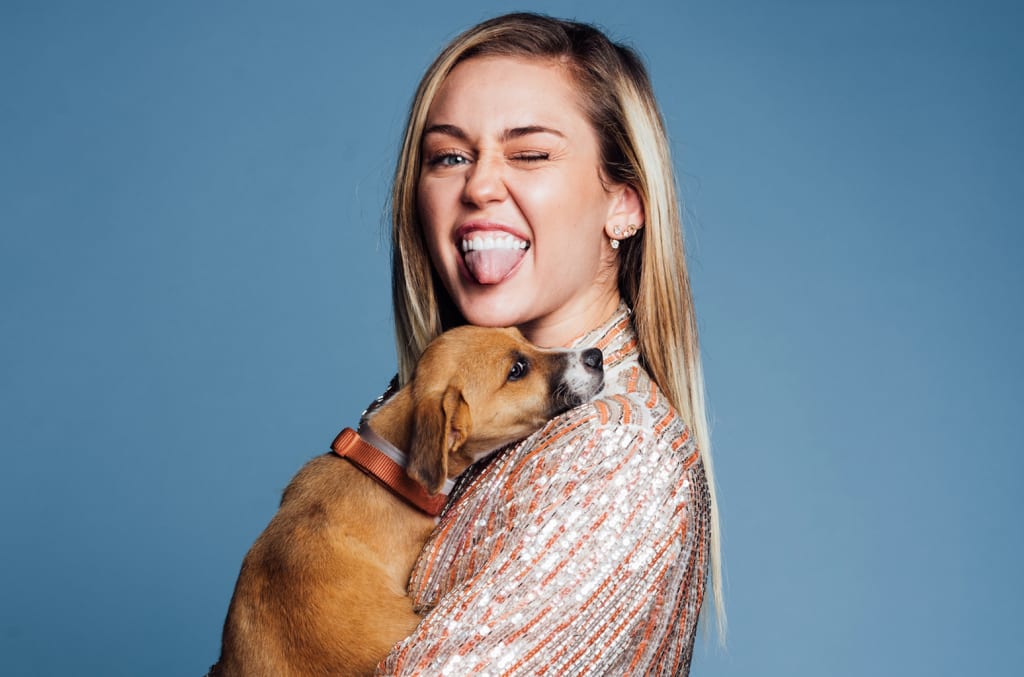 I am willing to bet that we all follow at least one famous pet on Instagram. Whether it be the pet of a famous person, or one of the most famous animal actors in history, there's got to be at least one on your list. My Instagram suggestions know me so well that it doesn't even bother suggesting anything to me that isn't either creative writing or a cat. That's why I'm elated to share with you the famous pets of celebrities, so that you too can enjoy a life of luxurious fluff.
Audrey Hepburn's Deer, Pippin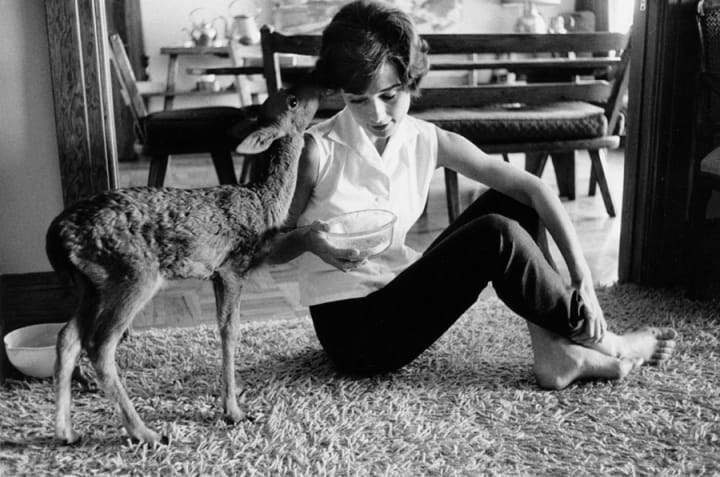 While Audrey Hepburn was recording the 1959 film Green Mansions, she found herself going home with a very unusual pet. Her husband, Mel Ferrer, was the animal trainer on set for the film, and suggested that she took the baby deer home with her so that they could bond. This baby deer was to be part of the film and needed to follow Hepburn around. To forge an authentic connection between the two, Hepburn took care of the fawn, named Pippin but nicknamed Ip. Little Ip would sleep in a custom-made bathtub and was well taken care of by the actress.
If you're interested in hearing about some more modern celebrity pets, Taylor Swift has two adorable cats, Meredith and Olivia, named after two leading ladies in popular shows: Meredith Grey from Grey's Anatomy and Olivia Benson from Law & Order: SVU. Most people follow Swift for her music, but her cats have enough personality to warrant keeping an eye on her social media account, too.
Swift frequently posts adorable pictures of her two fluff babies, and even mentions "stumbling home to my cats" in her song "Gorgeous." It's pretty fun to see a celebrity interacting with her pets in the way any ordinary person would.
Salvator Dali's Ocelot, Babou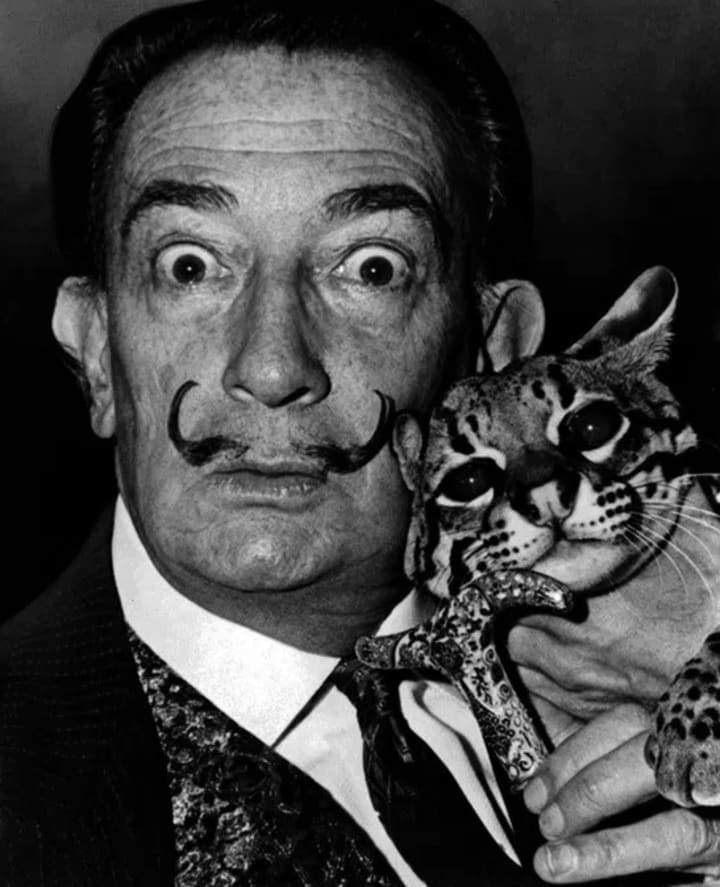 Salvator Dali, one of history's most interesting artists, took funny pictures with his cat before it was cool. To make the story of Dali and his ocelot even more bizarre, he took the little fluff, Babou, just about everywhere he went, much like a dog.
While an ordinary cat is usually much too shy to travel around with his or her owner, Babou would peacefully wear a leash and accompanied Dali just about everywhere in Manhattan, even the restaurants. Dali brought Babou with him on vacations, too. This twosome traveled about the ocean liner SS France together.
Ed Sheeran has two cats, officially named Calippo and Dorito; but like most pet owners, he's also given them the nicknames Squish and Pusslé. As a cat owner, I understand completely—most of my cats have their given name and a few silly nicknames. The nicknames do indeed seem completely unrelated, and they are, so I understand how Sheeran's two fluffs have very different nicknames.
The star describes Dorito, the striped orange tabby, as "90 percent pumpkin pie." Both fine fluffs have a very active social media presence with regular Instagram updates. If you want to follow some truly famous pets of celebrities on Instagram, these two little fluffs clock in with over 380k followers. They've got enough of a following to be considered influencers by anyone's metrics!
Michael Jackson's Chimpanzee, Bubbles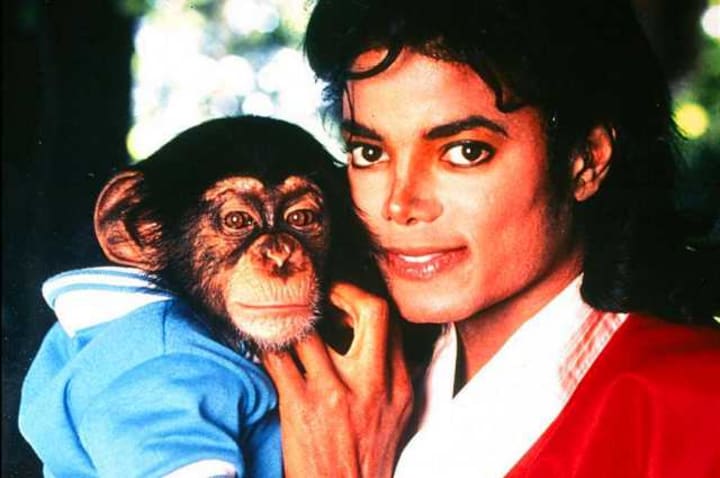 Michael Jackson, hailed as the King of Pop, had his very own private zoo. He had tigers, orangutans, giraffes, a parrot, an elephant, dogs, llamas, reptiles, flamingos, and perhaps most famously, a chimpanzee named Bubbles. As far as having exotic animals as pets goes, Jackson had a lot!
Jackson did receive criticism for the wide array of wild animals he kept as pets. He kept Bubbles at his side quite frequently back in the 80s, and would often dress the little monkey in similar clothes as what he was wearing. Over the last decade of Jackson's life, many of his pets were relocated to preservations that were more specialized in taking care of the wild animals. Bubbles is 35 now and living in the Center for Great Apes in Florida.
A throwback to when it was okay to post grainy photos on Instagram, here's Miley Cyrus' little Shanti Om Bb. She has two other kitties named Keke and LiLo, so Shanti Om Bb isn't without fellow feline companions. Cyrus has quite a few dogs as well; their names are Milky, Happy, MaryJane, Emu, Bean, and Penny Lane.
We'd be foolish if we missed one of her most unusual pet—a pig named Pig who she dressed up as bacon on Halloween. She's got a lot of pets, that's for sure. Regardless, while I'd probably never adopt a pig, I don't blame her for having a small zoo of domestic animals. If I had the money and resources to give a home to so many little fluffy friends, I'd probably do the same thing.
George Clooney's Pig, Max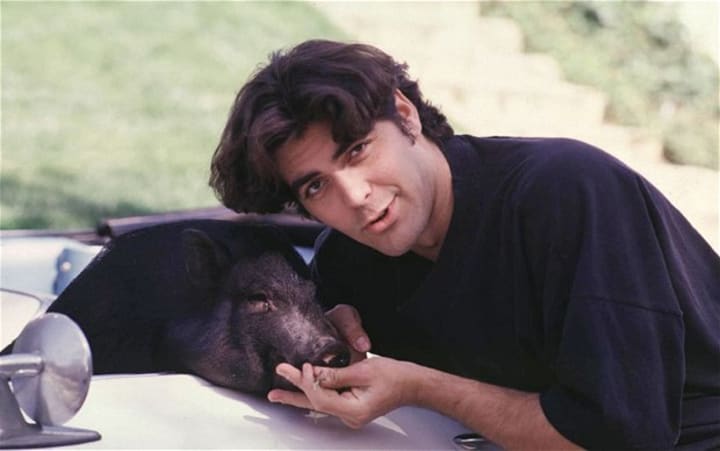 George Clooney spent 18 years with his dear pot belly pig as a pet, Max. There are a lot of cute pictures of Clooney and his pet from the early years of their relationship, but Max wasn't always this small. The Vietnamese potbellied pig grew to be over 300 pounds. Clooney described his home life as that his pig ran the house. It's rather funny to hear, since that's something most pet owners would say about their cats. Regardless, Clooney has been known to joke that his time with Max was the longest loving relationship he's ever had.
Paris Hilton's Piglette, Princess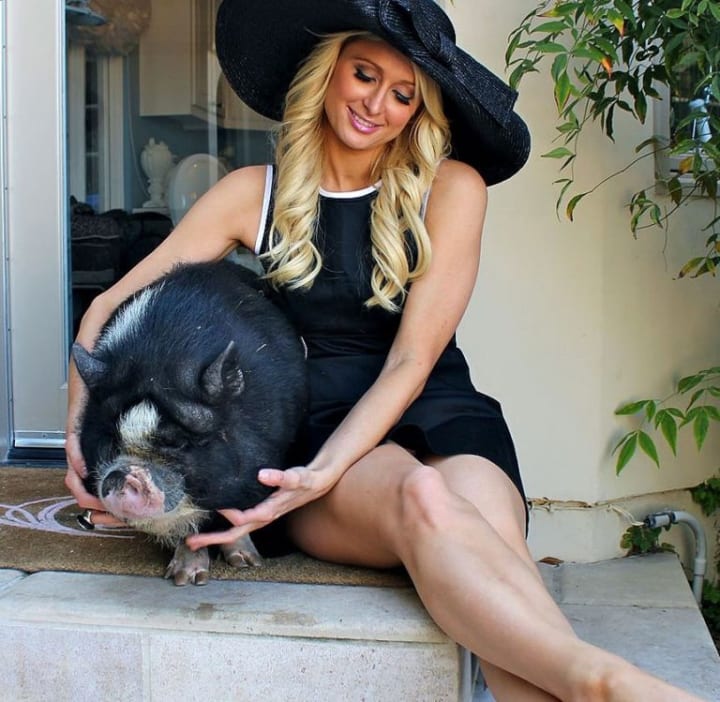 George Clooney isn't the only one with a lot of love for pigs, though Paris Hilton has quite a few more pets beyond Princess Piglette. Pigs may not be the most exotic animals, but they're still not the most common choice for pets, either. She also has one of the most unusual pets to own, a sugar slider named Brigitte Bardot, and a pony named Lady Coco Chanel. Who says pets can't have a full name? Hilton also has quite a few dogs; Dollar, Marilyn Monroe, Peter Pan, Princess, Prince Baby Bear, Harajuku Bitch, Dolce, and Prada. That's a lot of puppers with a wide variety of names! And to complete Hilton's furry family? A cat named Annabelle!
Tippi Hedren's Lion, Neil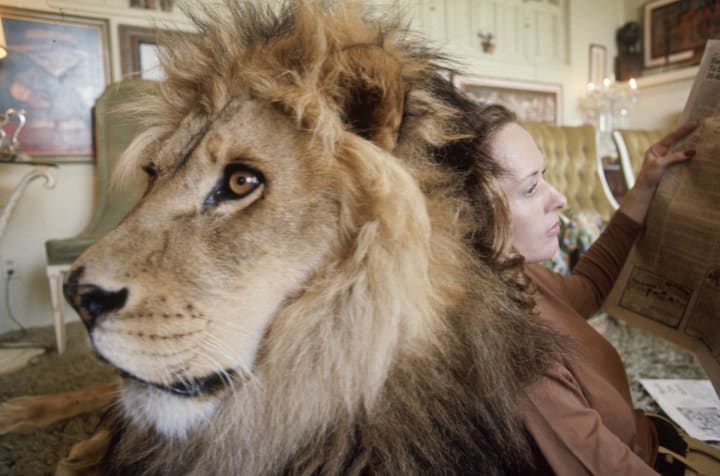 Tippi Hedren raised Neil up from when he was a lion cub. They made him part of their home and raised him like a cat, having him sleep on the bed every night when he was little. They were both interested in making a movie about lions, Roar, but Neil was going to stay part of the family no matter what happened with the movie.
While Neil was very domesticated and lived in the Hedren's house alongside the family, big cats are still dangerous. Cats of all sizes get frisky and playful sometimes. The problem with having a lion is that when a house cat gets too frisky, you end up with a few scratches that need bandaids. With a lion, you end up needing to go to the hospital to get stitches.
While most will agree it's bad to domesticate a lion, Hedren started The Shambala Preserve in 1983, an 80 acre wildlife preserve for lions and tigers. Hedren lives on the preserve and has given hope to around 70 animals. Remember when we mentioned Michael Jackson's flair for odd pets? His Bengal tiger lives on Hedren's reserve.
These two furry friends belong to the author and poet, Amanda Lovelace. They're both ragdoll kitties, making them one of the snuggliest breeds of cats out there. Lovelace isn't quite as high profile as the other celebrities on this list, but she has published several collections of poetry with Andrews McMeel Publishing, and shares the label with Rupi Kaur, one of the most successful poets of our generation.
Focusing back in on these fluff balls, one is named after coffee and the other after wine. I don't know if they'd get along with Ed Sheeran's little Dorito, but we've got some slightly similar food- and drink-related naming conventions going on here!
Elvis Presley's Chimp, Scatter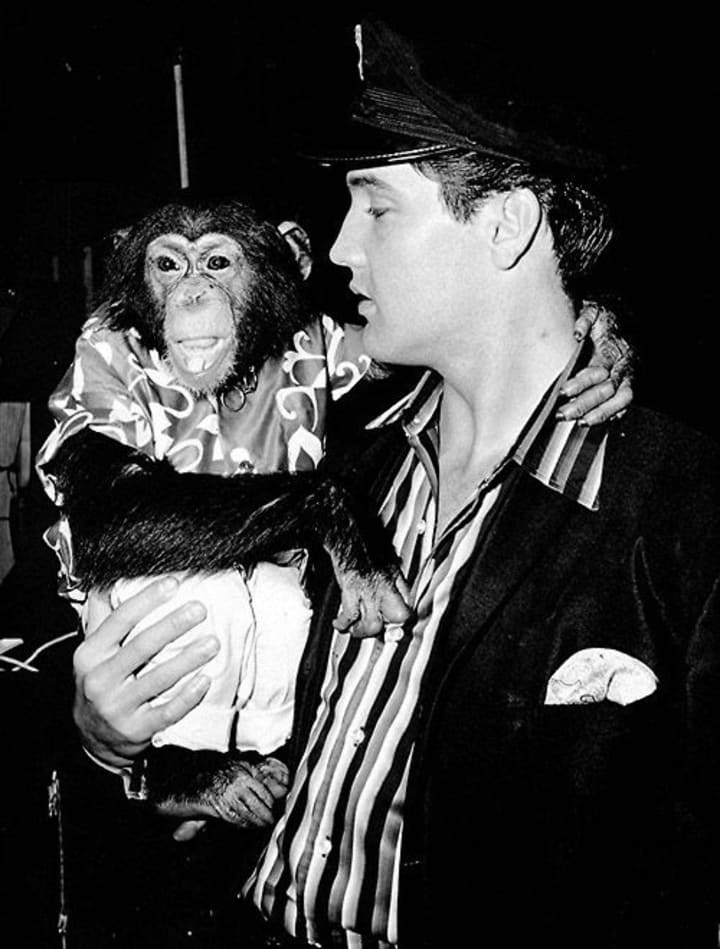 Michael Jackson wasn't the first celebrity to have a chimpanzee friend. Much like Jackson's Bubbles, Elvis Presley often dressed up his companion pet, Scatter, in fashionable little outfits. Presley regularly had Scatter take part in odd pranks; while being chauffeured around the city in his Rolls-Royce, Presley would ask the driver to duck down at red lights and have Scatter sit in the driver's seat in a little driver outfit.
Scatter was a troublemaker though. With his natural curiosity, he'd often pull up on women's skirts. In addition to Scatter, Presley had some more ordinary pets as well; he had several dogs and horses, as he was an avid equestrian. In the 50s, he had a small farm with chickens, hogs, donkeys, and a turkey named Bowtie.
One trend you might notice among the famous pets of celebrities is that very few of them only have one. A lot of these pets, through the years, haven't exactly been the best types of animals to domesticate, even if you do have easy access to animal trainers. Still though, that doesn't take away from their pedigree.
About the Creator
Proud mom of three chinchillas, hard core Justin Bieber fan, watches Unsolved Murders religiously
Reader insights
Be the first to share your insights about this piece.
Add your insights