The Crime of the Century
How I Became a Legend (with a Dapper Dog)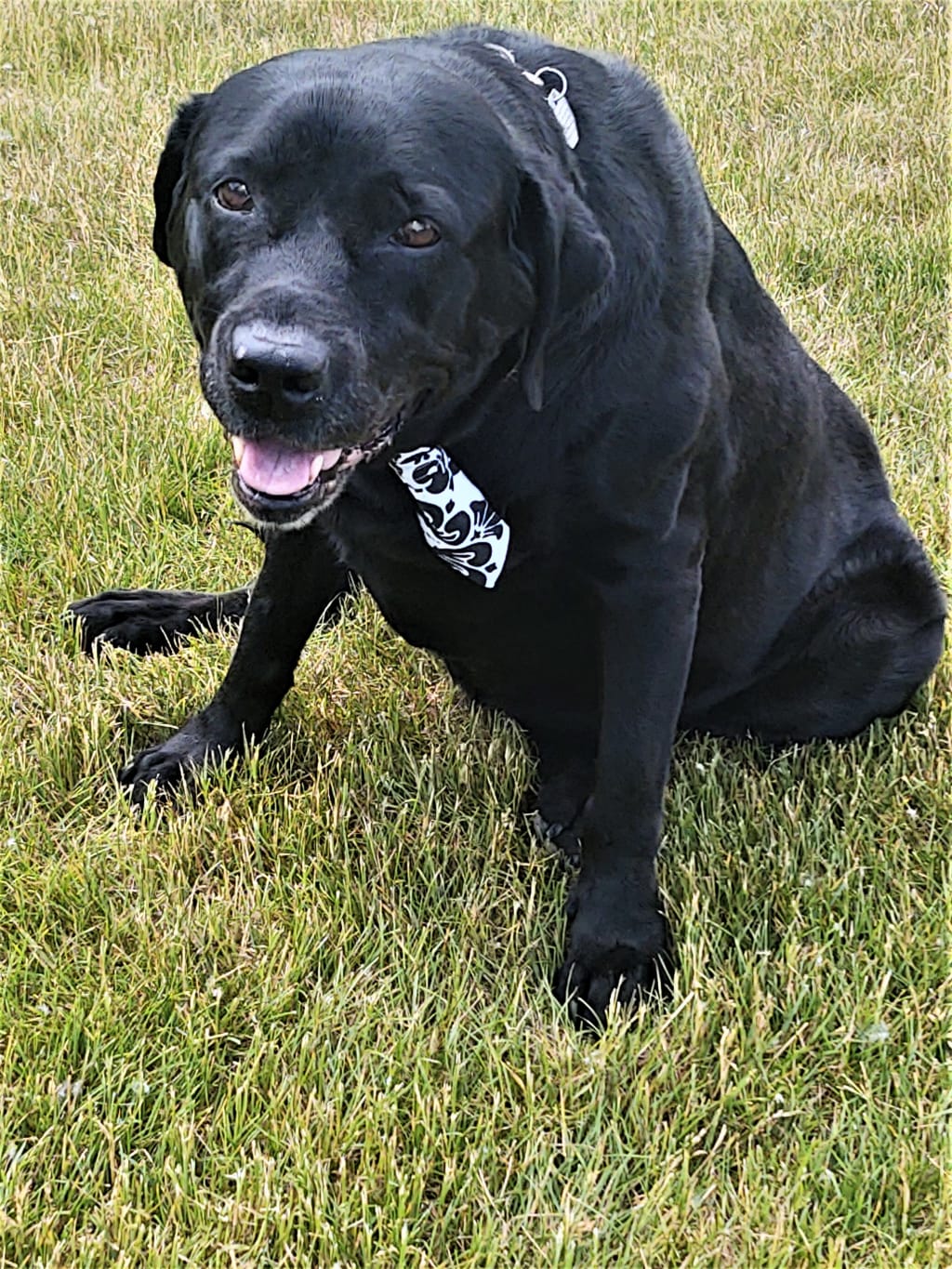 Sammie
I had committed a crime. An unforgiveable trespass. Though it took nearly a week, my actions were discovered and I was convinced it would be the end of me.
There was no escaping the trouble I was in. It was to the point where I began to consider arranging my final wishes and deciding whether I wanted to be buried in fancy clothes or my trusty quarantine sweats.
If you've ever been in the doghouse with your spouse, then you know what I'm talking about.
My wife and I were just starting our new pet project when she asked me if I happened to know where her fabric scissors were.
Of course, I did. I'd used them the weekend prior to cut the carpet I was laying in our home office.
You'd think I destroyed our succulent collection based on her reaction. It was an abomination. Desecration of something sacred.
In my defense, Fiskars scissors are the best. I got a much cleaner line with those shears than I ever did using a utility knife.
She wasn't interested in my logic. I was better off keeping my mouth shut.
I took out my phone and immediately got about the business of ordering her a replacement pair. I even upgraded her to the RazorEdge model.
There was no penance I could do, no price I could pay to recover from my colossal lack of judgement.
Once she was done guilting me, and after I'd already completed the order for her new scissors, I found out she had other shears we could use.
Apparently, one does not own a single pair of Fiskars scissors. She had a drawer of backups. As a newbie to the crafting world, I had much to learn.
Regardless of the treasure trove of scissors, I was held accountable on principal. She swore the pair I'd commandeered was her favorite. I quickly learned that no matter the situation, you only use fabric scissors on fabric. Not paper. Not to open boxes. And most certainly not on home improvement projects.
After what felt like an eternity, we moved on to our project. For the first round, we were cutting a black satin fabric. Her best friend, Amanda, just received a huge promotion. Since it was such a fancy new gig, we decided to make dress ties for Amanda's co-workers: Two gorgeous and vivacious rescue pups.
I love our group of friends. We don't buy fancy breeds or custom hybrids. We rescue dogs. Kendra and Jared rescue pit bulls. Amanda rescues shelter dogs.
Normally we choose shelter pets as well, but our current trusty sidekick is a black lab named Sammie. She's a dog of many names. Sammie is also frequently called Sambucca (her vet name), Booboo, Boozy, or simply just Boo.
She came into our family 11 years ago. One of my co-workers owned her and couldn't afford to have a dog. Sammie was still a puppy at the time. A very rotund puppy.
Personally, I prefer the company of cats. My wife is more of a dog person. But when it came to Sammie, I fell head over heels. It was my choice to bring this dog into our home.
As I'm sure is the case with any Labrador puppy, it was an easy sell when it came to convincing my wife that we needed this fur ball to come live with us.
Sammie has been such a lifesaver. She's been a steady source of love and support through the darkest times of our lives. Sammie cuddled us through the loss of grandparents, the nightmare of COVID, the failure of our family business, through health issues, unemployment, and depression. She is a constant companion with her un-failing love.
You just can't put a price on the unwavering love of a pet.
Right now, Sammie is quite the dapper dog. We made her a paisley tie, that she wears like she's the president of some fancy multinational corporation. Or the dog park.
We get a lot of joy from this fun tie-making project. And we bring a lot of joy to others.
This month we made two rainbow-colored ties for our friend Alex. She has little dogs with big attitudes. Now they will have flashy fabric to reflect their vibrant personalities.
Someday we might create an Etsy shop and share our ties with the world. For now, we only make them for our friends.
And though I've been forgiven for my crime against humanity, I'll never hear the end of it. My children will know the story of how I disrespected a pair of fabric scissors. Thereafter, I'm sure my grandchildren will hear it as well.
At least I'm a legend!
A legend with a dapper dog.

Tami Weaver
Hi, I'm Tami. I'm an occasionally anti-social geek that loves board games and my cute but extra chonky pets.
Creatively, I peaked in 6th grade when I won my local Pizza Hut coloring contest.
See all posts by Tami Weaver →