Orcas Galore: An Interview with Hazel McBride, Author of 'I Still Believe'
Scottish-born killer whale trainer, and author opened up about her marine mammal career experience: Loro Parque, killer whales, and conservation.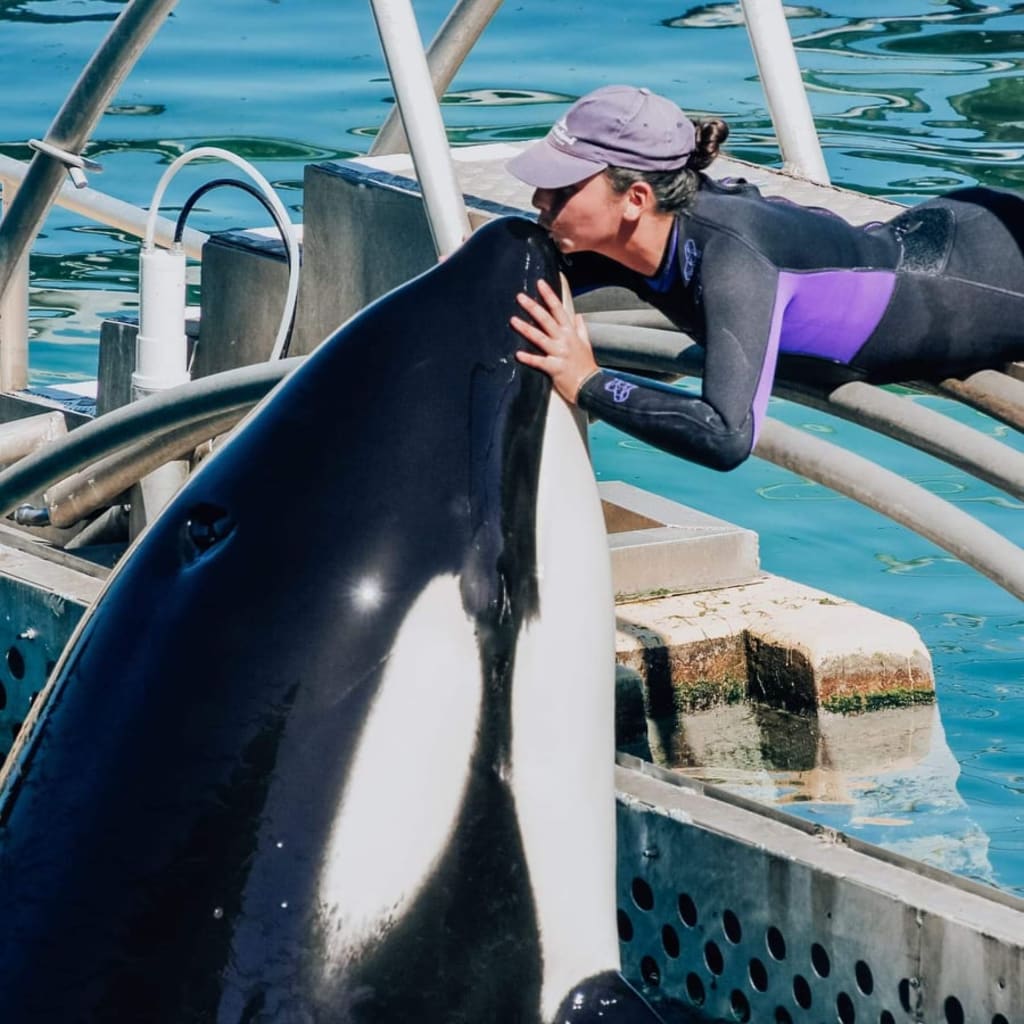 Hazel with Orca Matriarch Wikie at Marineland France. Photo by Lisa Kristin.
As a child growing up in a Scottish village, Hazel McBride dreamed of one day being able to work with killer whales. During her journey, Hazel studied psychology at Glasgow University, took part in two internships in Florida, and in the Bahamas, did some volunteering at a Scottish Zoo's sea lion facility, and for a marine wildlife conservation survey group, and worked in both the Dominican Republic, and at Loro Parque in Spain. Anyway, against all odds, Hazel managed to fulfill her childhood dream of being able to work with killer whales as a trainer at Marineland France. However, the maelstrom of controversy that surrounds the marine zoological community has nearly drowned to a point where she decided to write about her experiences of working with marine mammals for the truth is not as black and white as the world tried to make it appear.
After reading her book I Still Believe, which is worth a read if you are interested in animals, zoos, aquariums, and marine wildlife, I was able to seek an interview with her through email. As it turned out, she still had a lot of say about her experience with animals and conservation.
Hello there Hazel,
Thank you so much for speaking to me about your book I Still Believe. I just finished reading your book and I thought it was an eye-opening window to not just your path to becoming an orca trainer at Marineland France, but also a behind-the-scenes look into how a marine zoological facility works without the crazy propaganda to overshadow it. To me, while I am familiar with how zoos and aquariums work, when it comes to animal care and education, reading your book did give me a sense of relief that it was coming from someone who is currently in the field, about their experience with the animals, and what they hope people will take from their own personal visits to any zoo, or aquarium.
So, with that being said, Hazel, I do have some questions I would like to ask you regarding your book. Please feel free to take your time answering them, starting with you, and what motivated you to write the book in the first place.
Jenna Deedy: As a young girl who was growing up in a village in Scotland, how did you get involved with wanting to learn more about cetaceans, and other marine wildlife? I know you have mentioned that you have been on a trip to Orlando where you got to go to SeaWorld back in 2000, but what was the real motive behind such desire?
Hazel McBride: Honestly, my Mum was the one who always instilled a love of wildlife within me. I mentioned in the book her love for dolphins, and how it had always been her dream to swim with them. That same passion clearly rubbed off on me. I was always checking books about marine mammals (whether fiction or non-fiction) out of the local library, and the more I read, the more I wanted to know. There was one book series, in particular, 'Dolphin Diaries,' about a young girl whose parents were marine biologists, and in each book she traveled to a different place, and encountered different marine animal species, I remember thinking what an incredible life that would be.
I found it interesting that you spent most of your teenage years being part of a UK-based swim team. Did that help with improving the swimming skills that you would later need in France?
Definitely. Twelve years of competitive swimming 100 percent gave me an advantage, not only for swim testing, but with being confident in and around water. Additionally, it led me as a teenager to get my swimming teacher and lifeguard qualifications, which are also an advantage in this field.
Was there any difference between the swims tests at Loro Parque, and Marineland France? If so, how?
Yes. At Loro Parque the trainers use the small air belt that sits around their waists in every swim test, practicing how to breathe through the regulator without a mask on. At Marineland we do not wear air belts, and so still do the classic apnoea swim test.
I loved when you mentioned doing a Marine Mammal Keeper Experience under the supervisor of a pregnant animal care specialist named Maggie, and how she gave you all this advice about how to get your foot in the marine mammal field such as joining IMATA, reading books and articles on marine mammals, animal care, animal training, studying psychology, seek internships, and so on. What kind of experiences with animals did you get to do with her? Which one of these moments was your favorite? Are you still in touch with Maggie to this day? If so, what does she think of you working with orcas in France?
On the MMK experience that I did at SeaWorld Orlando, I was able to do a shallow water dolphin encounter at Dolphin Cove, then we went down to play with the dolphins at the underwater viewing area (where I basically ran around like a crazy person with toys). I was lucky enough to be allowed to help feed the manatees before we headed off to the Wild Arctic area. I was able to go backstage and see the seals before heading to the beluga enclosure where I did a dry encounter with them. We also saw the walrus in a protected-contact situation before heading off to lunch. After lunch, we visited the dolphin nursery, and played around with the baby dolphins and mums for a while. I was basically used as a human enrichment device for the day, and I loved every second of it. Side note, a lot of the names/dates/facilities were changed within the book in order to protect people's privacy, however, I am still in contact with the trainer who led me on the MMK program. The story I told within the book about us having a rather emotional reunion in December 2016 is completely true. When she heard that I had made my dreams of becoming a killer whale trainer come true, she was thrilled. At the time I was still working at Loro Parque, but I remember her saying 'it's exactly what a trainer wants. To have a young person in an animal encounter who takes what you give them, and makes a career out of it'. It was a very special moment.
Since Morgan is deaf, what was the real difference between training, and caring for Morgan (Orca, not Stark by the way), and training and caring for an orca like Wikie, and her sons?
The general care of Morgan is no different from any of the other whales, she receives exactly the same amount of love and attention like everybody else. The only adjustments that are made for her are the light bridges and recall, where she is trained to respond to light instead of a whistle, which aids our communication with her. Sometimes, trainers have to be a little clearer in their body language, and over-exaggerate for her to make sure she sees them properly.
Did you ever find seeking employment at a facility to be such a struggle, to begin with?
I have been very lucky in the career that almost every job that I interviewed for, I got. There was a period of about six months where I applied to a bunch of different facilities, and never heard back at all, so I didn't even make it to the interview process. That is why I always say that networking is so important, because it was actually thanks to my boss at the facility I interned at who recommended me for my first trainer position.
Have there been any internships that you had to turn down in the light of finding an internship that worked best for you, and the schedule you had at the time?
I never turned down any internships, because I was lucky enough to secure both internship positions with dolphins early on, and so did not have to apply to multiple facilities.
Of your internship experiences, which one just happened to be your favorite, and why?
I loved all three of my internships for different reasons. With the sea lions I loved that I was there for two years (I worked one day a week) so I was really able to feel like a part of the team, and grow in that setting. I loved the Florida Keys, because the team there were like a family, and their passion, and dedication to the animals was just mind-blowing. However, my favorite has to be Dolphin Encounters, Bahamas. The people are marvelous, the facility is beautiful, and I loved their philosophy as well as the way they ran their encounters. Plus, living in the Bahamas definitely agreed with me.
You briefly talked about the environmental impacts that are affecting the Southern Resident orca population in the Pacific Northwest. As someone who has adopted two orcas through Whale Museum's Orca Adoption Program, why did you feel the need to include their plight in your book? Have you ever considered adopting a wild orca through Whale Museum?
I thought it was important to highlight the difficulties facing wild killer whales, and since at the time of writing, the British Columbian population had been so widely covered in the news, I thought it was quite topical.
Do you believe that the orca breeding bans in both California and Canada will only enable Russian fishermen to collect more orcas for Asian facilities?
I don't necessarily think that breeding bans will lead to more captures, but I think that if the population of cetaceans in the care of man is allowed to 'die out' as it were, in fifty years people are going to be wondering why all of the animals are extinct, and why we did nothing to try to help. Zoological facilities are necessary and important.
Where do you stand on Lolita the killer whale at Miami SeaQuarium?
I cannot comment on Lolita's situation, because I have never worked there, or even visited the park. All I know is that situations are always more complex than they appear from the outside.
Can you explain the differences between Loro Parque, and Marineland France's killer whale programs?
If by killer whale programs you mean encounters, then Loro Parque does not offer a Killer whale encounter to the general public at all. Marineland offers a close-up experience, where guests get to take photos with, and potentially reinforce, as well as take part in behaviors with the whales. All the while, having a trainer on hand to answer any and all questions they may have.
Do you hope to see Skyla again one day?
I would love to see Skyla again one day, but I don't see myself going back to Tenerife any time in the near future.
How do you feel about how Loro Parque is caring for Ula (Morgan's calf who was born on September 22nd, 2018)?
As far as I am aware, Loro Parque are taking excellent care of Ula, and I would expect nothing less. I have heard rumors that she is in 'poor health,' but I honestly have no idea where those rumors came from, especially if Loro Parque are continually posting videos and commenting that she is in excellent health, and is observed playing, socializing, and swimming with Morgan.
What do you hope that readers will take away the minute they begin to read your book?
I really hope that readers will understand that the only way we can help animals everywhere is if we stop hating each other, and start working together. Regardless of opinion, we are all people who love animals. No situation is 100 percent perfect, the ocean is becoming an increasingly dangerous environment for all marine life, but there are still many ways zoological facilities can improve also.
A big thanks to Hazel for giving me her time to share her story with all of us, and my hope for all you readers out there is for you guys to have an open mind, visit a zoo, aquarium, maybe take a behind-the-scenes tour if you like, and be inspired to take action for wildlife and wild places.
Anyway, Hazel's book I Still Believe is available for purchase on Amazon.