My Willow & My Life
Why Companion Animals are Life Helpers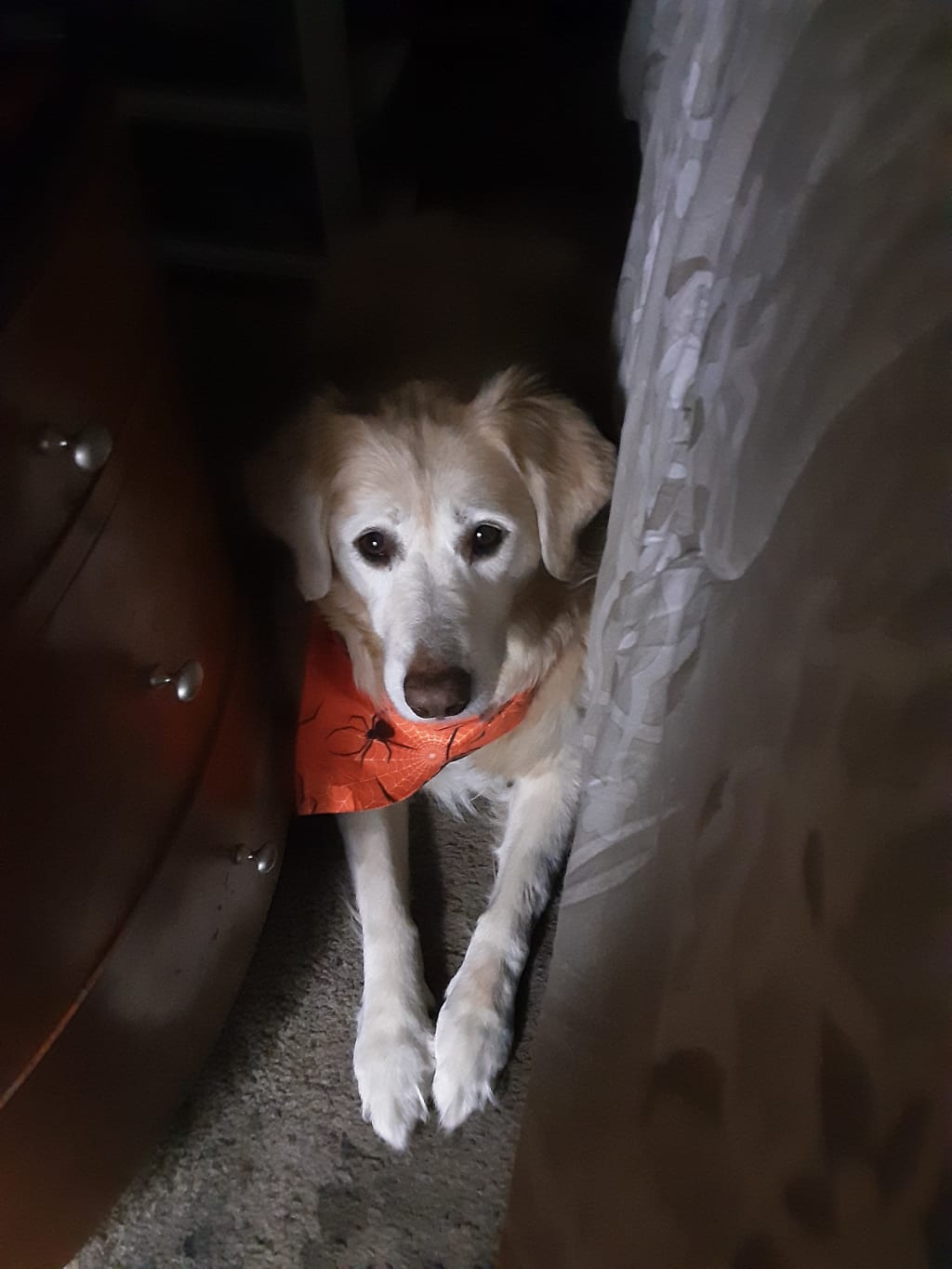 My Willow-girl
Moving away from my family home didn't seem like it would be much of an adjustment; not so much that I would be missing all the conveniences that come with having an established home. What came as a surprise to me was when I started to realize exactly who it was that I was missing. The golden retriever we named Willow.
Willow was one of two sisters our family picked from a litter that some friends had when the pups were ready for new homes. She has a sister named Sandy who went with my daughter and her family. During holidays and family get-togethers the two sisters always enjoy seeing each other and commence to playing, running and chasing whatever will run from them about the 30 acres that was my family home.
Due to maladjustments on my part, I would move home from time to time. During my stays, Willow and I became fast friends. She would accompany me any time I left the house to do some chores about the property. If I just wanted to take a walk, she would insist she stay by my side for the duration of the excursion. If I wanted to go clean up some windfall, or start a burn pile going, there she was, laying down somewhere close by, keeping an eye out for any wildlife that may stray into view, or the occasional butterfly that would flitter around her as if to say, "hello."
Whenever it seemed I was getting nowhere by remaining at home, I would move away reluctantly. I always had this gnawing feeling that home is where I needed to be. There is a certain healing quality that comes with living amongst family. This is something I could never seem to impress upon my mother as she seemed to not understand the more spiritual side of life. She is gone now. And gone also is the hope that I could ever show her what the healing aspect of family is all about. I do my best not to let this bother me. We all have our parts to play in life's grand masterpiece. Ours is not to decide for others what their part is to be, right? We all just need to be the best person we can possibly be. This is our responsibility.
Willow was my fathers' dog, as ownership would have it. She slept in a crate next to my fathers' bed at night. She would wake up with him at the crack of dawn when he usually started his day. While I was also there, I would wake up once I heard them awake, and head upstairs to feed the animals their breakfast, fixing breakfast for dad and I shortly afterwards. I would take the dogs out for their morning rituals as dad would meander down to the shop where he had his place of business. I loved getting up at that early hour, seemingly before most of the rest of the world had awakened. I enjoyed the morning serenade that the birdlife offered up as their morning tribute to the newly born day.
It was a very sad day when my father passed. Life would never be the same for me. He was the only one that understood my need to be there on that 30 acres. I expressed to him how it was a dream come true for me, being there. All I ever wanted was a small piece of dirt that I could learn to become self-sufficient on. I discovered that the world of city life had nothing to offer me. Being close to nature was my souls pure joy. I felt so close to God in those days. But alas, my mothers misunderstanding of me brought about my leave. She wasn't "running a respite, or hospital" as she put it. So, I had to leave and it broke my heart. I lost my chance at healing with my family. It still hurts to this day.
When my mother passed, everything went to my daughter, the property and all it contained, including Willow. When I heard mention that Willow was going to be looking for another home, I couldn't bear the thought of her going anywhere but to me. Lucky for me, my daughter agreed to let me have her. I know Willow misses the 30 acres also, but life changes and we have to change with it. We do enjoy being together, even if were not doing our chores and being good stewards of my dream property. We understand each others sadness at missing the good old' days. We enjoy our walks around the block at least once a day. (I live in an apartment building that sits on a rather large city block). There's plenty of grassy areas behind the strip mall on the other side, and the library up the street on our side of the block. I don't take a trip in the car without her riding in the back seat. On nice days I roll the window down for her and she loves to catch the wind in her face. I'm sure it reminds her of when she use to ride behind me on the ATV when it was time to patrol the further reaches of the 30 acres.
I do suffer from life-long chronic depression brought on by severe childhood trauma. (More about that in another story). Having to leave the family home didn't help matters at all. It probably set me back another 10 years. But it's all bearable because I have my Willow with me and we will get through whatever life brings our way. She is the world to me and I know she feels the same about me. I believe in the concept of companion animals whole-heartedly. Anyone who suffers from depression, or any number of mental health disorders, could benefit greatly with a life-long partner sporting fur.
therapy
dog
About the author
I was "hatched" at Pullman Memorial Hosp. in October 1960, spent most of my childhood in Hawaii, then moved to the outskirts of Spokane, WA in 1973. Writing has been a form of therapy for my no-where-near-normal life experiences. Spiritual
Reader insights
Be the first to share your insights about this piece.
Add your insights