My Adopted Daughter - My Dog
When the Kids Move Out, a Dog Fills the Emptiness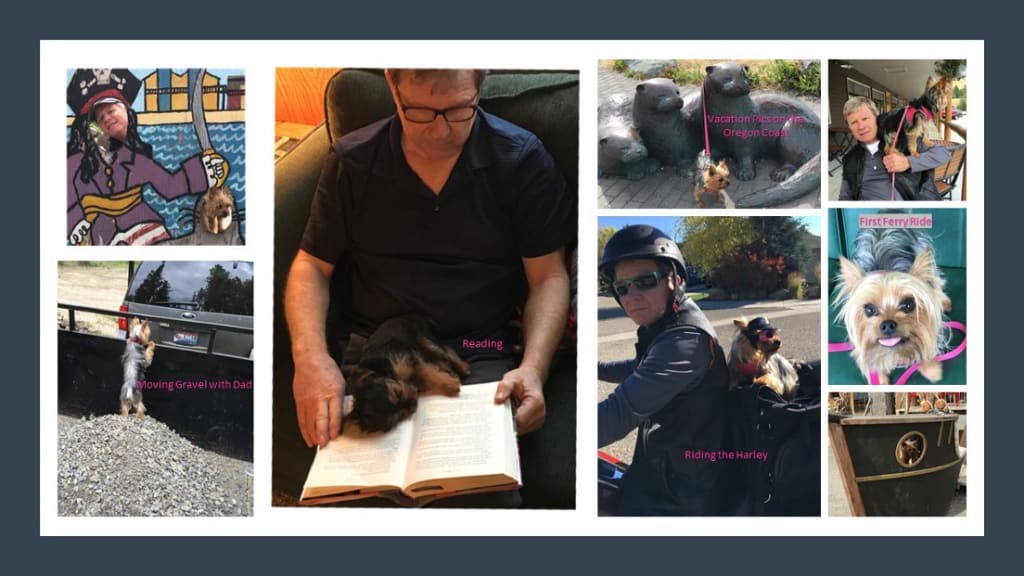 All pictures taken by author with iPhone
When our children moved out the our house and started families of their own, the house felt empty. An eerie quiet filled the rooms. Going to work and visiting with friends, kept us busy and at first, I enjoyed the peacefulness - until we retired.
Then, waking up each morning without a reason to get out of bed led me to believe something was missing. So we adopted a dog.
Just as we planned retirement provided time to travel and my husband and I refused to not include the newest member of our family. Since our preferred method of transportation is to ride our Harley Davidson motorcycles, we became pressed to think outside the box. Dagney, our Yorkie, needed to be accommodated for live on the road.
After we load up the bikes with only the essential for ourselves: a change of clothes, medicine, and toiletries, we fill the remaining space with our pet's essentials: bully sticks, food, water dish, leash, harness, toys, special blanket, shampoo/conditioner, tangle free spray, breath freshener, snacks, and Benadryl. (She has allergies.)
Next, my husband attaches the travel bag while I prepare Dagney for the ride by securing her hat, googles, and leash. Don't worry she is tethered so she can not jump or fall out when moving.
The three of us have traveled from Boise, Idaho on numerous trips through Montana, to North Dakota, and along Highway 101 along the ocean's coast. The girls felt it might be dangerous to chauffeur a dog on a big around the country. The claim we always told them motorcycles were dangerous.
True!
Observers
Since our little girl rides behind Randy, I enjoy watching drivers pass by and then slow down for a second look. It's a wonder gawkers have not caused an accident when they suddenly hit the breaks to align themselves with the bikes to snap a picture. At stoplights, passengers in cars next to us ask permission to take a picture. I imagine there are multiple Facebook post floating around.
I think it is the biker googles and leather hat that capture their attentions.
Our Daughters
Our daughters simply shake their heads and complain that we treat our dog better than we did them when they lived at home.
True!
Then we remind them that Dagney doesn't talk back, ask to borrow money, stay out all night and bring boys home. (We had her spayed.)
On our last trip (simply to annoy our children) we texted pictures of Dagney as she explored new adventures. We sent pics of her first ferry boat ride, sitting on the beach, standing with a pirate, on a playground, with statues — documenting her travels each day.
Our daughters simply responded with snarky comments, inappropriate memes or silence.
We Bought a Trailer
Though Dagney loves riding the bikes with the wind blowing through her hair and the attention she receives, we discovered a few drawbacks during longer trips. We couldn't go into restaurants, leave our little girl alone in hotels, and nighttime potty emergencies became nuisances. So, last year we purchased a camp trailer - providing our daughters another thing to complain about. They think we spend too much money on the dog.
True!
However, now we are self-contained and ready to roll.
(Dagney still shakes uncontrollable with excitement when she hears the roar of the Harley engines. We do not dare going for a ride without her; once, when we did, she didn't talk to us for a week.)
But our little girls also enjoys longer trips, and the travel trailer provides us more freedom because we leave our princess in a safe, familiar environment when we venture out.
Of course, our daughters roll their eyes and make comments about Dagney being the most spoiled dog on earth.
Also, true!
They are just jealous.