Morgan's Calf Has Been Named: Her Name Is Ula
Four months after her birth, Morgan's calf has finally been given a name. For now, on, she will be known as Ula, which means 'Jewel of the Sea' in Celtic.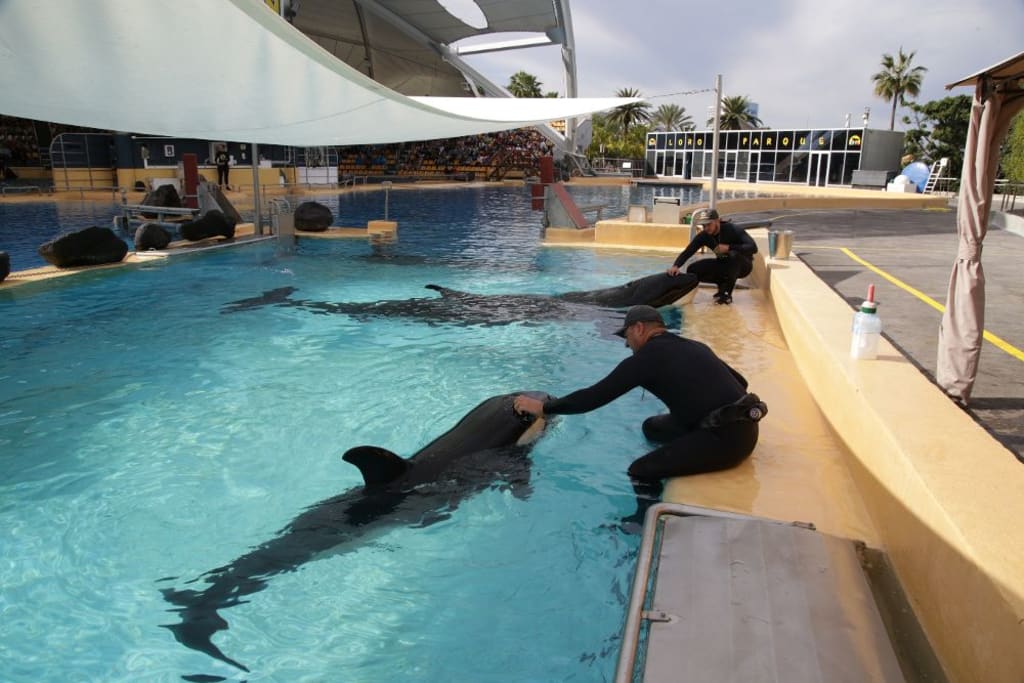 Morgan and her daughter Ula together at Loro Parque after the mother-and-calf pair were reunited. Photo by Loro Parque
A killer whale calf who was born at Loro Parque last September has finally been named. According to the Spanish newspaper "El Dia," Morgan's four-month-old daughter was named "Ula," which means "Jewel of the Sea" in Celtic. However, despite this report, the staff at Loro Parque has yet to confirm it as her official name.
The name's Celtic origin is a nod to Morgan's North Sea routes since she was rescued after coming close to death off the coast of Holland's Wadden Sea back in 2010. Two years later after a very long rehabilitation, Morgan had been declared non-releasable and Dutch authorities selected Loro Parque to become her forever home.
Back in September 2017, the very same newspaper that announced the official name was also the first to have officially confirmed that Morgan was pregnant with Ula. At the time, Morgan was believed to have been four months along with her, but did not identify as to who the then-unborn calf's sire was. This eventually led to numerous rumors about Keto possibly siring the calf since he had been paired with Morgan on several occasions. However, there were even a few people who believed that Tekoa might have been a good candidate since both animals have been seen together.
If paternity rumors were not enough to circulate attention over Morgan's pregnancy, then it was the concerns over whether or not she would be able to raise her calf despite being deaf. As you see, one of the main reasons as to why Morgan may have been stranded in the first place is because she was deaf and out in the wild, a deaf orca would not survive on its own, even with the help of its wild pod. Flash forward to September 22, 2018, Morgan gave birth to a healthy female calf and proved to be a good mother. However, despite her good nurturing skills, Morgan was unable to produce enough milk to nurse Ula on her own. As a result, Ula and Morgan were briefly separated from each other so that the trainers could hand rear her in a separate section of the Open Ocean exhibit with a formula that was made with milk that minced with fish and any milk that Morgan was able to produce to help her calf gain weight and thrive.
Four months later, Ula now weights around 496.04 pounds and has been reintroduced to her mother. However, due to Morgan still not being able to produce enough milk, Ula is still being hand fed by their trainers about eight times a day, but no longer needs to be monitored 24 hours a day like she was during the first few weeks of her life. In fact, Ula enjoys her daily routine of play sessions with her trainers, getting constant affection from them, and even spending time with her mother. Currently, the animal care staff at Loro Parque has reported that they are currently studying Ula's relationship with her mother and are very pleased to see that despite the mother and daughter having to have been temperately separated, the two are showing signs of a healthy mother-and-calf relationship.
Personal Reflection
During my own time of following Ula's progress, I did briefly give her the nickname "Gamora" after the Marvel comic book film character-turned Disney Princess from Guardians of the Galaxy because usually, Loro Parque had this habit of naming their calves within less than a week after they are born, so, I was surprised, but understood the circumstances as to why they were holding off on naming her. So, I took it upon myself to briefly nickname her "Gamora" out of the blue in honor of Marvel Studios' 10th Anniversary until she was given an "official" name.
Now that all continues to go well for both Morgan and Ula, I can only say one thing about Loro Parque-congratulations to the entire Loro Parque family and may they continue to keep up the amazing work that they do for all of the animals in its care.