Maple My Cereal Box Prize
She popped out of the box and I fell in love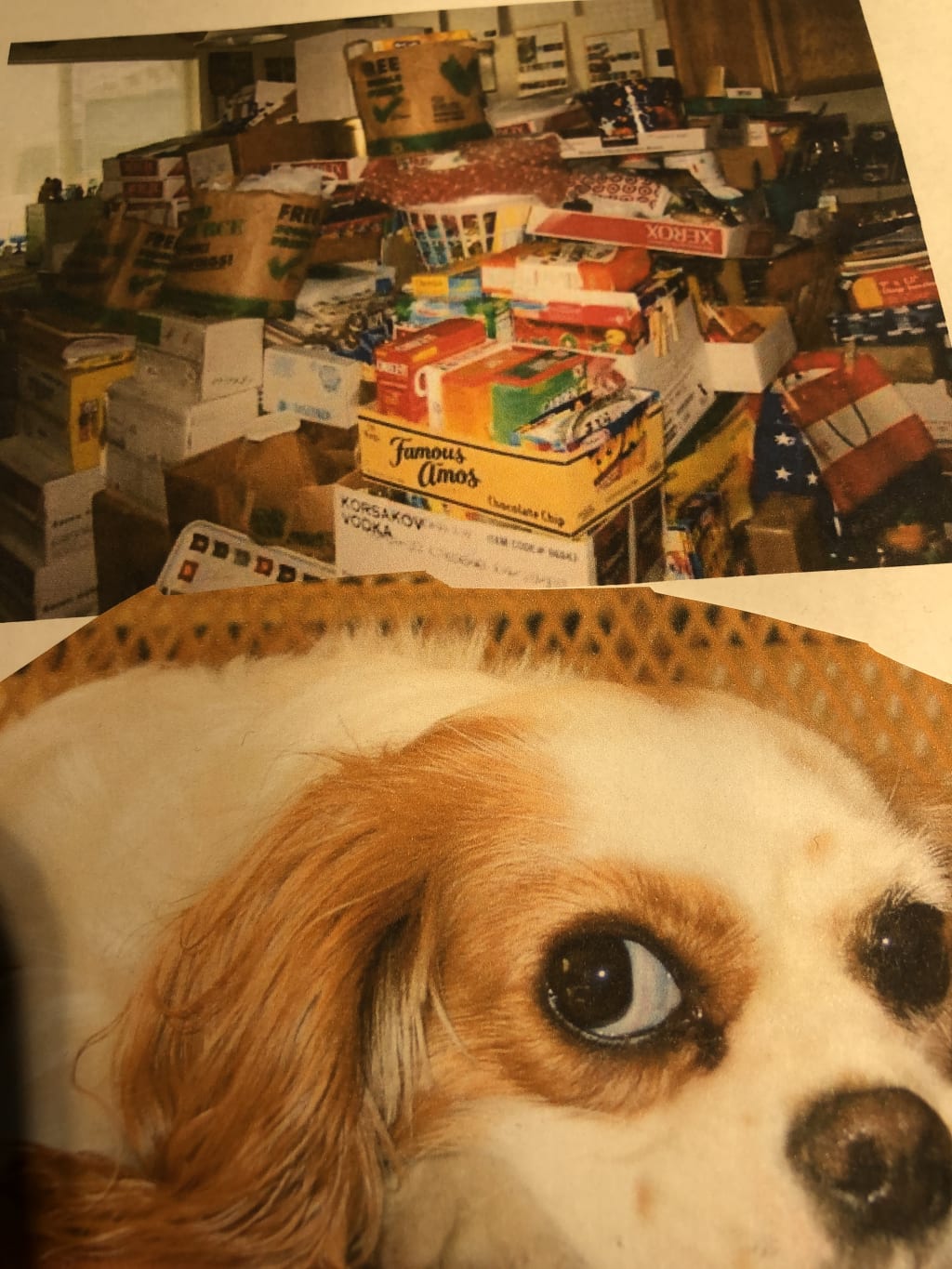 Author's Collage
Maple My Cereal Box Dog
She poked her nose out of a cereal box and I fell in love
A two ton yellow garbage truck showed up for collection in the parking lot of our elementary school. I was assigned to be the coordinator to collect cereal boxes for the first post consumer waste in Cincinnati. It was an experiment and I had to get the job done. People from far and wide came with their prized empty cereal boxes, and the volunteers and I corralled them toward the back of the truck. Pretty soon after three hours of collection, pounds of the pre post-consumer material filled the mammoth lemon color vehicle. Don't ask how I fell out of the truck.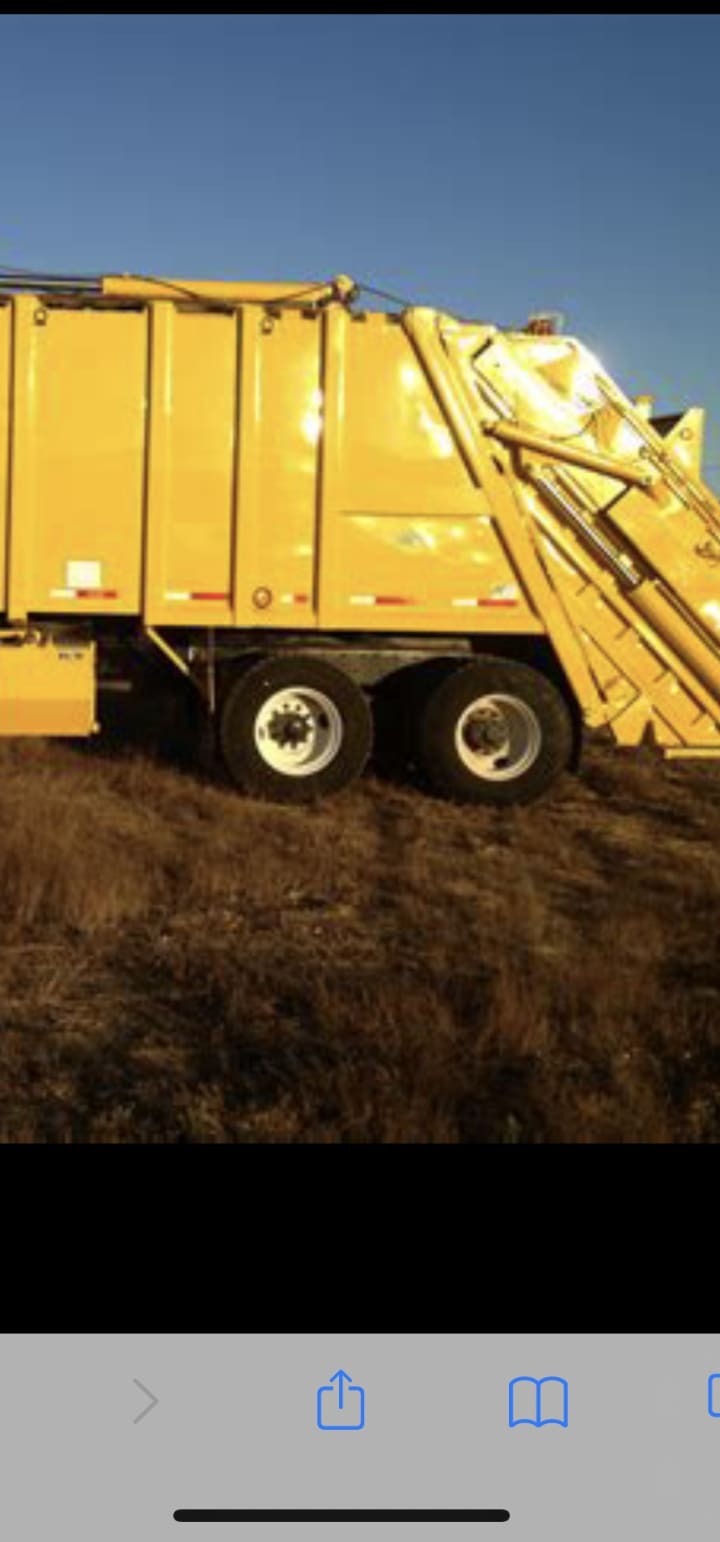 I typically had to wade through all of the boxes to make sure, that nobody tossed the kitchen sink.
On this fateful afternoon, there was a lull, people were not piling into the parking lot, and I had a few minutes to access, and comment to the volunteers that the paperboard industry would be able to convert all of this paper into new cereal boxes. At that moment I said:
"The cereal companies should put in little prizes for being good recyclers"
And then suddenly, deep in the bowels of a truck load of boxes, I heard a sound that could be described as nothing more than a squeak, a whimper. I started tossing boxes away from me, as I climbed into the jungle of empty cereal containers and seemed to be getting closer to what sounded like a puppy in distress.
When I finally reached a large Cheerio box, I pulled a long body with a feather tail that tickled my face out of a box. I had come face to face with the most adorable creature I had ever seen. She looked at me with two forlorn googly eyes, and was listless. The look on her face suggested that she had been dumpster diving for a while and needed some immediate loving care and medical attention. At this point in a fury everyone was circling the parking lot, notifying parents, kids, people who may have been waiting in the lot. Nobody claimed her, and it was extremely curious about how this pup got into the truck. I knew that this little King Charles mix had to be taken to a vet to check her out, as she looked slightly dehydrated. I tucked her into my jacket and off we went to the neighborhood vet.
Maple, as I decided to call her because of her maple syrup spots, had a tummy bacteria and had endured a few health problems. Why would someone toss a dog in a garbage truck was beyond me. I placed an ad in our newspaper, announcing that a dog had been found in a cereal box. If the rightful owner responded she would be returned. Nobody claimed her, and I felt it was meant for Maple to be my pal for always.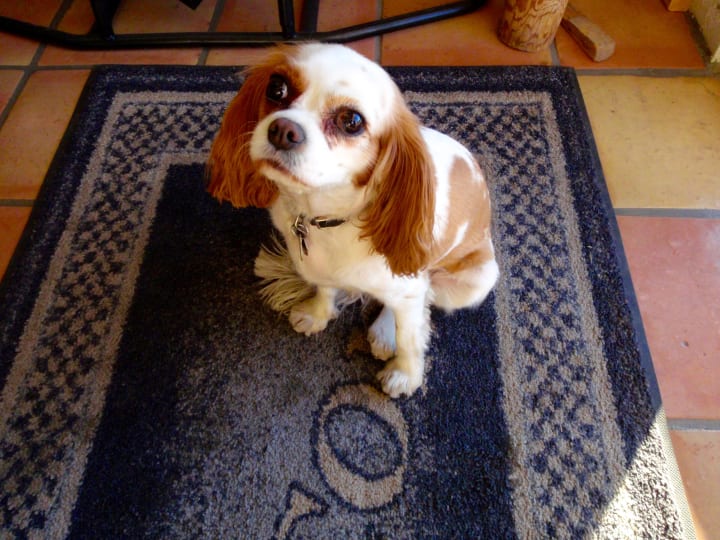 Although the experience of finding her was remarkable, I felt that we were destined to be in each other's lives. It wasn't by accident that this gentle creature crossed my path. Her future would be bright for the next eight years of her short life and be part of my every day and every night.
As our eyes shared a first communion she thanked me for finding her, and I assured her that I would be a helpmate for accomplishing her goals. I believe her purpose was to offer unconditional love to everyone she encountered.
The best cereal box prize a person could win, was finding Maple. She was about five months old when I found her, and she grew up to be a gentle creature with a loving spirit. The school adopted her as a mascot of sorts, and we often visited families that didn't have a pet so that the children could groom her and talk to her. Maple was the kind of dog that enjoyed listening to the people she hung out with. Children loved to tell her about what was on their minds. There was always an answer in her expression. She even nodded her head yes to questions like:
Are you hungry ?
Do you want to take a walk ?
Do you love me ?
Before we left, she would lift herself up and gave the children a hug. She loved the visits and always received little treats.
One of the parents at school suggested taking her to read and write stories with children at foster homes. Because of the privacy of the home we didn't take pictures, but it was a highlight of my week after teaching and family responsibilities. Maple found herself in the big circle of kids. We told stories with the children and then it was their turn to write stories about their lives which included favorite hobbies. She often appeared as a main character in the children's stories and inspired happy times. Their imaginations took off in all directions. One of the kids drew an illustration which I later used for a small production company that I started.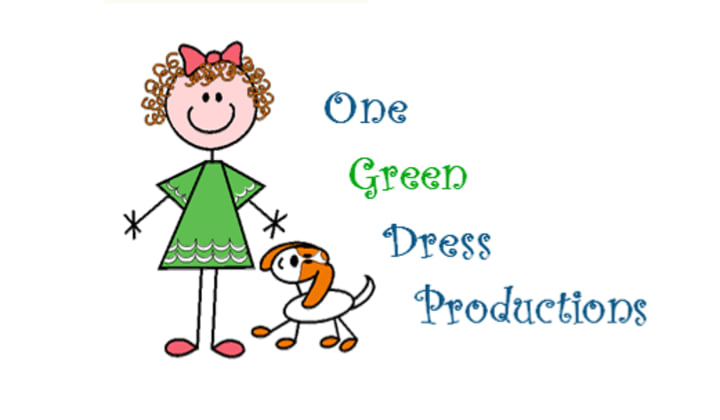 One afternoon, I went to a friend's well decorated house with lots of rooms and a dramatic staircase. Martha, her daughter loved name brand purses, and since I loved the color green she asked me if I wanted a huge purse, big enough for Maple to climb into. Martha, was standing against the staircase and yelled out to me, "Do you want this purse, I know you will love it". We negotiated back and forth, and Maple jumped into the bag, to settle the issue by not getting out.
Martha said, "Maple made the decision for you…the purse is for you".
When I put my teaching stint on hold for a while, I began to travel with Maple throughout the country. We traveled to the mountains of Crested Butte Colorado, and sprawled out on the sandy beaches in Miami. She even tried a little Salsa dancing as I held her at a South Beach Latin bar. Our next adventure was a visit to Hollywood California, and hung out with a few famous musicians and their pups including Kevin Cronin of REO Speedwagon. He and his wife Lisa, spotted us at one if the dog parks and asked how Maple followed me off leash. They were encouraged about their pups and how they could get him off leash to experience a full body adventure without pulling at a dog being's body.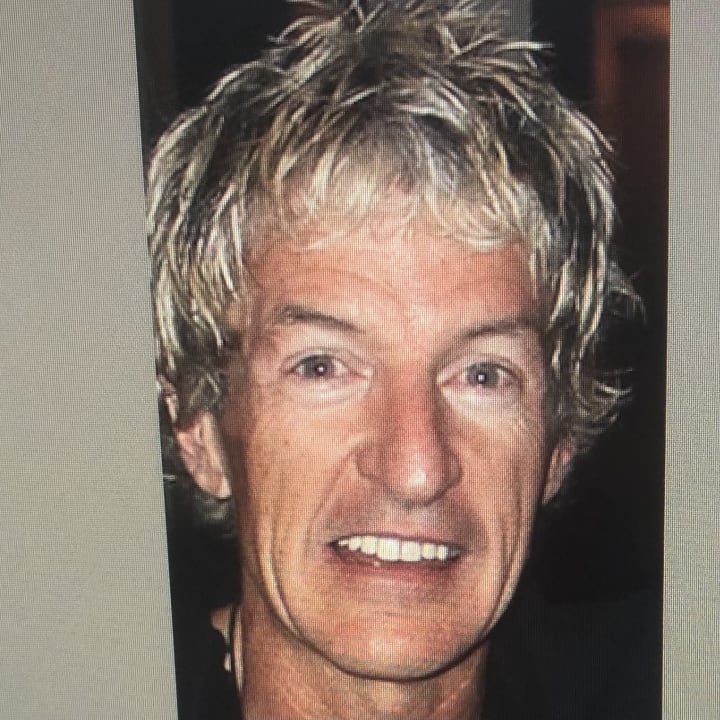 Her best friends came in all sizes and shapes, and she didn't know a stranger. She loved everyone that crossed her path and even became best friends with a feral cat that wandered around the neighborhood. When the cat showed up, they both plopped down on the sidewalk and stared at each other with fascination. It was hilarious to watch Hummingbirds dart in to get a close up of her expressive face.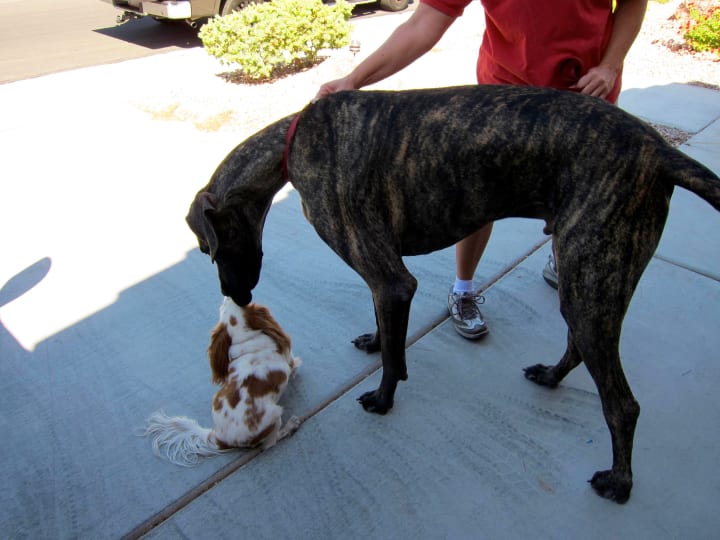 Maple was a dog that had a sixth sense about "staying close" as we called it. I never put a leash on her except when we were walking in a city. Our form of training was to learn by positive reinforcement. So I simply had to model what I wanted her to do, and without a lot of words she picked up on the direction. When she first came home with me, I showed her the backyard and explained where she would enjoy going out for a pee pee. Then it was just simply a process of walking out with her a few times till she could smell and taste some of the grassy areas. It was a far cry from her early experiences in a garbage truck and she made up for lost time by spending adventure time in nature. In the last few years of Maple's life we enjoyed sitting on my porch in the desert, and looked up at the stars every night. We even found the dog constellations, and I told her she was my earth star. She sat right next to me on her chair as we agreed the world was not a very big place. I thanked the universe for the short years with Maple and the great gift of unconditional love she gave to everyone.
About the Creator
I travel with a nap sack on my back to gather stories and sit in the circle of humanity.
Reader insights
Be the first to share your insights about this piece.
Add your insights