Liberation of a Dog
Saving a puppy from abuse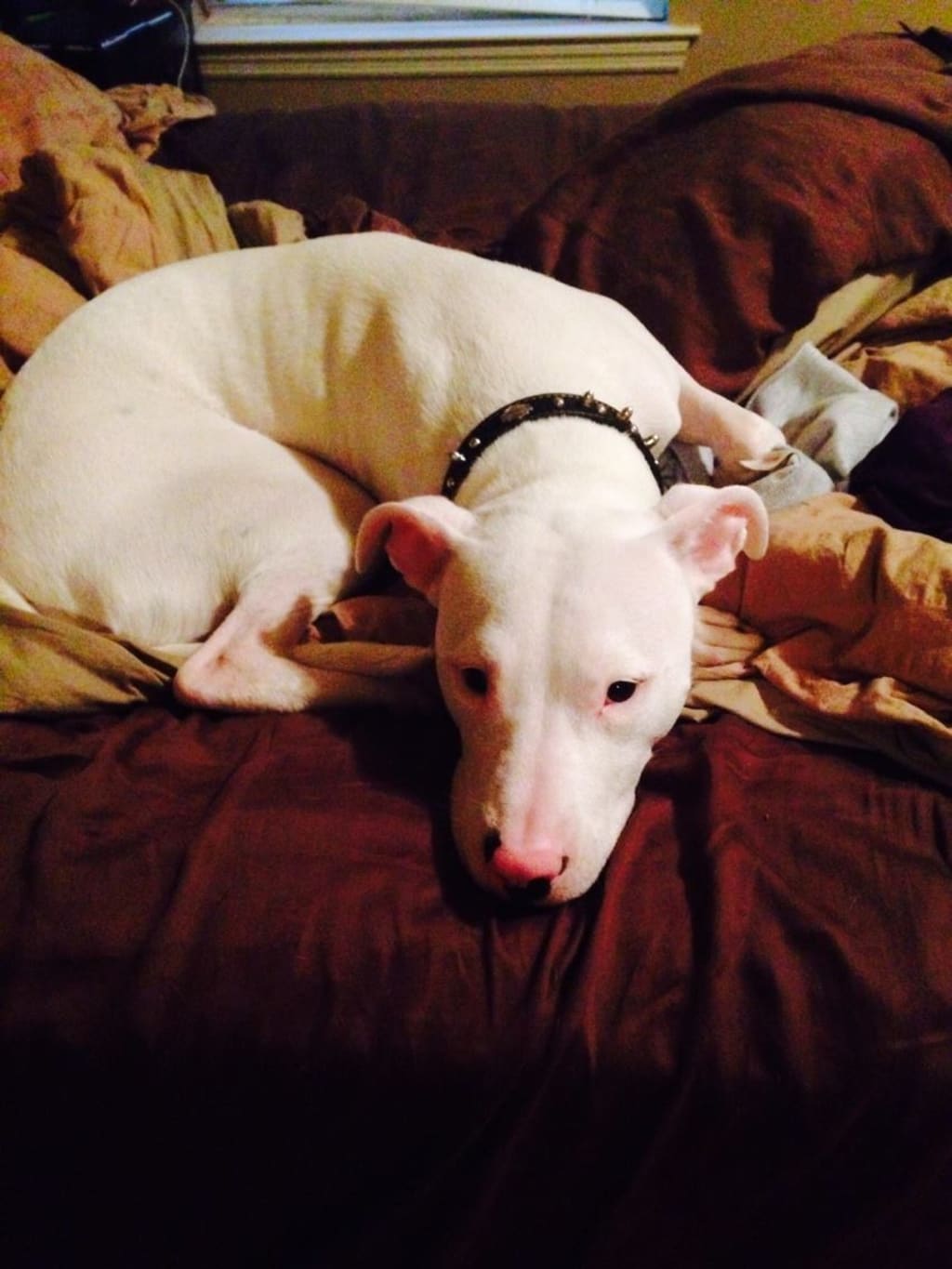 Matty the dog
It was November 2012. I received a Facebook message from my friend, Randy, asking me to call him as soon as possible. I could almost hear the desperation in his written words, so I knew I had to call him immediately. He had an upstairs neighbor that had gotten a pit bull puppy that he left on the balcony without food and water. He was horrified by the wails of the puppy as it cried in between beatings from the horrible human who owned it…or should I say, kept it prisoner. He knew that something had to be done. He had contacted animal control to no avail. He never got a response from them. He knew that I worked with rescues, so he hoped I could help.
I tried knocking on the door to talk to the neighbor, but no one answered. I had prepared a letter for him explaining that I could take the dog off of his hands and that I was prepared to seek help from the police and animal control if he did not agree, because I had proof that he was abusive to the dog. I never heard back from him.
Within a few days, I heard back from Randy. Before anyone could get involved, my friend called me again, even more desperate. He had thought that the guy had gotten rid of the dog, but alas, he still had him. The dog was miserable, alone, helpless, and scared. Something had to be done immediately before it was too late. The weather was turning colder as the Thanksgiving chill approached, and definitely not the conditions to keep a dog abandoned on an outside patio.
I hurried over to his apartment with a plan. We were going to liberate this dog. Randy's neighbor was not home, so we had a small window of opportunity. Randy's friend was there to climb up to the above patio to retrieve the dog. I was going to be the get-away car. Randy had already secured a new home for the pup.
Mary Beth was excited to get the dog, but she was going to be out of town until after Thanksgiving. I agreed to keep the pup at my house until we could make the drop-off. I was happy to do it.
I drove at break-neck speed to get there. We were in luck! The neighbor was still not home, but we had to work fast. Randy's friend scurried up the patio wall, managing to grab a hold of the puppy. It was like watching Spiderman at work as he climbed the walls effortlessly. Randy had prepared a WWF wrestling duffle bag as the concealment vehicle. We barely had time to say "hi" and "goodbye" as I was rushed away with the dog in the bag. I placed him in the passenger's seat, and we were off!
Had we done it? Had we gotten away with it? I was prepared for a confrontation, but luckily, the neighbor wasn't home. The neighbor never questioned Randy, as we were worried that he may have thought Randy was behind it since he was an adjacent neighbor, sharing a ceiling/floor. But Randy heard nothing from him.
I hurried back home to introduce this new pup to my dogs. Obviously, the dog was not potty-trained. Within a few minutes, he began to piddle on the floor. The poor thing screeched when I tried to help train him. He was recoiled and shaking from fear. He equated discipline with abuse, which was heart-breaking. I only had him for about three days. By the end of those three days, I could sense the relief and appreciation in the pup. He finally started to feel safe and loved.
Mary Beth has gone on to create a loving home for this little guy, who isn't so little anymore. He has been named "Matty" and has a loving home with other pets as well. He's white with the cutest little black mustache, making him look like Charlie Chaplin. Randy even gave me an update a couple of months later: "He's doing great! Mary Beth posted the cutest picture of him yesterday. She bought him a black skull and crossbones t-shirt."
That was nearly ten years ago, and if I had to, I would definitely do it again. More people need to stand up to bullies and get involved when they see injustice being done. Sometimes, lives depend on it.
dog
About the author
Reader insights
Be the first to share your insights about this piece.
Add your insights