I will always love you, Reese Peanut Butter Butt Weinerkins
Remembering my snuggle buddy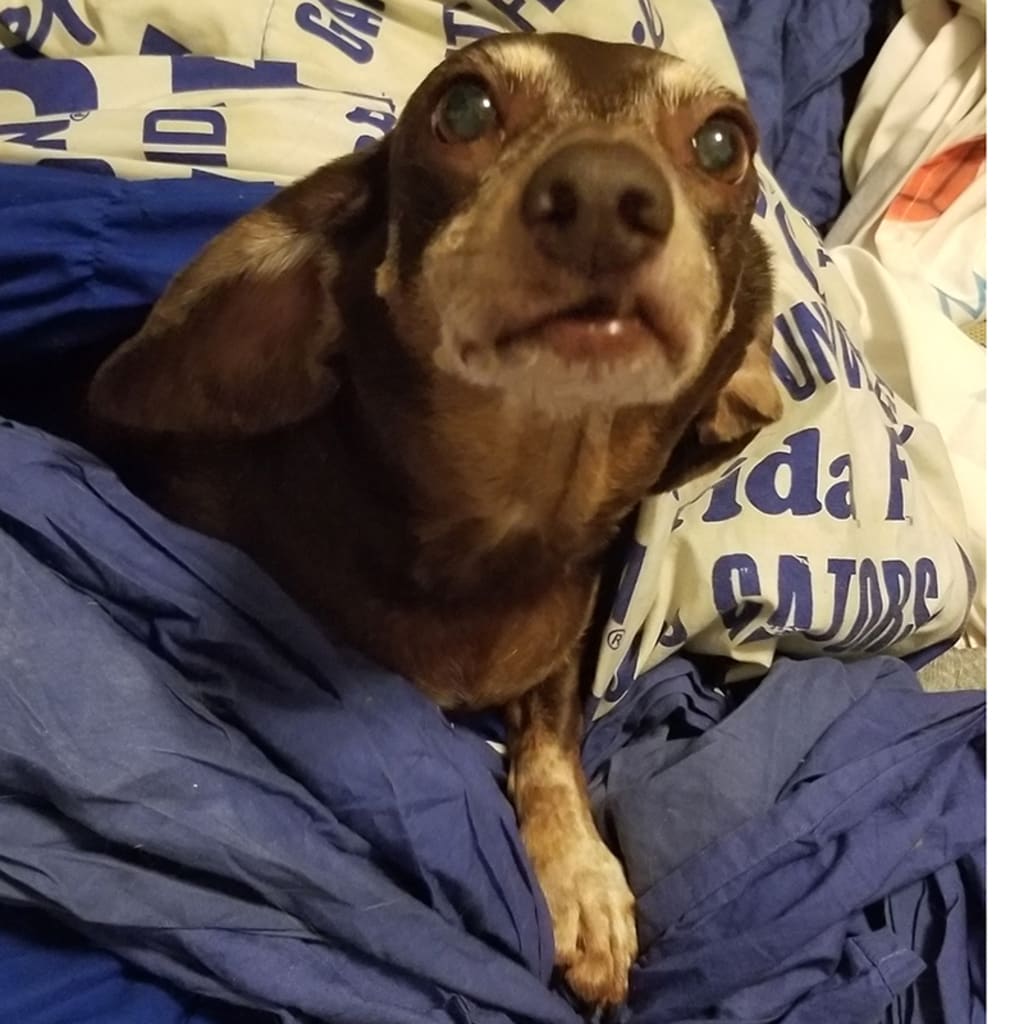 MY RESSEKINS.
You were the best. So soft and cuddly, so warm and snuggly. You always knew what was up, and were never afraid of jumping down, no matter what height you were at. Crazy dogger.
You were always so spirited and energenic. The way you would give me that sideways look like you just did something you shouldn't have... or the Reagle Reese-kins look when I was scratching on your neck. You loved every single bit of my petting, itching, scratching, ear massages and belly rubs.
When I was feeling sad, you were always there to cheer me up. When I was sick, you were there to lay on my feet and just be there beside me. Sharing food was always a treat and I actually learned so much about being a good doggie daddy, I will never forget those times.
Even now, when I make eggs, I think I will make a scrambled egg with cheese for you, until I remember you are in doggie heaven. Dog cheese, named so because you, and Cassie and Snickers loved that processed American cheese, in bulk. LOL. When I eat sausage, I remember how I used to give you the last bite, or bacon, or whatever meat I was eating. You knew you could rely on dad to give you a bite, as long as it wasn't seasoned with onion or garlic.
My eternal snuggle buddy. I miss you laying next to me, sleeping soundly, or having those dreams where you're running through a field with other weiner dogs, and waking me up scratching me on the side. No matter how many times we told you not to, you would always launch yourself off the bed, or the couch, in hot pursuit of someone giving you a treat.
Your mommy misses you too. She really was distraught the first couple of days, but we did what we could, what we thought was right, and it was right. We brought you home, so your last moments on earth would be with us, with your family, rather than at the vet's office, with strangers, trying to keep you going for a few more days.
It was sudden, but you knew. I knew. That last day, my birthday, you stayed with me on the couch while I played video games, but occasionally, you got up and left... disappeared for a while, either into your donut, or under the bed... You knew the time was coming. That last moment, while you were on the couch in your donut and you looked back at me... Your eyes said it all. Everything. This is the end. I will miss you so much.
You got up, and went into the bedroom, walked up the doggie ramp, got into bed next to mom, and laid down. Very quickly you started to grow cold. Your lips and tongue, your drool was so cold. I regret taking you to the vet in the middle of the night, and having them pump you full of sugar, and I'm sorry. That was me and mommy afraid of loosing you, thinking we could save you... and to what end?
On the drive home, you got up on mommy and gave her the best weiner dog hugs. She thought you were being weird, but you knew. You probably thought, how is this possible? And then, I need to give her as many hugs as I can, before I go again. And you did.
Once we were home, you tried to get down off the bed and go somewhere else. You, wanting to spare us from the end, but we kept you there between us. We knew. You knew. But we were willing to see you to the end. Do not worry about our pain and anguish, for the most intense anguish we feel, is because of how much we love you.
Mommy and daddy were there with you, to the very end. Mom scratched your ears and neck, while dad gave you belly rubs, and when you started breathing fast, dad made sure your paws weren't tucked under you, cause he knew you had a lot of running to do. Nobody ever says how long, or how steep the rainbow bridge is. How you start off at a descent pace, but then realize the bridge is crumbling behind you... Mommy and Daddy didn't know how to tell you, it's a one way trip, but you already knew that.
As the minutes passed, you did so good. You ran your little tail off, and when you got to the top, I knew you were home free. The downslope is easier that the up slope, and dad did his best to make sure your big snaggle tooth lips didn't get in the way. He made sure you could breath okay, cause you still had some running left to do, and you did such a good job that last little bit of the way. You made it over, and you made it past. In the very last moment, god touched you with his own hand, and I knew it was the best petting the best weiner dog could ever get. You sprawled out, took your last breath, and your soul left your little weiner dog body, to run and play and bark all day, with all the other weiner dogs in heaven.
After you were gone, we put you in your favorite bed, the donut, and tucked you in just like you liked to sleep and be a lazy-bum weiner dog. Dad wanted to send your treats and your last bit of pizza crust we found that you had hid away under the bed at some point, but mom was right. You were already in heaven, looking down, and wouldn't want your favorite treats and donut to be turned to ash. So we saved those things, and brought your body back to the vet. We picked out a nice rainbow bridge container that will have your name on it. Reese.
When the time comes, when anyone's time comes, we will release your ashes back to the wind and the earth, and the water. From our hearts and lives you came, and back to the earth, and the stars, you will return. My only hope is that, if any of us shall fall, when we make our way across that same rainbow bridge, we find you on the other side, waiting at the door, tail wagging. Dad will have a treat and belly rubs for you. Mom will have all the hugs you can handle. Matthew with have a little scratch behind the ears for you. Kimmy will have kisses waiting. Miss Jenny will rub her face gainst yours and call you the softest weiner dog of all, and Danny Monkey will give you some good petting and hold you on his lap.
To my Reese Weinerkins, my Peanut Butter Butt, we all loved you so much. We will always remember you, we will always miss you, we will keep you in our thoughts and our dreams, and think of you often, and forever. Love, dad.
therapy
humanity
dog
About the author
As a child I often said I wanted to be an astronaut. Big dreams for a small boy. My mother taught me to dream, my father, to fear. As an artist I've found a great afinity with being able to lie, a.k.a. create fiction. Here, I lie to you. :)
Reader insights
Outstanding
Excellent work. Looking forward to reading more!
Top insights
Heartfelt and relatable

The story invoked strong personal emotions

Easy to read and follow

Well-structured & engaging content

Excellent storytelling

Original narrative & well developed characters
Expert insights and opinions

Arguments were carefully researched and presented

Eye opening

Niche topic & fresh perspectives

Masterful proofreading

Zero grammar & spelling mistakes

Compelling and original writing

Creative use of language & vocab

On-point and relevant

Writing reflected the title & theme
Add your insights