Home is Where the Hearts Are
My Cozy Corner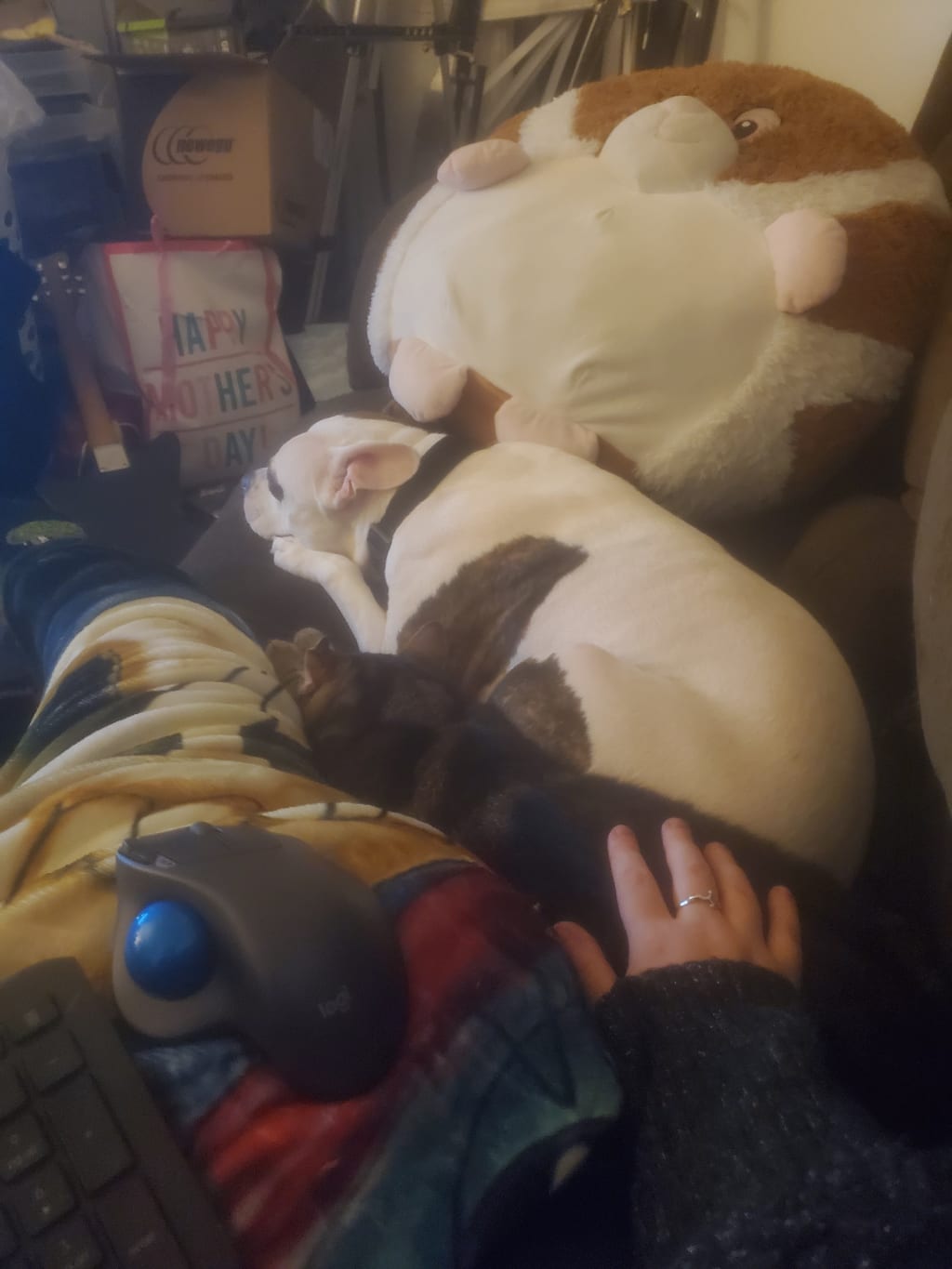 My fur babies
Yet another exhausting day at work. While the drive home can be relaxing, it doesn't always shake off the slump I find myself in after a long day of emotionally supporting my patients. I make it home and stumble through the front door, feeling as empty as a soda can in a recycling bin. I hang my keys mechanically on its hook on the nearby wall and shuffle to the couch in the den.
I plop down onto the couch and sit in silence. I can hear the house making its usual noises, though my focus is stuck onto the silence. I feel drained, emotionless, broken. My cup has been poured into the cups of others in need and I sit with nothing left to give. I sigh a deep, melancholic sigh and bury my face into my hands as the emptiness envelops me.
A rumbling sound breaks my stoic gaze. I look around the corner at the stairs to find my clumsy pup tumbling down them. He bolts towards me in both excitement and determination. I have merely a few moment to brace myself as he flies into my lap, burying me in puppy kisses.
"Patchy Boy!" I exclaim, attempting to match his enthusiasm. He looks up at me while wagging his tail, and as I continue to shower him with praise, his tail turns into a miniature helicopter propeller. I continue to give him pets until he settles down right next to me (pit bulls have absolutely no concept of boundaries and personal space).
Immediately after he lays down, my cat decides to saunter into the den. As we make eye contact, his face and body brighten. He quickens his pace towards me with his tail sticking straight up into the air. Bob Dole, too, lacks personal boundaries, so he decides to jump right into my lap and present to me his chocolate starfish like he usually does. I reciprocate by providing him with scratches on his head, neck, and the base of his tail as he progressively purrs and kneads my legs.
Once he is done with my direct affection, he moves over next to Patches and curls into a ball. I watch Bob and Patches fall asleep together, and I cannot help but have a sense of light within me. These animals know nothing about how my day went. They cannot ask me what happened or how it made me feel. They do not care about that. They took one look at me and the only thing they expressed was pure joy.
I breathe in another sigh, only this time, I am enveloped by joy and gratitude. I feel happy that Bob and Patches, whether they realize it or not, selflessly poured their full cups into me. I am grateful that although I do not talk to them about my day, they always know exactly what I am going through and how to help me. I realize that my cozy corner is not a specific location, rather it is wherever my four-legged hearts are.