Frozen Dog Treat Recipes That Will Cool Your Dog Off This Summer
Don't want to leave out your dog from enjoying frozen treats this summer? Check out any of these cool, tasty frozen dog treat recipes that are easy to make.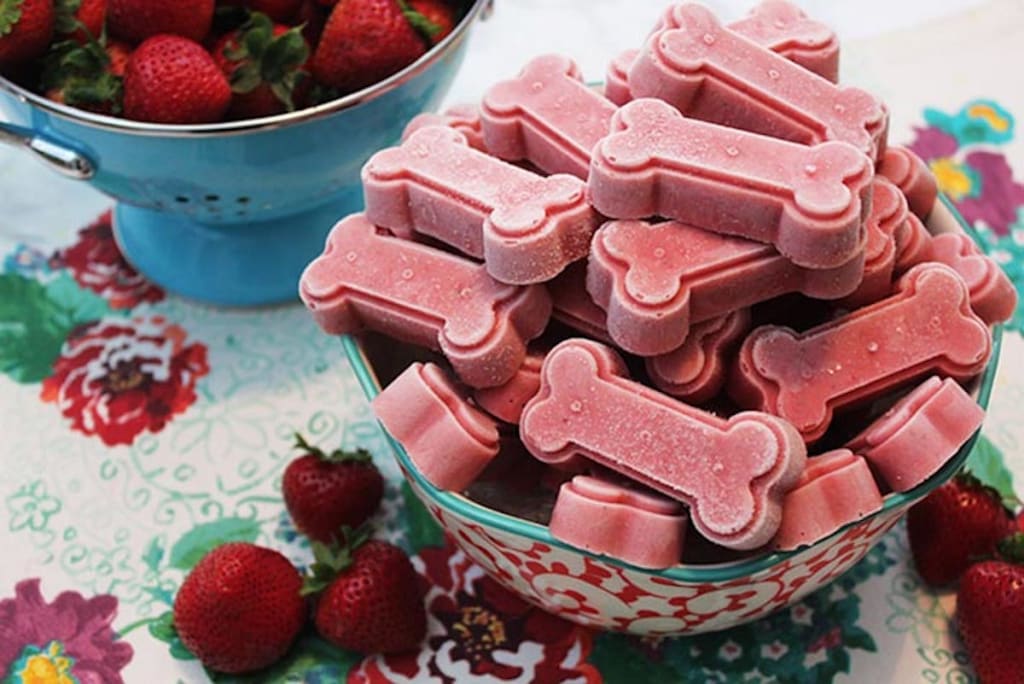 Summer is both bitter and sweet. We're melting from the heat, but we get to enjoy sweet, frozen treats to cool us down! I'm a sucker for ice cream and even though I eat it all year round, I binge eat the frozen treat in the summer literally every day. Yes, it cools me down, but it's the delicious flavors that I mainly enjoy.
Every time I take a popsicle from the freezer, I see my dogs staring at me. I know what they want and their puppy eyes almost make hand it over. While they aren't necessarily one of the foods that are poisonous to dogs, they aren't exactly good for them either. All that added sugar! It's better I just keep it all for myself. That's when I thought about frozen dog treat recipes I could make for my dogs that were actually healthy. In addition to natural dog treats to keep my dog healthy, I added some of these into their diet, as well. I tried out peanut butter and banana popsicles and my dogs were seriously obsessed. I'm not going to lie, I had a bite myself because of how appetizing they looked.
You can create a couple of frozen dog treats on your own with these simple recipes. Your dog will be chilled down from the heat all while enjoying some flavorful treats!
Banana Pup Pops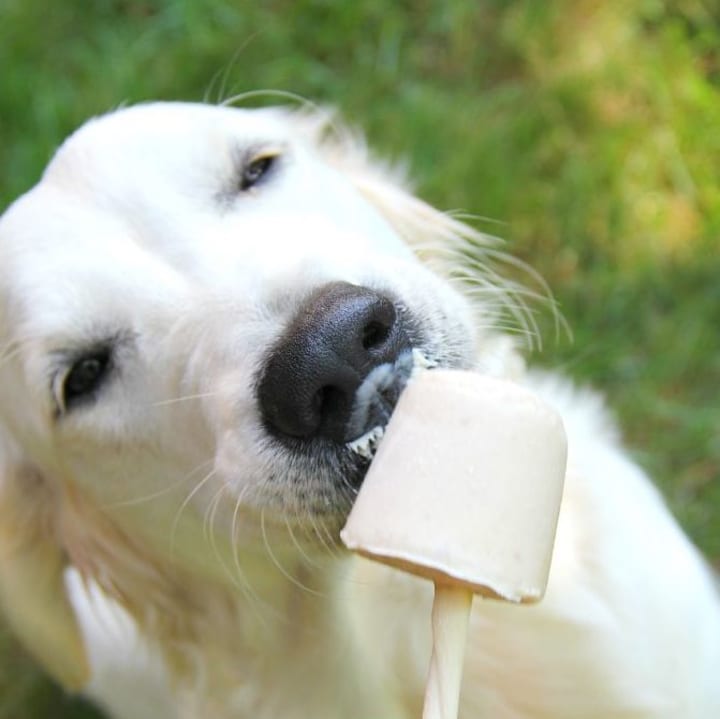 We know that peanut butter is a dog's weakness and allowing them to enjoy plain peanut butter on a spoon is their slice of heaven. Imagine making frozen peanut butter popsicles with banana and yogurt?! Your dog wouldn't know what to do when you offer the pop to them. The Banana Pup Pops recipe is a great treat to cool your pup down in the summer heat.
If you have really, really ripe bananas, those are perfect for this recipe. You can easily mash the bananas with the other ingredients for a creamy consistency. The pup pops should be creamy, so it's important to thoroughly mash the bananas.
Frozen Pumpkin Banana Pup Pops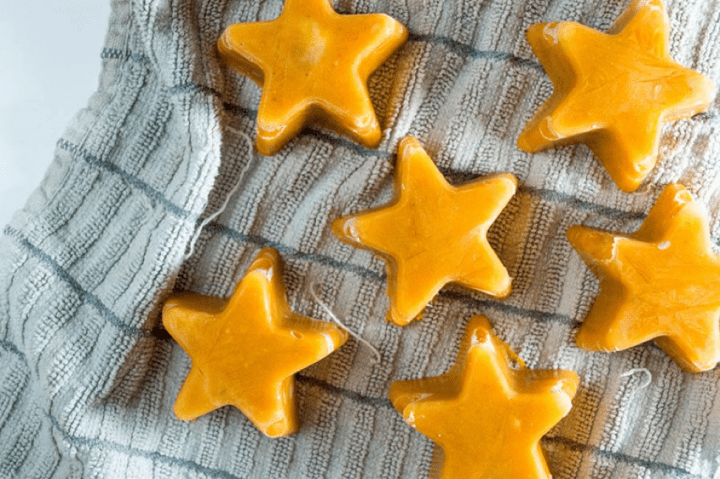 There are a lot of healthy frozen dog treat recipes and the Frozen Pumpkin Banana Pup Pops recipe is one of them! As a healthy human food for your dog, pumpkin is very beneficial and healthy for dogs who have digestive issues. Pumpkin is also great for chubby dogs that need to lose a couple of pounds!
Many pups out there enjoy the taste of pumpkin, and if your dog is one of them, make this treat! It's a healthier alternative than sharing your sugary popsicle with your dog. This recipe also includes ingredients such as plain non-fat yogurt, honey, and banana. The honey offers a sweet flavor to the treat to make it more enjoyable!
Frozen Watermelon Treats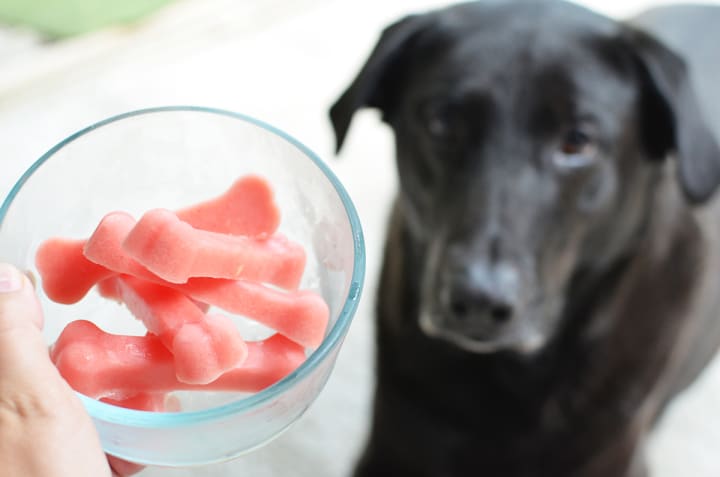 Watermelons are definitely considered a summer fruit because not only do they mainly grow during the season, but they're refreshing when enjoying them on a hot day. There are so many frozen treats that include watermelon, including frozen dog treat recipes!
The Frozen Watermelon Treats recipe is a really popular treat that many dog owners whip up. Dogs do love a good watermelon and they're perfectly fine to offer to your dog as long as you remove the seeds first, as they can cause intestinal blockage. This recipe includes only watermelon and coconut milk, and it can be created from start to finish in just a few easy steps!
Frozen Strawberry and Banana Smoothie Dog Treats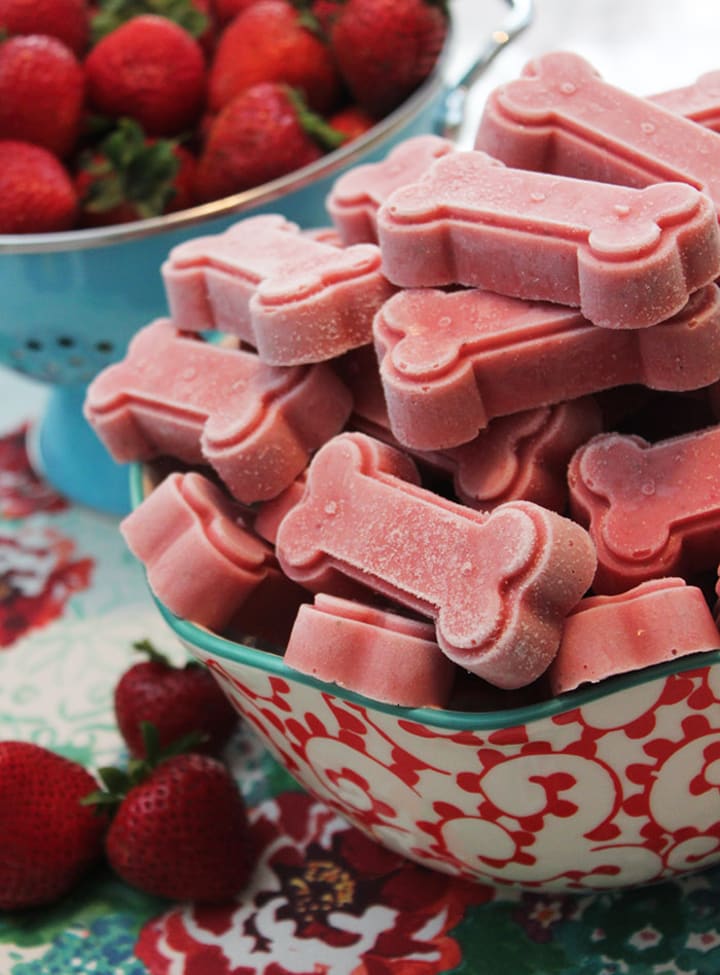 Now, this sounds like an amazing dog treat you just have to try out. The Frozen Strawberry and Banana Smoothie Dog Treats recipe is one of the frozen dog treat recipes that's loaded with flavors and is really healthy, too, because it includes vitamins and nutrients. It's as easy as combining strawberries, plain Greek low-fat yogurt, banana, skim milk, and honey into a blender and mixing everything into a smooth, creamy consistency.
Apple and Chicken Pup Pops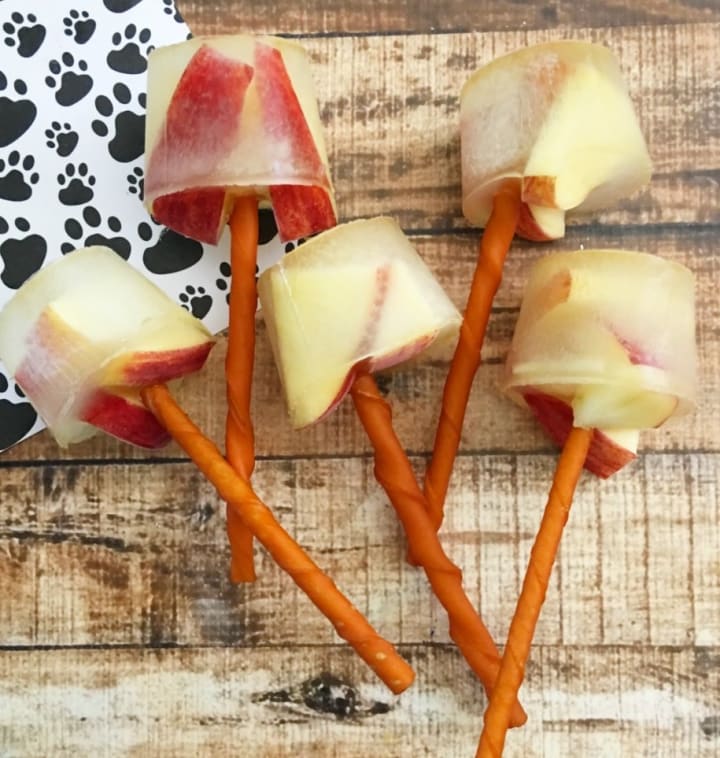 How about making frozen treats a little more interesting by including chicken broth? The Apple and Chicken Pup Pops recipe is unique from the other frozen dog treat recipes because you're combining apples and chicken broth. Making this recipe will certainly have you spoiling your dog because of the mouthwatering ingredients.
You're adding a bit of sweet and savory into these treats and your dog will absolutely love the combination. In addition, you're using a dog treat for the stick of the pup pops! Your dog will enjoy every last bite of these pops and will also cool down while sitting out under the summer sun.
Breath-Freshening Frozen Mint Dog Treats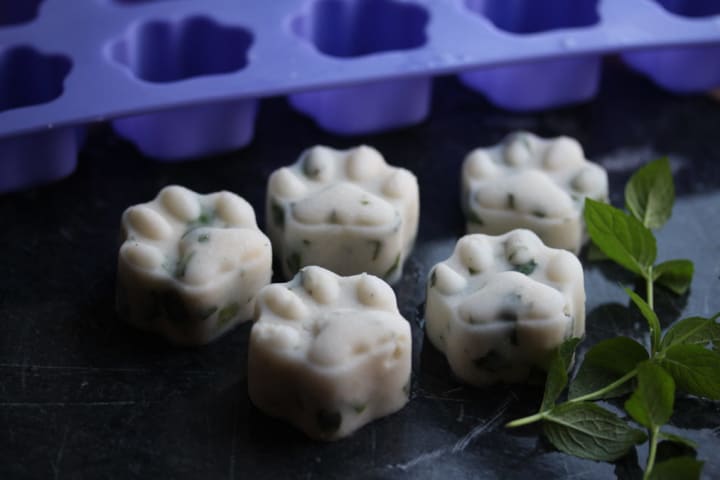 No ingredient is more refreshing than the taste of mint! Aside from the fact that mint can cool down our furry friends, the Breath-Freshening Frozen Mint Dog Treats recipe can even get rid of their doggy breath, too! Even though this recipe is for your pet, you can also get a bite out of one for a refreshing snack.
The recipe is really easy to make and all you need is plain yogurt, fresh mint, fresh parsley, and honey (optional). Mix the ingredients together, pour the mixture into molds, and stick the tray in the freezer until you notice that the treats are fully frozen. This recipe is ideal when taking your pup to the park and want something the two of you can munch on!
PB and Fruit Ice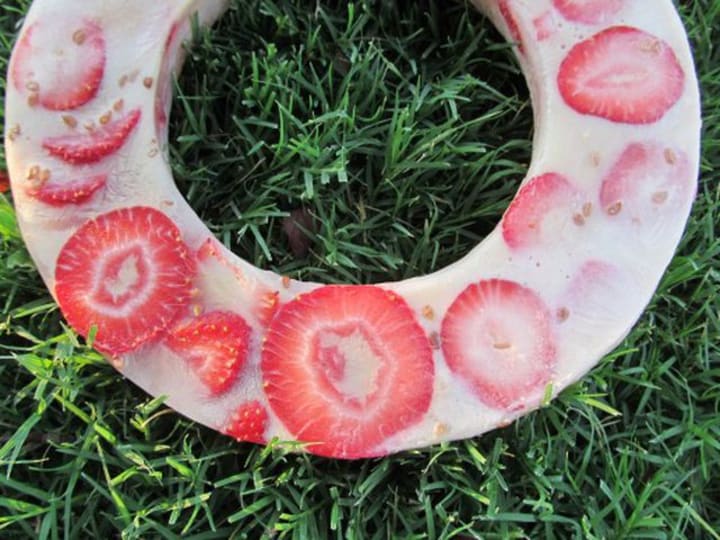 Many of the recipes are for making multiple treats in one batch, but what about giving one massive treat? The PB and Fruit Ice recipe is a really cool way to have the dogs share one treat! This recipe shows you how to combine the delicious ingredients of peanut butter, chopped fruit, and flax seeds into one ice "cake!"
This is perfect if your dog's birthday is around the summer time so all of your pup's buddies can share this one treat. You can use any type of fruit that you know your dog loves. Using a ring-shaped tray is best, as it will allow you to create a larger treat that will last longer and is shareable for multiple dogs.
Golden Milk Puppy Popsicle Frozen Dog Treats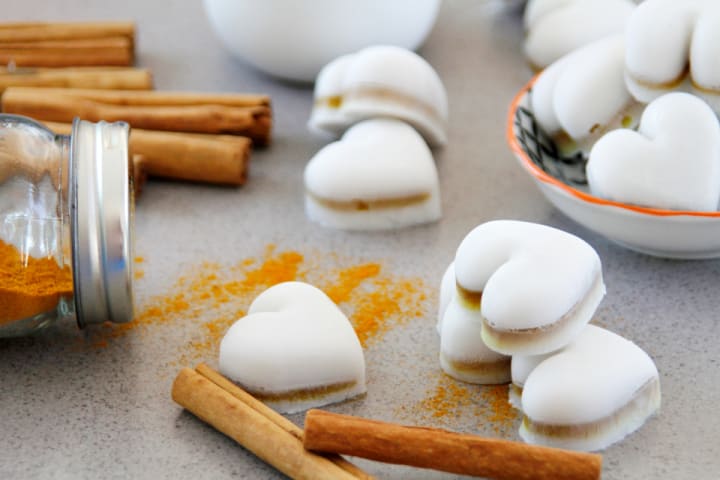 The Golden Milk Puppy Popsicle Frozen Dog Treats recipe is probably one of the sweetest frozen dog treat recipes your dog can enjoy during the warmer seasons! These frozen treats include the delectable combination layers from the milky top and bottom to the golden center, which makes it easier to feed your pup.
This doggy recipe includes great ingredients like ground turmeric, ground black pepper, ground ginger, and ground cinnamon. You need to divide the base liquid into three measures. Pour the first plain layer into the mold and freeze them until they've hardened. Then mix your liquid and turmeric, pepper, and any additional ingredients. Pour this onto the first layer and freeze until they've hardened on each other. Finally, pour the final plain layer and freeze thoroughly until they've hardened.
Yogurt and Berries Dog Treats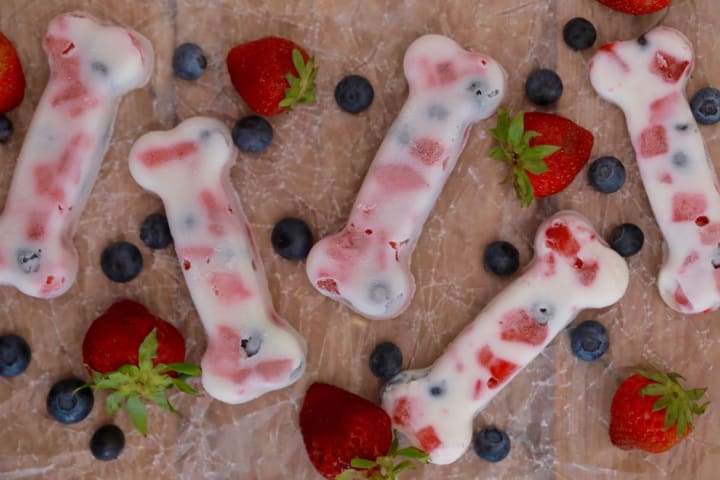 What perfect and refreshing treat can you offer to your pup and his buddies? The Yogurt and Berries Dog Treats recipe is a delicious recipe that can be shared with all dogs! It's a satisfying treat that's both filling and a great way to cool down the dogs in the middle of a hot day.
This recipe is very high in calcium and protein; plus the yogurt is loaded with active bacteria that can act as a probiotic, which means it's great for your dog's digestive system! The berries in the mix are superfoods that consist of antioxidants and fiber to boost your pup's energy. You only need to use plain yogurt, diced strawberries, and blueberries to create the great treats!
Frozen Blueberry Coconut Oil Dog Treats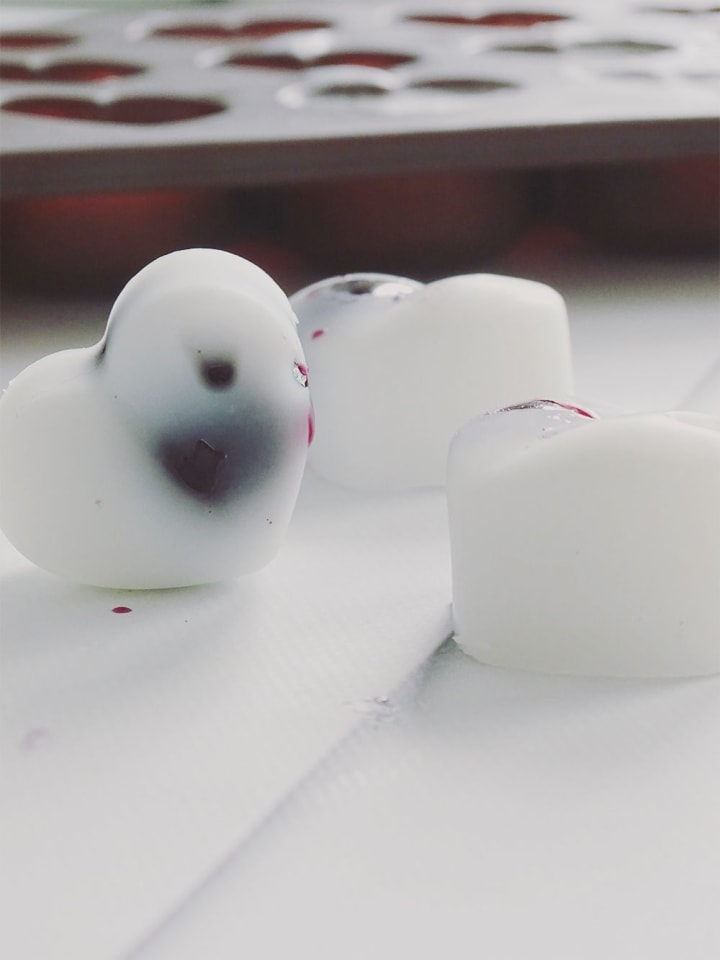 Lastly, what better way to cool off your pup this summer than the Frozen Blueberry Coconut Oil Dog Treats recipe? This recipe is easily one of the tastiest frozen dog treat recipes you can create and it's also very beneficial for them! Coconut oil shines their fur and improves their skin. After heating up the coconut oil, you'll combine it with the blueberry in a ice cube tray (or the tray of your choosing) and freeze them. Once solidified, remove them from the tray and be sure to make your dog sit before sharing!