Endurance Riding–Allaskar's Scout
From the Beginning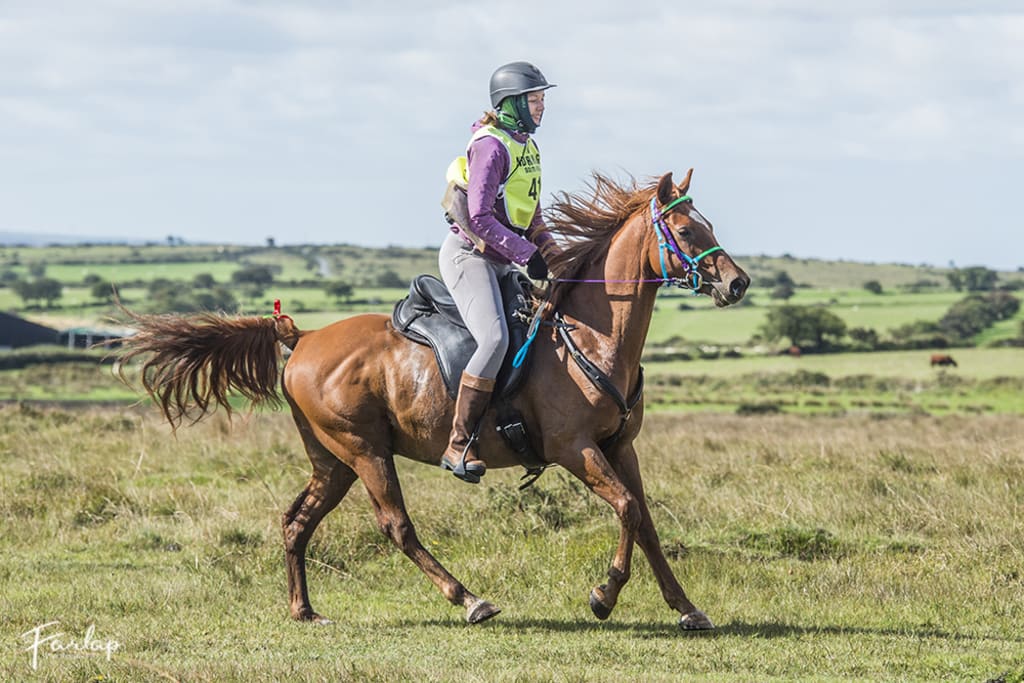 Scout on his second 32km ride at Camelford. Photo courtesy of Farlap Photography. 
My name is Emily, and I am an endurance rider.
I have been hooked on this sport since my first ride when I was 11 years old (almost 18 years ago). And I've been involved in the sport for far longer. My grandmother was the one who started the obsession, quickly followed by my mother, which makes me a third generation to be enjoying endurance riding in our family.
I have been very fortunate to have been able to compete up to a competitive level of endurance with the support of my family, and this now continues with my extremely forgiving fiancé who is forever understanding when I am training, and competing.
My latest journey started seven and a half years ago, with the birth of Allaskar's Scout. Homebred out of my grandmothers endurance mare 'Emily' (sired by Allaskar). A plucky, full of himself chestnut colt. It was love at first sight but boy was he a handful!
Starting His Riding Career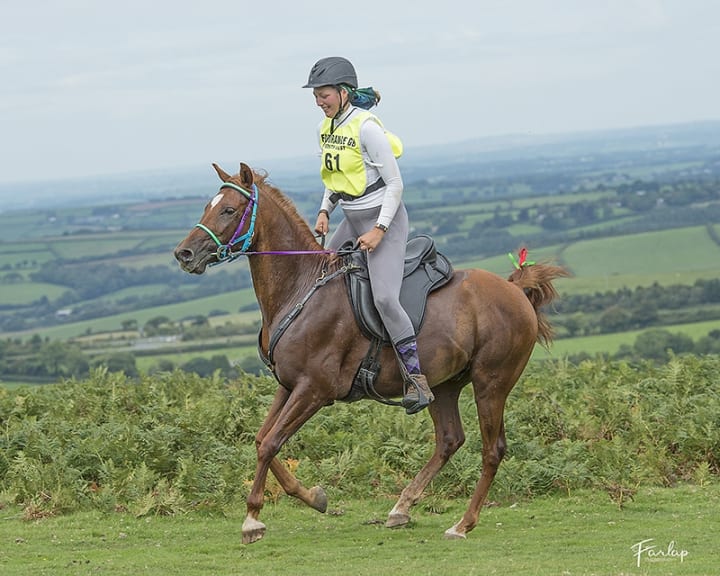 It took Scout a fair amount of time to mature, and I am a firm believer of giving young horses time to grow before backing. Therefore it wasn't until January '18 that I felt it was time to get on him! Scout and I had done a load of groundwork prior to this. Plenty of walking out in hand with, and without tack, seeing the sights, and getting used to traffic as well as building trust with each other.
It was early February that he was finally sat on (by my mum), and walked up the road led off his buddy Zoom. Soon followed by myself getting on and hacking out. What a star he has been. With minimal drama, and always willing to please, Scout has done everything that has been asked of him. I couldn't have dreamt he would be so good.
We continued his education out on the roads. We have no school so we do all our training, while out hacking. We use a mixture of interval training, schooling (on quiet lanes) and generally try to get them experiencing as much as possible.
After a bit of a false start, I settled on September being his first ride.
Scout's First Endurance Rides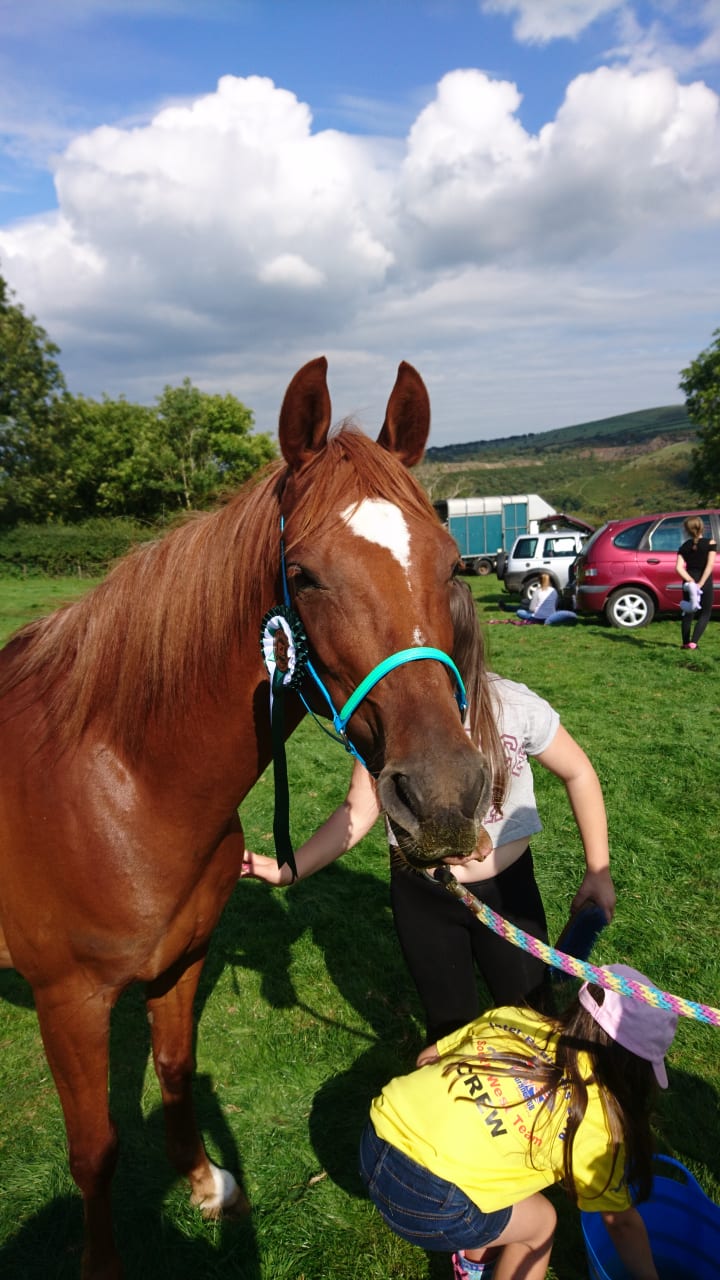 The beginning of September rolled around, and we were set for our first ride. A 32km at The Dartmoor ride, set around Meldon Dam.
We travelled Scout down with my mum's horse Firebird, who was doing a separate class. Both loaded, and travelled well, to my relief (I'm always a worrier traveling them!) and we unloaded for Scout to get his first glimpse of a ride. He was like a coiled spring. There was an awful lot going on for him, and he was obviously very excited to see lots of other horses. We sent Firebird on his way before heading to Scout's first ride vetting.
Boy, this could have gone better. We were unfortunate to have a car, and trailer drive past the vetting area, whilst we were in seeing the vet. It all became a bit too much for Scout, and his reaction to everything going on was to try and kick the vet, repeatedly! The vet was very understanding, and checked him over nice and slowly. Satisfied that he was fit, healthy, and just being a rather naughty boy, we were passed, and ready to take on our first ride together.
My crew and myself wasted no time in tacking Scout up, and I mounted after a minor argument to get Scout to stand still. We started with three other riders, all of us on novice horses. Not far from the start one of our new buddies lost a hoof boot, so two riders retraced their steps, and Scout and I went on with the third rider. All was going fantastically with both horses traveling well, until we managed to turn up to the checkpoint in the wrong direction. It was soon clear there had been a problem with the markers as we weren't the only ones to make that mistake. We had a chat with the steward, and as we were halfway at that point they were happy for us to carry on the ride without having to do the extra mileage back around. We continued on, only to catch our friends from earlier on their way up to the checkpoint, and decided as the horses were going so well, we would rejoin them, and do the extra distance, so we could ride together again. The rest of the ride went relatively seamlessly (minus a slight mounting issue after having to walk across Meldon dam). We completed the ride in just under four hours, and after vetting we managed a grade four. I was so, so happy. All the years of hard work, and worrying had paid off.
Our next ride was 32km at Camelford. In the days before the ride the weather turned, and we had a cracking storm. It was hit and miss whether the ride would go ahead due to high winds. Luckily the weather died down, so come Sunday morning we were set to go. Our friend Selina was meant to be riding Firebird, but disaster struck less than ten minutes into our journey with an issue with the tow vehicle. In the end we had to unload firebird back at the field, swap to my truck (which was only capable of towing one horse), and head off a horse down. Considering Scout was left on his own, he travelled well. We finally arrived at the venue, running quite late. We dashed straight into the vetting, and Scout was a bit better-behaved compared to the Dartmoor ride. I think, it being quieter, due to a number of riders not turning up, helped. Vetting passed, and all tacked up, off we went on our second ride. Scout did amazingly well. We rode the entire ride by ourselves, only seeing a couple of other riders in passing, or coming back the other way. The ride itself was very mentally tiring, with lots of technical moorland, so I was so pleased when we passed with a completion.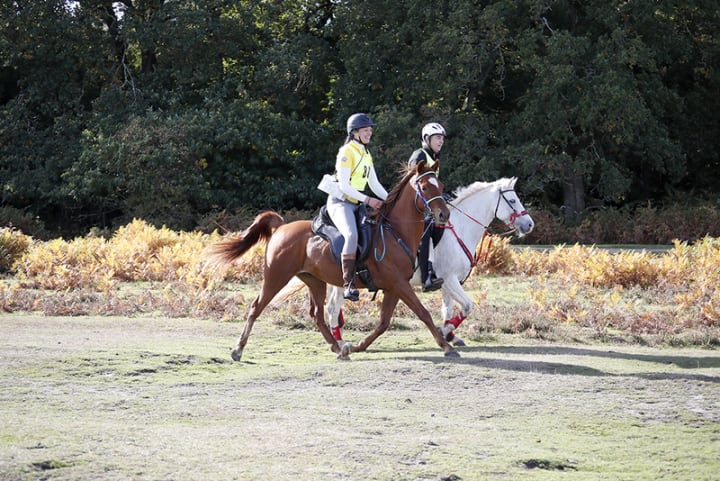 The last ride of the season for us was 32km at The Rufus Ride in the New Forest. This involved an overnight stay. This time we managed to make it there with Firebird who was doing the 80km with Selina. Corral set up, and the horses rugged up, we settled in for the night.
After a chilly night, we were up early to get Firebird ready for his ride. Once they were gone, we set about sorting Scout out. He was a bit het up after loosing his friend, but we made it through the vetting, and were soon out on course. Not far into the ride, we caught up with our neighbours from the previous evening, April and Martin. We soon settled into riding together with both Scout and April enjoying each other's company. All was going great, until Scout performed a last minute side step at a 'scary' peaty hole, and I hit the deck! This was the first time we had parted company unintentionally before. Scout stopped, and stared back at me, with a questioning 'what are you doing down there?' look. With a quick brush down, and with nothing but my pride hurt, I clambered back on, and off we went again. The rest of the ride went without issue, and I was so proud with my pony finishing his third 32km. With the ride finished, we cooled Scout, and took him to the final vetting. His heart rate was 44bpm, which was a huge improvement on his previous rides, but sadly he was a touch lame, and he was vetted out. It was a bittersweet moment. I was gutted Scout wasn't right, but at the same time, so proud of his attitude throughout the ride, and his improvements made in the vetting. He was sound again by the next day, and we put his lameness down to a muscle tweak where he slipped while messing about in the morning when Firebird was vetting.
Although we didn't end on the high we would have liked, I couldn't have been more impressed with my little ginger pony, and the leaps and bounds he had come on from the little foal I first knew. Here's to next season, and new adventures!
horse
Hi! I'm Emily, an endurance riding, craft loving mum. Come along and enjoy my adventures with me.
Receive stories by Emily Notting-Hill in

your feed