The Dartmoor Ride
64km - 02/09/2019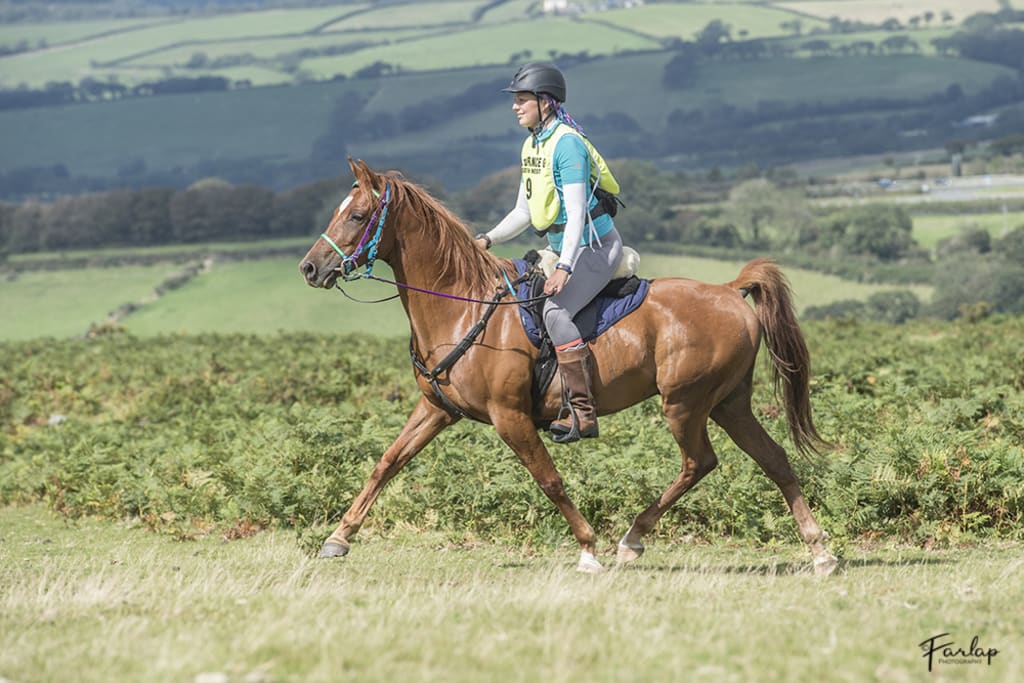 Official photo courtesy of Farlap Photography.
A year on from our first endurance ride together, Scout and I went to tackle our first 64km at the Dartmoor ride. Not only this, we were also riding for the Devon team in the Devon vs Cornwall challenge, I love a bit of competition.
We were up bright and early to load up in the trailer and travel to the venue. The journey was short and a beautiful day was developing. Arriving safe and with plenty of time I collected my bib from the secretary and brushed Scout down to make him presentable. Bridle on and off we tottered to the vetting and farrier check. The farrier was fantastic and calm with Scout, checking all four feet, although there's not much to check as he is barefoot. In the vetting he was a relative angel compared to our first ride, he's improved such a lot. Passed and good to go we tacked up, ready to tackle our furthest distance yet.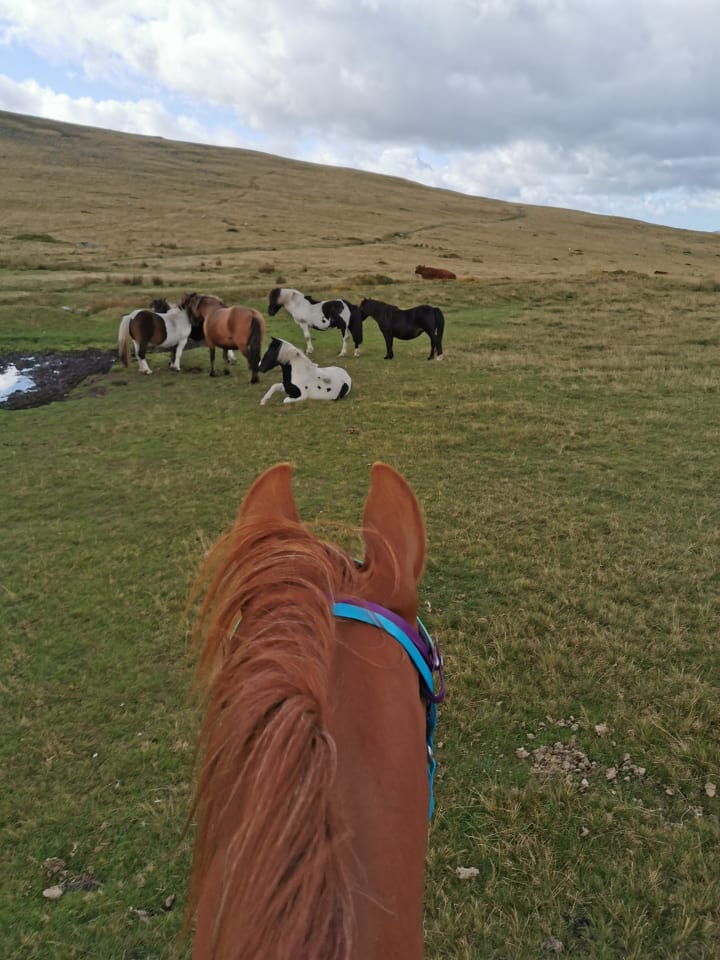 With an excited Scout and a couple of failed attempts at mounting, my mum gave me a leg up and we bounced up to the start. Three, two, one and off we went. The riding condition for Dartmoor were fantastic. It was warm with intermittent cloud cover and the going was great. We took in the amazing views and said hello to some of the wild ponies as we made our way to Checkpoint 1 where our superb crew were waiting for us. A quick cool off with sloshes, drinks for Scout and myself and off we went towards the next checkpoint.
This part of the course was tougher going. We had a steep drop down a valley, through a stream and up through some fields with gates to open and close. This was followed by a long and stretch of moorland which was uneven and took some concentration to pick the right paths. We met some people out on a pony trek with one very naughty pony, took a wide berth and carried on along our way. We were soon at Checkpoint 2 where we had another quick slosh and drink and we turned back on ourselves to retrace our steps to the venue.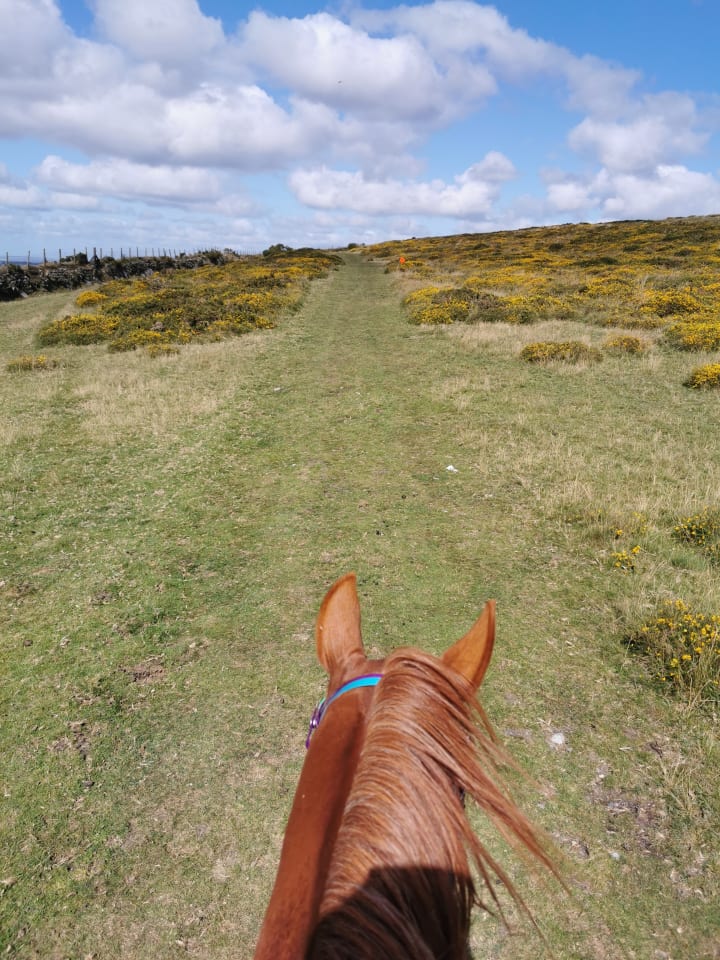 Scout flew back in the direction from which we came. He knew we were on the way home and seemed to find another gear, little did he know we would be out on the same loop later that day! By the time we had got back to Checkpoint 1 we had caught up with a couple of other combinations and were tagging along with them. Scout enjoyed the company and we arrived back at the venue for our half way hold in what felt like no time.
This was Scouts first time with a half way vetting so I didn't rush him. We took 7 mins to present and he had a pulse of 48bpm. We definitely could have presented quicker! Scout, feeling pleased with himself and thinking he was finished, tucked into a bucket of feed and some hay while I took 15 minutes to rest.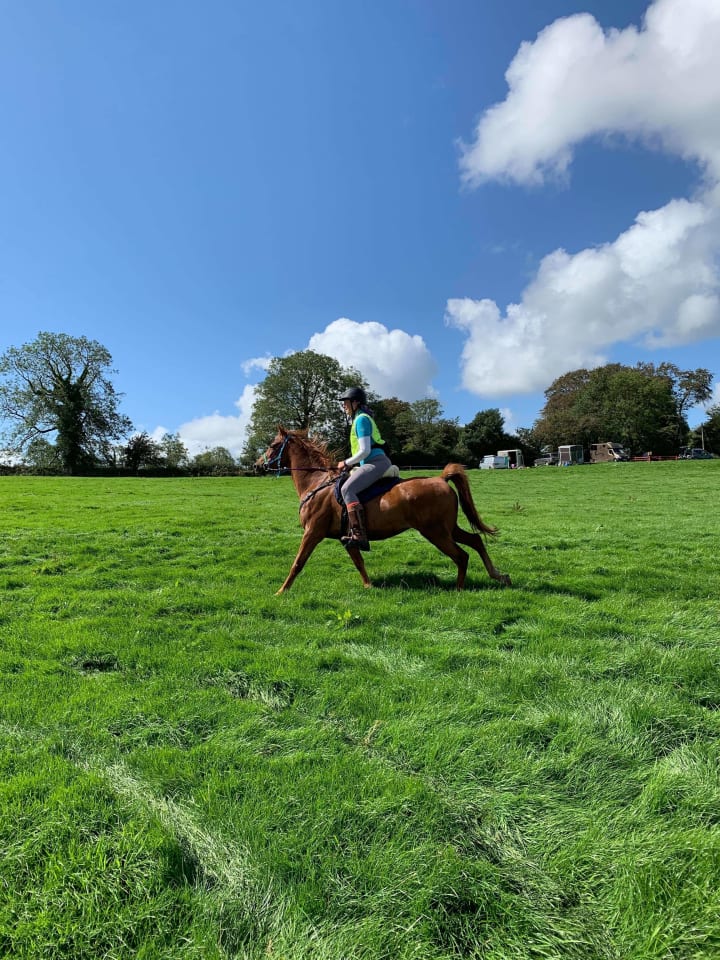 The half way hold never lasts long and much to Scouts surprise I tacked him up and clambered back on board. Confused but willing, Scout warmed up nicely and we headed out back on course to do our final 32km.
As the people we had been riding with had a longer hold time Scout and I were on our own again. This was mentally challenging for my pony. We were passing people heading back to the venue and Scout lost a bit of motivation. He kept a steady pace though and we pushed on with the task ahead. Just before Checkpoint 1 we were caught up with one of the combinations, Shanti Roos and her lovely horse Kayote, that we had been riding with beforehand. We carried along on course together. This gave both horses a bit of a boost mentally and they covered the ground nicely together towards Checkpoint 2.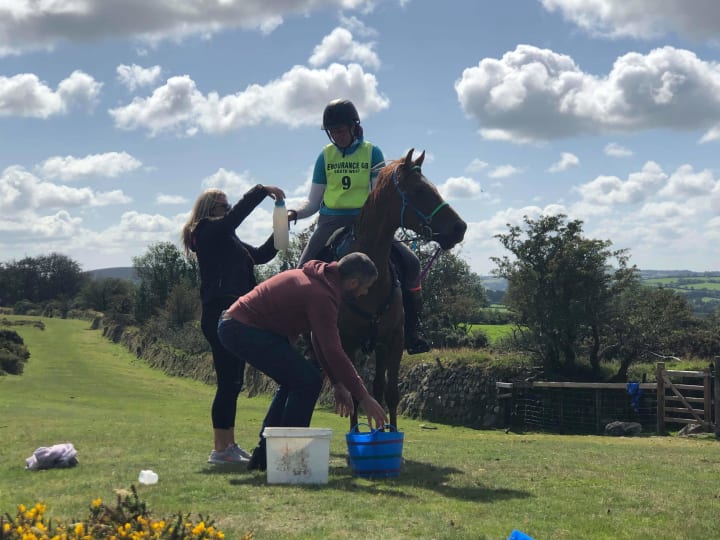 At Checkpoint 2 Shanti, Kayote and Scout and I had to part ways as we were riding different distances. Once again Scout realised we were heading back to the venue and upped his speed. We flew over the ground and only slowed to for a couple of gates. I had to dismount for one of these gates, so we had a small break while I found a suitable mounting block to get back on. Back at the last checkpoint we had another slosh and drink before heading back the last few kilometres to the venue.
Finally, we had finished. Scout, still full of energy bounced over the finish line. Just the vetting to pass now. I was reliably informed that if we could pass with a grade 3 or better Devon would win the team challenge! No pressure then! We cooled him off over by our trailer with plenty of cold water and and walked him around to prevent him stiffening up. I took his pulse, 48bpm. Some more cooling and walking and I took his pulse again, 46bpm. With a final covering of water we meandered towards the vet area to present. We stood quietly while the vet took Scouts pulse, 45bpm, fantastic! Followed by our final trot up which we passed with As for action! I was overjoyed. I just needed to wait for our grade results to see how we did in the team challenge.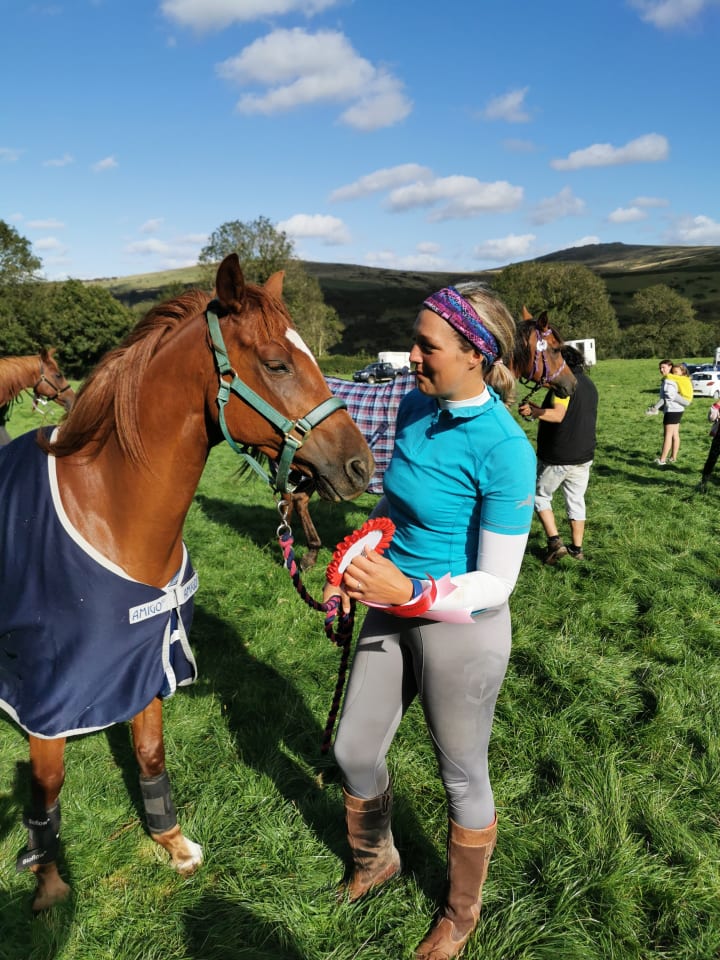 After what felt like a long wait we went to collect our rosette. We had done it! A grade 2, our first 64km completed and win for the Devon team! An absolute perfect end to our 2019 season.