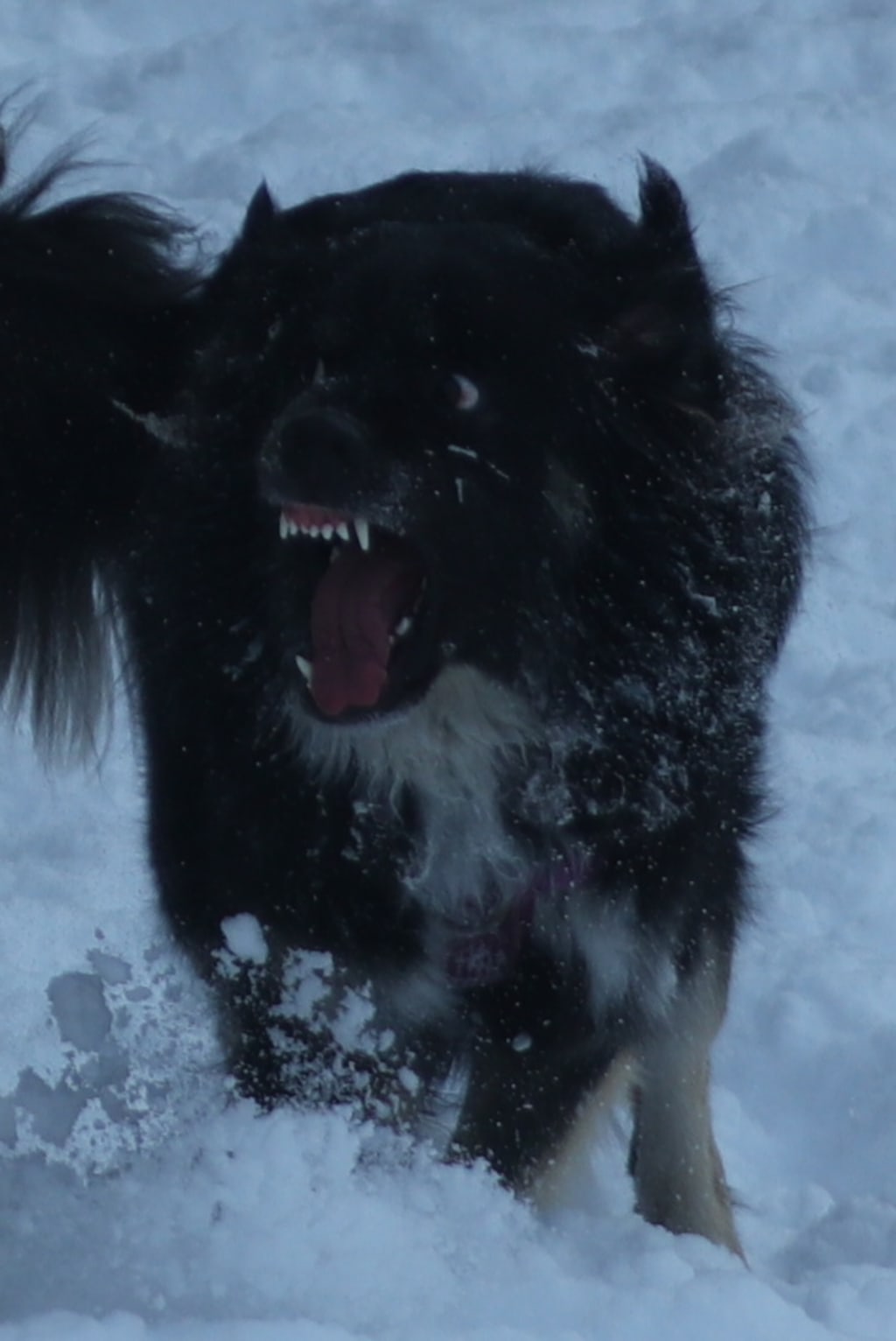 Rudy, looking firece
I woke up to a large paw in my face and 103 pounds of dog on my torso. I'm only 100 pounds, so the weight was more than noticeable. It crushed my chest, making breathing less than easy. And Rudy's nails needed a trimming. I noticed that as they bore into my face like razor blades.
"We need to talk." The voice came from somewhere around him. His tongue was hanging out of his face, the way it always did as he breathlessly awaited my getting up.
He peered into my eyes, his brown peepers intense, It's me, and we need to talk," he said. "Things have got to change around here if this thing between us is going to work."
I sat up. My heart leaped into my throat. "What things?" I asked, "don't you know how much I love you?"
Rudy lifted himself off me and plopped down beside me on the bed. "Yeah, I know, I love you too, but I need more."
"More what?" I squealed. Was he breaking up with me? Was my dark handsome true love about to break my heart? "What do you need, baby boy? I thought you were happy!"
"I am happy, mostly," he replied flatly. "But as I get older, I feel like there's something missing. I don't know, something, respect, maybe. I'm 15 months old now, it's time I had a say in what goes on here, don't you think?"
I shrugged. I didn't know what to say. Between the shock of a talking dog and the crushing pain of thinking Rudy was unhappy, I was paralyzed.
"Aren't you going to say something?" he barked.
"What do you want me to say?"
"Never mind," he shook his head. "I'll explain. First, I really need you to stop referring to me as "the dog." Take the dog out, feed the dog. It's demeaning. I have a name, it's Rudy, use it. I don't hear anyone referring to you as the small female human or Daddy as a large male human with a questionable disposition. No, you're Misty and Carl, I would appreciate the same courtesy."
I nodded.
"Further," he continued, "if you love me, stop trying to change me. I'm a dog. I bark. I do that to protect you when suspicious characters are around. I don't do it willy-nilly. I can easily distinguish between a regular passerby and someone that is potentially dangerous. Let me do my job!"
I nodded again. "Okay," I agreed, "let's get up and get some coffee."
"That's the next thing," he paused a moment to scratch his ear. "You and your coffee. Why is it that has to take 3 hours? I have needs. I have places to go and you don't seem to give a crap about it!"
"What do you mean?" I had to challenge him there. I take him to the dog park every day and often to see his brother, Lowie on the weekends.
"My best friends are at the park between 9 and 11 am," he snorted, "you know that. Yet you insist on doing your thing. You know I love Buddy, Chester, Piper, and Cosmo the hockey dog. Dude, look at Cosmo, he's hilarious:
"It's not fair to me that I have to constantly wait for everything to be so convenient for you. I often get there late and miss everyone and get stuck with weirdo dogs that don't know how to play."
I stiffened. "Look, Rudy, I said, "I have things to do too. I have to work. I have to write so that you can eat."
"Why is your time management issue MY problem?" he snorted. "And while we're on the topic of eating, let's address that. Why do I get mush in a bowl and you get steak or lamb chops?"
"You get dog food because you're a dog." I reached out to touch his soft face.
He stood up. "Think about how that makes me feel," he began. "You're sitting there, with a big plate of goodness and here I am, supposedly a valued family member, eating crap in a can. Really?"
"People - food isn't good for you," I whimpered.
"You know I could literally eat you, right?" he snapped, "Seriously, I could. You'd be devoured before the big buy even got to you. But I don't do that. I mean look at me, I'm handsome and tall and loyal. My black waves just glisten in the sun."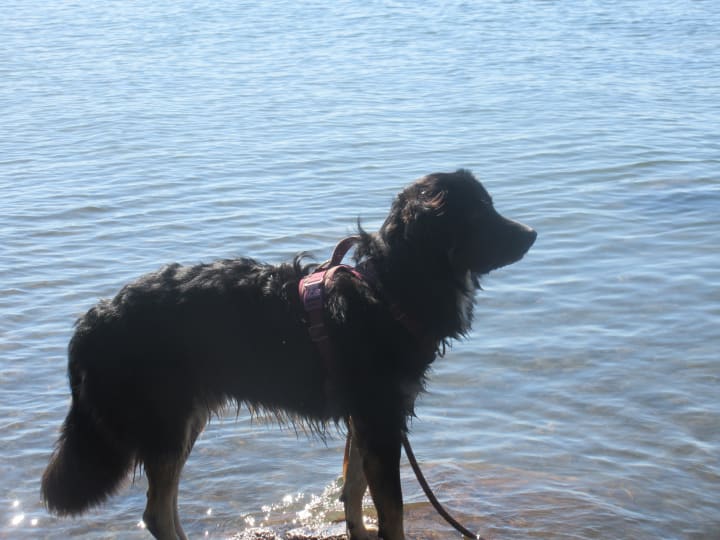 "I know."
He continued, his tail wagging swiftly. "Anyone would be lucky to have me, you know, but I chose you. Out of every human on the planet, I picked you! Look how much I love you. Every time you sit down, don't I jump right on you so you won't ever be alone? Every single time you eat, don't I stick my nose right in your face to make sure whatever you gobbled down was safe? I love you and I'd like some appreciation.
"You want some breakfast?" I ask, desperate to shut the conversation down, "I have lamb dinner."
Rudy lept off the bed, his mouth watering, "I do like lamb."What time are we going to the park."
"No park today," I told him, "today you're going to see your brother."
"Yeah, well, that's another thing..." he rolled his eyes and walked away. "You shouldn't be telling me how often I can see my family, MY own flesh and blood. I don't complain about the endless hours you spend on the phone with that kid of yours. Seriously, lady, he's 30, cut the cord already!"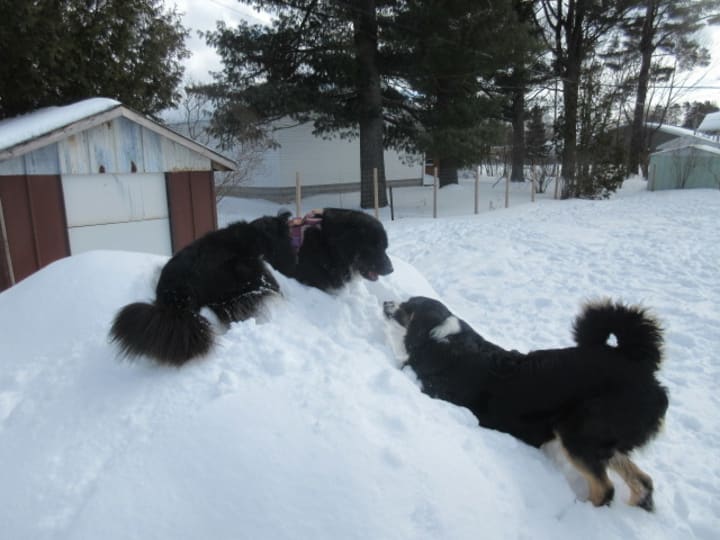 I got out of bed and fixed his food.
"All I'm asking for is a little respect here, lady," he said between bites of lamb, "fair is fair., now, grab a bag and let's go out. I do NOT like to be kept waiting. Hey, wait, do I smell chicken thawing in the fridge...?"
About the Creator
Retired legal eagle, nature love, wife, mother of boys and cats, chef, and trying to learn to play the guitar. I play with paint and words. Living my "middle years" like a teenager and loving every second of it!
Reader insights
Outstanding
Excellent work. Looking forward to reading more!
Top insights
Compelling and original writing

Creative use of language & vocab

Easy to read and follow

Well-structured & engaging content

Excellent storytelling

Original narrative & well developed characters
Expert insights and opinions

Arguments were carefully researched and presented

Eye opening

Niche topic & fresh perspectives

Heartfelt and relatable

The story invoked strong personal emotions

Masterful proofreading

Zero grammar & spelling mistakes

On-point and relevant

Writing reflected the title & theme
Add your insights