Best Pet Insurance Companies
We shouldn't be the only ones with insurance, pets should have it, too! Look through great pet insurance companies for your cuddly ones.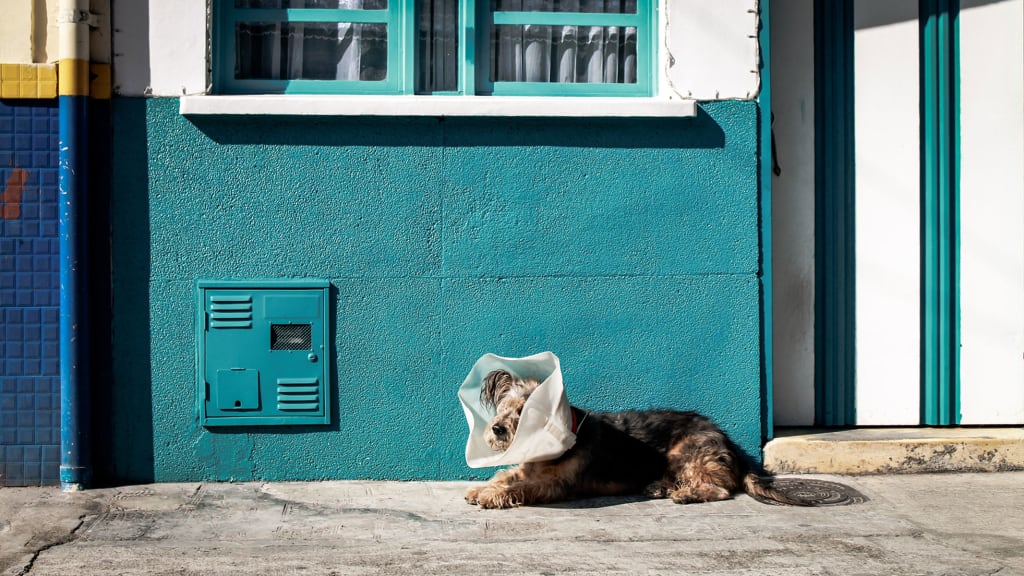 We need insurance for literally almost everything. For your house, your car, your children, yourself, and, of course, your pets. Pets are seen as part of your family, so why wouldn't they have insurance?
If your pet is ill or has to go through surgery, the little one does definitely need insurance. No one wants to pay tons of money for their pet to get better — there's insurance to cover the majority of the expenses. Pets are expensive, it's true. The costs are similar to paying for a child — almost. Either way, pets do need insurance just as much as anyone in the household. Plus, having insurance for any of your pets won't totally empty your wallet. If your dog or cat has to go through an important medical procedure and you don't have insurance for the little one, you're done for.
In order for you not to have to deal with that situation, look through these great pet insurance companies to keep your pet, and your wallet, safe. It's definitely worth it.
Healthy Paws Pet Insurance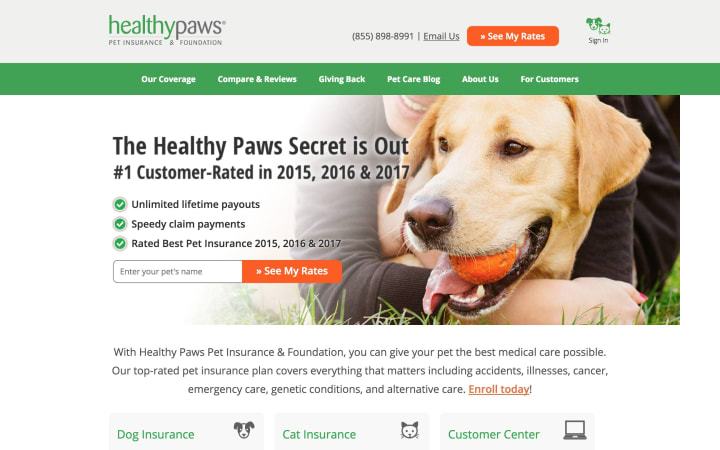 Healthy Paws is the number one pet insurance company in America according to their customers — they've even been ranked number one for three years straight. Healthy Paws offers unlimited lifetime benefits and paperless claims for any device. They always stay on top when it comes to providing clear, solid coverage and giving the best customer service in the industry. Coverages include emergency care, illnesses, surgeries, cancer, chronic conditions, and other tragic incidents that your pet can go though.
Nationwide Pet Insurance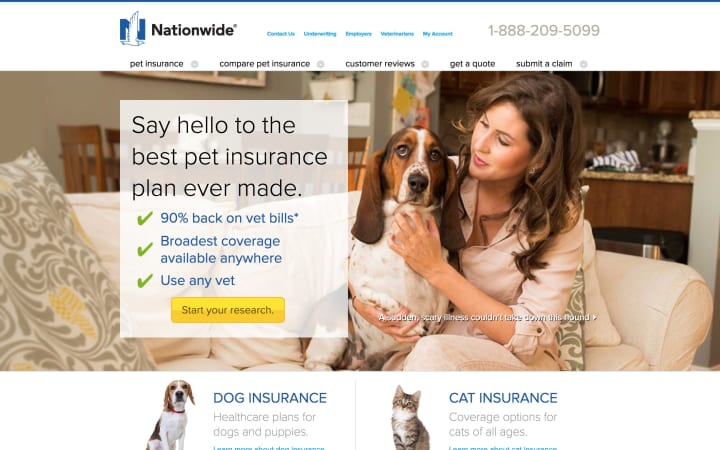 Nationwide is on your side? They definitely are. This pet insurance is the oldest and also one of the biggest pet insurance companies in the country. They offer plans that are ideal and coverage options that are enough to keep your pup or other creature happy and healthy. They cover accidents, illnesses, emergency care, surgeries, cancer, payout limits, etc. Their wellness and illness coverage is excellent — and straightforward. Prices range from $18 t $65 per month.
Petplan Pet Insurance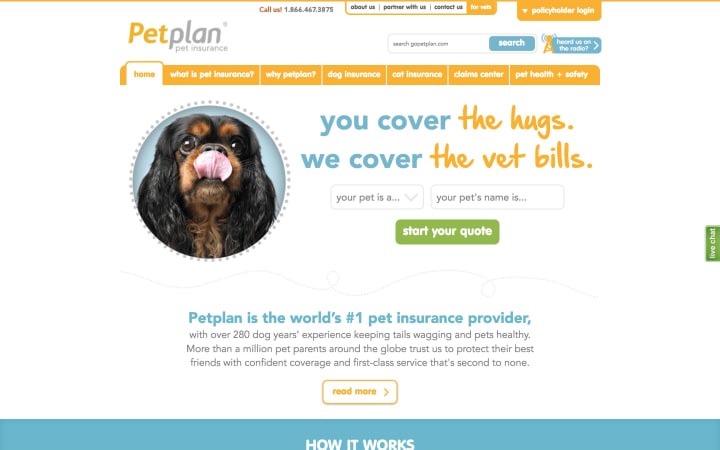 Petplan is seen as the gold standard by their customers. Forbes Most Promising Companies listed them at number 59 last year. Petplan also has partner companies like AARP Pet Insurance, Esurance Pet Insurance, and Blue Cross Pet Insurance. Even though they don't provide the best wellness coverage, their major medical coverage is great. Their prices range from $18 to $48.
Pets Best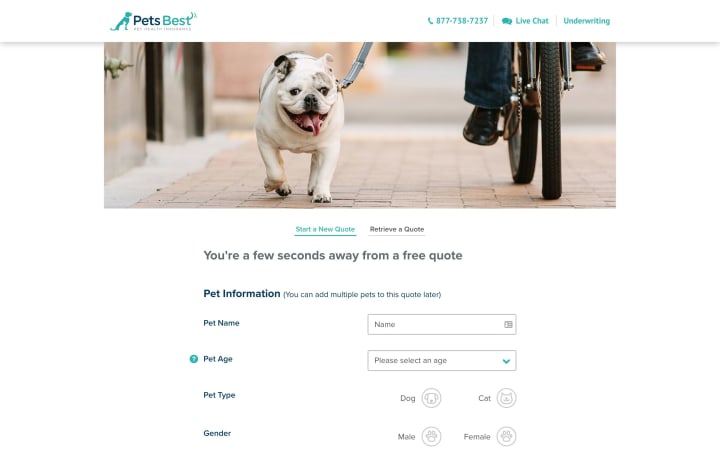 Pets Best is known as one of America's most trusted pet insurance companies. The company was founded by Dr. Jack Stephens. Their wellness coverage is optional, however, their medical coverage is perfect — covering everything that your pet might need. Pets Best prices range from $8 to $36 per month. They look like one of best pet insurance companies, if you ask me.
Embrace Pet Insurance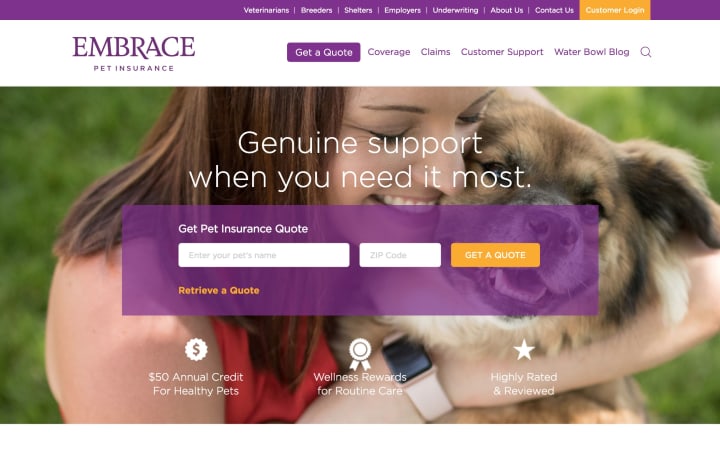 Just like the rest of these pet insurance companies, Embrace is a perfect choice, too. They offer wellness coverage, that is optional, and major medical coverage for your little one. Embrace also provides plans for Allstate, American Modern Pet Insurance, Armed Forces Pet Insurance, BBVA, First Citizens Insurance Services, Geico, and USAA — awesome, right? They cover your pet's illnesses, surgeries, cancer treatments, accidents, and more. Their prices range fromt $8 to $59 per month.
Trupanion Pet Insurance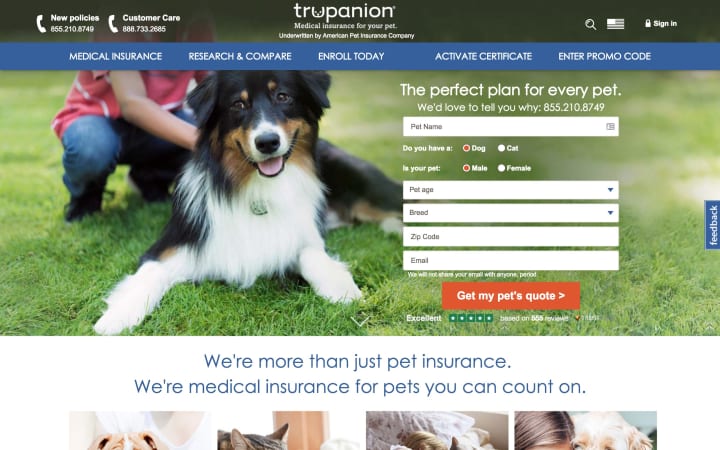 Along with the others, Trupanion is also one of America's biggest and highest rated pet insurance companies. They actually offer one, comprehensive plan for both cats and dogs that reimburses 90 percent of eligible veterinary expenses. Couldn't ask for more from a pet insurance company. Their price range goes from $22 to $62 per month.
Figo Pet Insurance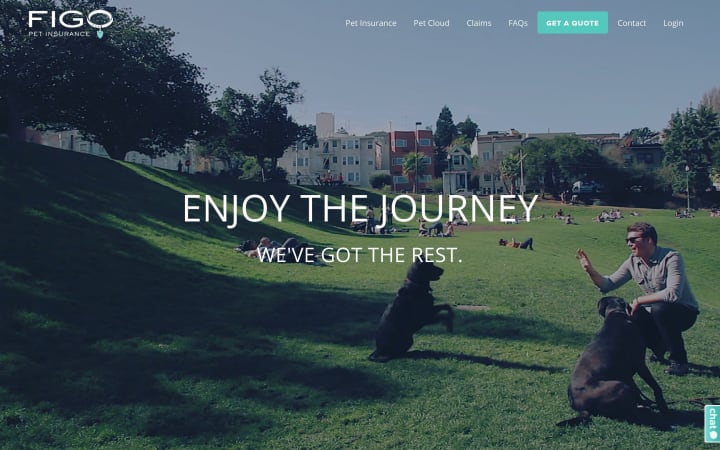 Figo is one of the newer pet insurance companies — founded in 2013. They have excellent coverage along with free service to policyholders called the Pet Cloud that allows pet owners to store veterinary records in their accounts online. Even though they don't have wellness coverage, their medical coverage is ideal — covering emergency care, cancer treatments, surgeries, etc. For the price range per month, contact them directly.
PetFirst Pet Insurance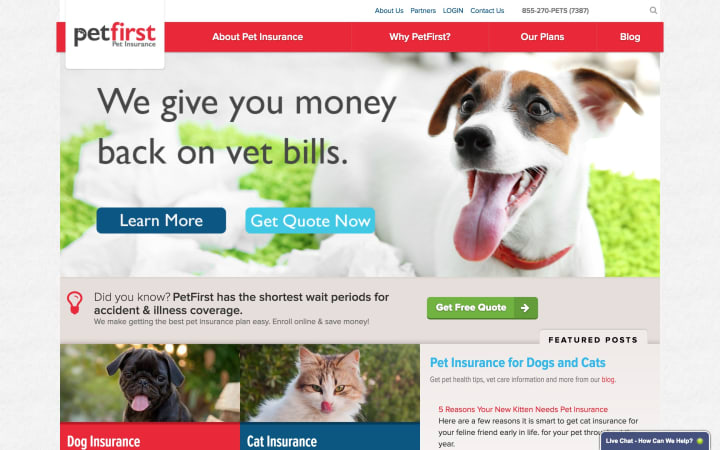 PetFirst was founded in 2004 and offers several coverage options and plans to meet any pet owner's budget. They provide both wellness coverage and ideal medical coverage with a four star rating from satisfied customers. The coverage they offer includes accidents, illnesses, cancer treatments, hereditary conditions, and much more to care for your little one. Price range per month is $10 to $25.
ASPCA Pet Health Insurance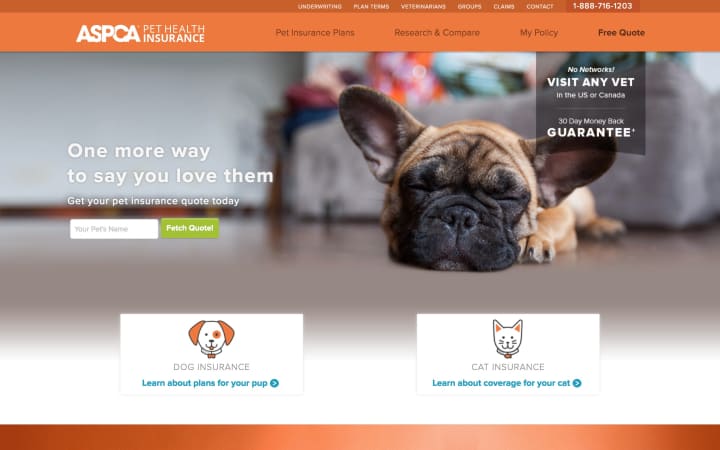 ASPCA only has medical and wellness for dogs and cats and they're also one of the oldest pet insurance companies in the U.S. The company recently updated their old plans with a great new policy called Complete Coverage, which provides better coverage than before. ASPCA has coverage for cancer treatments, emergency care, dental coverage, orthopedic coverage, and much more. Their price range goes from $15 to $58 per month.
PetPremium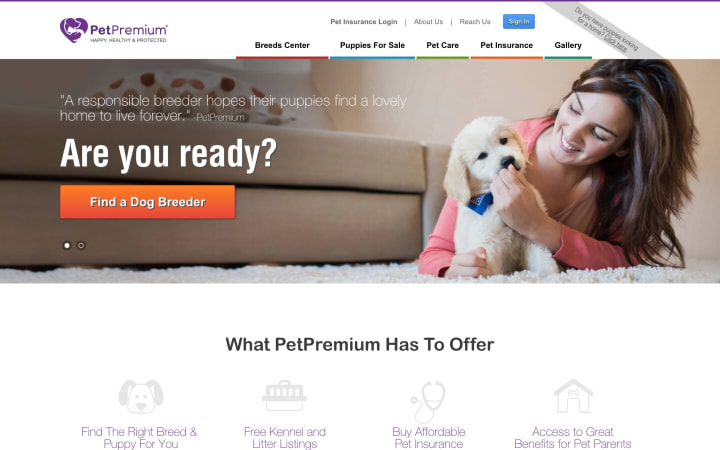 PetPremium insurance is seen as one of the best pet insurance companies in America. The company was founded by Revi Media in New York City in 2013 — making it one of the newest companies, too. The entire purpose of the company is to bring technology and a higher standard of customer service. Their major medical coverage is perfect and their wellness coverage is optional, depending on the pet owner. Their prices start at $29 per month — which is amazing for your adorable pet.