5 Best Joint Supplements for Dogs
Improving Joint Health and Mobility in Dogs: Top 5 Recommended Supplements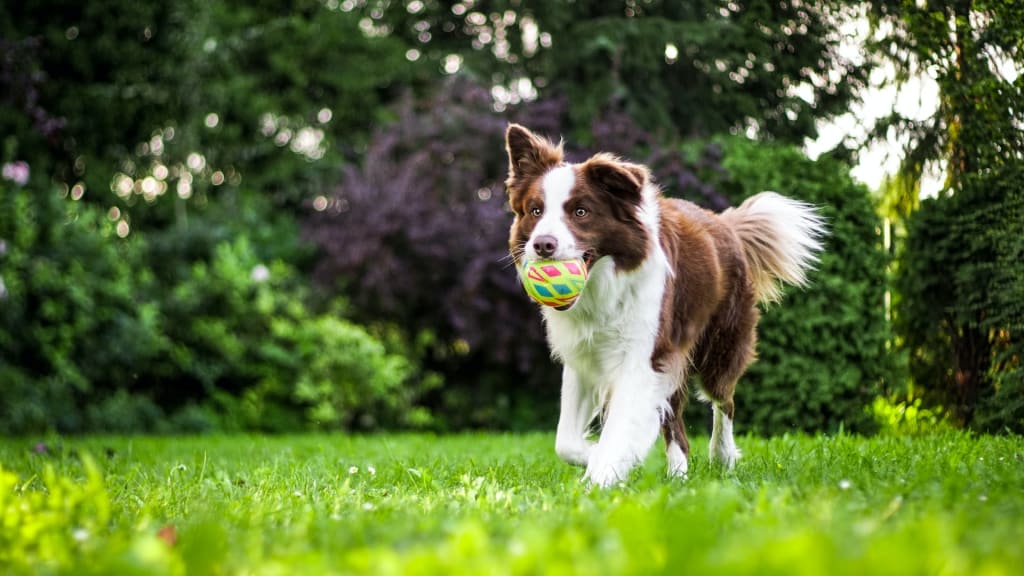 Joint health is a crucial aspect of a dog's overall well-being as dogs age, they become more susceptible to joint problems, such as arthritis, which can cause pain, stiffness, and mobility issues. Fortunately, there are a variety of joint supplements available to help maintain and improve joint health in dogs.

In this discussion, we will examine five popular dog joint supplements: YUMOVE adult dog tablets, Doggie Dailies Glucosamine, Vetpro Dog Hip and Joint Supplements, Nutramax Cosequin Maximum Strength Joint Health Supplement for Dogs, and Zesty Paws Glucosamine for Dogs. We will explore the key ingredients, benefits, and potential drawbacks of each supplement to help pet owners make an informed decision about which product may be the most suitable for their furry companion.

Best Supplements for Dogs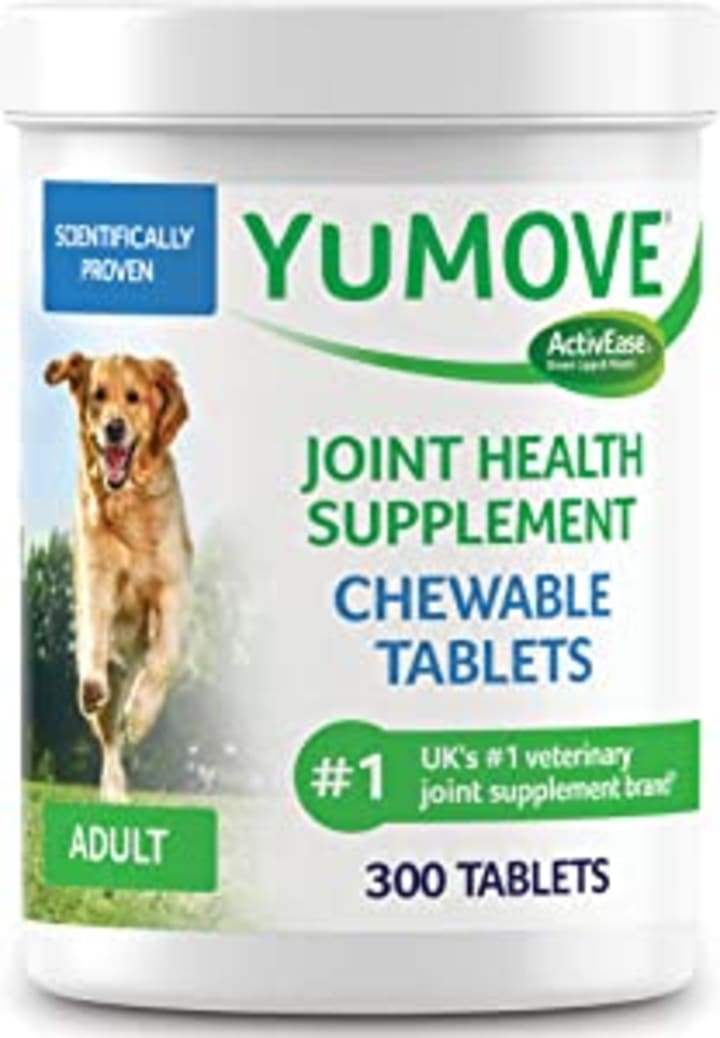 YuMOVE Adult Dog Tablets is a top-quality joint supplement for adult dogs that has been scientifically formulated to support hip and joint health. As the official joint supplement of the American Kennel Club and recommended by veterinarians as the UK's #1 Vet Joint Supplement brand, YuMOVE is a highly trusted and reliable choice for pet owners. The supplement is backed by 15 years of clinical research and has been shown to provide visible results in just 6 weeks, thanks to its triple-action formula that aids stiffness, mobility, and joint structure.

The ingredients in YuMOVE, including glucosamine, chondroitin, hyaluronic acid, vitamins C and E, and ActivEase Green Lipped Mussel, work together to provide high-strength joint support, lubrication, cushioning, and joint-soothing Omega 3. Over 1.5 million dogs worldwide currently benefit from YuMOVE's superior joint health benefits. The product comes with a 60-day money-back guarantee and is proudly made in the USA.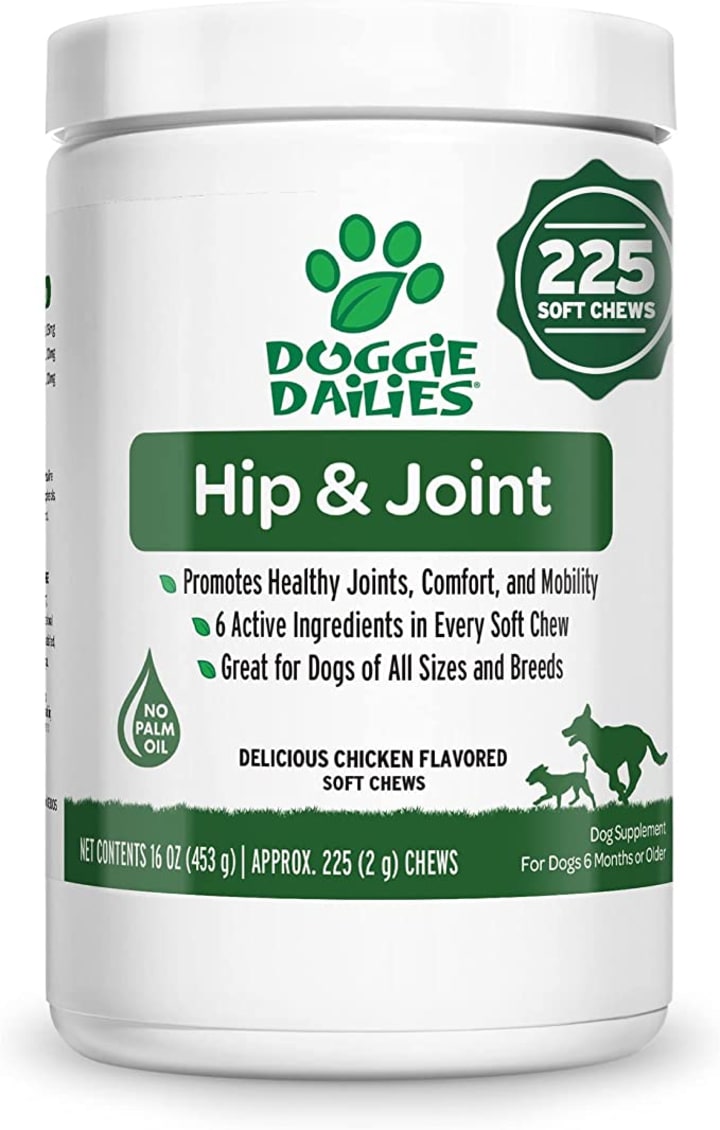 Doggie Dailies Glucosamine for Dogs is a soft chew supplement that promotes healthy hips, joints, and bones in dogs. With an irresistible chicken flavor, it is easy to administer and contains a powerful blend of essential ingredients, including glucosamine, MSM, chondroitin, yucca schidigera, salmon oil, cod liver oil, CoQ10, and hyaluronic acid, which work together to support healthy joints, comfort, and mobility.

Made using a cold-press extrusion process to preserve the integrity of the ingredients and maximise their potency, this joint supplement is suitable for dogs of all breeds and sizes, from those needing a little extra pep in their step to extremely active pups.

Doggie Dailies is manufactured in a GMP-compliant and Level 3 SQF-certified facility in the USA and is tested by an independent lab for quality and safety. It carries the National Animal Supplement Council Seal of Quality and comes with a 100% money-back guarantee.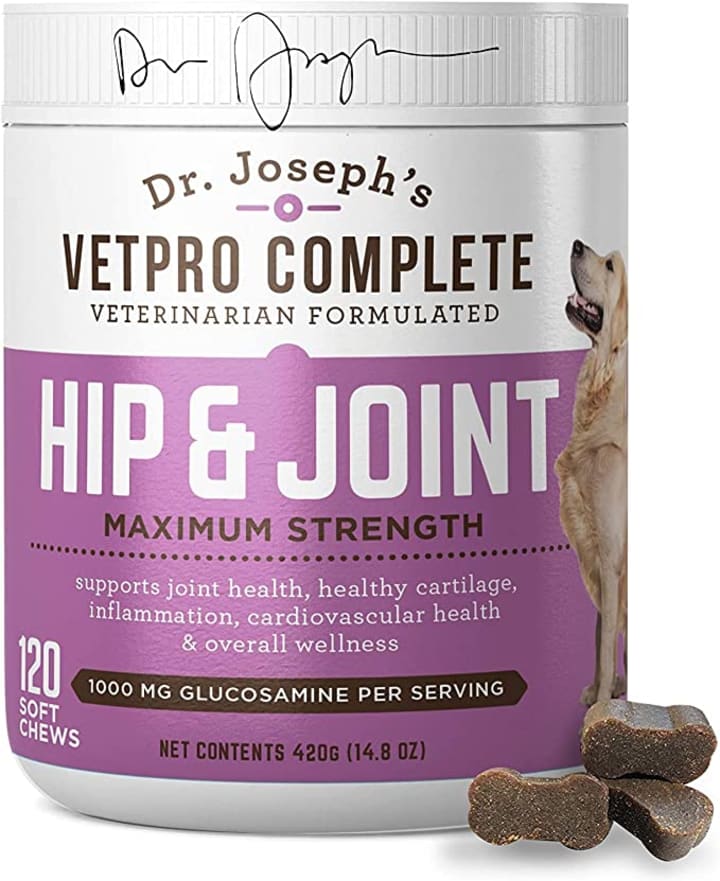 VetPro Dog Hip and Joint Supplement is a unique dog joint supplement that benefits the heart, skin, coat, and digestive tract, and promotes liver health. It is formulated by Dr. Joseph, a veterinarian with over 30 years of experience in relieving his patients from painful arthritis, stiff joints, joint damage, and hip dysplasia.

VetPro's powerful dog supplement provides 1000mg of Glucosamine HCI and 200mg of Chondroitin in each dosage, which is 5 times more Glucosamine than many other supplements. It helps to avoid costly vet visits, arthritis medications, and surgeries. This joint support for dogs helps keep your pup's joints flexible and lubricated, and assists with the rebuilding of damaged tissue.

VetPro uses natural turmeric root powder to reduce inflammation, and Omega-3 fatty acids are used to promote a healthy heart, which in turn improves your pet's skin and coat while also warding off serious heart conditions. The supplement is chicken-flavored and comes in a tasty, bone-shaped chewable form that your dog will love. It is made in the USA using a Good Manufacturing Practice (GMP) certified process.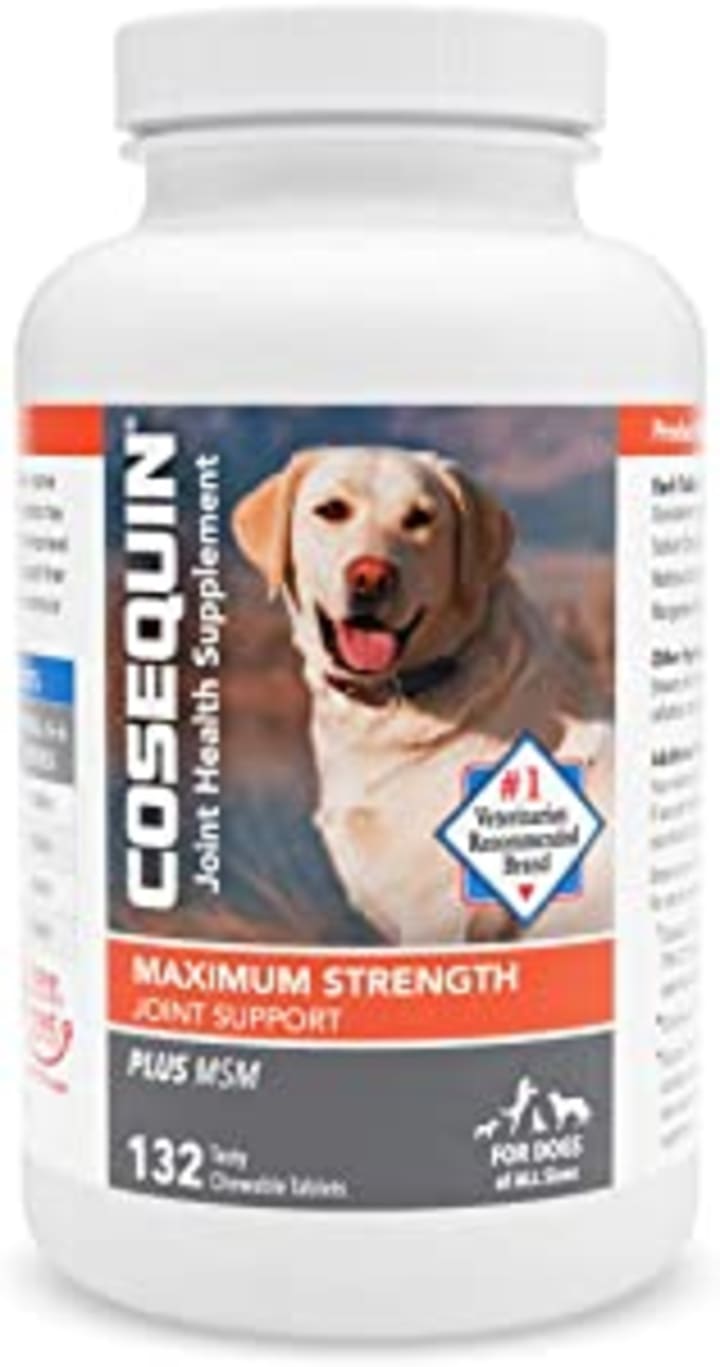 Nutramax Cosequin Maximum Strength Joint Health Supplement for Dogs is a top-rated joint health support supplement for dogs. It is the number one veterinarian-recommended retail joint health supplement brand that contains glucosamine hydrochloride, sodium chondroitin sulfate, and methylsulfonylmethane (MSM) that helps support healthy cartilage.

Cosequin is easy to serve and comes in tasty chewable tablets and soft chews for dogs of all sizes. It is manufactured in the United States with globally sourced ingredients, making it a high-quality dog joint supplement.

Nutramax Laboratories Veterinary Sciences has been a leader in pet health for over 30 years and provides supplements to support joint health, digestive health, and overall wellness. Nutramax Laboratories Veterinary Sciences supplements are backed by science, as they are veterinarian formulated with high-quality ingredients to ensure pets receive safe supplements.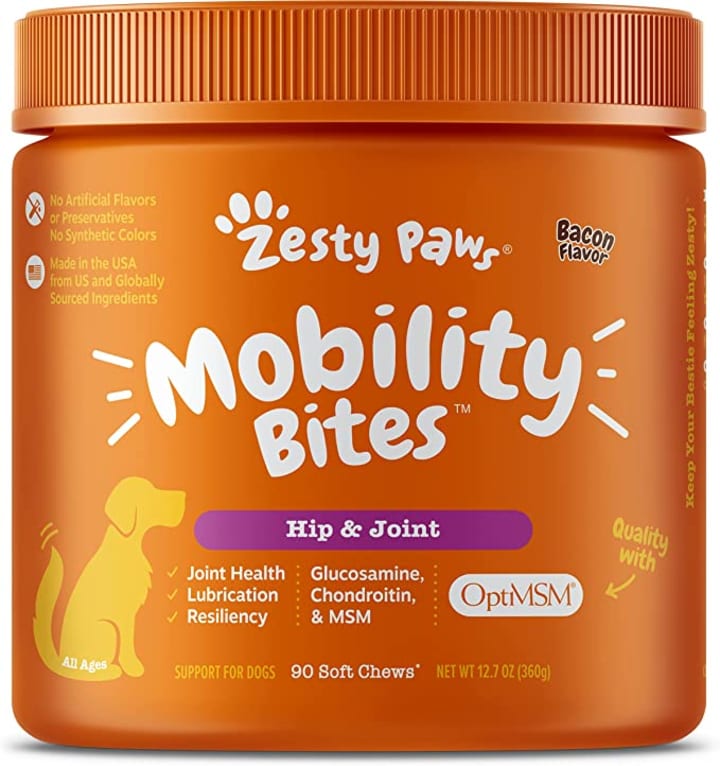 Zesty Paws Glucosamine for Dogs is a premium hip and joint support supplement designed for small, medium, and large breed dogs. This supplement contains a powerful combination of ingredients including glucosamine hydrochloride, chondroitin sulfate, and OptiMSM, a premium form of MSM. These ingredients work together to support joint health and help maintain the health, lubrication, and resiliency of joints and connective tissue.

Zesty Paws Glucosamine for Dogs also includes Vitamin C and Vitamin E, which support normal joint function and connective tissue formation. These functional doggie supplements come in chewable form and are easy to administer to your furry friend. The supplement is designed to support normal healthy cartilage, connective tissue, and joint function, which can relieve your mind by helping care for your adult and senior canine pets.

Zesty Paws Glucosamine for Dogs is manufactured using high-quality ingredients, and the OptiMSM undergoes a purifying distillation process to ensure maximum effectiveness. The supplement is also free of corn, wheat, artificial flavors, and preservatives, making it a safe and healthy choice for your pet.
In conclusion, there are many high-quality joint supplements available for dogs that can help improve their joint health, relieve pain, and increase mobility. YUMOVE adult dog tablets, Doggie Dailies Glucosamine, Vetpro Dog Hip and Joint Supplements, Nutramax Cosequin Maximum Strength Joint Health Supplement for Dogs, and Zesty Paws Glucosamine for Dogs are all excellent options. Each product has its unique benefits, including high-quality ingredients, veterinarian recommendations, easy-to-serve options, and natural anti-inflammatory properties. It is essential to choose the right joint supplement for your dog's specific needs and consult with a veterinarian before giving them any supplements. Overall, these joint supplements can be an excellent addition to your dog's daily routine to improve its joint health and overall well-being.



Reader insights
Be the first to share your insights about this piece.
Add your insights