10 Best Pee Pee Pads for Dogs on the Market in 2018
There's nothing more exciting than a new puppy in the house! With the cuteness and cuddles, though, comes potty training. Take a look at this list for the best pee pee pads for dogs on the market today.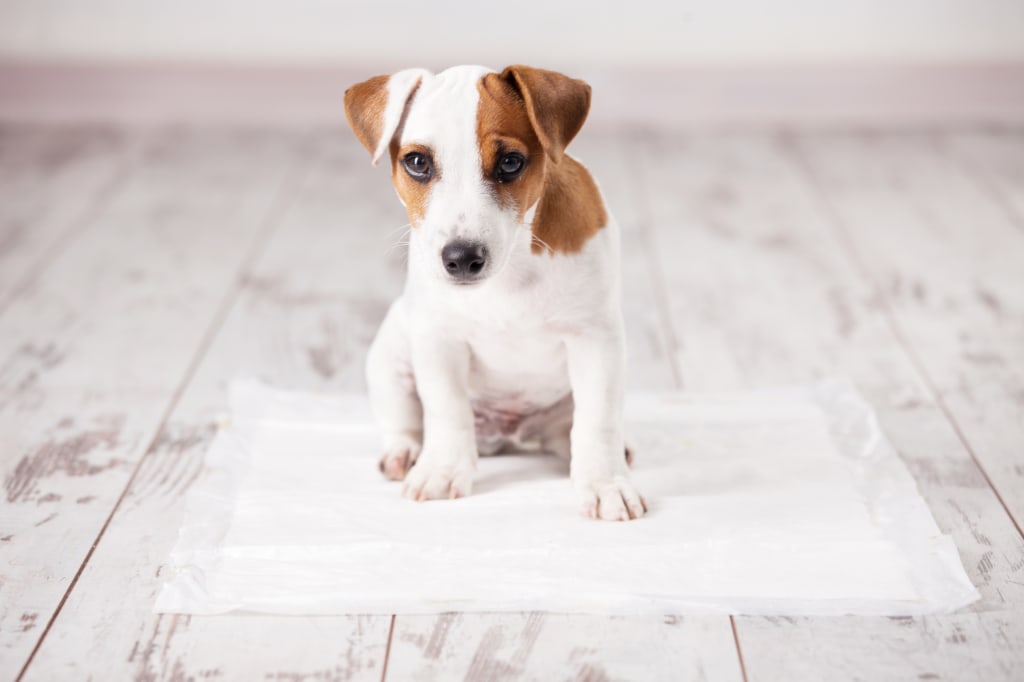 A new puppy can bring a lot of stresses along with it. Type of foods, dog crate, toys, collars, and other accessories are all going to be on your mind as well as your budget when shopping for your new puppy's needs. First and foremost, you're going to want to focus on potty training. Nothing is worse than having a new puppy that pees all over your house! As they learn, they need pee pee pads for dogs that are leak proof and help in dog training along the way. Here are some of the best puppy training pads on the market that will help in the tireless potty training process.
The pet training and puppy pads by AmazonBasics are great pee pee pads for dogs because they are very absorbent and leak proof. The technology behind these pads is that they turn dog pee into gel upon contact. These potty pads measure 22" by 22" and have a plastic border on all sides to prevent any overflow. These regular sized puppy training pads are perfect for puppies and small dogs who are potty training, or have occasional accidents.
Another great option is the wee-wee standard puppy pads by Four Paws. This pee pad has 5 layers of absorption and leak proof protection, so your puppy or dog will never have an accident that gets through the potty pad and onto your floor. This puppy pad works as an indoor bathroom and collects dog pee effortlessly while potty training your dog. It is 22" by 23" in size, and has a plastic border for even more protection. This is a great choice in puppy training pads.
The premium puppy pee pads by Bulldogology are a great choice because they are large at 24" by 24" and have six layers of absorbent protection. They also use technology that turns dog pee instantly into gel upon contact, so the leak proof resistance is excellent with these pads. An added feature of these wee wee pads is the adhesive sticky tape on the bottom, which keeps the pee pads in place, so they don't move under your dog's feet. They have built-in attractant and odor control to help ensure this is training that your dog can live with.
The puppy training pads made by All-Absorb are awesome pee pee pads for dogs. They prevent tracking, have great absorbency, and hold up to three cups of liquid, which makes them very leak proof. These pee pads also have great odor control, and a built-in attractant. These potty pads are perfect for both puppies that need a little more time than three days, and for older dogs that may have accidents due to their age.
Different than the normal pee pads for dogs, this disposable dog potty by DoggieLawn is a grass lawn pad measuring 24.75" by 21" inches. This pad is made of real grass, so your dogs will naturally be drawn to the smell and texture of the spot. It is easy to use and easy to dispose of as well. This dog potty also comes with a free training consultation.
This dog mat/pee pad by EZwhelp is a great additive pee pee pad for dogs, because although it is not made for peeing on like other potty pads, it can be placed in your dog's crate for comfort, and if accidents happen, it's completely stain resistant and washable. It's also waterproof, so the pee will not soak into the material. Let your new puppy feel comforted in his new home with this soft potty pad.
This Paw Trax Mesh Training Tray is perfect because it will hold the potty pads in place and keep your puppy from chewing the pads up. This tray will also provide extra protection for your floors, just in case those pee pads fail or your dog pees one too many times and the leak protection falls through. If you want some extra reassurance, buy this training tray.
Like the training pads mentioned above by All-Absorb, these are simply the bigger version of those. These puppy training pads measure in at 28" by 34", which means they will work for even larger dogs that might still have some dog training issues that need to be solved. Many dogs have potty training accidents at all ages, or maybe you know you're going to be gone for a longer period than normal. These extra-large pads may be perfect for those times when you want to be safe instead of sorry.
These black premium puppy pads are an awesome choice in pee pee pads for dogs because they keep your puppy's accidents discrete. Instead of having guests walk in your house and immediately seeing yellow stains on a white pad in your dog's crate, this black pad will remain one color no matter what. Like other pads, this pee pad is still leak proof, odor controlled, and contains a built-in attractant for easy training purposes. This potty pad is an awesome choice, and will definitely deter any inappropriate punishments that may occur from an evident accident.
Last on our list is another pet pad holder because these holders are a great accessory for any potty training pads you choose to buy. This holder by IRIS comes in multiple sizes, and has secure latches to keep it in place on your floor. It also has rubber feet to give it added security and prevent scratching on any surface. This holder has a nice finish, which makes clean up easy, and it can hold many different types of pee pads.
All these options of pee pee pads for dogs are great when trying to train your new puppy. Find one that works for you and good luck on your potty training journey!