Keep Your Pet Fit and Fed with the Wagz Smart Dog Feeder
If you're looking for a smart pet feeder, the Wagz Smart Dog Feeder will exceed your expectations.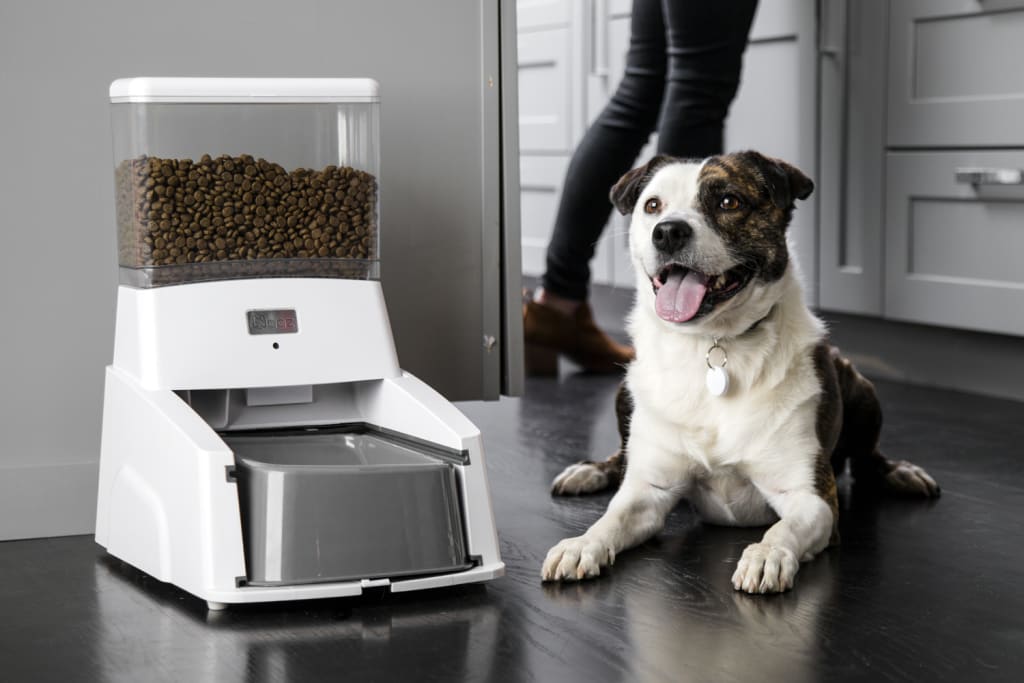 The reason most pet owners are anxious to leave their house for any reason is because they are worried about their furry friend at home. Sure, a couple hours over the weekend and there's no doubt they'll be fine (so long as you've trained them well), but when you think about a day trip to the beach or an urgent meeting running over your normal work hours? Now you might be running into some trouble.
It's not always possible to phone a friend or relative to have them come over and feed your dog, either. Plus, what if you're away for a long weekend and you just miss your pet and want to treat them to something special? Fortunately, Wagz shared these sentiments, and came up with an interesting solution. Enter, the Wagz Smart Dog Feeder, one of the premiere smart feeders on the market today.
This feeder has so many great qualities; including portion control, food ordering, video feed, and more. You'll never have to worry about your dog going hungry when you're away, and you can also check in with the camera to make sure your pet is eating and surviving without you. No other smart pet feeder quite compares to the level of the Wagz machine, and we've taken the time to look through the many reasons why this is so.
It comes with an integrated food scale.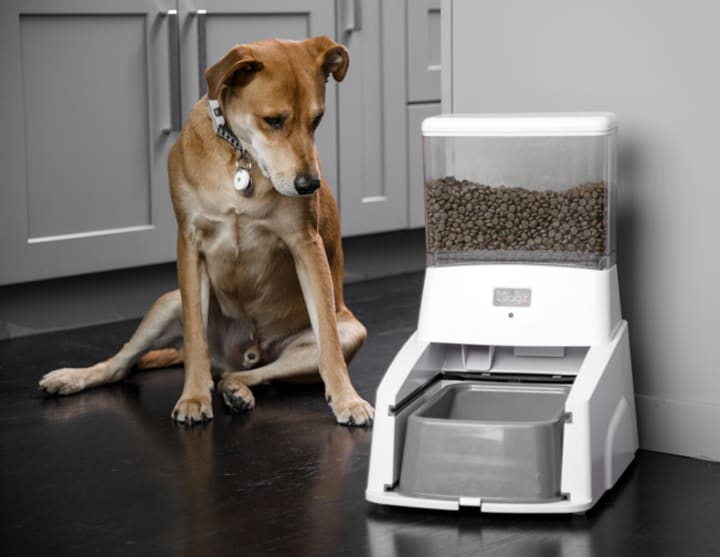 The Wagz Smart Dog Feeder comes with an integrated food scale underneath the bowl area. You'll never have to worry about your dog's food intake, because the machine has you covered. It will let you know how much food is left in the bowl at all times, so you can always be aware of the amount of food your dog has eaten throughout the day. This keeps you at ease while away from home, because although you may know your dog is eating, it's even better to know exactly how much.
Built-in food ordering is an excellent characteristic of the Wagz Serve Smart Feeder, not found in most other like brands and models. The machine will assess, at all times, how much dog food you have left, and when you are running low, it will use Amazon Dash replenishment to order you a new bag of food. You never have to remember to check the food bag, go to the store, or order more food again; Wagz has made the chance of you absentmindedly wondering why your dog is behaving so badly, only to realize you have forgotten it's dinnertime for them, a thing of the past!
The Wagz Smart Dog Feeder has HD video built in, so that you can see your dog in real time when you're away. This is a great feature, and it can be used for extra security if you have someone coming to watch your pet as well. You can check to see how often your sitter is coming (if at all), or just check and see what your dog is doing when you're away.
Another great feature available from Wagz is that sound alerts can be used to alert your dog of feeding times. No matter where you are in the world, you can still have some control over your dog by using these alerts in your house. Your dog may be sleeping on the other side of the house, but if he hears this noise intermittently, he will learn that it is chow time.
The customized feeding feature of the Wagz smart feeder uses breed, activity levels, and environment to decide the amount of food your pet should be given. As opposed to other smart feeders that just spit out food, this one goes beyond that, specializing the diet specifically for your pet. It works with dry kibble that is 7mm in diameter or larger, and it will allow you to ditch the scooper for good. You won't have to worry about whether your feet is putting on a little extra poundage or if they're starting to lose a little weight, Wagz has taken care of the science behind it all.
Not only does the Wagz Smart Dog Feeder knows the perfect amount to feed your pet, but it allows you to set precise feeding schedules for your dog. It's important that your pet be fed at the same time every day, and if you're not home to do it, then this feeder will be sure that the food is in the bowl no matter what.
What makes all of these great features possible is the fact that everything is enabled with a smartphone app. From your smartphone, you can set feeding times, play sound alerts, watch your dog on video, turn on automatic reordering of dog food, and get recommendations on diet, accessing all the features that are standard with this device.
Still in the training phase? The Wagz Smart Dog Feeder is only the first step towards making sure you have the most well-behaved dog on the block. The Wagz Explore Smart Collar can be paired with the feeder and Alexa (or soon, even, Google Home), making training and especially good behavior a staple in your household. It's amazing what technology allows us to do these days, and being able to connect with our pets and take better care of them is all we can ever ask for!
The Wagz Smart Dog Feeder has already received great reviews on Amazon.
One customer says:
"This is such a great and very useful product! It does everything I need it to and more. I have a schedule set for it to fill the dish twice a day, morning and night. When it is running low on food it alerts me and gives me the option to automatically order more from Amazon."
Another says:
"I love how convenient the smart feeder has made feeding my pup and keeping tabs of how much food needs to be ordered! I schedule the food for breakfast and dinner. It's helpful to keep my pup in his routine especially if I am running behind for any reason!"
Buying the Wagz Smart Dog Feeder on Amazon will allow you the option to choose Amazon Dash replenishment for your dog food with the system, which is very convenient; and it's currently the best deal you're going to get from any other product similar to thus on the market.
If you're looking for a smart pet feeder to keep your mind at ease while you're away, keep your dog fed and healthy, and a feeder that exceeds your expectations, then consider Wagz. You won't be disappointed.