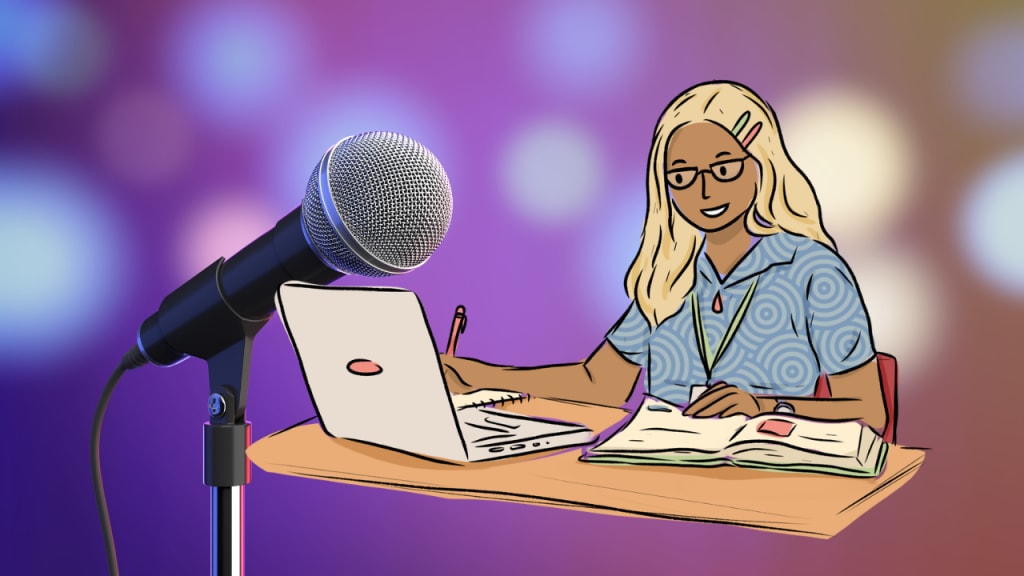 Introduction:
In an age where digital devices provide endless diversions, coming upon something truly remarkable can feel like a stroke of good luck. My experience with Vocal Media, a platform with the power to radically alter one's life, has been just like this. It has reignited my passion for reading and writing. Since that faithful day, Vocal Media has become my safe haven for creativity. It has sparked my imagination and given me access to a thriving community where aspirations are made a reality. Come with me on a fascinating adventure as we explore the grandeur of Vocal Media and how it enables both readers and writers to achieve their potential.
A Safe Haven for Writers, Aspiring Authors, and Literary Lovers:
Vocal Media provides a safe haven for writers, aspiring authors, and literary lovers. It gives creators the opportunity to freely express their thoughts and ideas by providing a platform on which they can post works such as stories, articles, poems, and more. Vocal Media will welcome you with open arms, no matter what level of writing experience you have or what kind of fiery passion you bring to the table.
Engaging Community:
The thriving community of writers and readers that makes up Vocal Media is the organization's most important asset. It is a place where connections are made, feedback is offered, and friendships that last a lifetime are established. Participate in interesting conversations, obtain feedback in a manner that is beneficial to your development, and uncover a growing community of people who share your appreciation for the transformative potential of language.
Vocal Media allows you to unleash your voice by amplifying it and providing a platform from which it may be heard by others. Your thoughts will have a greater chance of resonating with a varied audience on a global scale if you publish and share your work through this platform, which features an intuitive user interface. Your writing has a place in a community that is starving for literary brilliance, and it can be anything from thought-provoking articles to engaging short stories.
Options to Make Money:
Vocal Media understands the value of your ability and is happy to provide you with options to make money from your artistic works. You have the ability to monetize your material by participating in their Partner Program and earning money from the support and involvement of your viewers. Unlock your full potential and transform your love of writing into a successful career by following these steps.
Curated Exposure:
With Vocal Media's curated exposure, you can set yourself out from the competition. Their team of knowledgeable curators chooses remarkable tales to highlight for a broader audience after carefully selecting them. Imagine that your work was highlighted prominently, bringing you exposure and increasing the number of people who read your work. Your message will reach a wide audience thanks to Vocal Media's unwavering commitment to the promotion of high-quality content.
Vocal Media's Creators are continually Inspired and Challenged with fascinating Contests and Challenges Vocal Media's creators are continually inspired and challenged with fascinating contests and challenges. These events will push your creative abilities to new heights, whether they be themed writing prompts or genre-specific writing competitions. You'll discover that you have the motivation to produce your finest work when there are alluring incentives and recognition up for grabs.
Conclusion:
Vocal Media is more than just a platform; rather, it is a revolutionary shift in creative practice. My love for writing has been renewed, and it has introduced me to a community of people who share my capacity to imagine and tell stories. Because of Vocal Media, I was able to find a space where people's imaginations may run wild, connections can be made, and dreams can come true. Join me on this fantastic adventure, where your words have the potential to not only entertain, but also to inspire, and change people's lives. Embrace the greatness that is Vocal Media, and let your creative spirit shine brighter than it ever has.
Now is the moment, my reader, for you to let your creative side out to play and begin on this once-in-a-lifetime journey with Vocal Media. Your words have the power to move people's emotions, spark their brains, and alter the course of history. Take advantage of the amazing opportunities that are available to you on this alluring platform, and make sure that your voice is heard.
About the Creator
I am an educator and author with a passion for singing, dancing, reading, writing, and other artistic pursuits.
Reader insights
Be the first to share your insights about this piece.
Add your insights