Treat time
New watch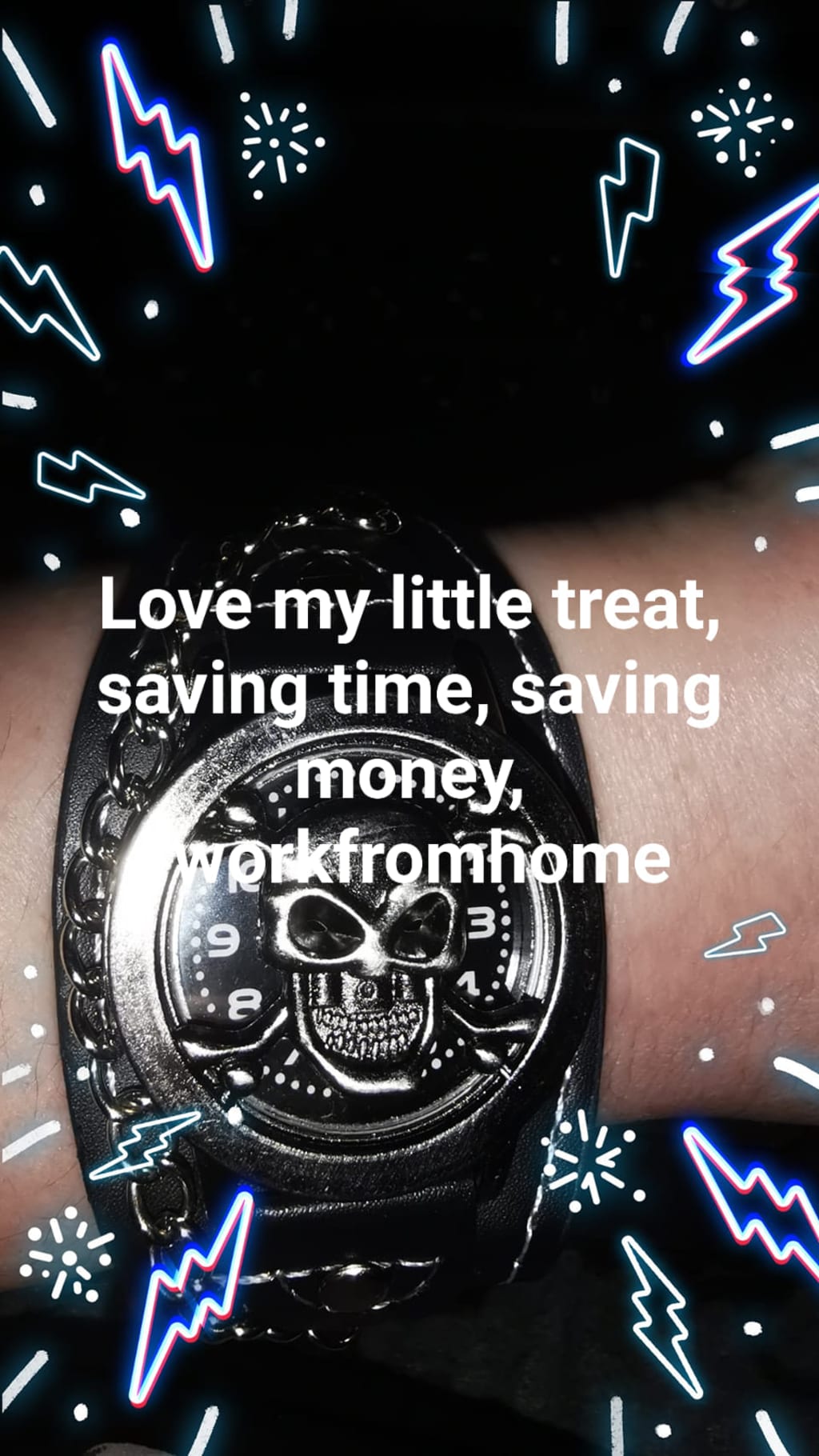 This was my first little treat to myself for doing well in my new work, #workfromhome # familyliferules # sparetimesparecash Since lockdown I have started working for a utility company online from home, this is fab, I work with a great team and my recruiter Keith Morris is just class, couldn't think of a better person to work with, we make a canny little team.
I also run an online shop, which I've had going for less than 2 weeks now, but this is where I'm getting a lot of traffic to and activity as I don't have a platform for my utility work. This is also where I'd like to run my featured guest idea (below) I sell all sorts of household items and gifts etc. but my main seller is my sweets...who doesn't love em now and again right....
My weekly reach on Facebook is u=over 10,000 and in less than 2 weeks I've almost 300 likes and followers and growing every day. I'm also just getting back into using other social media that I've not really used before as another way of getting traffic.
I'm always looking of ways to try and help people, what I would like to do tomorrow, and start doing it on a regular basis on my sweet page is doing a Featured Guest Post, so if you'd like to be featured simply comment below with your link and a brief intro I can post with it and a pic and I'll start doing this ..hoping to do this once a day, if there's enough demand...
So already, before I've even started, I have 3 booked in featured guests, I'm so excited. I've got one tonight, one tomorrow night, and one next Thursday, so hopefully I'll get one in the next couple of days for my next Friday. All I'm asking of people is a couple of pictues and a bit of information about what they do in their work from home job, with any luck, people will see these posts and that will generate more sales for them.
In the last 3 weeks, I have managed to upgrade my laptop, treat the kids to some goodies, got the eldest an xbox3 and about fifteen games, I've got the youngest some xbox one games for her xbox one, and I've got myself my watch.
Don't get me wrong, this online working from home is by no means an easy job, you get out what you put in, I suffer with insomnia and with my youngests erratice sleep patterns, it's generally between three and five in the morning when I get to sleep, then I'm back up at eleven, breakfast, a coffee to wake up and then on the laptop working, I think the earliest I've finished is around seven at night and that was because I had a migraine.
I used to live in Turkey and did a lot of networking and working online trying to make a bit of extra cash, not being Turkish, it was extremely hard to find work over there, so online was pretty much the only viable option. However, it has prepared me well for working from home now, I have massive self drive and discipline, I write out my timetable every night for what I need to the following day and I stick to it. The other thing I always do is get dressed, you wouldn't go to work in a office in your pyjama's so why should you working from home, for me getting washed and dressed is part of my morning routine, and if I don't do it, I automatically feel more sluggish and lazy, so if you're going to work from home that would be my most important advice, dress as if you were going out to work and follow a schedule and routine and don't think you can just not bother with one thing here or there, this is where so many people fail at working from home, they just don't have the discipline and for some reason, they seem to think that if they're working from home, it's not as important... one vital piece of advice here, it's MORE important...in an office, you're part of a visual team, you've got others to help you, when you work from home for yourself, yes, you can have a great team but at the end of the day, you making an income depends on one thing... you doing the work and if you don't do the work, you don't make the money and it fails.. and of course it's all to easy to make excuses and blame everything but yourself. One way of thinking, is that if you work from home, it's on you to make that effort, to put in the work and then, yes you can enjoy the rewards, but even working online, nothing comes for nothing.
If anyone would like any tips, help, advice working from home, please feel free to give me a shout.