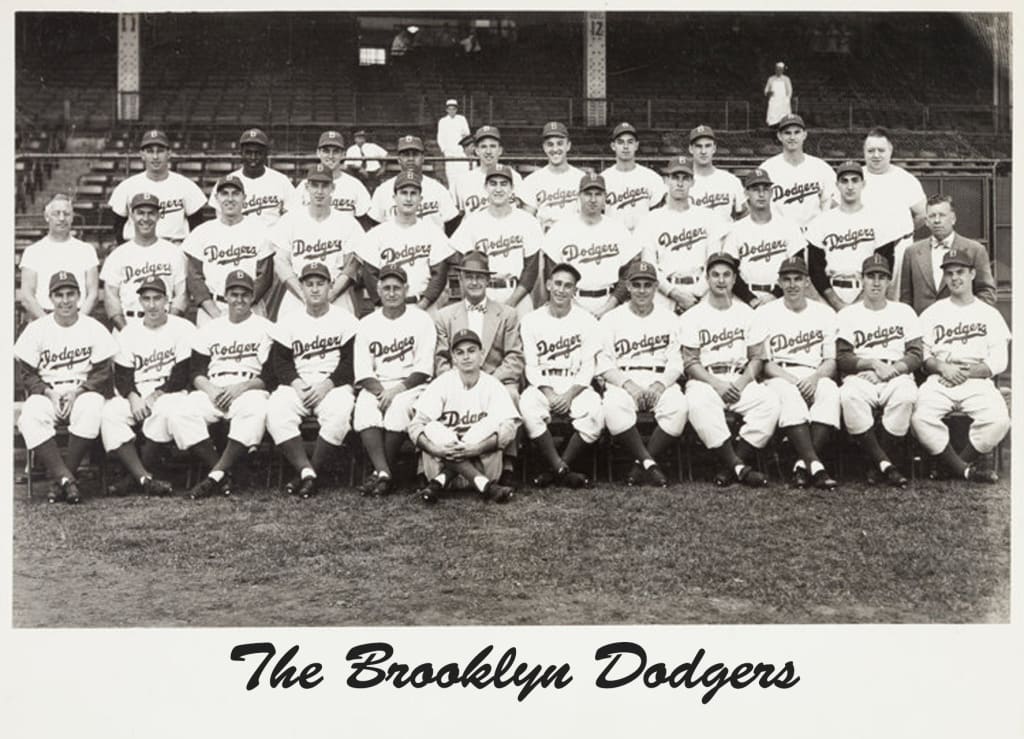 Ah! Baseball! The season for some of our favorite stars to entertain us once again after a long winter's respite.
As a child, I watched all the Brookly Dodgers' games with my dad and never once did we ever think of Spring Training. For whatever reason, no one ever mentioned it before, during, or after the games. Baseball season began and ended! Period! One always assumed the players enjoyed a long vacation between summer seasons. Things have definitely changed through the years.
I can still hear my dad yelling at the TV during a Dodgers' game, "Come on, youse bums! Murder dem jerks"! "Youse bums! If youse bums stood next to a barn, youse couldn't hit it" etc.
No, I'm not making fun of my dad but honestly, back then many of the men from Brooklyn spoke that way. Most of them came from immigrant families. Most of them had little more than an eighth-grade education. My dad fit into both of those categories.
Yes, we lived in Brooklyn, NY. We forged so many memories there. It was on Monitor Street in the Greenpoint section, and I just turned six years old. My mom and dad bought our first TV only a few months earlier – a small 13-inch black and white Du Mont.
While I enjoyed my afternoons of Mighty Mouse, Kukla, Fran & Ollie and Howdy Doody, the television belonged to my dad on weekends. That's when we sat and for hours watched his beloved Brooklyn Dodgers. We never missed a game.
I can still hear dad's words echoing in my mind, "Go get 'em, Pee Wee!" "Atta boy, Roy!" "Hey, there's the Duke! The man of the hour!" etc.
Dad married mom in February of 1944, and by the end of February 1945, mom found herself in labor with my brother. Mom and their little boy welcomed dad home from the war in 1946, the year before I made my announcement to the world. With dad's family responsibilities, the only baseball games he ever saw appeared on television. He never did get the chance to attend a game in person. But that never stopped him from enjoying his Brooklyn Dodgers.
Yet, while he never attended a game, never visited Ebbets Field, he seemed like a walking encyclopedia filled with facts about the game and the stadium. For instance, the playing field at Ebbets Field, built in 1913, was much larger than in 1955. Due to the popularity of the game, seating arrangements kept growing thereby slowly shrinking the size of the field. But I guess that's the way it was with all major league fields back t hen.
One month before I came into the world in 1947, Jackie Robinson became the first Black man to play in a major league game.
During the Dodgers' reign in Ebbets Field, they only won the World Series once. That memorable day occurred in 1955! Oh, and what a day it was. How my dad screamed with joy! I'm sure the Dodgers heard him all way from our small apartment in Greenpoint. I think my dad celebrated for a week. In fact, as I recall, that's about all he talked about for that time. "Hey, did youse see that game?"
Dad sat, mesmerized at the new Schaefer Beer sign that was erected near the scoreboard after WWII. He never tired pointing out its features. The H lit up every time a player got a HIT, and likewise, the E lit up when an ERROR occurred. Which reminds me. Every time a Dodger made an error, dad made a fist, shook it at the television and screamed, "Ya no good bum! Whaddya think ya doin!?" I smile when I think of that.
Yep. I have so many great memories of dad and our baseball days.
Unfortunately, they came to and end in September of 1957. I remember it well. Dad sat very quietly at the supper table. When mom asked why he was so quiet, he said in a distracted voice, "I can't believe they'd leave Brooklyn. Da Bums are goin' to California!" That was it. His beloved Brooklyn Dodgers, the team that inspired the greatest love/hate relationship in baseball, suddenly felt the need to abandon their greatest fans and move west. I knew dad, like many others, felt the emptiness. They felt betrayed.
Dad rarely bothered with baseball after that, but his saddest day came a few years later when the newspaper headline read, "EBBETS FIELD FALLS TO THE WRECKING BALL." On that day, back in 1960, my dad felt in his heart that baseball had died for good.
Although he never attended a game or sat in one of the precious stadium seats, a part of his childhood died. (I related to that feeling the day John Lennon died.)
Baseball was never the same for him. He'd watch a few football games and on a rare occasion, a baseball game – just to pass the time of day. In 1964, with the construction of Shae Stadium, we thought baseball might bring back some of the excitement of those wonder years. It didn't. Too much changed during those years. Not only did baseball become too commercialized, but the players seemed more interested in their higher salaries than the love of the game.
How I wonder if these Major League players ever possessed the same love emitted by those talented players of my childhood. Did they ever think of the fun of the game when they were as small as my sons, who so enjoyed their Little League games? If someone ever asked them to take a huge pay cut for the sake of the economy, how many would continue to play – for the sake of the game?
How many of them would play just to hear their fans, like my dad, sing in a loud roar:
TAKE ME OUT TO THE BALLGAME!
success
About the author
I am a 75 year old grandmother who loves to write, fish, and grab my camera to capture the beautiful scenery I see around me.
My husband and I found our paradise in Punta Gorda Florida where the weather always keeps us guessing.
Reader insights
Outstanding
Excellent work. Looking forward to reading more!
Top insights
Compelling and original writing

Creative use of language & vocab

Easy to read and follow

Well-structured & engaging content

Excellent storytelling

Original narrative & well developed characters
Expert insights and opinions

Arguments were carefully researched and presented

Masterful proofreading

Zero grammar & spelling mistakes
Add your insights