Nicole Rafiee: The Nastiest Gal on the 'Tube
Relatable, resilient, and a ray of sunshine: that's Nikki Nasty - the new Youtube personality who's taking the world by storm.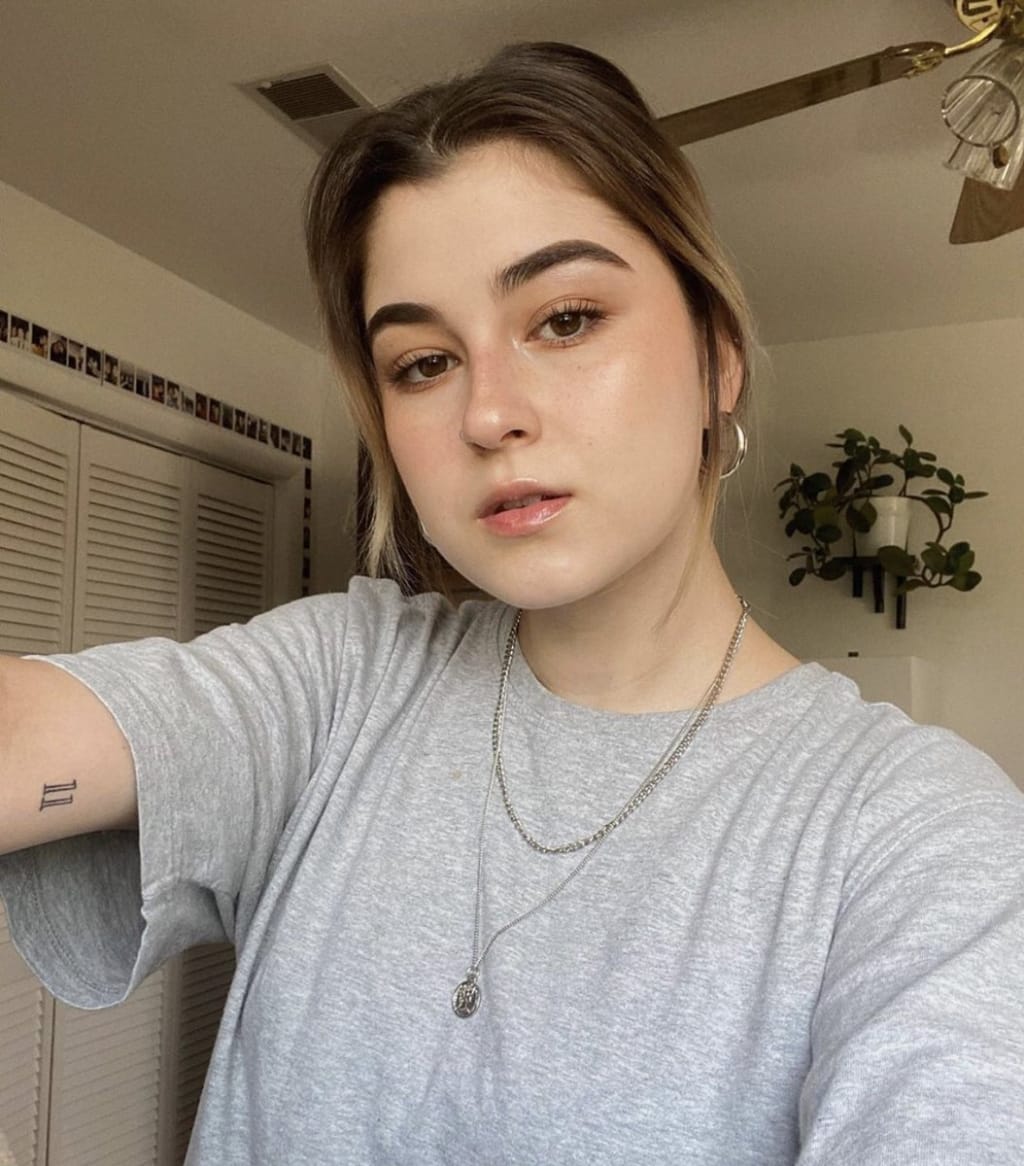 A selfie of Nicole Rafiee, AKA "Nikki Nasty"
ALL ABOUT NICOLE RAFIEE
If you've been watching Youtube vloggers for as long as I have (I'm talking 2008 to around 2012 or so), you've probably heard and understand the phrase "old school Youtube." It was that blissful period before Youtube videos became monetized where creators made whatever they wanted and didn't care about selling out for views. It was before trouble-makers like Jake Paul, scandals like Tanacon. It was a time when community came before subscriber count. And to be honest, content was a lot better because of it.
In Nicole Rafiee's latest video, "Why I'm Starting to Hate Youtube," the 21-year-old Temple University student mostly talks about how toxic productivity culture has taken over her life. However, about seven minutes in, she makes an aside about the best Youtube comment she ever received...
"I think you can tell when a Youtuber does it because of the money and when a Youtuber does it because they actually love making videos. I think one of the best comments I ever received is that I remind them of old-school Youtube...I know I'm not through-and-through old-school Youtube, but it means a lot that people may see that element."
While Nicole Rafiee may not match all the qualifications of being an OG Youtube vlogger, she certainly brings the fire, vulnerability, level-headedness, fun, and passion for the craft her predecessors left behind. As a tween, I used to know every cool vlogger to meet and greet at Vidcon, but when the "New Youtube" arrived, I quickly jumped off the train. Several years later, Nicole is the only vlogger whose videos I consistently watch. And to say they've been keeping me sane throughout this clusterf*ck of a year is a giant understatement.
Nicole Rafiee - or "Nikki Nasty" as her fans call her - is a content creator and social media personality known for her relatability and work ethic. After making many channels throughout her life but deleting them all due to embarrassment, she finally made the first upload onto her now-famous channel two years ago, while she was a sophomore in college. All this time later, she has almost 300K subscribers and is most-known for gaining a million views on her hilarious video, "A Guy Answering Questions Girls Are Too Afraid to Ask" in one week.
The first video of hers I found in my recommended feed was her thinkpiece, "why i unfollowed everyone on instagram & why you should too." Not only did I agree with everything she had to say, but I was drawn to her bluntness, humor, and yes - those very pretty plants on her end table. See for yourself!
___________________________________________________
WHY YOU SHOULD BE WATCHING
I believe the reason Nicole's grown so fast over the last two years is because on her channel, there's something for everyone.
With a "god tier taste in music," Nikki Nasty is everyone's favorite DJ. The girl's got a talent finding the best new artists on Spotify. She recently posted a video called "if ur the main character, this playlist is 4 u." While driving, she shares the whacky details of her life if it were a movie, and shows off a bomb-ass playlist to go with it.
I've been listening to this on long commutes since July, and let me tell you, it never gets old. For me, "Disco," "If I Ever Feel Better," and "Dangerous" always get replayed.
If you like makeup, fashion, and beauty tips, she's got you. In her most recent makeup tutorial,"how to look hot on zoom," she showed off a super cute and natural look complete with highly-requested feathery eyebrows! Also, because she's vegan, the majority of her products were vegan and all of them were cruelty free!
She's also a brand ambassador for Curology and runs a successful Depop where she sells old clothes for very affordable prices. With autumn chill approaching on the east coast, I needed a new sweater but didn't want to contribute to the evil of fast fashion. I checked out Nicole's Depop, and well...this happened. :)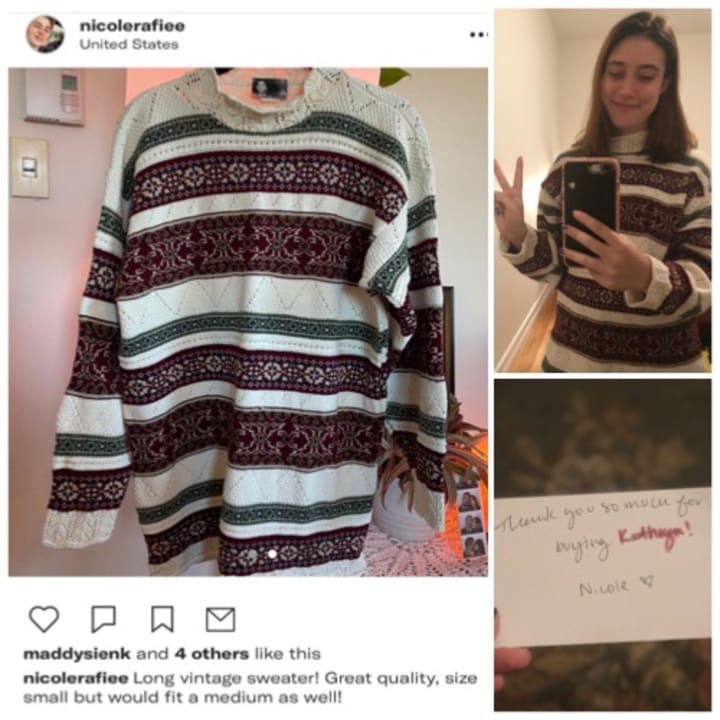 If you're into rants, advice, video essays, or interesting stories, Nicole's got plenty to hold you over. My personal favorite of hers is "cancel cancel culture," which takes a critical stance when it comes to some methods internet sleuths use to destroy others' reputations. I like how the video points out the discrepancies between male creators getting "cancelled" and female creators getting "cancelled," and how only one of those genders tends to bounce back from it.
And finally...if you're one of those people who just enjoys really silly stuff, Nicole's got that too. In general, Nicole is one of those people you'd love to be best friends with because she's naturally funny. She reminds me of a real-life Lady Bird or Juno because she calls sh*t like it is and isn't afraid to be her bold self in front of the camera.
But if we're talking about her content specifically...she's bedazzled her inhaler, DM'd her subscribers' crushes, played her own version of Hot Ones, tried to find her absent father on Omegle, and eaten oranges in the shower...because TikTok told her to do it.
___________________________________________________
GROWING UP WITH NICOLE
While Nicole is considered a public figure in the Youtube vlogger stratosphere, she has never shied away from talking about her personal life. One of the greatest things about being a Nicole Rafiee subscriber is getting to grow up with her as she goes through challenging phases in her life.
Nicole worked hard to get where she is in her Youtube career. For four years, she grinded at Chipotle (which she called "Bibotle") to help pay for college. She even worked her Chipotle job and a second job one summer until she was able to get monetized on Youtube. She threw herself a little party in her car the day she quit!
Additionally, she served as an RA at Temple University for a year and a half before she "abruptly quit" from stress. While Nicole's RA duties got us lucky viewers an awesome luxury dorm tour, they also got us a confessional with hilarious RA stories once the coronavirus hit. College has always been a large focus of Nicole's videos. However, she's expressed her disdain of being called a "college youtuber" on her podcast and now tries to create content focused on other things.
The girl has somehow managed to juggle school, jobs, being an RA, a social life, and a long distance relationship all while committing to Youtube full-time. In recent events, Nicole's whole life has changed drastically, and not simply because of the coronavirus...
A month ago, Nicole made a video about moving into her third college apartment (in a year) before posting another video a few days later titled, "why I moved OUT of my college apartment a week after moving in." She promised a reason for this huge decision at the end of the video, and viewers were shocked to learn Nicole's mother has been diagnosed with two cancers. Therefore, Nicole has decided to spend her last semester of college taking care of her mother while doing her senior year online and making Youtube vids from her Pennsylvania home.
While it's an unfortunate situation, many have praised Nicole for her responsibility. Nicole's mother (and technically, Nicole herself), are immunocompromised, so the best thing for them both is to stay home. Not only does the decision show how much Nicole cares about her mother, but it demonstrates how seriously she takes this pandemic. Other well-known Youtubers like Tana Mongeau, Erika Costell, and even her inspiration, bestdressed, have shown their willingness to breach coronavirus protocols on camera. Many influencers have acted like they're "above" staying home and social distancing, so Nicole's commitment to stopping the spread is something to look up to.
___________________________________________________
NICOLE NOW
Despite being stuck at home for her last semester, Nicole's managed to keep herself and her viewers entertained. Because she had to spend her 21st birthday alone, she threw a Euphoria-themed party for fans over Zoom. All the proceeds from ticket sales helped to pay for her mother's medical expenses. Additionally, she's been focused on cleaning out her closet (no, SERIOUSLY, check out her Depop), and is still very active on social media.
While she may be experiencing burnout right now from all the hard work she puts into Youtube, I don't think I or any of her 300k subscribers are going anywhere anytime soon. Nicole is one of those Youtubers who reads every single comment on her videos - whether they be good, bad, or downright nasty. If she took a long break, I still think she'd continue to grow as quickly as she is now because her personality and positivity are so magnetic to viewers. Personally, she's inspired me to become more organized, motivated, and unafraid to show off my true "disgusting" self.
It's Nikki Nasty's authenticity that makes her a refreshing new vlogger on the 'Tube, and I can't wait for the day when she hits a million subscribers.
As Nicole herself would say, "make sure to subscribe if you want to be nasty, and have your post notifications on or else you are...GROSS!!!"
___________________________________________________