My Life with Cerebral Palsy!
As a drummer, and singer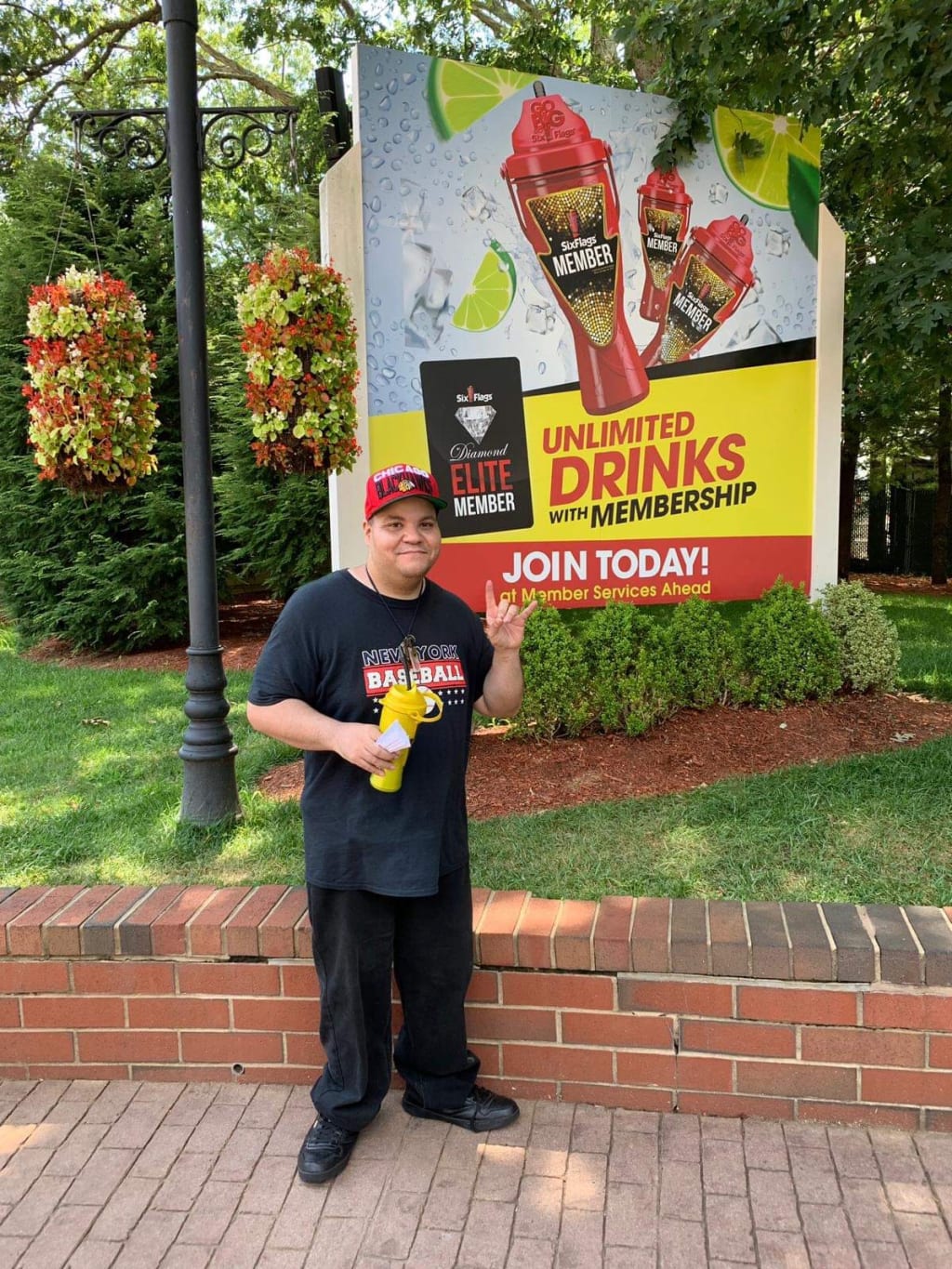 Having fun at six flags
My name is Louis. I hope that as you read this article you find some form of inspiration from it. Let me get to the basics, I'm a 33-year-old musician and television producer who recently began a YouTube channel with my best friend based on gaming. When I was born, it didn't seem likely that I would have done any of the above mentioned; in fact, college didn't even seem likely in the eyes of many (especially during my early high school years)
When I was born, not only was I premature, but I was born with a ton of health problems, most notably Cerebral Palsy. Sure, I spend tons of days in the doctors office, missed over 40 days of school a year, and underwent surgery at age 5 because I walked on "tippy toes." I went through years of therapy, and constantly was in pain; furthermore, I constantly had my braces to straighten out my legs redone because they created blisters in my feet that hurt really bad.
By age 12, I just couldn't handle braces anyone, they were just difficult to wear and I decided I no longer wanted to wear them. Making matters worse, in school I was constantly bullied and made to feel like I wasn't welcomed.
In high school, I was told by a supervisor that they believed normal classes would be too hard for me and I had to be placed in special Ed classes, but my mom and paraprofessional both fought for a chance to prove I can handle it. I have cerebral palsy but I am smart enough to be in normal classes, so they gave me a chance, and I ended up graduating high school with merit. I won six awards in foreign language as the only American born in my class to speak Spanish perfectly, fell just one point short of being valedictorian, ended up, attending a two-year college and earning my AA in liberal arts, with mostly business credits.
After college, I wanted to sing, so I began singing at local events. To make a long story short, at age 20, I had my first paid gig; by 22, I had two music videos produced, my own local TV show, and numerous appearances on local television programs and artist of the year award for 2008.
Why do I share all of this with you all? Well, I have lived with a ton of pain, hardship and struggle and this isn't to gain anyone's pity, but to share what is possible if you set your mind to it. No matter your conditions, you are so much more than any disability; you are amazing and if you feel that your challenges are too much, keep fighting. You're worth the fight, and you can be anything you want to be. Everything I've accomplished, big or small, I've earned and I've been told I can't do it, but I am here to say to you, if anyone says you can't, I believe you can. I've had struggles with writing, hand-eye coordination as well as imperfections with my grammar, yet still I made the most of what I can. I hope that reading this helps you deal with your battles for we are our own worse enemy, and if we believe, we can achieve.