Movies, You Must Watch to Become Successful
Real success comes from inside out approach which every above mentioned movie represents. We had a great notion of helping you to be on the right track of success, this list will change your life, and we hope you will recommend it to your fellows whom you want to see succeeding in their lives.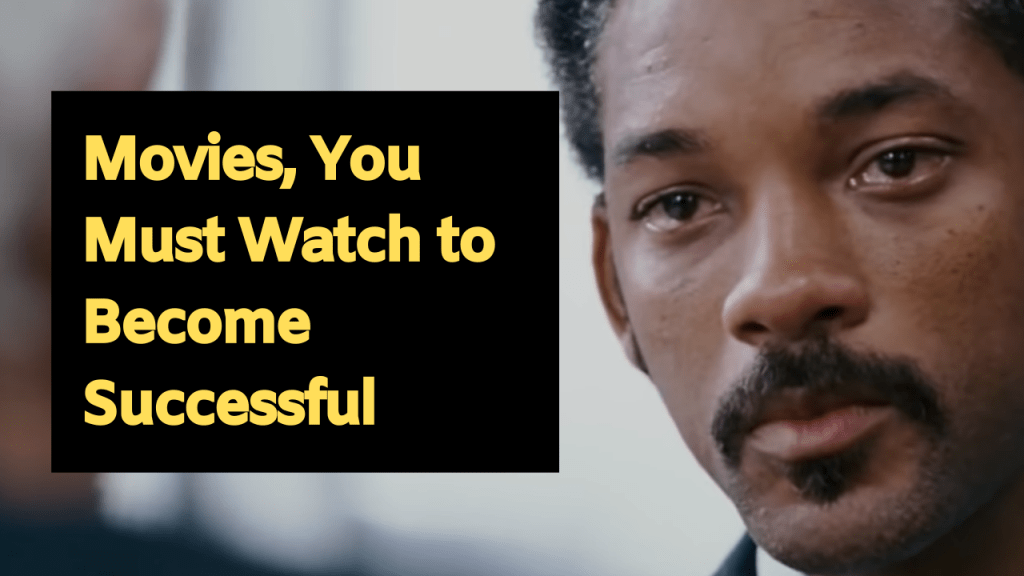 Once I was feeling shallow, I thought you I should stop working on my goals because it was only a time consuming and energy wasting project. So I decided to watch a movie for making my mood better and then move forward doing something else in life. I ended up watching the movie "Yes Man" which completely changed me; today I am at a place where my goals give me a glaring look. After this Life changing incident, I want you guys to must watch under given movies to change your life and become successful.
There are a lot of movies that change our perspectives, but we have selected only six movies that will emotionally drive and inspire you to work upon the goals specifically you want to achieve in your life and become successful.
1. Yes Man
An unfulfilled and average life enchants no one, and everyone thinks of achieving a remarkable living with success in his hands.
Watching this movie changed me so I put it on the first place in list. Yes Man is a movie in which Jim Carrey Plays a character of an average man. Who attends a Seminar "Yes," where every opportunity people may have missed were discussed. It provides him a different point of view about life, and he achieves everything he always wanted through very well connected events and his new approach to life.
This movie is an excellent motivation that everything is possible in life; it only needs to be look closer.
This movie gives a lesson of saying YES to every opportunity we get in life. We must take it as a message that ways are opened for us. Saying No to opportunity brings nothing, and saying yes brings a lot what we always wanted to have.
2. In Pursuit of Happyness
Everyone faces financial crises at some point in his life and wonders what to do now?
Should he give up or try again?
What to do when he has no understanding to do anything to change his circumstances.
In pursuit of happyness is a great movie that teaches not to give up under any circumstances. In this movie, Will Smith plays a salesperson that faces a tremendous financial struggle and encounters homelessness. But he gains everything through courage, planning, and determination. This story will leave you into tears, how a man should never give up and keep pushing himself. This movie is worth watching ; it gives a vivid way of achieving a successful life and art of being everything from being nothing.
3. Rocky
Is life a fight for you?
And you don't understand the art of fighting with it; then you must see this story of an underdog fighting man who achieves higher levels of success through his zeal and zest.
Sylvester Stallone plays the Rocky in this movie; he faces the worst financial crises that he has to sell his dog to buy food for himself. The dialogues and dialogue delivery of the movie series is incredible, which can drive anyone to leave his comfort zone and start working on his goals.
Rocky works hard to put his life on track; at last, life gives him a chance when he gets an opportunity of fighting a heavyweight fighter. He dives into the situation with a robust approach of changing his life. It motivates everyone to be a competitive spirit and compete life in every situation for the achievement of the goals.
4. Nightcrawler
Do you think you have potential?
You have something in you, but you are reluctant to start?
O dear, don't waste your time in thinking and watch this movie. This is a movie for the people who have a vision, but they are lost and want to get on the track.
This movie is a story of a guy who struggles to find a job, he doesn't find any job, but a crime scene knocks his inner potential of becoming a crime journalist. This new perspective shifts his paradigm completely. He achieves success by following his passion and right direction.
This movie triggers our inner being to become anything with a little persuasion and drive. It teaches that positive attributes of the personality are the real goals to follow, which leads us to success with slight improvement and focus.
I can confidently say that watching this movie will change you a lot. I suggest watching it and giving us your feedback. Hopefully, you will thank us for this recommendation.
5. The Shaw shank Redemption
What will you do if you are accused and proved criminal on the wrong charge that you have not done?
You might try to yell that you have not done it. But there are other approaches to life, which change a terrible situation into a good position. It depends on the person facing it.
So life can be changed into best from worst, but it only takes motivation and a positive approach that this movie teaches.
If you have not seen this movie, then you have missed an enormous source of drive, which can take you from a pessimist to optimist within hours.
Life never ends if things have not worked in your favor, but you have everything in your hands, you need to learn the approach which this movie has for you.
In this movie, there is an excellent bond between two inmates, who achieve redemption through beautiful acts of decency. Its dialogues are very captivating, watch this movie with an open heart, and you will start feeling a change in yourself.
6. The Secret
Do you understand what law of attraction is and how to achieve your goals through it?
Well, if you don't understand it, then here we are to give you a knowledge that will help you throughout your life, our this movie on the list is just for you to give you a divine knowledge, which will drive you to the paths of success. It is a story of the positive philosophy of life, which helps us to change our mental attitude towards life. This motivational movie is a must-watch for the people who are struggling on the paths of success.
Do understand life if you want to understand success. Understand success if you're going to achieve it. And this movie will teach you everything.