Mabast King: The Journey of a Small-Town Boy to the Big Road of Success
Let us get to know the story of Mabast King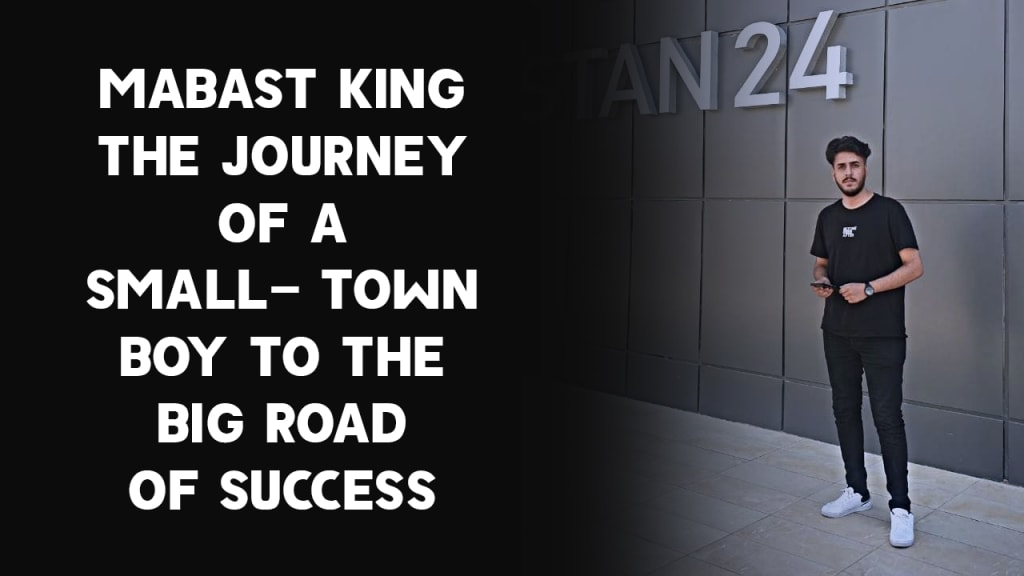 Mabast King: The Journey of a Small-Town Boy to the Big Road of Success
"Dream big, stay positive, work hard and enjoy the journey."
The above-mentioned quote could very well be considered the motto of the young YouTuber's career and life. This old saying must have had some value because it has been true for extraordinary people, coming from an ordinary background. The journey of Mabast King is one such story of a young boy, hailing from a not so famous town but through his hard work, dedication and passion reached the height of global and international fame.
It is not possible for anyone to know where the road of life leads or how each endeavour of a person culminates in the future. Mabast King, the 22-year-old from Kurdistan could not have fathomed that his world could turn upside down with just a single click in the most positive way one could imagine. If someone could turn back time and take him to the past, even his past self would find it hard to believe, that something which started as fun work would turn into bringing his life, hometown and country much pride and glory. It definitely took more than just a stroke of luck for Mabast King to reach where he is now. It was his passion, emotions, toil and absolute uniqueness and creative strive that made him the YouTuber and Influencer that he is today.
If one has not heard the name of Mabast King, then the chances of them living under a rock are higher than one would potentially believe it to be. Mabast King is a budding YouTuber, who at just the age of 22 has reached heights of success and glory, that no one would have believed was could possible. Mabast King was born on 27th January 1999 in Erbil, Kurdistan and was formerly known as Mabast Bahaden. That was not until he gained his YouTube fame, with the start of his channel with the name, Mabast King.
Mabast King completed his bachelor's degree from Erbil Polytechnic University, Erbil and he had finished his schooling from Erbil. Even though very little is known about his private life, from various sources it has been known that he is a huge fan of music and amongst many, a few of his favourite artists are Shawn Mendes, Ed Sheeran, Eros Kurdi, Navid Zardi and Maluma. Mabast King is also a foodie, and his favourite dishes are Pizza and Dolma-Kurdish cuisine. His favourite colour is black and he is passionate about making videos, and this passion could be credited for his rising channel. His YouTube channel was dedicated to funny prank videos and challenges, it was when his followers and views started to grow that he understood that he wanted to do more serious videos dedicated to the people and society of Kurdistan. His YouTube channel is an amalgamation of all the things he finds relevant to share with others, he has funny pranks, he presents his true thoughts and feelings and also portrays parts of his country and society in a marvellous never seen before light. His channel could be seen as a charismatic portrayal of his personality.
Mabast King has on his Youtube Channel more than 290K subscribers. He also has more than 20K followers on Instagram along with a thriving Facebook and TikTok account. Through his follower count and content, it could be very well understood that he is a social media star, influencer and global star, whose stardom is only going to grow. His net worth is approximately $1 million and it has been reported that he earns about $10K per month. Along with being a YouTuber and Influencer, Mabast King is also a singer and a rapper. His passion for music could be understood from his self made song of 2019, known as Slaw Bka. He has also worked as a model and it is known that he is a fitness enthusiast, who loves to watch movies and spends his free time in the gym.
Mabast King had once stated, "I've always wanted to be a name that people will be proud of in the next few years because I'm working on the future and my goal in the future, and the result is in the future." And this saying has definitely done him justice. Mabast King has truly shown Kurdish society in a new light. He is that young boy from a small country who has covered the journey of hardships to reach the top of success. He has made the world turn towards Kurdistan and see the struggles, little joys and the reality of the people and the society. His journey is really an inspiration to many and his hard work is paving way for the future generation to follow their dreams in life. His struggles are real and his story is real, and this portrayal of reality can be traced through the trajectory of his rocky journey, which is only going to be more fulfilling in the future, and would help others like him to believe in their dreams and know that they could one day, achieve their dreams.