Lessons Learned, Wisdom Earned
by: Nerissha Hunt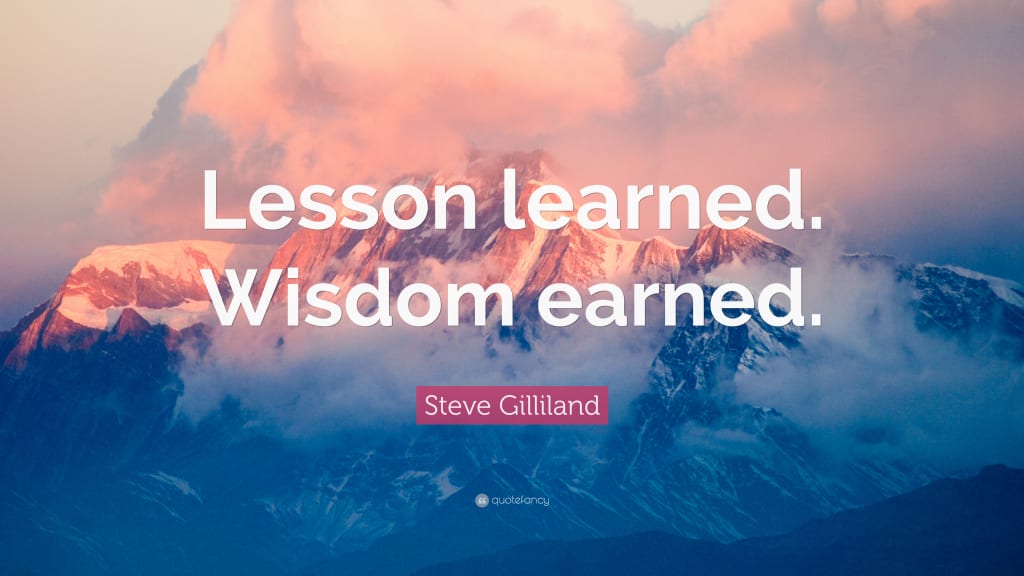 Reading is fundamental. Knowledge is power. Common phrases that we hear and have been told. But we have these know-it-all people in the world who think that they are the only ones that can do anything or the only ones that know anything. Well, I have news for you.
These know-it-all people as I call them, walk around on a daily basis. They think that education makes them better than everyone else. Nobody knows everything so don't pretend that you do.
People may come to that know-it-all person for advice and that person will make them feel like less of a person. I'm not talking about telling someone something to help them that will benefit them; I'm talking about trying to belittle someone because you have convinced yourself that you have owned the right to do so.
There is a big difference between book sense and common sense. Some people have both. What you learn in school doesn't prepare you for the real world. You get that impression from what you learn but when you get out in the real world, it's a whole new ball game.
You aren't prepared for being disrespected based on your skin color, being belittled, or treated like a nobody, even if you have more experience. The only thing education prepares you for is getting a job and starting a career. The actual experiences that you endure are what make or break you.
When someone asks for your help, you should feel honored that they think that highly of you instead of making them feel that they had no other option. People make choices every day and if they choose another person that they feel is more qualified, so what? Life is not a competition.
The truth shall set us all free. Some people in this world didn't get an education but they have more sense than the people who do. Know why? Because these people can teach you things that school can't, and they don't even have classes for. These people can teach you about life.
My grandfather didn't receive an education, but he knew the meaning of hard work. He knew how to farm, work on lawnmowers, ride tractors, things of that nature. I was on my riding lawnmower one day and it started smoking. I thought I need to buy one. Grandpa came by and told me that I had the wrong type of oil in the lawnmower. There are two types of oil: 10 weight/30 oil and 10 weight/40 oil. I don't remember the specifications exactly. He taught me the difference. Do they teach that in school? No.
My grandma never received an education. She also knew the meaning of hard work. She knows about farming as well. Her and grandpa worked in the mills for over 40 years I believe. They were farmers, even after he went blind. How he was able to farm after going blind amazed a lot of people, especially me. I figured it was because he could feel the ground and know when something was ready. But do they teach this in school? No.
Older people have more wisdom and knowledge from working with their hands all their lives. They knew the meaning of hard work. From working outside in the fields to manufacturing jobs, when they retired, they had all the education they needed from the jobs that they worked.
I admire my grandparents and others like them because without them, none of us would have been prepared for the real world. The books can only teach you so much. Nobody knows everything. Our minds are like elevators, we think on different levels.
About the Creator
Writing is not a talent; it's a gift. My stories are transparent. Not fact, not fiction. They are in a category to themselves.
You never know what to expect.
Reader insights
Outstanding
Excellent work. Looking forward to reading more!
Top insight
Expert insights and opinions

Arguments were carefully researched and presented
Add your insights