Iconic Chef Cordell Robinson The Culinary Diva On His Journey To The Top
The Culinary Diva on his biggest inspirations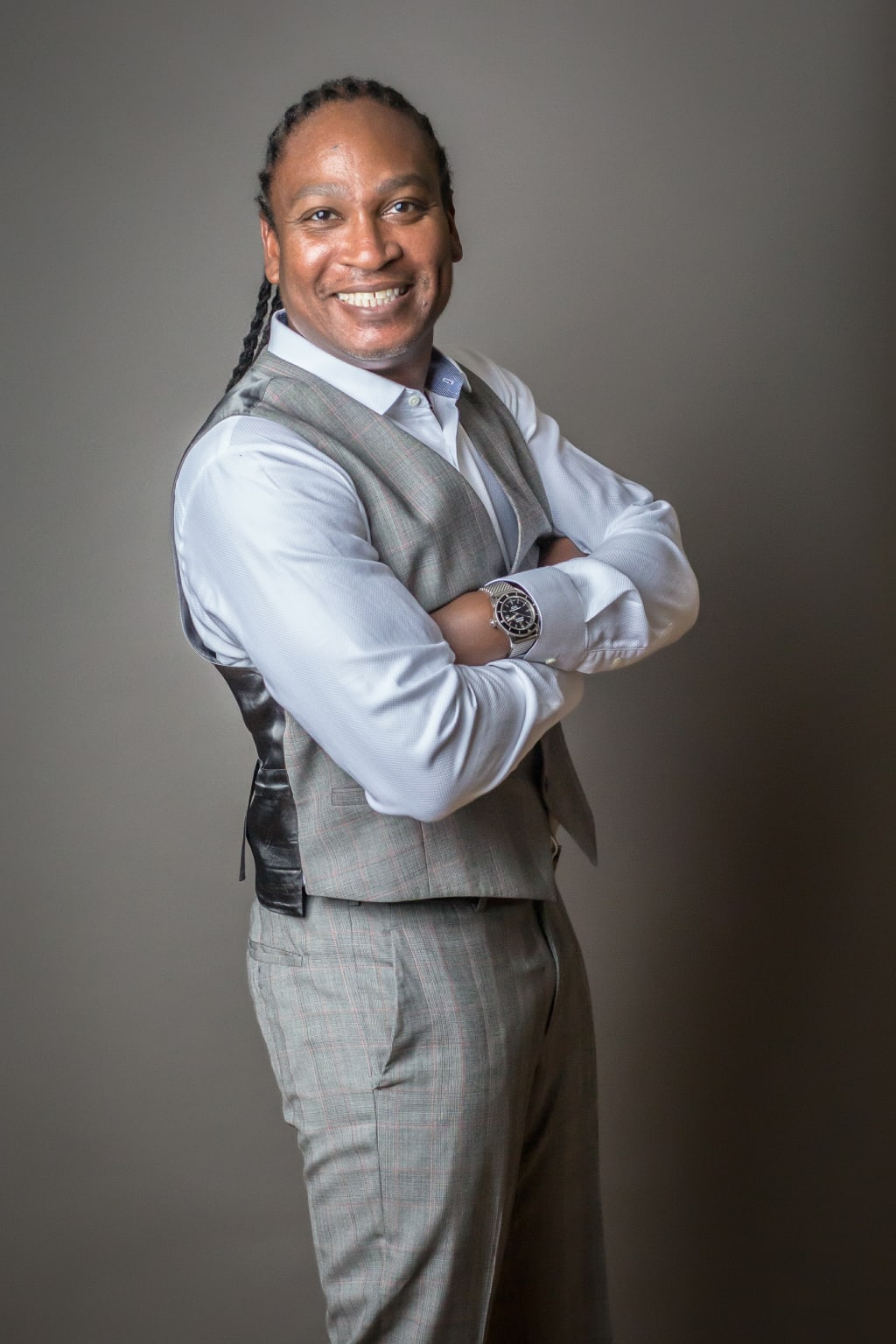 Tell us at Vocal about yourself and your experience as a Chef.
I am Cordell Robinson aka Cordell The Culinary Diva. I have been cooking since I was 7 years old. I grew up in a household of six kids and my mom worked two sometimes three jobs. She did not have time to cook all the time so we would have peanut butter & jelly, spam, or some other kind of quick meal. I began to watch my aunts and great aunt cook and I started to mimic what they were doing in the kitchen. I asked questions out of curiosity, and I knew I had a love for food. One of the things I noticed as time went on is what they enjoyed cooking (signature dishes). My Aunt Victoria's tuna pasta salad was a staple at family functions. How she edited her seasoning but not being afraid to make sure that the word bland would not come up in our family's conversations as they can be a tough crowd when it comes to food. I started with basic dishes like baked chicken wings and seasoned some canned vegetables. As I got older, I started doing more complex cooking. I made fried rice, egg rolls, meatloaf, spaghetti and many other things by the time I was 10 years old. At that time, we did not have the internet to depend on for recipes, so I went by taste and pictures. My brothers and sister seemed incredibly pleased with my cooking. When I moved in with my father, my stepmom cooked just about every day because my father did not eat fast food at all. He was a picky eater but knew good food. Diane my step-mom who I call mom was not afraid of his picky nature and delivered each time with dish after dish. She did not know I was paying close attention but I was, as I would watch her technique and style. I did not cook much there but when I had the chance I would. Later in college I cooked for my friends in exchange for them to buy the groceries because I could not afford the food, I really began to sharpen my skills at that point. After college I went into the US Navy and my first duty station was Diego Garcia. I got together with friends, and we would use a one burner electric eye or electric cooking pot to make meals. It was incredibly challenging, but it sharpened my skills to be able to cook in any kitchen. When I got stationed in Spain, it was a great opportunity to taste incredibly unique foods and try their style of food. The first dish I made was a Paella. It was exceedingly difficult as I had no idea what I was doing but once I did it a couple of times it became super easy, and I enjoyed the process and what I call "a labor of love." I had many cookouts where I practice the science of marinating proteins. I remember some friends were on this Jack Daniels kick so we marinated shrimp in Jack Daniels. I had to do a lot of editing because we realized you cannot just soak shrimp in Jack Daniels and it would taste good. When I left the Navy, I would find every opportunity I could to cook for people. I would get creative with dishes, go out to restaurants, and explore different cuisines to expand my palate more. I went out to eat alone many times on purpose so that I could focus on tasting the ingredients and seasoning. In my last home my kitchen was microscopic, but I would still pull off dinner parties for 50+ people and would have to cook in stages to get it all done in time. My friends would say "all this came out of that kitchen." I enjoyed that time creating dishes and more importantly, my guests enjoyed my food. I like to take people on a food journey to experience cuisines from all over the world. I am of Jamaican descent, so I do make a Jamaican inspired dish at least every other week. Cooking is a passion of mine and I like to share that passion with everyone. I the past few years I have been cooking for celebrities and corporations. I have cooked all over the world, Diego Garcia, Rota Spain, Sicily Italy, Crete Greece, London UK, Toronto Canada, Costa Rica, Puerto Rico, Tanzania, Zanzibar, and Paris France.
What are five words you'd use to describe yourself and your passion for food?
Spicy, innovative, precise, experimental, and creative
What made you passionate about becoming a chef?
What made me passionate about becoming a chef is one major thing. No matter what the conflict is or situation. Food is a peace maker, healer, and uniter. Good Food brings happiness. Not only does it take away hunger but it feeds the soul and creates endorphins that make people happy. I love seeing people eat and enjoy my food. It is such a great gift. It's both the gift of giving and receiving. I feed/give people food which brings me joy, and receive their happiness and appreciation for feeding them something delicious. Each morning I wake up the first thing I think of is what am I going to cook. I dream of recipes and techniques and then bring them to life. When that happens, I know that it is truly a passion. The kitchen is my happy space. It relieves stress and gets my creative juices going.
What are your career goals over the next five years?
My career goals in the next five years are to have at least 3 shows on network TV. Very unique shows that no one is doing now. Continue to create my global brand that will change the culinary world and how we think about food. Have my all-girls school in Zanzibar Tanzania up and running on all cylinders and working on another school, that will change how education is administered which I believe will help build middle class societies across the globe, while using culinary arts as the foundation because we all have to eat. Collaborating with other great chefs that are also doing amazing Philanthropic efforts all over the world to fix systemic issues and also provide support after natural disasters.
Are there any chefs you admire?
There are a few chefs that I admire. Bobby Flay, Jose Andres, and Ina Garten
What do you admire most about them?
1. Bobby Flay because he is not afraid of seasoning and likes spicy food like I do. Our cooking styles are very different as he is southwestern and I am Caribbean style, but the use of spice in just about everything with the ability to edit in a way to not over whelm or introduce people to spicy food in a way that is inviting. He laid back personality shows his love for food without taking life so seriously that stress is not an option because food makes it all go away.
2. Jose Andres because of his Spanish roots. After living in Spain for two and a half years I really have a love for the cuisine. It is a baseline for many Latin America dishes along with a mash up of African cuisine which as we know if you study your history the Moors ruled Spain for many years so the influence is very widespread throughout the world, especially Latin America. Of course, I follow his philanthropic/humanitarian efforts which I think are amazing because I can identify due to my philanthropic efforts.
Ina Garten because she edits her seasoning to perfection. I love her Hamptons lifestyle. No frills no fuss. She creates relatable food that is not too complicated but very delicious. She seems ocd like me which I love because that is a trait that shows perfection in so many aspects. She does not have to be a TV character created by the industry to sell her brand. It is very authentic. Her food is entertaining and speaks for itself.
What are some of the tribulations you have faced throughout the journey of your career?
Some of the tribulations I have faced throughout the journey in my career is that I climbing the ladder and working hard can be discouraging because you find out that there are people that say they are in your corner rooting for your success but they are not. I got over that quickly because I realized I do not care what they think how they feel, it's my career and dream. I have seen the good and ugly of the entertainment industry where there is a lot of shadiness and dishonesty. Being told one thing but the actions are completely different. In 2021, finally diversity to well-deserved chefs and cooks are being recognized. I am a black gay man and I was asked to show more personality in a shoot, and realized they wanted me to ramp up the stereotypical gay persona and act bitchy and what some may say super gay. I do not think that is necessary as my food speaks for itself. If I have to be a character to sell my brand then no thank you. I get showing more personality and being lively and upbeat but being inauthentic is not what I will do to sell myself. I have had to learn to take very harsh criticism which has made me a lot better. At first, I would get in my feelings but once realized, I can use it to grow and get better, and also form my opinion and clock bias feedback and utilize that to sharpen my skills. I have had to learn flexibility as I am very regimented and dealing with people that are spontaneous for planning an event or dinner. Changes at the last minute, and the infinite dietary restrictions, have helped me think on my feet in an instant.
What is your favorite dish to cook and why?
My favorite dish to cook is Jerk Chicken. Jamaica is such a small island compared to the rest of the world, yet it's cuisine, especially Jerk Chicken is known globally. That says something about it. I have had it in many different restaurants and homes and quite a bit of the times I have had it, I did not like it because there was a lack of seasoning/bringing, or marinating to bring out the jerk flavor. The jerk flavor would be too salty, sweet, or bland. That compelled me to perfect a recipe and then create quite a few delicious versions that still has my signature base notes in in it. Jerk chicken hits all of the taste components needed when done properly, crispy skin, sweet, savory, spicy, juicy, and umami. The spice itself if made right can go on many different proteins and even pasta and grains. I love its versatility. The flavor profiles can be adjusted for the different seasons of the year as well.
Is there a meal you enjoy cooking the least?
Thanksgiving turkey is the dish I enjoy cooking the least. There isn't a meal I enjoy cooking the least. I do not really like turkey even though I am very good at it. I have made all kinds of seasoned and smoked turkeys. I personally do not care for the taste of turkey. I think that it makes me more cognizant of how I prepare it to make sure it is delicious so that I can stand having some. I am not even a fan of turkey burgers or turkey sausage. I prefer chicken burgers or chicken sausage which I make some amazing versions. My Aunt Victoria made turkey burgers while visiting and I did not want to tell her that I did not like turkey burgers which was a good thing because she made a really good one and io learned a seasoning profile that I added to my chicken burgers, which you will have to get my cookbook when it comes out to get that secret ingredient.
What words of advice can you give other chefs of all ages?
Think outside of the box and do not worry about what the masses are saying and thinking. Do not give them what they want, tell them what they want through unique and innovative food. Think of every avenue you can think of to get your name out there for success. For social media, it is not always about the number of followers but the right followers. Never give up no matter what obstacles. Use failures as teachable moments and not moments of defeat. Keep an open mind and have the ability to take constructive criticism as a moment to grow. Always reinvent yourself and think of ways to bring something unique to the culinary world. Dream big and do not let anyone tell you that your goals are not realistic. Anything is possible if you are determined.
About the Creator
Has been writing for Vocal since Feb. 2021 covering lifestyle fashion and entertainment
Reader insights
Be the first to share your insights about this piece.
Add your insights