I Tried 5 Small Business Banks in 6 Years. I Only Recommend 2 of Them.
Which one will you use?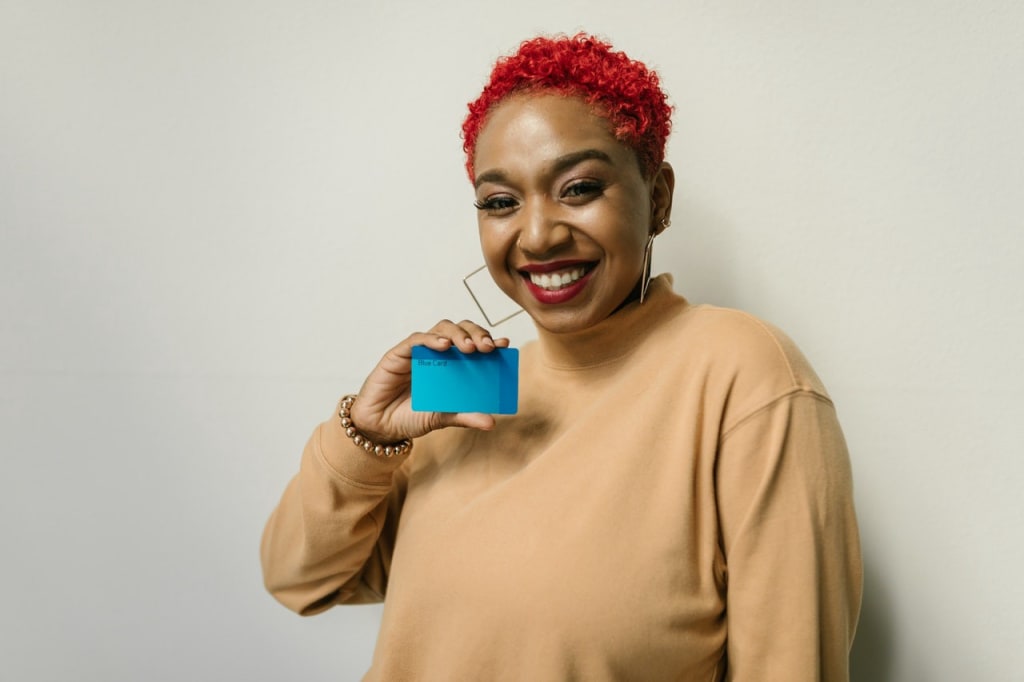 When you own a small business, who you bank with is one of the most crucial decisions you make. It determines how quickly you have access to your cash, the payment options available for vendors, and how you schedule payments for workers.
Unfortunately, most traditional banks don't serve the needs of small or micro-businesses. In some instances, you might not even make enough to meet their minimum balance or minimum transaction thresholds.
Thankfully, there are some banks that keep small businesses in mind. These are the five I've tried—including the two best business banks I came across.
1. Spark Business by Capital One
I opened a Spark Business checking account when I first launched my indie PR firm and never looked back. Five years later, I have two other accounts for separate reasons (I'll explain!), but this is the main account that I use to balance the books.
Pros
It provided a business checking MasterCard debit card that works well in America and overseas. There is also a credit card, but I never applied for one. I have no monthly fees, no minimum balance, and no fees for transactions over a specific amount. They were also incredibly easy to work with for receiving my PPP loan and processing the forgiveness.
My absolute favorite perk, however, is that if you have other Capital One accounts, the transfer is immediate. It doesn't matter if it's Christmas or a Saturday, once you transfer the money within Capital One, it immediately moves to the next account and is available for spending.
Cons
Capital One suspended accepting new accounts a few years ago. It then reopened with new terms. These seem to change periodically, so check before opening an account. However, it seems that once you're grandfathered in, you're golden. Sadly, there is no interest paid on your checking balance and it only allows domestic wires.
Recommendation
I love my existing Spark Business account, but I'm not a huge fan of the banking terms that are current as of December 11th, 2021. Don't cross this off your list, but keep checking back to see if Capital One makes changes.
2. Brex
Update June 16, 2022. I received an email from BREX today informing me that they are closing my account. They did not give a specific reason and I'm not sure how widespread this will be. I use the account several times per month and it held my construction loan, so I have no idea what could have prompted the closure.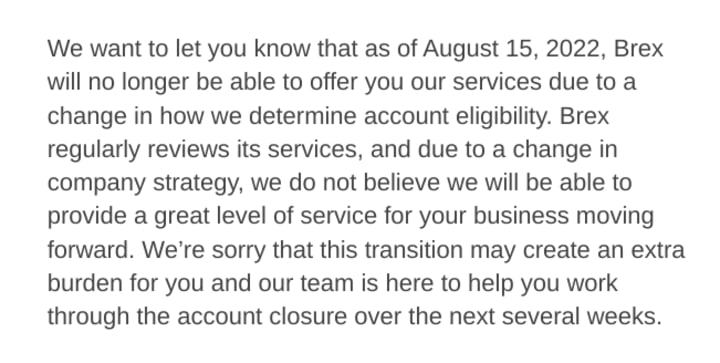 I opened my Brex account for one reason and one reason only: to build credit. It works similarly to a secured personal credit card. You put money into the account and you can spend up to a certain limit or use the account as a checking account. It then reports activity to the credit bureaus. Note that it withdraws cash funds for all expenses charged to the card within a day.
Pros
Nothing beats being able to build your business credit without putting your own personal credit at risk. I also loved that they issued cards in whatever names I wanted. If you have a pen name and want a credit card for it, this is the place to get it. There are no minimums or fees. It even has rewards for things like advertising and restaurants.
From a more hard-core business perspective, you can use it to track expenses and create reports. You can even create team access and integrate other apps into the system. However, I have never used any of these features and can't tell you how well it does or does not work. You can also make payments via ACH, check, domestic wires, and international wires.
Cons
You don't earn interest on your balance as far as I can tell. It says you can get higher limits on the credit card, but I have yet to figure out how.
Recommendation
I have this account so wonderfully set on automation to pay health insurance that I forgot I had it and regret opening the third bank account I now have. I just realized I have a referral code, so if you decide to try them out, please use it so we can both get a $250 Amazon gift card!
3. Mercury
This is my third and active bank account. I use it to manage deposits from a co-shared part of my business. It makes it easier for me to split profits without messing up the Spark Business account that I use to balance my books.
Pros
My absolute favorite thing about Mercury is that it allows international transfers. My second-favorite thing is its unique multi-factor authentication log-in process that requires a second app.
It has no minimum balance requirements, no monthly fees, no domestic wire fees, and no international wire fees. It has several book management and team management features, like Brex. I also like the clean user interface.
Cons
They asked for a lot more information than the other banks did. They pay nothing on your checking balance and pay a measly 0.001% on savings. There is also no option to build your credit.
Recommendation
Mercury is a decent bank and I do recommend it but not over Brex. Why? There are no business credit-building options. In fact, I currently see no credit card offers at all.
4. BlueVine
I chose BlueVine after reading a great write-up for them by NerdWallet. This was the original bank I chose for handling the payments from the co-shared part of my business income. The co-owner also opened a BlueVine account and we have since both closed them after multiple complaints.
Pros
BlueVine sounds great on paper and has a beautiful user interface once you finally get logged in. They are also the only bank that paid 1% on our checking balance, but they reduced this to half of that, last I checked. Payment options included ACH, check, and wire transfers. It just recently launched team options. It appears they also now offer business insurance via third-party arrangements.
Cons
The co-owner and I could write books on all the cons of BlueVine accounts. Here are some of the many we experienced:
The co-owner could not get into her account for the first month or so due to a system error that the company dragged its feet on fixing.
The log-in page was often down, so you can't get in at all or need to try a dozen times.
We sometimes had to log into our accounts twice, even when the website seemed to be working fine.
When you send emails requesting assistance, they take forever to respond—if at all.
They mishandled my second-draw PPP loan application, which caused me to miss the window Biden had created for small businesses.
The final straw: BlueVine started declining our payments to each other. So, after the third failed payment, we both created new bank accounts elsewhere.
Recommendation
The company once reached out to me to review it. I told the marketing person that if I reviewed the company, she wouldn't like a single word of what I had to say. Not surprisingly, I do not recommend this bank. At all.
5. Oxygen Bank
As you can probably tell, I really like trying out new banks, especially online banks. They fascinate me. This one started as my gas card because it gave pretty good rewards at the pump. However, I then noticed it had a business section.
Pros
Oxygen claims to make it easy to register your company as an LLC if you haven't already. It does so through third-party services. You can also count on no monthly fees and rewards similar to what I experienced on my gas card.
Cons
When I signed up for Oxygen, it had a beautiful app and website. Now, it's an ugly monstrosity and completely dysfunctional. After the change, I hated using the app and so I hated using the card and ultimately forgot my password.
But, the worst con of all, I applied twice for a business account and received neither confirmation nor a response. It's probably been about six months since then. Still no word.
Recommendation
Beauty is in the eye of the beholder, so you might like the aesthetic of their website and app. But, I would not trust a company that loses two business account applications from an existing account holder. What else would they lose? Your hard-earned business income? I will say, however, that I've had zero issues with my personal account--when I happen to remember the password.
If you're in the market for the best business bank account, hopefully, this helps you narrow down your options. Be sure to double-check what the current offering is for any account before choosing one. And, if you decide to try Brex, thanks in advance!
Want to see more articles like this from me? Pledges and tips go a long way. Thanks for reading!
Reader insights
Be the first to share your insights about this piece.
Add your insights