How to Get Rich Faster
By: Side Hustle Bible
To begin with, I deem it appropriate to address the issue that we all are facing as a global community; the well-known pandemic COVID -19. The disease has affected over 550k people worldwide and has claimed 27k lives. Just the figures should ring the bells if you have yet not taken this seriously. Today, it is more important than ever to be cautious and take the utmost care to stay safe.
Below are some easy ways to help stop coronavirus from spreading:
1. Hands – wash them often
2. Elbow – cough into it
3. Face – don't touch it (unless sure that you have washed your hands)
4. Socialize – keep a safe distance while meeting anyone (ideally six feet)
5. Home – stay indoors unless extremely necessary to leave the premises
For those who are new to the blog, I want to thank you for joining me for week two of our 2020 blog series; if you didn't get a chance to read previous weeks' blog, I highly recommend you check that out as well.
A Quick Introduction
My name is Tre Moone, the sole founder of Side Hustle Bible, a rapidly growing Instagram page. Creating and growing this page has helped to turn $15, which I made from my first Fiverr gig to $2.3k through Instagram services, promotion, and affiliate marketing. For those who are wondering how I was able to accomplish this? Don't worry; I will cover that at length, a little while later.
I have started this blog because I feel it's my time to give back to the community. I want to provide hustlers from all over the world with the proper resources, tools, and knowledge; all the things that they need to achieve financial freedom in the money cramped crazy world we live in today.
I feel that everyone deserves the opportunity to not only follow their passion but along with it create financial freedom for themselves. Therefore, I will be providing you with the motivation, resources, tools, and knowledge; all that is needed to reach your goals, but without a dent in your pocket.
However, there is the option to leave donations to support this blog, but it's a choice, and you're not obligated in any way to do so.
This Week's Instagram Post
All of us want financial freedom and or be rich. But how? That's a different thing. The post this week that we are focusing on is one of our most recent post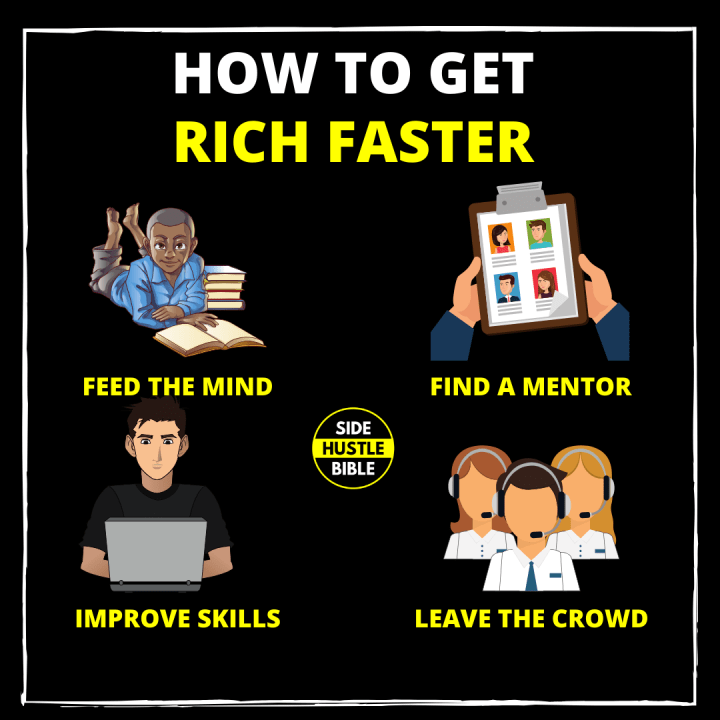 How to Get Rich Faster"?
I'll tell you how. Below are a few steps that you need to take to pave your way towards financial freedom.
1. Feed the Mind
Everything you read or learn fills your head with new bits of information, and you never know when it might come in handy. The more knowledge you have, the better-equipped you are to tackle any challenge you'll ever face. Additionally, here's a bit of food for thought: should you ever find yourself in dire circumstances, remember that although you might lose everything else—your job, your possessions, your money, even your health—knowledge can never be taken from you.'
2. Find a Mentor
"If I have seen further than others, it is by standing upon the shoulders of giants." Isaac Newton
In other words, mentors extend vision, enable proteges to attain greater heights.
They provide ideas, thoughts, and insights that challenge and enable you to see beyond your sphere of influence. Mentors amplify your vision by elevating your thinking capabilities. Mentors elevate you by making their shoulders your platform. While they prop you up, it must be remembered that this demonstration of trust should never be abused as their extension is a critical validation that will eventually open doors and grant you access to opportunities beyond your circle.
Mentors refuse to let you settle on your oars and invariably challenge you to go farther than you could possibly imagine. They pat you for successes, make you learn from failures, and in doing so, push you far.
Mentors set personal examples and use their stories and perspectives to paint a picture for you to know what is possible. They support you and teach you to believe in yourself. Invariably, building you up for more than you ever thought was possible.
Lastly, mentors never give up on you. They never quit believing, encouraging, and engaging their protege. Great mentors set an image of their proteges on work on them until the image becomes a reality.
3. Improve Skills
Lebron James owns millions of dollars, has won two cities NBA championships, broken countless records, and has excelled in numerous business opportunities. But all this haven't made him take things for granted. He still gets up before the sun to sharpen his skills and improve his craft day after day. Apply this to your life. You can always improve no matter how great you already are; there are still new barriers to break, and challenges to take on.
4. Leave the Crowd
Every entrepreneur starts with big dreams and excitement. As an entrepreneur, you control your destiny, and with the right ideas, the right set of skills, and an unflinching dedication, you can make money or establish an enterprise to serve as your legacy.
But you must realize as an entrepreneur that there are sacrifices you ought to make, and one of the biggest is leaving the crowd. What that means is:
• Work on your side hustle while others party
• Learn while others play video games and enjoy Netflix
• Invest while others are getting crazy about branded attires and accessories
• Workout while others procrastinate
• Discuss ideas, while others discuss people
These small things separate a millionaire mindset from ordinary.
Week's Instagram Tip: Viral Content
Viral Content
Going viral is that one thing that can make you go from a couple of followers per day to the 1000+ per day.
Create Controversy
Controversy leads to emotions which in return leads to action. And with emotion viewers are more likely to rush to the comment section and give their two cents, resulting in a boost of engagement.
Rely on Reliability
When someone can relate to the post, they are more likely comment, save, and or share the post. Resulting in an increase of engagement and chances of your post going viral.
Nudge with a Negative Vibe
Posts that give off negative vibe seem tend to get a lot of exposure and attract more engagement, for the simple fact that people are more likely to reply and express their thoughts.
Hone the Humor
Humor has and will always increase the chance of going viral. But the key is to provide valuable combined with entertainment.
This Week's Featured Post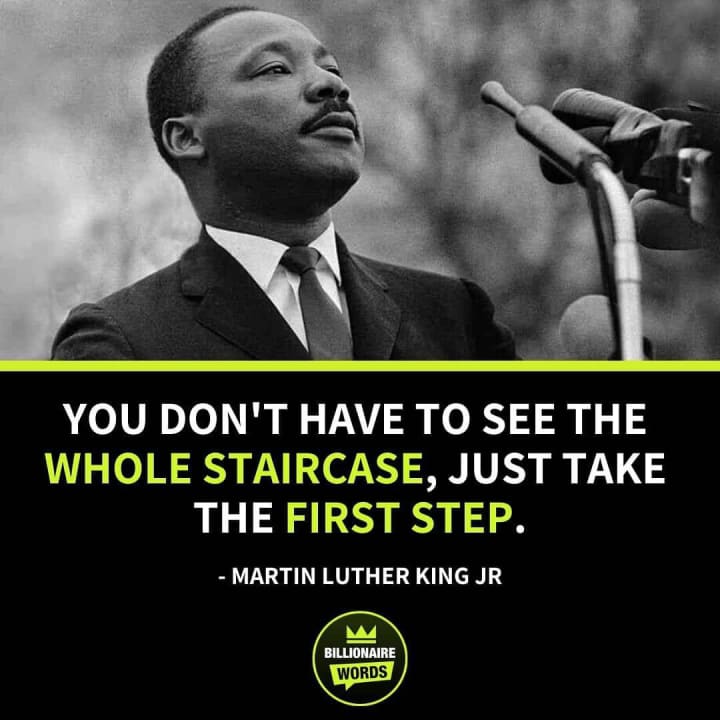 What if I told you that at the top of a staircase was everything you ever desired? You would you immediately start climbing, right? Now, what if I told you that the staircase has three thousand steps? Would you keep going, or would you think "three thousand steps, no way I am doing that."
The truth is life is that simple; everything you want is at the top of that staircase, the only problem is, we don't know how many steps there are. It could be five or five thousand, but all that matters is that you take at least one step towards the top a day.
They say, 'If you are going through hell, keep going; you'll reach the exit gate.'
The Upshot
I want to thank you for taking the time out of your day to read this post. You should thank yourself as well; action takers rule this world, and today you took an additional step forward.
STAY SAFE AND STAY HOME!
Inquires
Want to Be Featured in My Next Blog?
Need Content for Your Social Media Account?
Want to Learn How to Grow on Instagram?
Then Reach Out to Me via:
Email: [email protected]
Instagram: @Sidehustlebible