How Queen Found Her Way Out Of Turmoil And Became A Millionaire at 22
This is the story of a girl who didn't know that her way out would come through social media after her life fell apart in front of millions of people.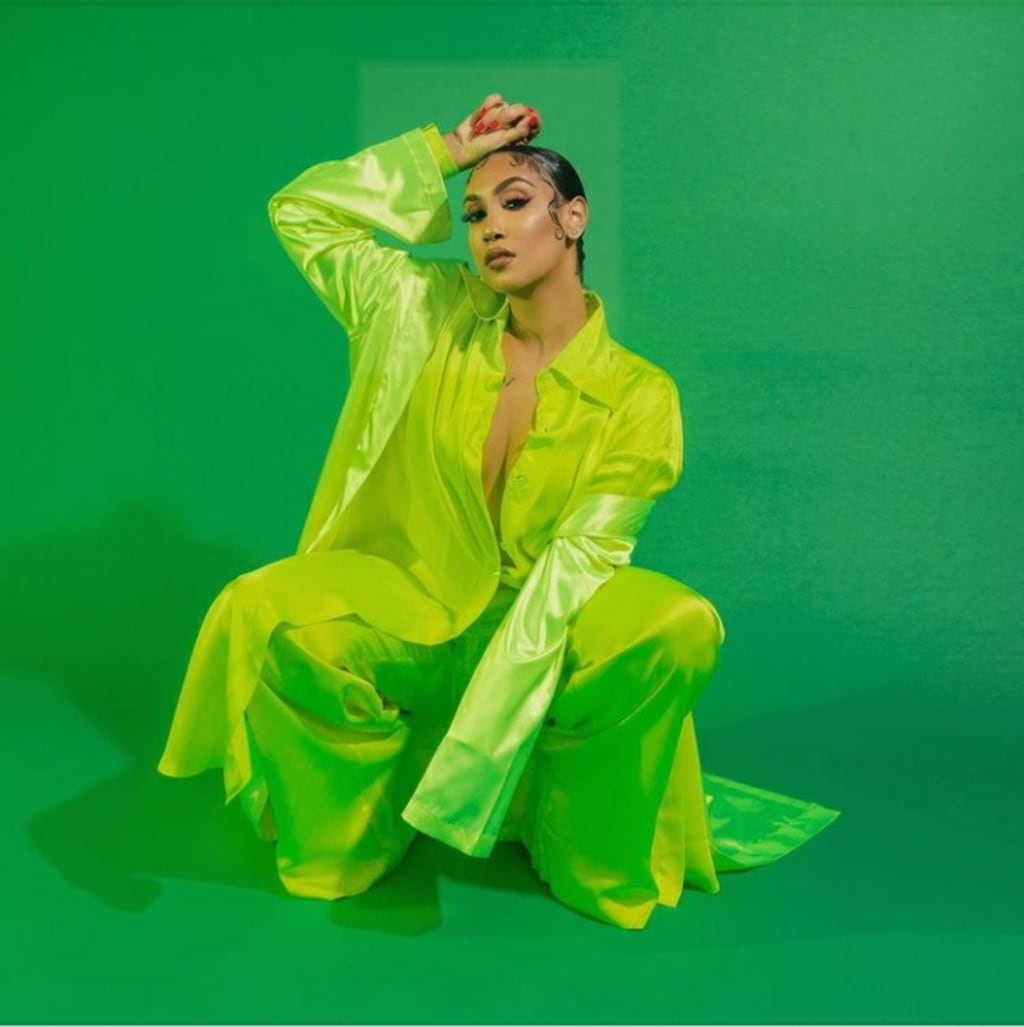 At the you age of 25, Queen Naija's story is an inspiration to women around the world. She brings hope and a breath of fresh air that there is a light at the end of the tunnel and no matter what you want in life, hard work and dedication will always be your way out to victory!
When you hear someone being called Queen you think, wait is that her name or is it a nickname or alias? I was one who thought the same but as I tuned into her videos i quickly learned why this sweet, wonderful, humble young lady is a true Queen and deserves all the blessings that she receives and more.
The Healing Of A Queen
Over 12 million people know and love the radiant, good hearted Queen Naija and support her by following her Social media platforms. But I had no idea who she was. I first heard of her at the end of 2018 after she had gone through all the pain and started her healing process. So let me walk you through this triumphant story of a brave young woman who turned her trials and tribulations into a success story!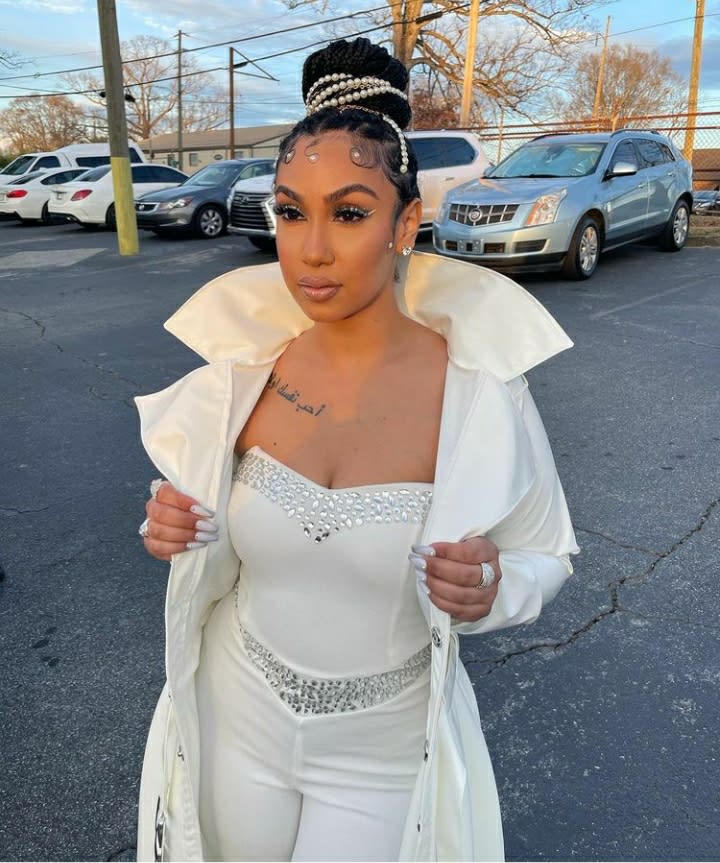 Queen Naija Bulls is an influential Youtube star born on October 17, 1995. Professionally known as Queen Naija, is a singer, songwriter, and YouTuber. Her mom is African American and he Dad was from Yemen.
Born and raised in Ypsilanti, Michigan, she started out her career as a vlogger on YouTube. She blessed the world with hits such as, Medicine, Karma, Bad boy, Butterflies, Mama's hand, War Cry, More Love Pack lite, Bitter, Love Langauge, I'm Her and more. She released her debut album Missunderstood in October of 2020 and felt the title was perfect because it explained how she felt most of her life.
Her mom also known as Momma Love named Queen after her Grandmother whose name is also Queen and said she knew she was a star when she heard her harmonize with her to the lyrics, " ... you're all i need to get by." And as Queen sang it word for word, Momma love says, "oh wow you just harmonized, you're gonna be a star!"
Queen then got an opportunity to participate in season 13 of American Idol in January. And ended up conceiving that following Summer at age 19. Then secretly got married because she was trying to right her wrongs.
Momma Love was disappointed when she found out Queen was pregnant at 18. She said to Queen, " you wasn't supposed to be like this, you were supposed to do career, marriage then a baby".
VIDEO: A Way Out... The Start of Queen Naija's career in Detroit.
Pregnant And Married After High School
Queen felt like she couldn't catch a break. After finding out she was pregnant she wanted to get a job to help make ends meet before her baby was born because she didn't want to struggle. She got fired from her job the second day of work. She ended up sneaking off to get married but kept it a secret until the topic of counseling came up at the church that her family soon found out that Queen had already gotten married. Her mom as livid.
Queen said they were trying to do what was right since they had already had the baby. Her and Chris used to sleep on a mattress on the floor with baby Chris. This went on for a while until they decided to take a chance and pursue Youtube.
To her surprise fans really liked them as a couple and they gained a ton of followers rather quickly. Some of whom loved to hear Queen sing songs and melodies.
While millions watched her husband frequently put her down and belittled her and saying multiple times on camera that she's not talented and can't sing, even making fun of her weight and mom bod after giving birth to their beautiful son. Could it be that he was threatened by his wife's gift?
A Broke Star in A Broken Marriage
Queen and ex's youtube channel had grown to almost 3 million followers. I remeber her saying their first even youtube check was $535 and the second one was $8,530. Those numbers were looking good to Chris. So good that he only opened an account for him and I guess as his wife Queen went along with it.
As stated in her recent music video, " Too much to say" she did things she wasn't comfortable with just to keep the peace in their home which they brought in Texas when their video would get over 500,000 views and well over a million within a day of posting.
She was embarrassed in her relationship publicly on social media several times at the hands of her violent abusive ex. These accusations will later show to be true in the next coming months when she would appear with minor bruises and looking distraught and not into vlogging at all. Then one day a video surfaced of her ex in a club talking with some girls....He kissed one of them. The next day the girls came out with a video spilling all the tea and details of what happened that night.
She never ever bashed her ex. Not once even though he was shady to her on multiple occasions.
Even cloutchasing off her name when his views plummeted after their breakup. He was trolling her basically everyday borderline narcissist / harassment. Fans began to see he was hurt, pretending to miss Queen or rather the millions of views their relationship got them.
Video: Queen Naija- Too Much To Say. Finally exposing her ex and addressing the allegations. The world was stunned but in the lyrics she said, "no matter how it gets my heart will never change."
Perservering after Hardship In Detroit
She wrote her song Mama's hand in 2018 in Lincoln Park, Michigan And while finally gaining strength to take her vocal gift and talent of writing serious with the help of her family and friends Ar'mon and Trey. This song has some amazing lyrics and showcases a mothers love for her child. There's no way anyone can watch it without shedding a tear.
This video has reached 25 million views in just two years. It has touched the hearts of many because of its beautiful lyrics of pure love.
Here's some of the responses from youtube of some that were touched by this song.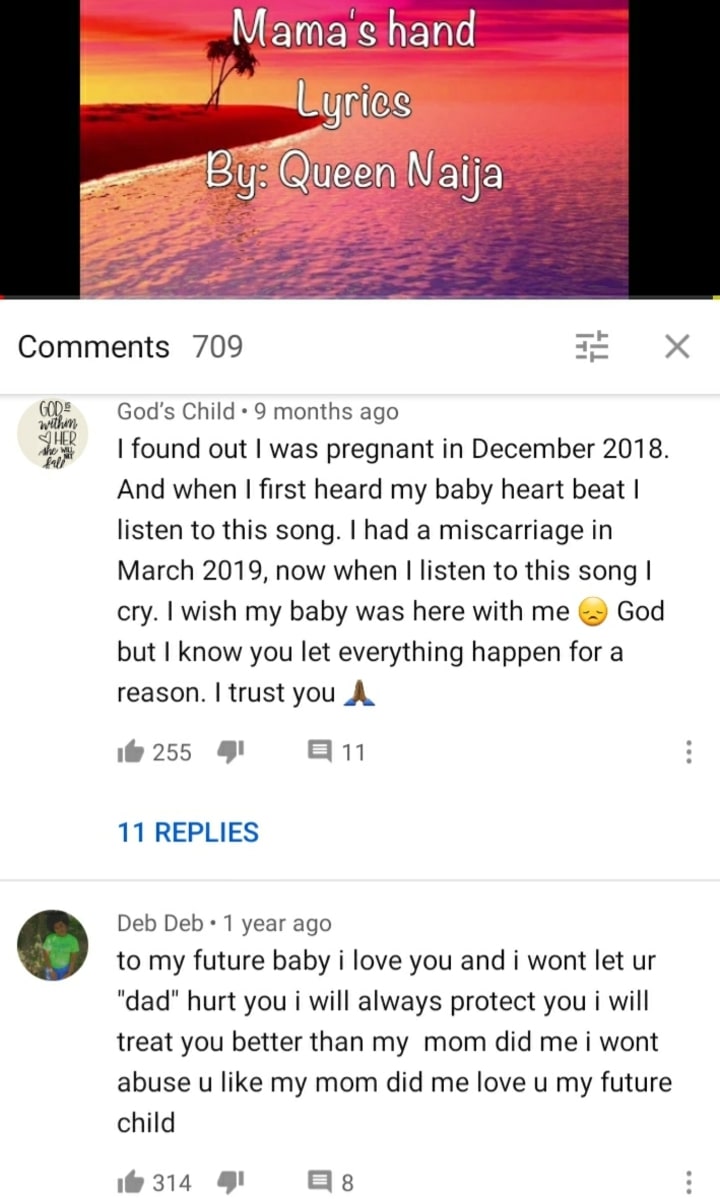 Queen naija was gifted with the ability to take you on along with her story of words. I love the lines below from Mama's hand...
Chorus
And I promise to give you everything that I have,
there's not a dream in this world you can't accomplish or grasp
I will cross any ocean before I let you land
Just hold on to mamas hand and never let it go
Verse 2
I'll never let nobody hurt you
Give you the world cause you deserve it
Teach you how to treat a woman
Let you know you're gonna be something great
I want for you to shine so bright
Knowing you can do anything through Christ
I see that there is a star inside you
I'm so glad that you're in my life
It was at this moment when the song came out that the world realized that she as no longer cottling and protecting her ex's negative bad behavior dispalyed for the world to see ( from getting arrested, leaving baby Chris with randoms and abusing his girlfriends he gets every 3 months) and telling her son I'll teach you how to be an upstanding man because at the end of the day I am you mom and I love you so much that there's nothing I wouldn't do for you.
Video compilation of Queen and Chris...
Ex-Tracted Past Relationship Trauma
Queen and Chris were trending. Their subbies were furious with Chris when the video surfaced of him cheating yet again. But this time it was out in public at a nightclub. Although Queen took her ex husband back many times before this time was different. Queen's energy shifted in their videos. SHe had a sad look that was present for weeks leading up to this cheating scandal and she had enough.
Following the incident they set up a counseling session with funny Instagram comedian Lala Milan and while Chris clearly didn't take it serious, Queen sat barely talking or looking in his direction. You could see that she was ready for it to be over and looking for the nearest exit.
When Lala asked Chris would he ever cheat on Queen again and as a married man and father of their son he said, " i dont know." My heart instantly broke for her. In that moment I wished I could give her a hug to comfort her because I knew how it felt to be humiliated. Queen moved out of their home after the interview they had on their channel and left with nothing but her son, forcing her to start over from scratch.
Thus, this was maybe the second video i had seen of her a year after they had already been broken up. I was intrigued by her comeback success given that a year before she hadn't even had her own money or a bank account in her own name.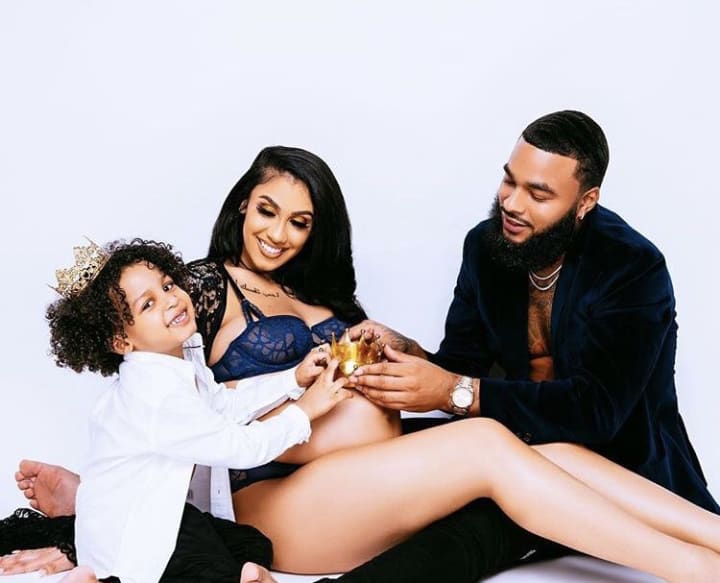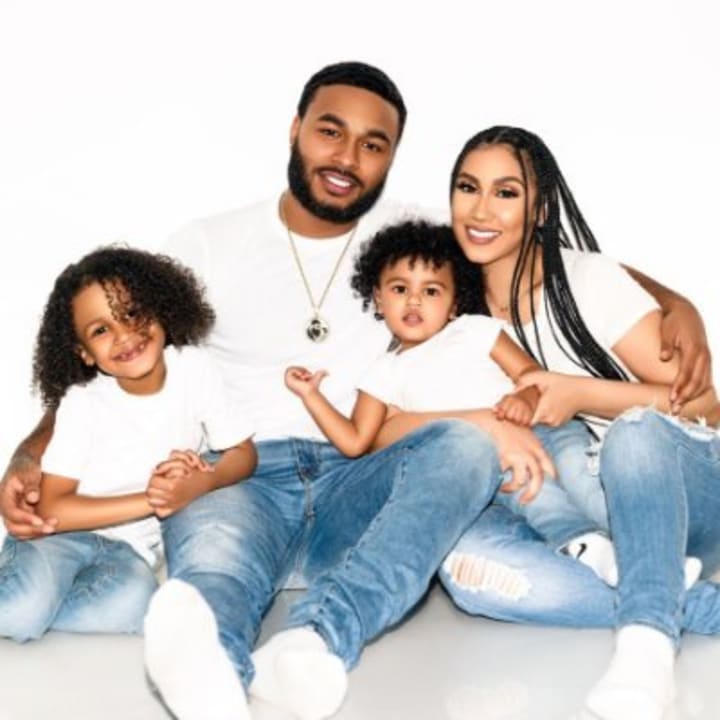 From Social Media Downs To Ups
Social media took to the comments section on Youtube and began to turn their back on Queen and spew hate on this woman. They didn't care about her failed marriage that left her broke and with a toddler. They were too selfish and only thought about how they sat for endless hours watching content from her and her ex that at the end of the day only benefitted him .
One day Queen was on Instagram and noticed a handsome guy on her explore page.
Her and Clarence began to DM one another. Queen was looking for a listening ear and Clarencenyc was in a dwindling relationship. The two showed receipts and they never flirted and kept it cordial and respectful of their partners and didnt do anything to jeopardize their current situations. Despite rumors she took a trip to New York with her besties and met up with Clarence in the Bronx where he lived.
After they did a few videos together her fans were on board because they got to see a different side of Queen that they hadn't seen before. Was Queen changing or was she someone else when she was with Clarence?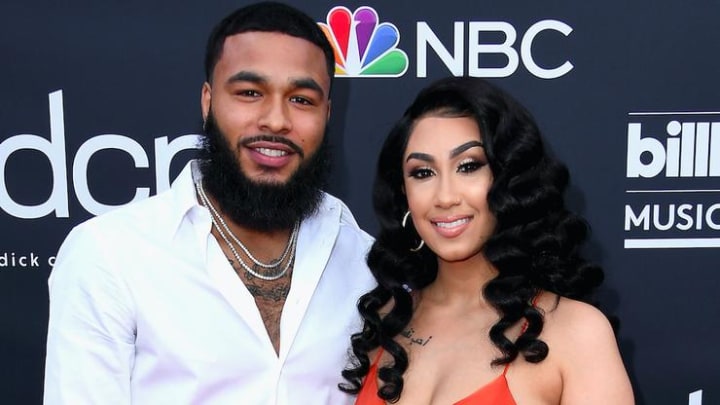 Picking Up The Pieces And Healing
As she began to heal on their journey of love it was so hard yet so relatable seeing Clarence compliment Queen and her not being able to trust in his words and yet still finding fault in herself.
Her fans watched her struggle in vlogs when she didn't want to show her face when she woke up and Clarence would say don't hide you face Queen your beautiful. Or when she would wear an outfit and put her hand over her belly and call herself fat, Clarence would say countless times, no you're not, you look good and I love you just the way you are.
At this point in their relationship there was no way Clarence could still get compared to her ex because by now her fans saw how genuine and sweet he was to her. There wasn't a rude or distasteful bone in his body and seeing them at his moms house with his siblings they all had the same energy and it was clear as day that he was raised right.
Videos: Moments of Queen and Clarence.
The Queen Found Peace in NYC With Her Instagram Crush
In October of 2018 Clarencenyc Tv gave Queen the best birthday ever!
Although Clarence's demeanor is so chill and laid back it was as if he couldn't do anything right. People would spam the comments with I miss Chris and Queen, They gave him so much backlash and negativity no matter what he did for his Queen. They accused him of cheating on her and treating her son like he didn't like him. It was as if they wanted him to do the same thing to her that her ex did.
So on her birthday as you can see in the video Clarence documented days before her day of how he planned it out for her. Queen had no idea of just how thoughtful this King truly is and what he had in store would leave her amazed.
The way this man took it upon himself and made it his duty to uplift Queen and mend her broken pieces was so beautiful to see especially knowing of the horrific past she dealt with and the body shaming of her ex. It took a while for her to come back from that and she continued to fight through it years after.
Video: Giving my Queen the best Birthday Ever!
Dreams Come True In N.Y.
On December 17th 2018 there was Pandemonium in Times Square generated by Queen at 22 years old. Fans surrounded her and pushed the police officers as they tried to get a glimpse of the Queen her self and sing her song lyrics to her After a while it was mayhem. They had to get out of there. Queen along with Clarencenyc tv, his brother (Bodyguard) and sister Lee (Queen's manager), and upcoming Bronx rapper Moddagod.
The whole team jumped into a random persons uber and the woman was kind enough to let them ride with her . She had no idea who she was. The uber driver asked who are you why are people going crazy ans Clarencenyc replied she's a music artist. Queens face lit up on the screen. The way he uplifts this woman and helps her feel confident and supports her dreams is the reason why God brought them two together,
People chased their car for blocks and banged on the glass what she was made of she realized then they caught up to the car. It was scary but Queen finally realized all though at that point in her career she hadn't shown the world all that she made it. And she had the man of her dreams right by her side who gave her the courage to make it all possible.
V ideo: Queen and Spicy Gang Shutdown N.Y.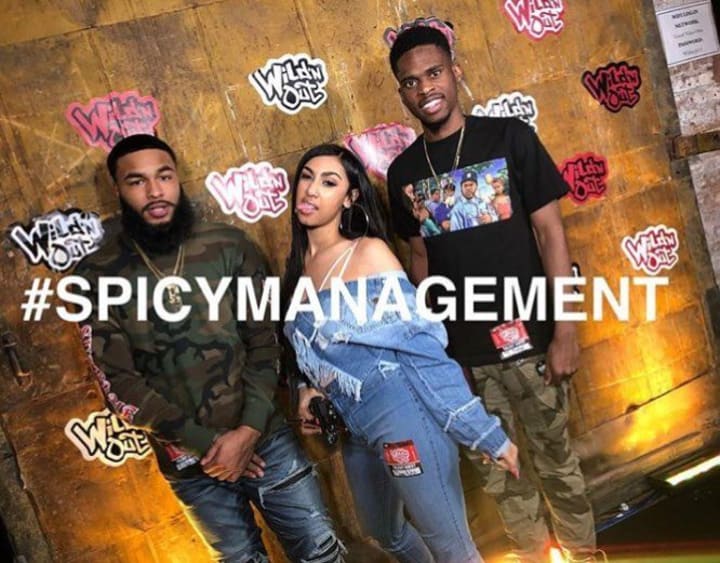 A New Year's Eve Story That Made History.
On December 31, 2017 Queen released the song Medicine. She has fellow youtuber D Rock play her ex in the video who had curly hair like ex. Everyone knew instantly that this song was about Chris.
This made it juicy and the talk of the internet waves and only showed her fans that she was finally healing and comfortable to talk about her pain and no longer held in bondage by her past. She used it as a stepping stone and came out on top in the end. The lyrics said all she wanted to release and leave in the past and more...
Video...Medicine topped the charts at number 1 and 250 million views to date!
Medicine Healed A Broken Heart
Queen Naija wrote her chart topping hit song Medicine in Houston, Texas which was an instant hit and debut at #1. She was in the studio with her friends/Youtube brothers Ar'mon and Trey whom she always sang with on her channel as well as theirs. They all grew up singing together in church and Trey would encourage her to go to the studio and record her songs because he felt that women would connect to her heartfelt lyrics. After the success of medicine, she followed up with another smash hit titled, Karma.
A snippet of Medicine...
My intuition never lies
There's nothing you can ever hide
Already got the screenshots So there is no need to deny
You been creepin and freakin and sneakin
Like you'll never lose me
Steady claiming that everyone know we together
But you steady choosin
Swear I cannot win for losin'
I been out here being faithful
I always got this on lockdown
But that ain't been keeping us stable
So I guess I know what I gotta do
Give you a taste of your own medicine, hey yeah
Chorus...
How would you like it if i do the things you do?
Put you on do not disturb and entertain these dudes...
Royal Family
Queen, Clarence and their two children started their Royal Family channel in July of 2018. While they awaited their baby boy Legend. Queen documented her first tour kicked off in New York while she was seven months pregnant. She finished the tour strong a few days before she went into labor. Baby Legend was born about three weeks after the tour ended.
Video: Royal Family Vlogmas
Conclusion You see I'm a firm believer in one mans trash is another man's treasure and in this case when Clarence was blessed to find Queen, he found royalty!
Th
Queen's Tenacious Spirit
I admire her for her Tenacity. She never gave up no matter how many times she hit rock bottom or how rough it got she pushed herself for her son. When asked by Entertainment weekly, " what do you want to say with your debut album?" Queen stated, " I'm just really trying to say that I'm more than a girl that's been cheated on. I've been heartbroken, but I've been through more than that, and all of those things built me. I've remained the same throughout my whole life, I had the same heart no matter what I've been through. I also want people to recognize my versatility and talent." If that ain't inspirational than i don't know what is.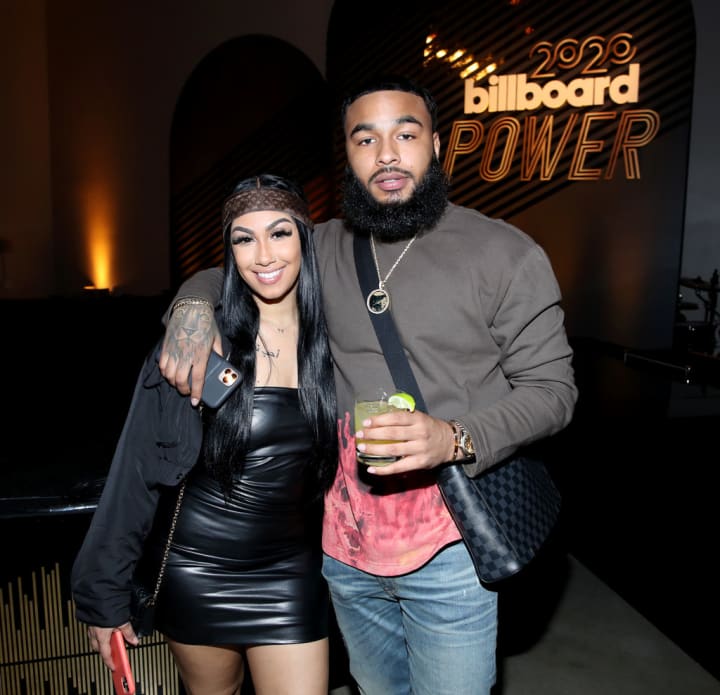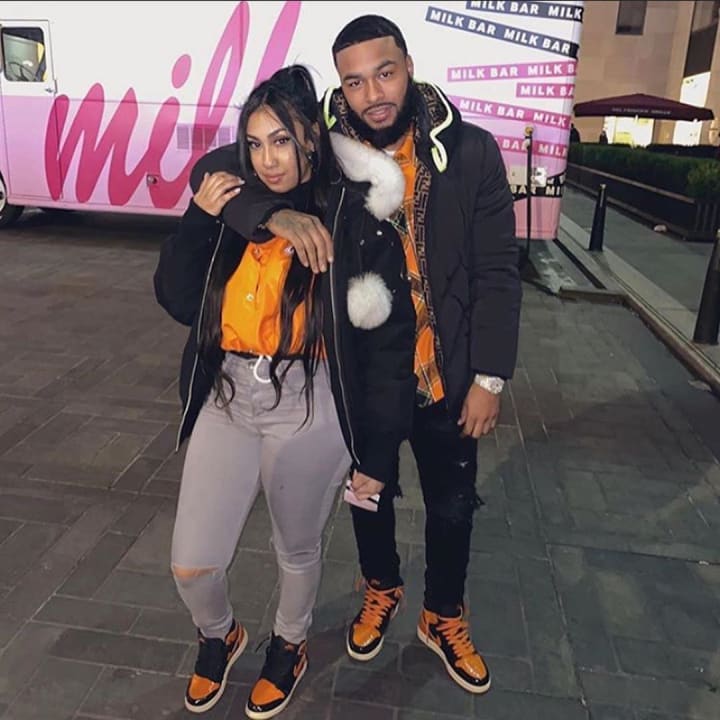 celebrities
About the author
She expresses her gift of writing through each piece. She studied writing in college and has been inspiring people for 20 years. She gives back to the community & enriches them with enlightenment. Philanthropist, Empath and Nature lover.
Reader insights
Be the first to share your insights about this piece.
Add your insights