Fastest Female Amputee in the United States
US Paralympian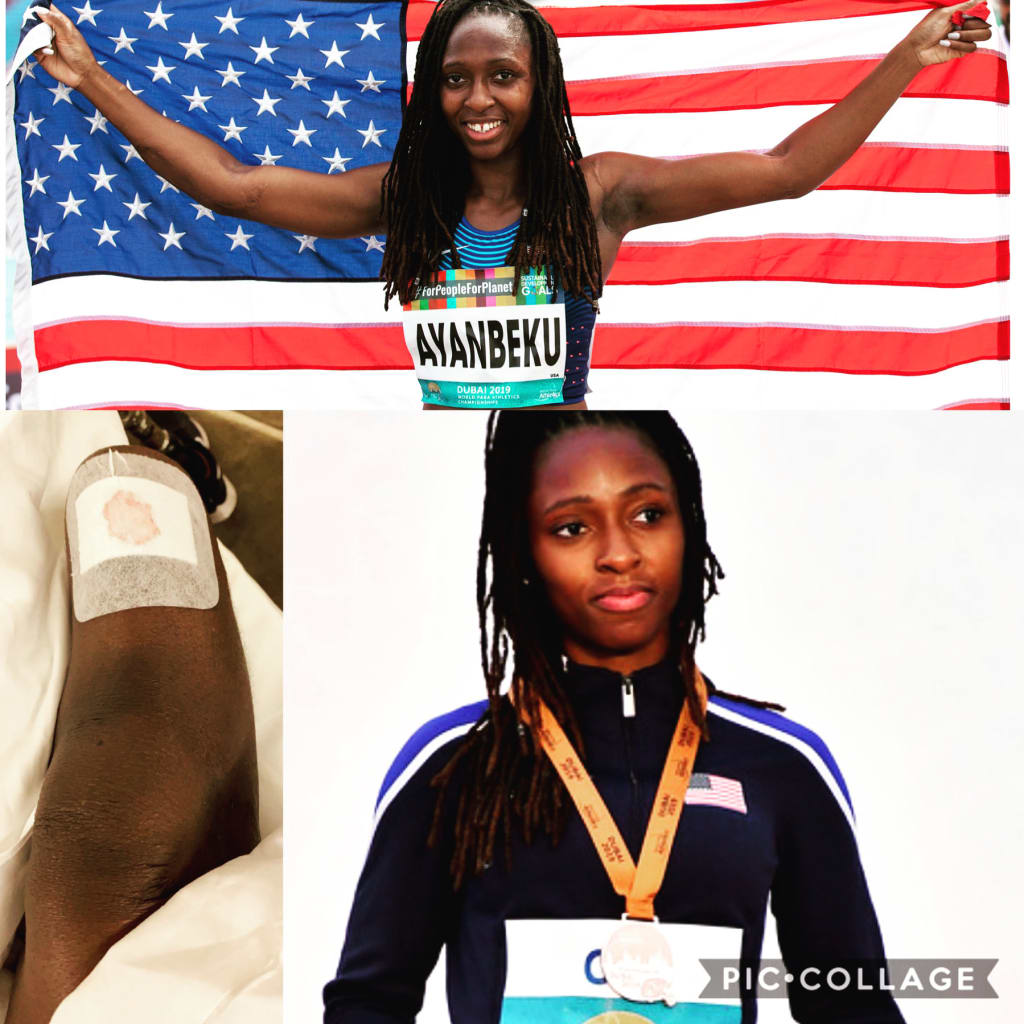 Hello everyone, my name is Femita Ayanbeku and first I want to thank you for taking the time to read this entry, I have so many stories for you all but I will start with my most recent.
I want to start by telling you that I am a professional athlete that happens to have one foot. I was in a car accident when I was eleven years old that resulted in the amputation of my right leg below the knee (that's a story for another day). So anyways, I just got back from competing in Dubai for the Paralympic World Championships representing USA. Now, if you took a second to look at the collage that I added you will see my bandaged stump and then a picture of me wearing a medal, and this is where the story begins.
After being in Dubai for about a week, I was feeling pretty good up until two days before my first competition and that's when the chaos started. The medical team had been helping me take care of this blister that was on my stump for a few days, but with competition so close we needed to get rid of it NOW. So the day before my competition we had to do some surgery; well they had to cut it open, but for me it felt like surgery. Once the treatment was done I was physically and mentally losing myself. I was limping around the hotel and I could not get out of my head about how I was going to run this race with an open wound on my stump. If I am being completely honest, I was ready to just say I'm done, so I knew I had to talk to some people that would get my mind back. The night before my first race, I called my coach from back home and he reassured me that we have worked for this moment and I cannot let this mishap deter me from the ultimate goal.
So the next day I went out to that starting line for the 200m race and I did all that I could in that moment, and that moment led me to a bronze medal! Of course everyone wants gold, but when you are dealing with physical and mental barriers, the best thing you can hope for is executing your race, and I did exactly that. So don't let my title fool you, I am the fastest female amputee in the United States but I am also still human.
This entry is for anyone that thinks there are obstacles in their way; those aren't obstacles, they are stairs to elevate you to exactly where you SHOULD be. Push Through and Execute YOUR race!