Couple teams up to support Troops in harm's way.
The Starks wanted to thank U.S. Military members for the freedoms they defend.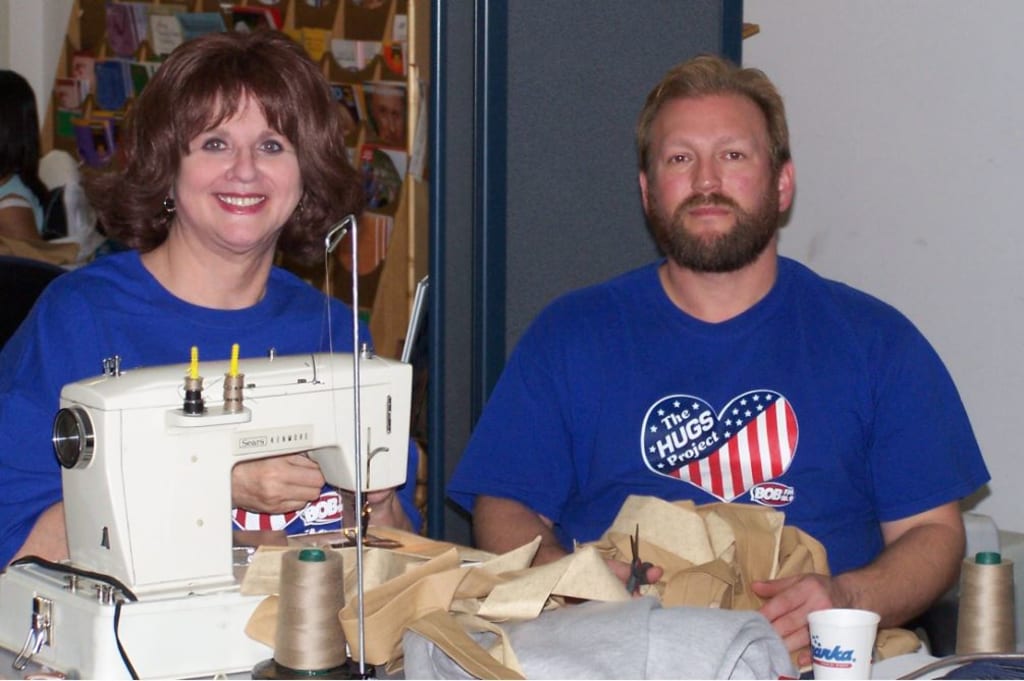 Karen and Ray Stark, founders of The Hugs Project
18 years ago, a woman who hadn't sewn for more than 40 years began a nationwide sewing project. In the '60s, as a farm girl in Oklahoma, I made an apron in 4-H and a skirt in Home Ec. That was the extent of my sewing skills until years later when I learned that America had deployed Troops who were dying from heatstroke in Iraq where temperatures often rose to 130°-140°+. In June 2004, I read an article that told of a Soldier who, after standing guard duty, collapsed and died from severe heatstroke. She left behind a 2-year-old daughter. That heartbreaking story compelled me to try to find a way to help. Research on the internet pointed me toward a possible solution. I found directions for a simple pattern for making life-saving cooling ties that could reduce body core temperatures by 7° or more. The article said they were helpful for golfers and gardeners, so why not for our Military?
"Honey, get in here. I know what we can do to help our Military!" I yelled. My husband, Ray was in the Military stationed in the Middle East during Desert Shield and Storm, so he knew firsthand the environment over there was brutal. He replied, "I didn't know you could sew. Do we even own a sewing machine?" I had to answer "No, but I can ask people to help me". And with that, The Hugs Project was born. Ray and I organized people who could sew in our community around Oklahoma City and then, through internet groups, across the U.S. Groups sprang up in places like Longmont, CO; Paducah, KY; Elkhart IN; Ocala, FL; and Austin, TX. Patriotic people took to the idea that they could make a difference. Boy, did they ever!!!
To date, The Hugs Project's members have sewn and sent out over 8 MILLION cooling ties which we call "HUGS" since they go around the neck just like a real hug. We tell our Military, they all deserve a hug. Our volunteers have also sewn thousands of water cooler bags that use the same principle as the cooling ties. Tens of thousands of neck pillows, shower caddies, and hanging soap holders have been crafted and sent to waiting Troops.
One of their favorite items originated when a lady sent us the wool Army blanket used by her father in France while he was a member of the Third Army during WWII. Hugs volunteers cut that blanket into many woolen scarves which were then distributed to Army Soldiers stationed in the cold mountains of Afghanistan where temperatures often drop into single digits in wintertime. We attached a note telling the story of the blanket and how special it was. I'm sure those scarves were lovingly packed up when the men or women receiving them came back home.
The Hugs Project also ships care packages full of needed supplies to Military members in all branches. Marines, Army, Navy, Air Force, National Guard, and Coast Guard have all been touched by the caring members of our nonprofit. One Marine mom asked me point blank, "Why are you willing to help my son? He's from Utah and you'll probably never even meet him." I responded in the only way I could, "Why is your son willing to go into harm's way for me? He's not likely to meet me either."
Our Military members work long, hard hours in grueling conditions and often for little pay or respect. I believe they do it because they love our country and have a strong desire to keep us safe while bringing freedom to other nations.
This year, we shipped to a remote base in Alaska because the Chaplain called to let us know they had active Covid and they needed items to make "sick kits". They requested over-the-counter medications, soup, decks of cards, books, cough drops, paper and pens to write home, snacks, etc. The supplemental food helped out because they were only able to set 3 cold meals outside the doors once a day to cut down on exposure. All incoming Troops were put directly into one-person rooms to quarantine and we were told most of those rooms lacked a TV. The Hugs Project was able to get needed supplies shipped out within the first week of the request. Mostly though, we ship to Troops in places like Iraq, Afghanistan, Poland, Romania, Cuba, Honduras, Africa, Syria, and anywhere else they have trouble getting supplies and needed support.
Imagine this – Maybe you've never been out of your own state, and now, you're half a world away from the country you love and all your family and friends. Or, maybe you were a foster child and have no one back home to send you anything to open at mail call. Then, you hear your name called, and you hurry to see if it's really directed to you and not some kind of mistake. Yup, it's your name all right but who could have sent you such a wonderful package of socks, snacks, hygiene items, cooling ties (called "hugs"), a deck of cards, and even a novel which just happens to be written by your favorite author? 20 lbs of "stuff" and it really does have YOUR name on it!! You dig into the box a little deeper and then you see a letter that is signed by more than 50 people. They let you know, how proud they are of your service, and they hope you come home safe and soon! You read every name and then you realize, you don't know any of them. They are all strangers who just want to let you know they care and they want to brighten your day. WOW!!!
If we can give that great feeling to even just one of America's finest young people (and some not so young), we've done a good job. What they do for all of us is far better.
I can never say enough, "Thank you to all who serve!! We love every single one of you".
Sewing is only one of the many ways to become involved as a volunteer. So, for those of you who sew or want to learn more about how to become involved as a volunteer where you live, be sure to check out TheHugsProject.com.
Now, 18 years, 1,000's of yards of fabric, yarn, and thread, and 100's of pairs of Fiskar scissors and rotary cutters later, our volunteers are still here serving for as long as America's Military is deployed "over there" for us.
Please click the About Us button on our website and learn about The Hugs Project's newest program, a new, effective treatment for those who suffer from traumatic brain injury related PTSd. Hyperbaric Oxygen Therapy has been proven effective to help restore the meaningful lives they left behind. We look forward to sponsoring many more.
About the Creator
Karen began The Hugs Project 18 years ago as a labor of love to support Military Troops "in harm's way".
Karen was selected 2007 L'Oreal Paris "Woman of Worth.
President Bush gave her a Presidential Service Award in 2008
Reader insights
Be the first to share your insights about this piece.
Add your insights