Cheeks
A sordid account of public nudity, a candid seam-splitting personal nightmare, and a life lesson hidden as humiliation.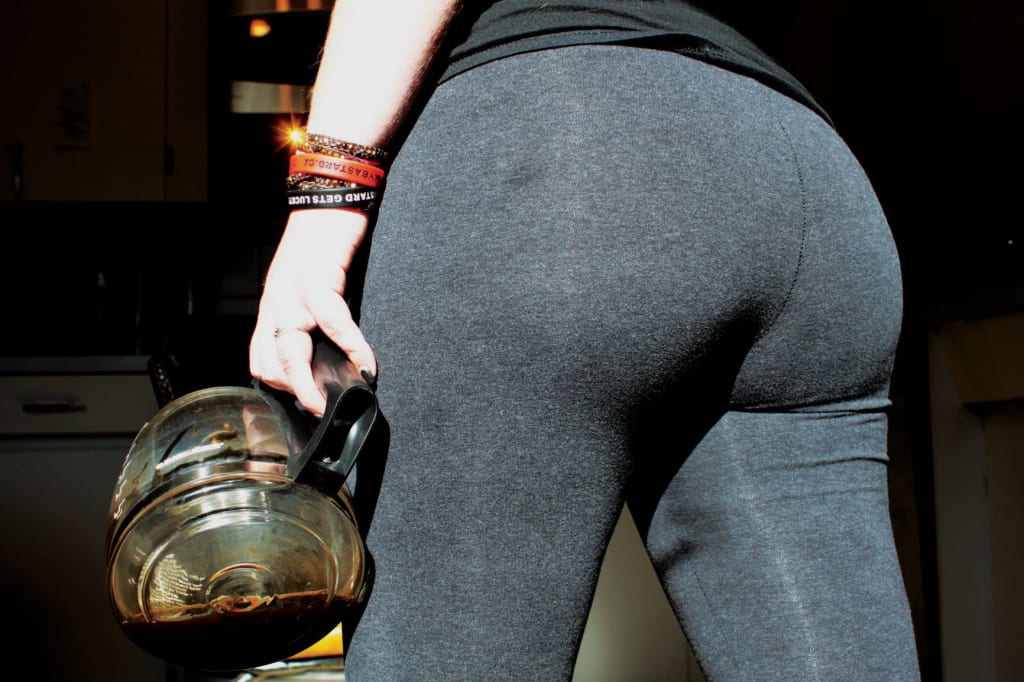 Every server has that nightmare. You wake up in a
sweaty panic thinking you missed your alarm, were
assigned five tables and are naked running drinks.
Oh, and you forgot the Ranch.
This is a story of a serving nightmare come to
life – and how it expressly became my personal
standard for awkward situations.
I was serving at a casual-fine dining restaurant.
One fateful shift, I decided to go commando under
my tight new leggings. What could go wrong?
It was a busy lunch rush and the restaurant
was under-staffed. I was sprinting between
drinks, coffees, orders, food, refills, desserts
and bills as quickly as possible for the
hungry guests. And then doomsday hit.
My beautiful leggings gave way from all the running
around. They couldn't handle the pressure and
abandoned me in my hour of need.
Split.
Right down the middle seam, perfectly lined up with
the crack of my freshly baked buns.
I didn't notice. I kept serving. A full dining room getting
dinner and a show.
Finally, one of my guests politely asked the other
server, "Excuse me. Could you please tell our waitress
she's split her pants?"
The other server ran into the kitchen – where I was
making a new pot of coffee – and looked down.
"Alex, your pants!"
"What?" I craned my neck around to look at my
traitorous backside.
Yup. My peachy beefcakes were hanging out for the
world to admire.
My face turned beet red. I slowly put the coffee pot
down and softly sighed. "Shit."
I gave the kitchen staff a death glare and said, "How
did you guys not see this? And tell me? How long has it
been split?"
"Oh, about 15 minutes. And we were enjoying the view,
Cheeks." The chef winked at me.
Everyone exploded into laughter while I ran out to my
truck – cardigan tied around my hips. Luckily, in those
days I at least pretended to go to the gym and kept
clothes in my truck.
The worst part wasn't the initial embarrassment. It was
the mortification of having to go back into the dining
room where I had just unknowingly exposed myself
to all of the guests. I was half expecting applause and
loonies thrown my way.
Nobody said or did anything. I wasn't sure what was
worse. I carried on through that shift, head held high
and ended with a little more in tips than usual.
The point is – I went back in. It was my own form of
character-building.
I learned to hold my own that day. I committed to
finishing the job. I kept going.
No matter what you get yourself into or how far
you fall, get back in there. This is a lesson the gods
apparently wanted me to learn through public nudity,
and not, say, falling off a horse.
The staff and I became family that day. And as a daily
reminder, the nickname Cheeks stuck. It was a twisted
memento of respect from my co-workers. As the
reigning queen of the most indecent exposure in the
workplace, I willingly answered to it. Ah, the food and
beverage industry.
The episode taught me three major lessons: never
work commando style, never trust kitchen guys and
never surrender your dignity.
Sure, I flashed a few folks but I didn't die of
embarrassment, I didn't lose my job and I didn't run
home crying. I straightened my spine, found a solution
and kept on working. This incident became a moment I
would forever measure against future haplessness.
Car won't start this morning? At least you didn't split
your pants.
Accidentally end an interview with "alrighty-roo Mr.
Jones"? At least you didn't split your pants.
Feeling mother death pressing down in the hellfire of
schoolwork? At least you didn't split your pants.
It's a facetious token I've carried through my life. When
something annoying, embarrassing or difficult comes
up I can remind myself I've been through worse.